What makes a blog/website outstanding? A beautiful theme, a refreshing background, quality features or pleasant icons which attract an eye? It is actually an amalgamation of these entire contents that makes a blog and website worth noticing.
Today I am unfolding retro social networking icons version-3 adding another post in the previous accumulation of retro social network icons' pack. All the websites/ blogs which own old style themes will be complimentary to these retro social media icons.
Give a retro touch to your historical, rough and old patterned website themes with these retro networking icons. It's amazing that these can also become the nuts and bolts of deep and dark themes of websites/blogs.
Don't forget to subscribe us for more Free Social Icons, free Vectors &  free logos in future.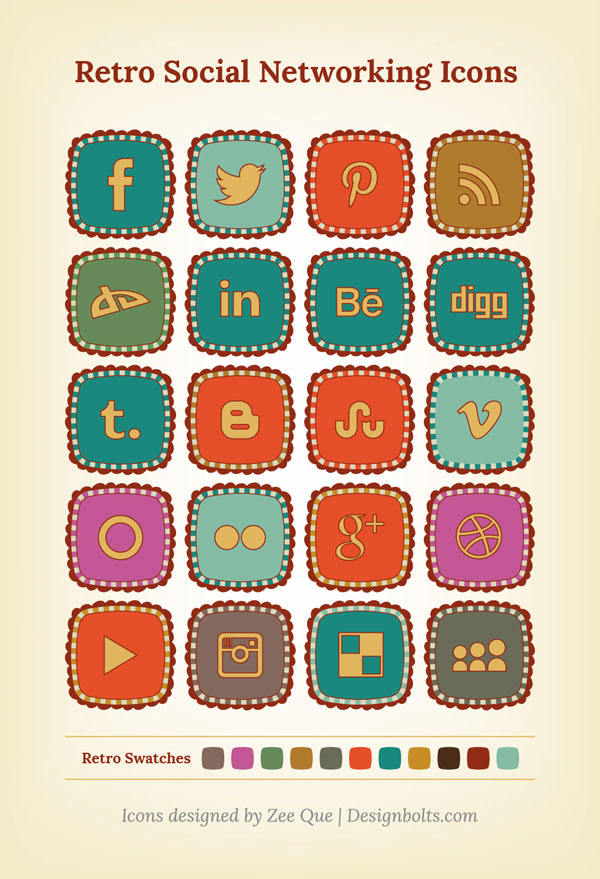 Free Version:
Available Size: 32, 48, 72, 128, 256 px
License: CC Attribution-Noncommercial-No Derivate 3.0
—————————————————————————————————-
Premium Version for only $ 3.00
Available Format:  Vector (.ai) file (Very easy to edit)
License: Creative Commons Attribution 3.0 Unported License
—————————————————————————————————-
15 Recommended Free Icons Download & Vectors:
Receive interesting articles & freebies right in your inbox
Make sure you confirm your email address through the link we just emailed you
About The Author
Zee Que: I'm a Graphic/Web designer having been in the field of Web Design and Print Media for the last 8 years, the very founder of DesignBolts.com. I have fervent interest in Graphic Design & Photography. You can follow me on Twitter.