Previously I have been posting various social media icons that have now taken a strong hold in a blog and website. One probably can't do without them if it is the case of boosting the viewership. Today I am unfolding Long Shadow new flat social media icons of 2013 that can be used for personal or commercial projects. Social media icons have necessarily become an important and indispensable feature of a website or blog.
The whole appearance of a website is splurged with the perfectly made icons. Now giving a fresh air to your blog is not an uphill task. Just pick the fittest social media icons that does not get cloudy or embedded in the background of your blog/website but enhance the beauty and add soul to it with their occurrence and appeal.  Scroll down and get the glimpse. Take it away!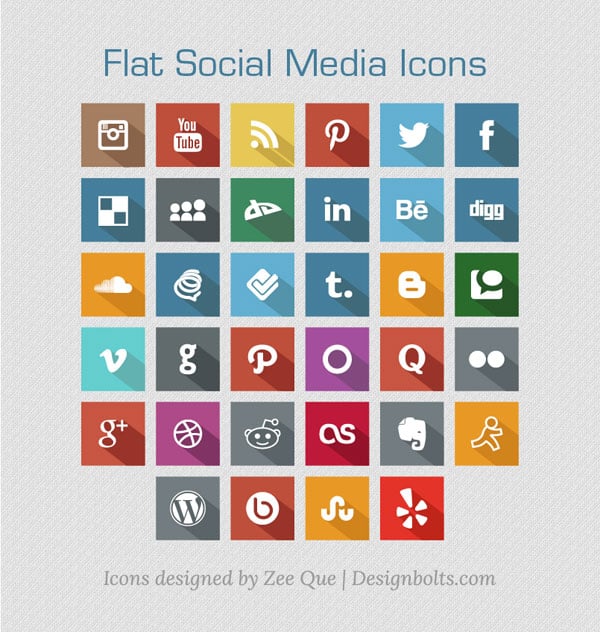 Free Version:
Available Size: 32, 48, 72, 128, 256 px
License: CC Attribution-Noncommercial-No Derivate 3.0
—————————————————————————————————-
Premium Version for only $ 3.00
Available Format:  Vector (.ai) file
License: Creative Commons Attribution 3.0 Unported License
—————————————————————————————————-
More Free Icons & Vectors:
Receive interesting articles & freebies right in your inbox
Make sure you confirm your email address through the link we just emailed you
About The Author
Zee Que: I'm a Graphic/Web designer having been in the field of Web Design and Print Media for the last 8 years, the very founder of DesignBolts.com. I have fervent interest in Graphic Design & Photography. You can follow me on Twitter.