The usability of mobile phones has extended to a lot more than only chatting. In fact, with the Internet in pockets, users not only use their smartphones, tablets, etc., for entertainment, but these advanced devices have brought the world at their fingertips. Furthermore, this incredible advancement has amazingly revolutionized businesses and greatly influenced user behavior.
It has been observed that usage of mobile devices for browsing is rapidly increasing. And, with this rate of growth, it can be anticipated that web access via mobile devices will soon pass over the desktop usage. Therefore, in order to create a sustainable and a surefire identity in wobbly marketplace, it is imperative to ensure an impressive and efficient mobile presence.
Fortunately, the WordPress users can easily accomplish this by simply installing and activating an appropriate theme at their WP site. Indubitably, this popular open source CMS offers great flexibility and an overwhelming list of trendy themes that can be tailored as desired. However, with a plethora of options around, it is often hard to choose the best suitable one. In this article, I have shortlisted a few of the best WP themes that are designed for delivering remarkable mobile UX. This list will help you streamline your choice for the best wordpress theme.
Let's have a look at the round up of high end mobile themes for WordPress users.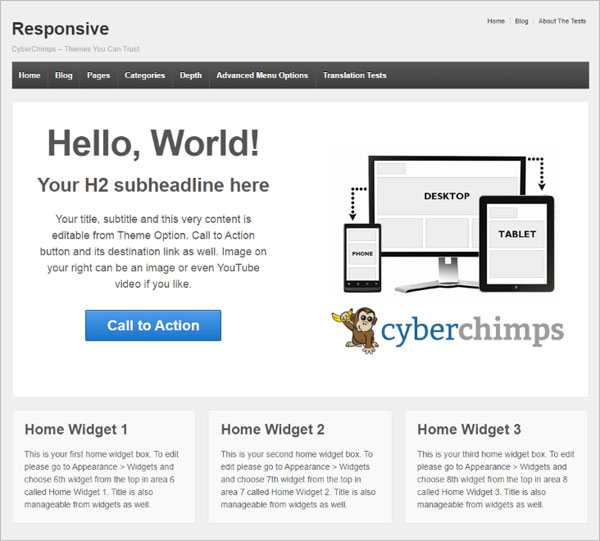 The integrated fluid grid of this theme helps it adapt targeted devices with a greater precision. While beautifying the published content, it adjusts the content in a flawless fashion. With this theme, your readers can seamlessly read the content irrespective of their location and device used. Responsive theme is search engine friendly, WooCommerce compatible, retina-ready, and supports over 45 different languages. This cross browser compatible theme is available for free and backed with an array of captivating features.
2. Custom Community | Free WP Theme For Best Mobile Experience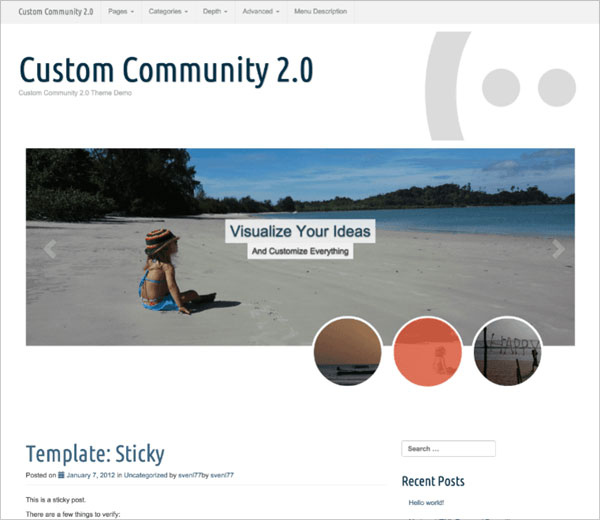 This customizer theme beautifully adapts device and makes the content intriguing and engaging. It is a professional theme and designed over Bootstrap technology. It offers three integral color palettes, you may choose one that best complements your WordPress site. It makes accessing content a breeze with simple navigation controls. You can personalize it as per your taste with the included more than 140 customizable settings.
3. Point | Best Free Wp Magazine Theme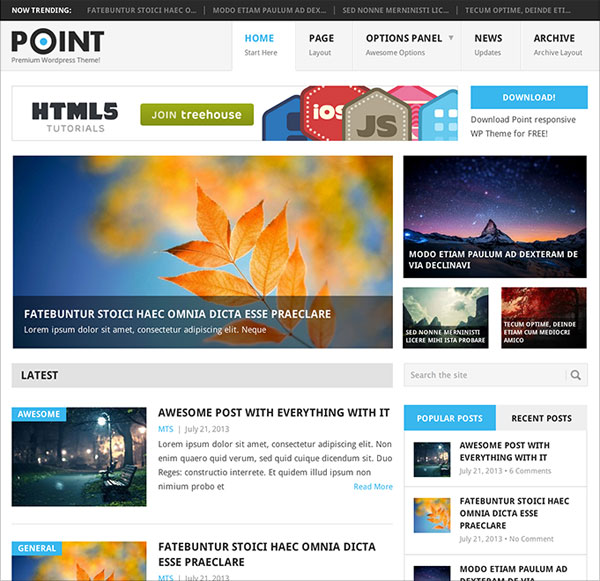 Point is a versatile theme that features fluid responsiveness. It ensures an excellent UX irrespective of the device used. The advanced option panel of this theme makes it extremely easily customizable, so that you can create an attractive and unique visual appeal for your WP site. This cross browser compatible WP theme offers different backgrounds, multiple layouts, color schemes and a lot more.
4. Customizr | Free Premium WordPress Theme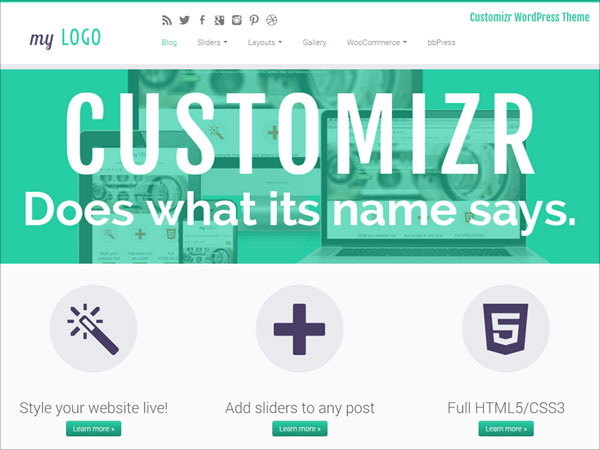 Another enticing theme that ensures a conspicuous mobile experience. While being responsive, this easily navigable theme can be conveniently personalized in a desired way. It comes complete with resourceful documentation and modular code, so that developers can efficiently extend the functionalities by implementing the hooks. Moreover, you can use custom Google fonts and create a unique and fresh visual appeal.
5. Suffusion | Simple Semantic HTML5-based WP Theme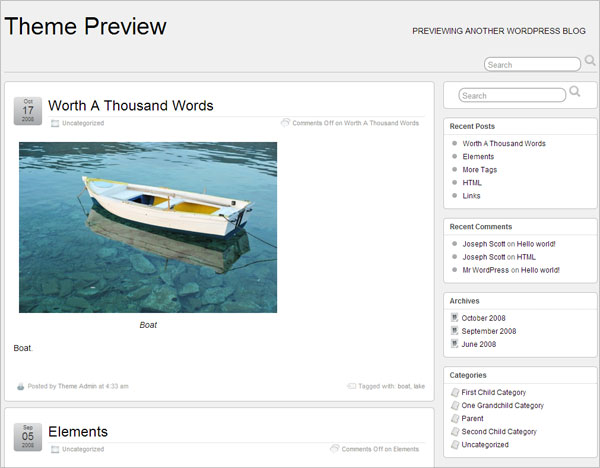 The timeless, elegant beauty of this theme makes it one of the most preferred themes. From a small screen device to a large screen desktop, this theme generates an outstanding UX on any device. Featuring semantic HTML5-based markup, this rich WP theme comprises 19 widget areas, 9 built-in templates, a list of color schemes to choose from and a lot more. It is a power-packed, responsive theme, which is compatible with the most popular WordPress plugins like WooCommerce, BuddyPress, etc.
6. SCRN | Premium WP Theme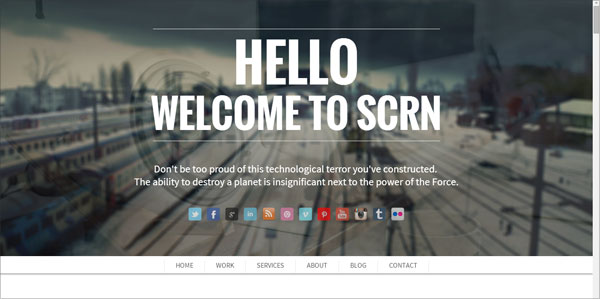 You can enhance the look and feel of your online portfolio with this responsive WordPress theme. It is a single page portfolio theme that is specifically designed to help promote businesses across the globe with a mobile-optimized presence. This theme is HTML5 and CSS3 compliant, and comprises several shortcodes. The support for blogs and videos add to its versatility. Furthermore, you can conveniently tailor the appearance of this minimalist theme as per your taste and create a fresh visual appeal for your portfolio.
7. A1 | Super Lightweight Bootstrap Responsive Wp Theme 2015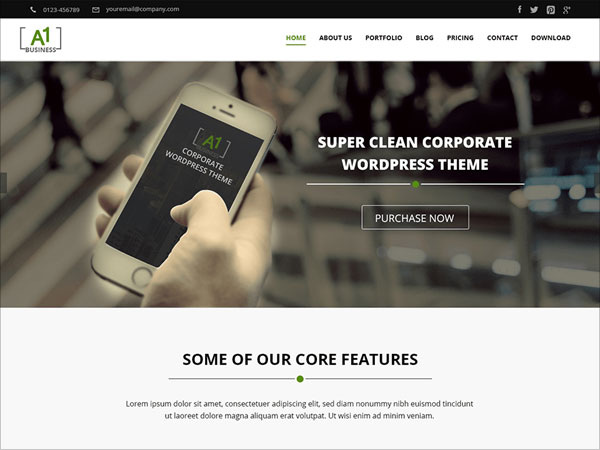 Designed over Bootstrap technology, this feature-rich theme is clean and lightweight, and can be accessed via any device. With the included theme options, custom widgets, and other utile features, you can personalize the visual appearance of the theme as per your WP website requirements. It, thus, helps create a captivating look and feel. Whether you own a business website or personal blogging site, this aesthetic theme will add to its credibility.
8. Mobius| Free Mobile Optimized theme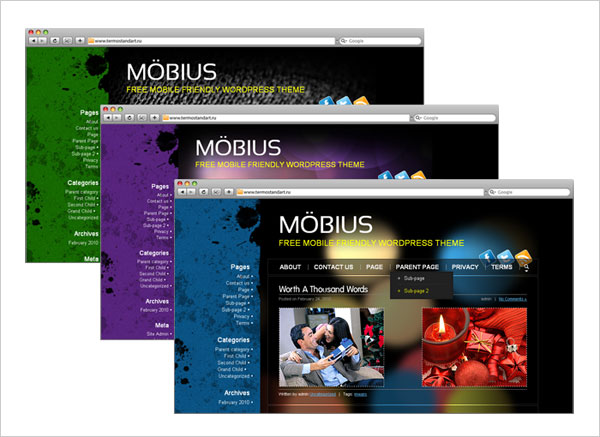 Mobius is a free mobile-optimized theme perfectly-suited for creating personal, news and entertainment blog. The theme is created using mobile-friendly markup and CSS, and is compatible with some of the major touch-screen Smartphone browsers including Symbian, Opera Mobile, Bada Firefox Mobile and many more. Additionally, the theme is also compatible with desktop browsers like IE (from v.6), Chrome, Safari etc.
 
Grid Theme Responsive is aimed at creative seeking a mobile optimized WP theme with infinite scrolling effect. The minimal grid layout makes this theme a viable choice for creating portfolio sites with a magazine-like presentation. It comes with training videos that will guide you in setting this theme up and running quickly.
10. Simple Theme | Best Free WP theme for 2015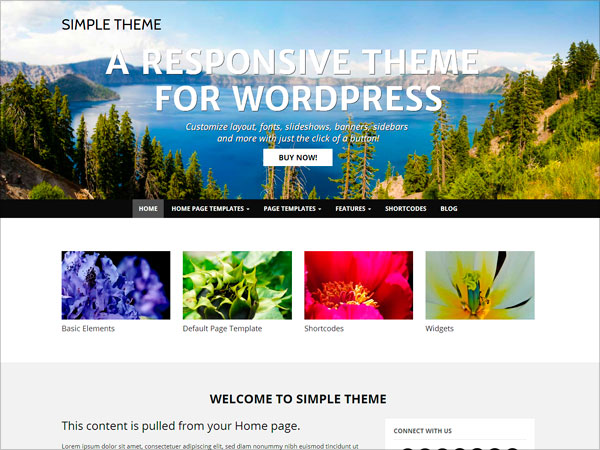 If you're looking for an eye-grabbing, professional WordPress theme ideal for creating a business or corporate website built on Bootstrap framework, then Simple theme best fit your needs. It features an attractive design and looks amazing when accessed via a small-size mobile phone or a large desktop monitor. Thanks to the powerful theme options panel, Simple theme renders you the ability to customize the look and feel of your site as you deem perfect.
Bottom Line:
You may choose any of the aforementioned themes to enhance the look and feel of your site (especially, for mobile users). It is advisable to consider your business goals and websites' objectives while streamlining your choice for the most appropriate WordPress theme.
Contributor: Rick Brown is a veteran iPhone app programmer for Mobiers Ltd – a renowned mobile apps development company. You can avail iOS developers for hire with his best assistance and advises.
More Best Free Wp Themes for 2015 Blogs