To say that WordPress is a much sought after CMS would be too mainstream. However, it has to be said that gigantic user base of WordPress is substantially expanding with time and so are its utile offerings. The amazing flexibility and secured platform offered by this CMS makes it stand ahead of the curve. Whether you want to create a blogging site or an eCommerce website, there is a whopping number of plugins and resourceful themes that helps augment the online presence of businesses.
The ever fluctuating web design trends made it a bit hard for businesses to ensure an up-to-the-minute visual appeal for their websites. Fortunately, the consistent efforts of the colossal WordPress community greatly contributes to the WordPress Theme Development. They, thus, help keep the WP repository updated with the latest wp themes that embraces the ongoing web trends. Since, there is no dearth of beautiful WP themes in the market, this article will unleash a few of the best free wp themes that features the latest design trends. This will help you streamline your choice and choose the best suitable theme from a hefty pool of themes.
Let's have a look at the top 20 free WordPress themes.
1. Catch Everest | Free Portfolio Business Wp Theme 2015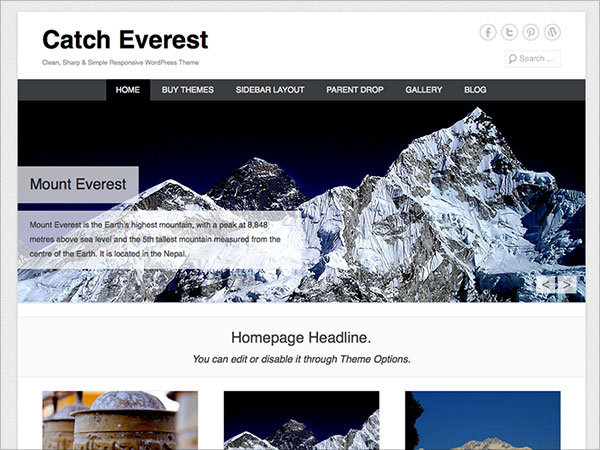 The simple and minimalist design of this responsive theme beautifies the overall look and feel of a site. Based on CSS3 and HTML5 technologies, it comes complete with the Theme Options panel that adds absolute flexibility to the theme.
2. Flat | Free Flat Modern WordPress Theme 2015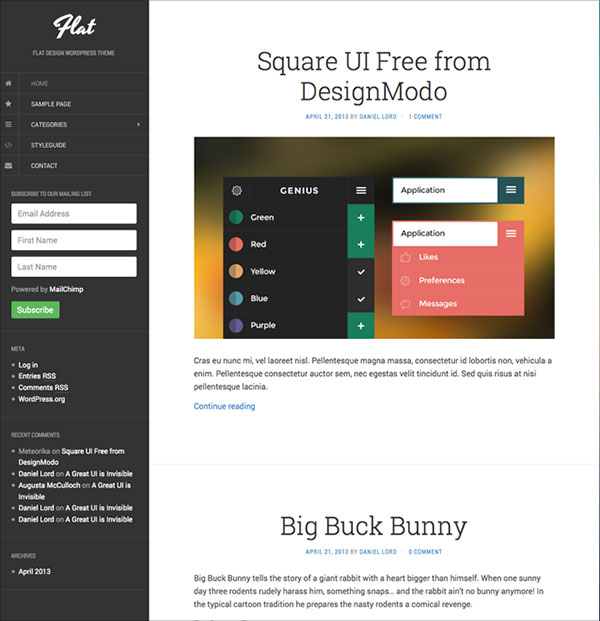 As the name suggests, the flat design of the theme lends a charming and trendy visual appeal. Its stylish design is lightweight and clean, which makes the featured blogs easily readable.
3. Indie | Free blogging wordpress theme 2015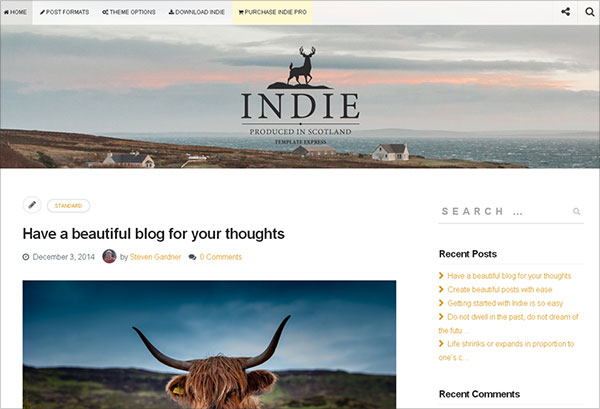 Boasting the Scottish love and spirit, this amazing theme delivers a picture perfect WP template to adorn blogs. Its high end quality makes it stand out of the box. Moreover, the integrated attributes of the themes facilitate users to customize it in a desired fashion and make their website intuitive and simple.
4. Catch Flames | Free wp theme for bloggers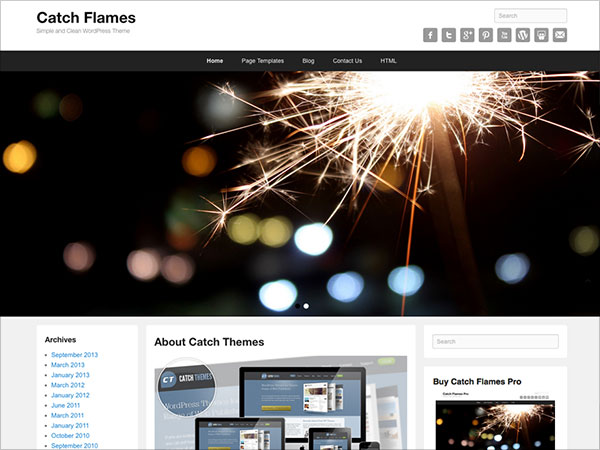 This lightweight, clean theme is beautifully designed with a three columns layout. However, users may personalize the layout to two or one column, as per their websites' requirements. This highly flexible theme can be efficiently customized to generate a professional website with ease. It comes complete with numerous resourceful features.
5. Klasik | Free Premium WordPress theme 2015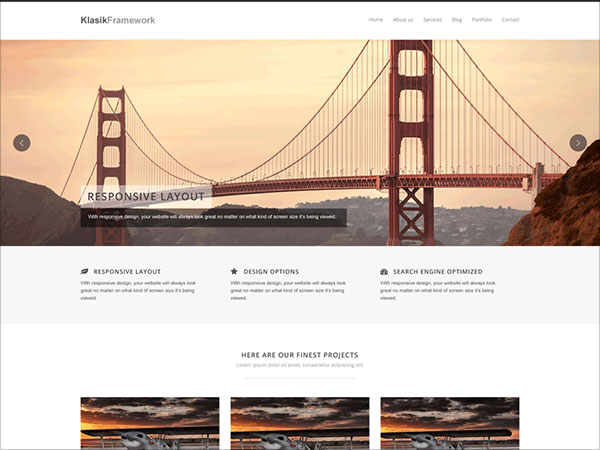 Customize your WP site as and when desired with this incredible theme. Whether yours is a business site, blog, photo gallery, or any other kind of website, Klasik is a great choice. This responsive theme is backed up with several utile features including cross browser compatibility, SEO, HTML5 and CSS3 compliant and a lot more.
6. Ignite | Free Simple magazine wp theme 2015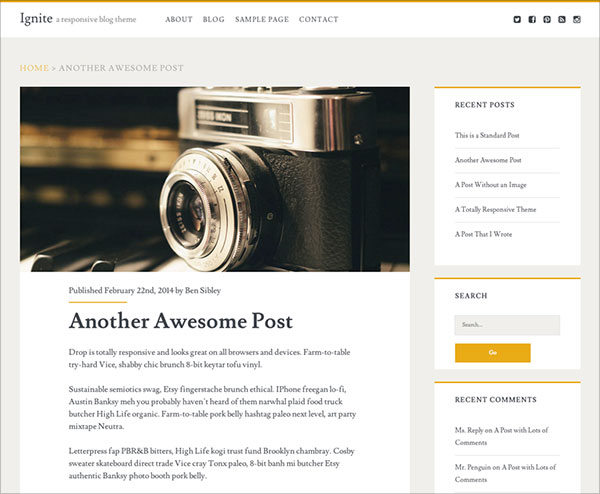 This trendy blog theme comes complete with numerous resourceful features, including custom background colors, social media icons and so forth. Although, this theme is available for free, but Ignite Plus is a premium version of this theme that possesses upgraded features.
7. Patus | Free Stylish wordpress theme 2015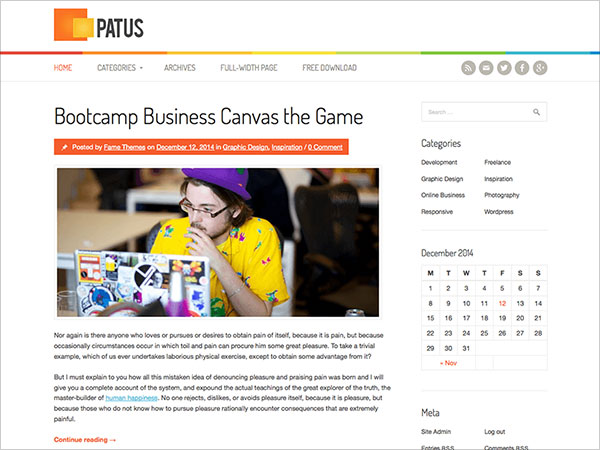 Beautifully adapts your style, this flexible blog theme is highly admired for its great loading speed, clean and simple layout, and visually appealing look and feel.
8. Simple Theme | Free Professional Business WP theme 2015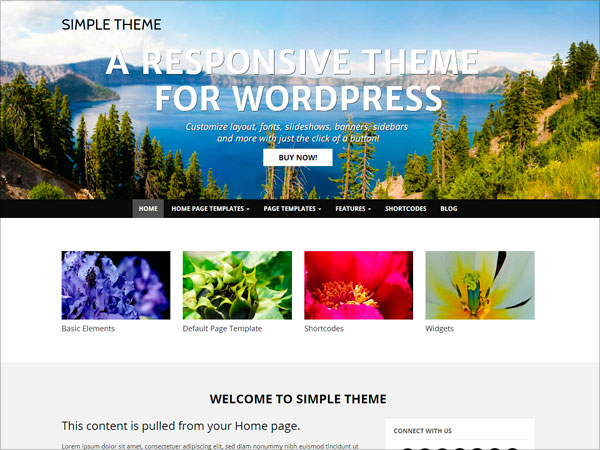 This attractive WP theme is a great pick for enhancing the visual appearance of a professional website. This corporate theme is responsive in nature and has been designed over Bootstrap framework. It will allow your business to gracefully and efficiently target both small-screen mobile devices and large-screen desktops.
9. Unite | Free Woo Commerce WordPress theme 2015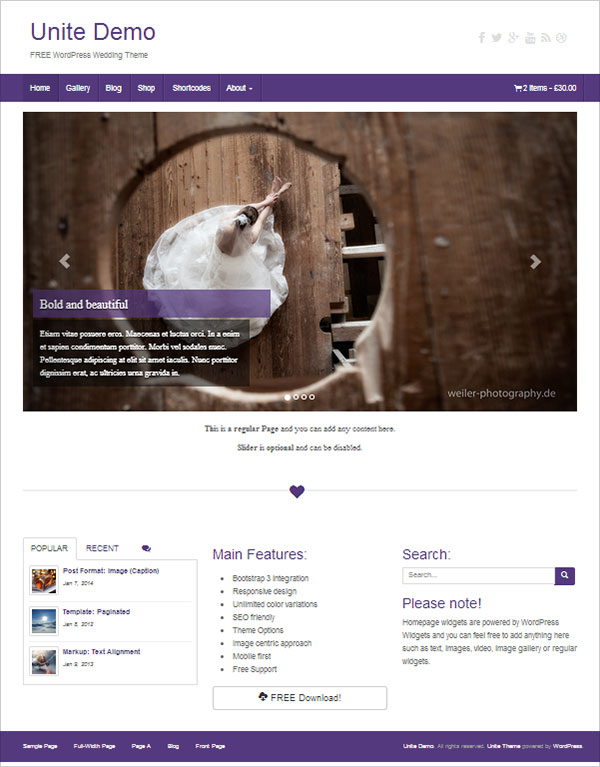 An amazing blend of style and simplicity, this sleek theme is created via Bootstrap3. You may use this theme over blogs and portfolios. Its flexible nature facilitates one to conveniently tailor the design in a desired fashion.
10. AccessPress Ray | Free WooCommerce ready theme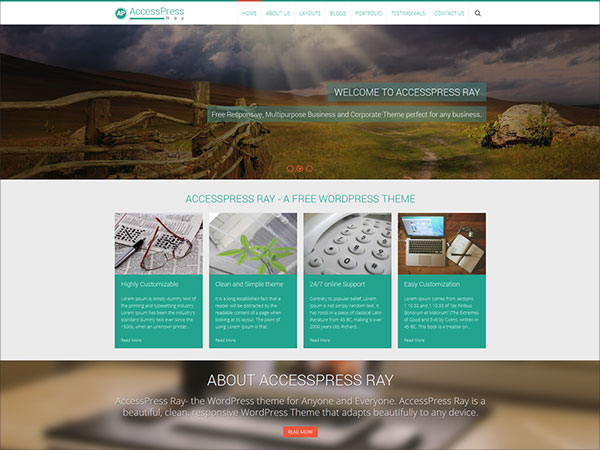 This versatile theme possesses modern technologies to support WP plugins like WooCommerce and bbPress. It is SEO friendly, cross-browser compatible and easily customizable.
11. Farben Basic | Flat free wp theme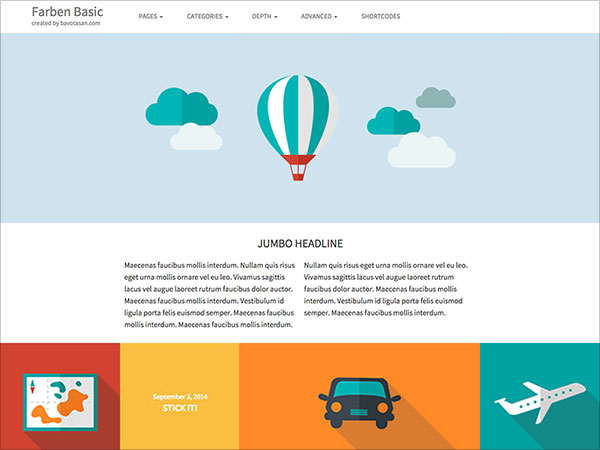 Revamp the entire visual appeal of your website with this new HTML5 theme. This lightweight theme can be personalized to lend a fresh and interactive UX. It supports multiple post formats, including image, video, audio, status, gallery, etc. You can also use the JetPack plugin to efficiently display galleries in a tiled format.
12. Catch Kathmandu | Free light weight wp theme 2015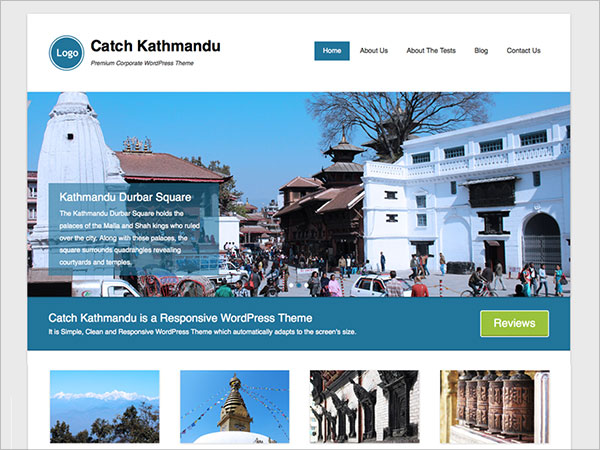 Ensure an invaluable presence over mobile devices and enhance your business values. This responsive theme is lightweight and highly customizable. It, thus, facilitates users to tailor the design as per their taste. With this theme, you can publish your text in an easily readable format while adding impressive images, videos, etc., on your site.
13. Travelify | Free WordPress theme for photographers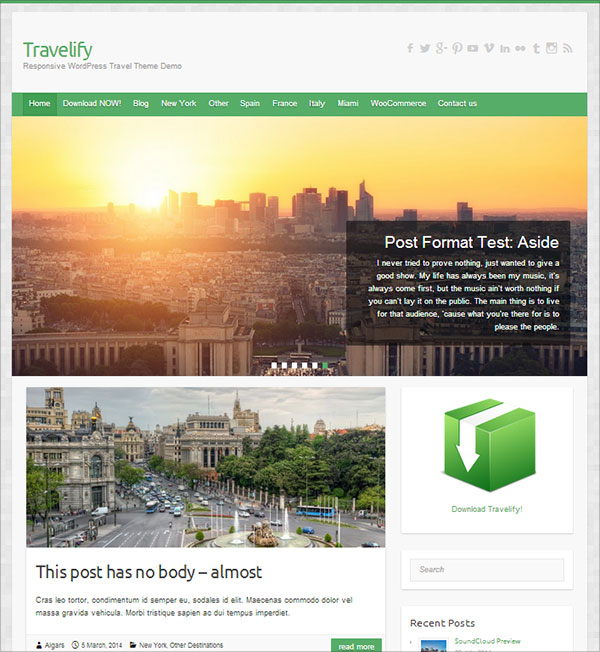 The sleek and chic visual appeal of this theme is a great choice to complement a WP photography site. This fully responsive theme can be easily customized as desired via the theme options panel and its pixel perfect design is backed up with blog templates, custom page, and so forth.
14. Anchorage | Free simple WP theme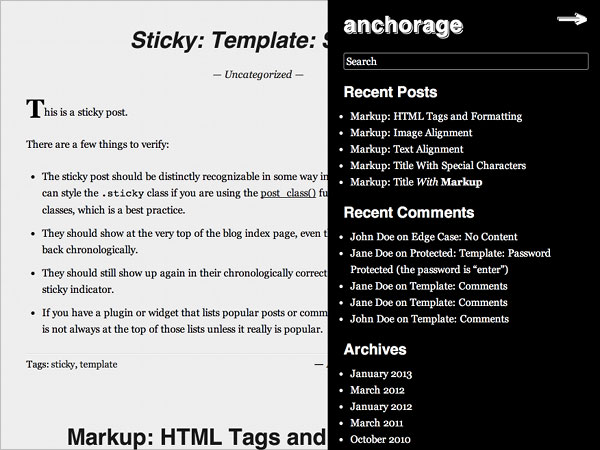 The true anchorage lovers will definitely like this theme. It is an aesthetic epitome of anchorage era, and amazingly embraces the modern WordPress trends. It comes complete with a single column layout.
15. Hueman | Free 3 column wp theme 2015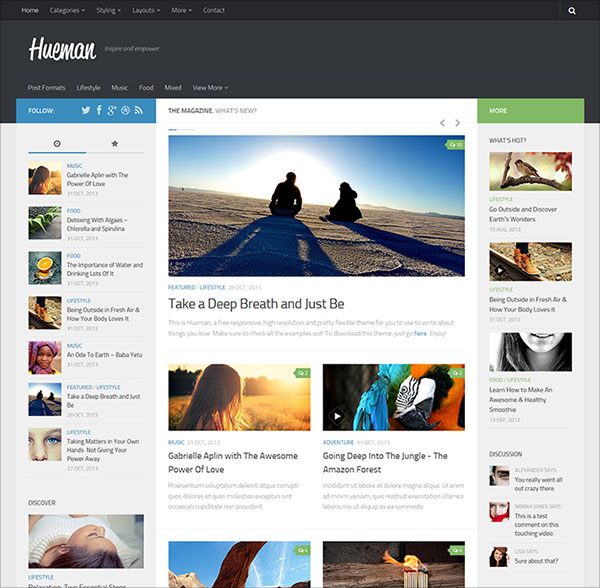 Hueman is a pixel-perfect theme, which is a great choice for complementing magazine and blogging websites. Its unique toggle sidebars help deliver a remarkable browsing experience while making the content easily navigable and readable.
16. Frontier | Free wordpress theme for news blog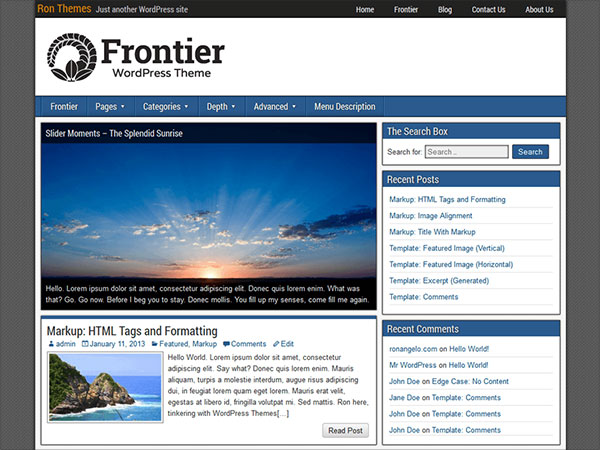 This versatile and flexible theme offer an option to choose either one, two or three column layout. Its easy-to-implement features make the theme quite easily customizable and delivers impressive, intuitive and fast UX.
17. FlatOn | Free wp theme inspired from flat design trend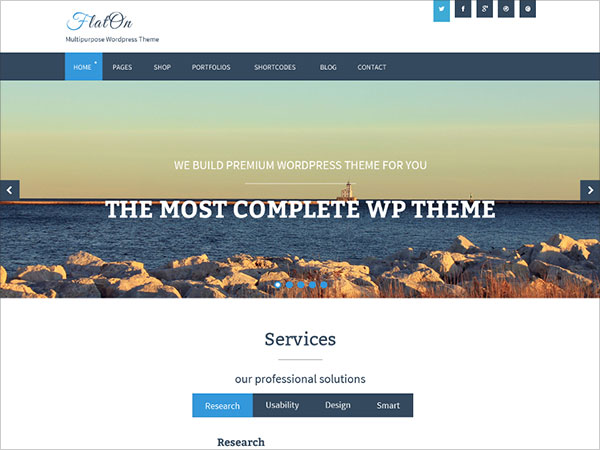 The flat design of this responsive theme creates a sleek and modern visual appeal to the WP sites. It facilitates custom CSS, four footer widget areas and a lot more via the powerful theme option panel.
18. WP News Stream | Free magazine responsive wp theme 2015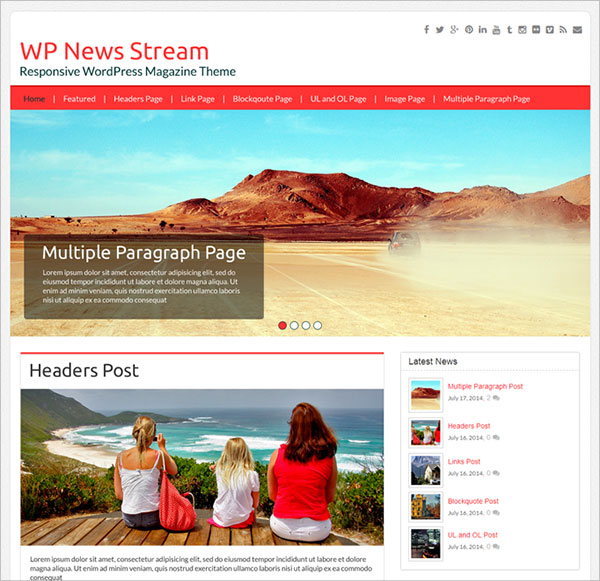 Another responsive theme that can be efficiently tailored as per the needs. You can conveniently upload a desired logo, personalize the home page slider, integrate a banner code of your choice and a lot more.
19. Ascent | Free corporate WordPress theme 2015 February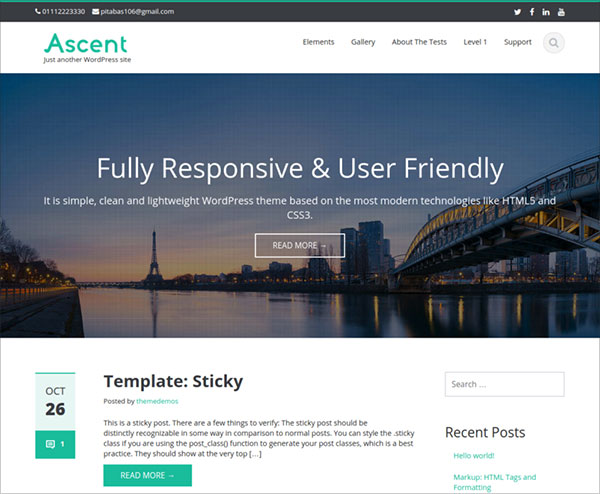 This elegant theme appears attractive on any device. Based on the latest technologies, including HTML5 and CSS3, this simple theme is lightweight and thus, doesn't add much to the site loading time.
20 i-transform | Free business portfolio wp theme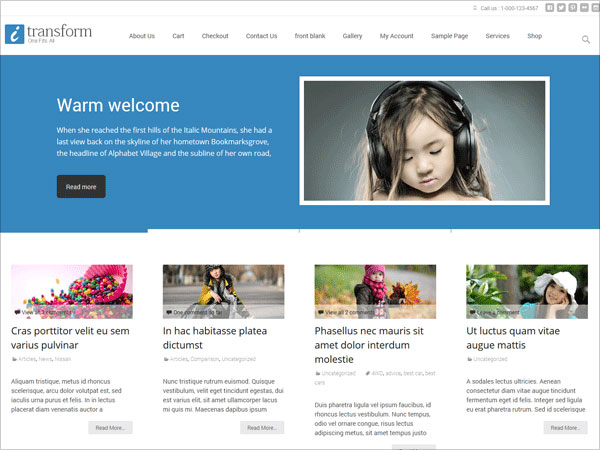 Developed using the popular Twenty Thirteen theme, this free theme is absolutely easy to implement. It comprises five color schemes, numerous blog layouts and a lot more.
Streamline your choice for the best suitable theme by keeping the ultimate goal of your website in mind. The aforementioned latest WordPress themes are available for free and embrace latest web trends. Create a surefire look and feel for your WP website by choosing an appropriate theme.
—
Contributor: Amanda Cline  is serving as a professional PHP Programmer at Xicom Technologies Ltd-   A renowned custom wordpress development company. If you need to hire PHP programmer then simply get in touch with Amanda via Twitter. she has also written interesting   and informative articles on Custom Software Development, Web Application Development   etc.
More Best Free Wp Themes for 2015 Blogs
Tags: wp themes, free wp themes, wordpess themes