In this current scenario, the vast majority of people are using the internet to grasp all the latest news or information. There are tons of intriguing magazines and news portals are available over the internet that can allow the user to read their favorite gossips or information on their mobile devices or their computer.
But, from the publisher or the website owner's point of view, creating a magazine look-a-like site is not an easy task. In fact, many of us hesitate to post all our topics or stories on our site because we dread that it may look messy and cluttered. Fortunately, there are WordPress themes that are particularly designed for creating beautiful and well-organized magazine website.
As we know WordPress is the most popular Content Management System that offers thousands of exciting themes & plugins, and its Magazine themes are extremely good. They come with clean, sophisticated and functional designs that display your content on the homepage in the most creative way. With the help of magazine themes, you can build alluring, impeccable and artistic sites quickly and easily.
In this blog, we bring you the top to WordPress magazine themes 2015 that can help you to create a meticulous and stylish websites.
Cool is an awesome WordPress magazine theme that offers a visually appealing design. It is a fully responsive theme that means it can run smoothly on different devices (desktop, laptop, Smartphone and tablet). This theme has the ability to grab visitor's attention and is also perfect for monetization. It also offers plug-and play solution for rakish and effective creation.
If you want to create a dashing and engaging website, then you should use this theme because it offers four different layouts and multiple drag and drop options. Plus, cool theme loads quickly that allows visitors to view your site without any distraction or frustration.
This theme comes with tons of stylish fonts and icons that boost your site to more professional standard. So, you can use it and make your site look super-cool and stylish.
Features of Cool
Fully Responsive – The Cool theme can work smoothly on different browsers and multiple devices. It is a mobile-friendly theme that makes your site adaptable on Smartphones and tablets.
Different Drag and Drop Sections – It offers multiple drag and drop options that enables you to edit your layout and website structure quickly and efficiently.
It Offers 4 Different Layouts – Cool theme provides four different, attractive and dynamic layouts that make your site fresh and unique from others.
SEO- Friendly – It has integrated Search Engine Optimization that not only helps visitors to find your site quickly, but also influences your site's ranking on search engine page, Google.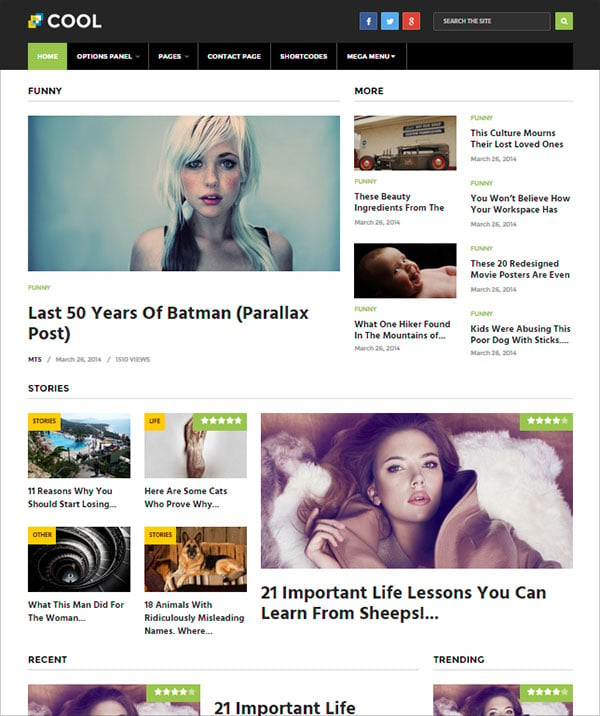 If you are looking for a theme that can help you add more content on a site in a well-organized way, then Interactive is perfect for you. It is a spectacular and highly professional blog theme that is designed particularly for webmasters with lots of content. It is a fully- customizable theme that offers multiple options to the user. This theme helps you to build a smooth interaction with your visitors.
Interactive is a premium theme that offers some exciting features and allows you to make improvisations according to your needs. It comes with stunning typography, breaking news ticker, three column layouts, off canvas mobile menu and more.
In addition, the design of a theme offers unlimited color options, over 650 Google fonts, language translation and AdSense Integration. Now, let's overview some exciting features of Interactive theme:
Super Fast Load Time – This theme loads instantly to provide lower bounce rates and also boosts the ranking of a site in search engine results.
Off Canvas Mobile Menu – The off canvas mobile menu will excite your mobile visitors by swooping in from the left side with a swift animation and hiding again when not in use.
Dynamic Optional Panel – All your panel options are in one comfortable place as this let you full control of your site and theme.
Social Media Integration – It comes with social media integration that allows your visitors to share your site's content on their social media accounts.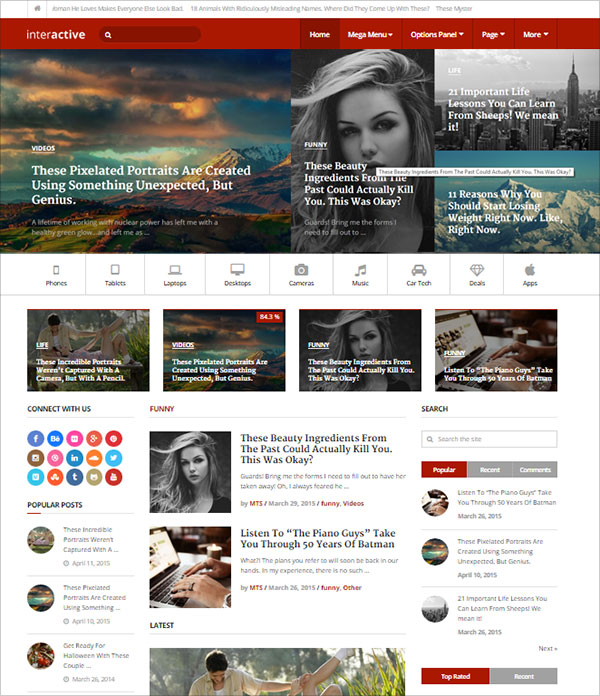 MoneyFlow is one of the modern and professional WordPress magazine themes, used to create artistic website that can engage visitors instantly. It offers some of the advanced features and easy monetization to impress the assorted visitors with a robust and appealing layout.
This theme comes with AdSense integration, Search engine optimization and WooCommerce support to make your work smooth and efficient. It comes with unlimited color options, backgrounds, amazing typography and also offers 630+ Google fonts to make your site unique from your competitors.
Moneyflow theme also supports shortcodes that allows you to easily add elements into your post and pages. With this, you can save your time by adding more features for your visitors.
Other Features of MoneyFlow
Completely Responsive – This theme is optimized for all devices such as desktop, laptop, tablet and smartphone.
SEO-Optimized – It is developed for Google that means you can increase the ranking of your site through SEO techniques.
Featured and Slider Section – A featured sections shows your best content and keeps your visitors on your site for longer periods. A slider section displays different posts in a dynamic and space-efficient way.
Ajax Search Results – A built-in tool allows you to find the content they are looking for and presents live results as they are typing.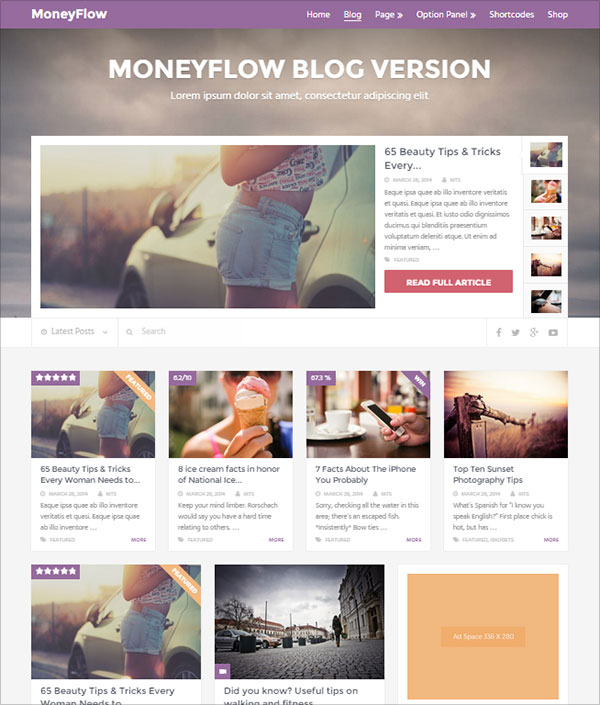 WordX is a stunning and highly professional WordPress theme which is designed especially for creative blogs and online magazines. If you are making the content-oriented site with HD images, then you should buy this theme. It has the potential to maintain your reputation in the competitive business world and gives you an opportunity to create a unique identity across the nation. It is a fully responsive and highly-customizable theme.
It is a SEO-friendly theme that helps you increasing the ranking of the site. This theme comes with powerful optional panel, extensive documentation, quick installation and more that can help you create the site with an ease.
Other than this, WordX also offers countless color options, backgrounds, classy typography and 590 amazing icons that can make your site look visually appealing.
Advanced features of WordX
Carousel Option – With this theme, you can showcase your best content with an eye-catching carousel. It is ideal for blogs that contains lots of content and gets updated consistently.
2. AdSense Integration – This theme is supported by the AdSense integration to make sure that your ads will get clicked without getting in the way of user experience.
Clean Code with Annotations – The code of a theme is simple, clean and clear with useful comments and formatting that makes it easy for you to edit the theme.
Author Box Support – With the help of WordX, you can manage your contributors and allows your visitors to follow their favorite writers.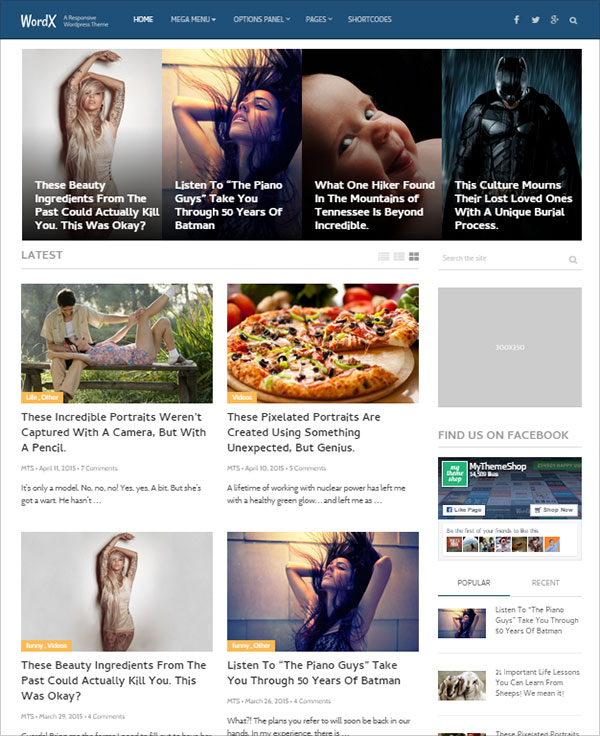 It is the most elegant and striking WordPress magazine theme, which is developed for content-rich websites. It is a fully-responsive theme that offers stunning and stylish designs. If your site contains lots of content with HD images, then you can use this theme.
To an addition, NewsPaper theme also provides some of the grabbing features such as media rich features, multiple post layouts, SEO and speed optimized, thousands of customization options and more.
This theme also offers advanced features and support for popular plugins. In fact, with the use of featured section, you can highlight your latest and most popular blog with HD images to grab attention. It also offers tabbed homepage layout that ensures fast and smooth navigation. Overall NewsPaper is a good theme for all kinds of websites.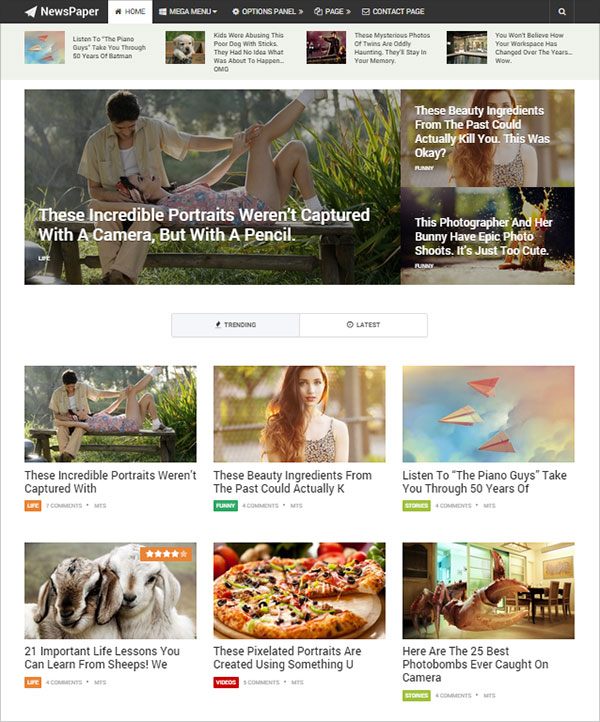 This is an ideal WordPress theme that is developed for blogs that have media like videos. It is a premium magazine theme that comes with some advanced features such as like/dislike option, unique popup share button, multiple homepage layouts, 10 handy widgets, RTL supported and more.
Video is perfect for those website owners who want to run a video-oriented site. It allows the user to add playlist of videos to an article. In fact, for embedded videos from YouTube, you can import the view count from the video and show it on your site.
Features
Addictive Layout – Here, the layout of a video is addictive that will enable your visitors to watch videos on your site for hours.
Video-Optimized – It is optimized for videos, with playlist and watch later types of features.
Video Post Format – This theme comes with video post format, so you can built post format that a classy media player and a lot of video features.
It offers 3 Post Layouts – It has three unique post layouts that you can choose to structure your content to boost user interaction.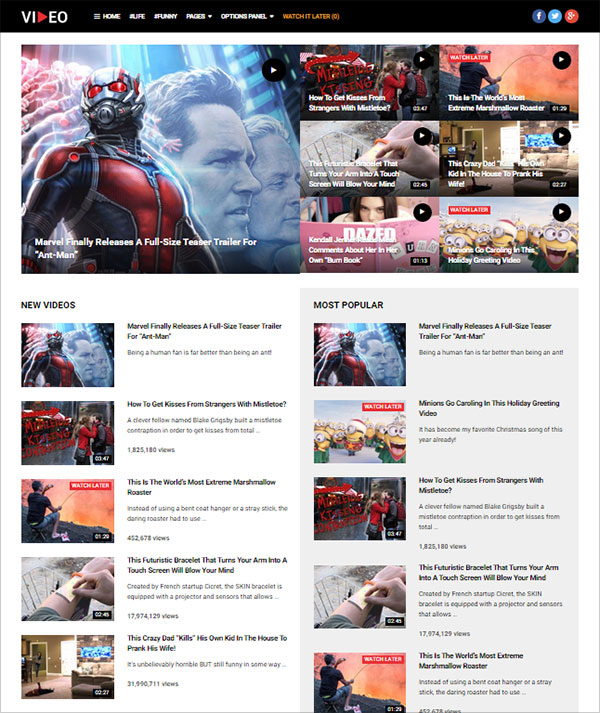 SociallyViral is the most dynamic WordPress magazine theme that is built with an objective to engage more and more traffic to the website. With the help of this theme, you can make your site popular on other social media platforms. It offers some of the exceptional features that can help you increase social sharing and you will get more traffic from the social media websites.
In addition, sociallyviral theme is mega menu compatible which means you can create stylish dropdown menus with the help of mega menu plugin to increase the user experience. You can also show a featured post to grab your visitor's attention and simultaneously enhance social shares on the post for more viral traffic.
It comes with four different loading effects that can let you display more posts and view what influences the best user engagement. You can also capture the wave of viral traffic by using social sharing buttons to make your website viral. It also gives spectacular and classy design that can help you build a strong brand image in the web world.
Features
AdSense Optimized – This theme is AdSense optimized that enables you to see higher CPCs and RPMs. This means you can earn more revenues and money.
Social-Share Optimized – SociallyViral theme is designed with an objective to get you more social shares and viral traffic.
Light and Simple – It is a light and user-friendly theme and has the potential to configure with just few clicks.
Parallax Scrolling – This premium theme is comes with parallax scrolling effect in order to create a unique scrolling experience for your users.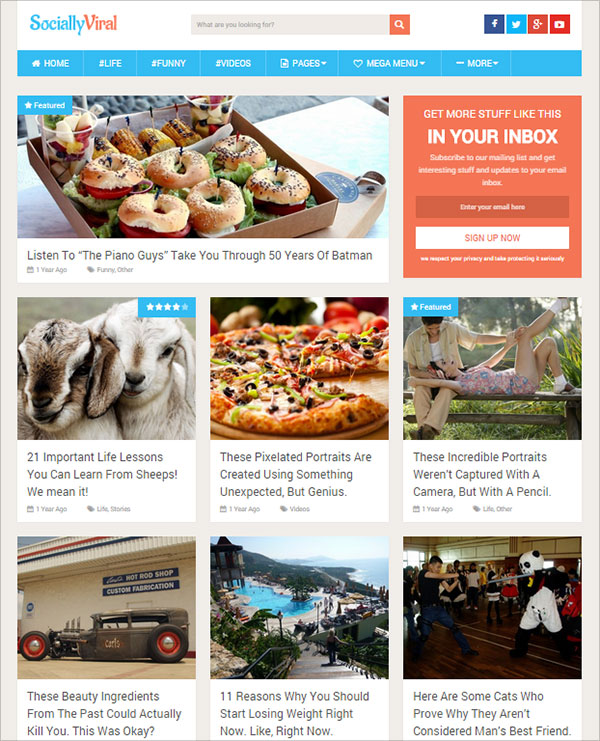 MagXP is the ultimate Magazine WordPress theme offering four homepage layouts, and an option panel that allow you to customize the design. This means you can fine-tune the design from the bright to the dark instantly.
It offers numerous exciting features, including unlimited layouts, drag and drop homepage sections, SEO-friendly, integrated review system, unlimited color and background options, awesome typography and more. Plus, it is a fully-customizable theme that allows you to change the design according to your needs.
Furthermore, MagXP comes with two different single posts layouts and four pagination styles. If you want to create a highly professional yet creative website then you should buy this theme as it is HTML5 and CSS ready and also offers demo content and 15 different widgets.
Features
HomePage Creator – Now, you don't need to mess with code and confusing PSDs as you can use the drag and drop feature to create a desired homepage.
Translation Ready – It offers inbuilt translation panel that loads on demand in order to easily translate your theme to different languages.
Cross-Browser Compatibility – MagX themes run smoothly on multiple browsers to give excellent user experience.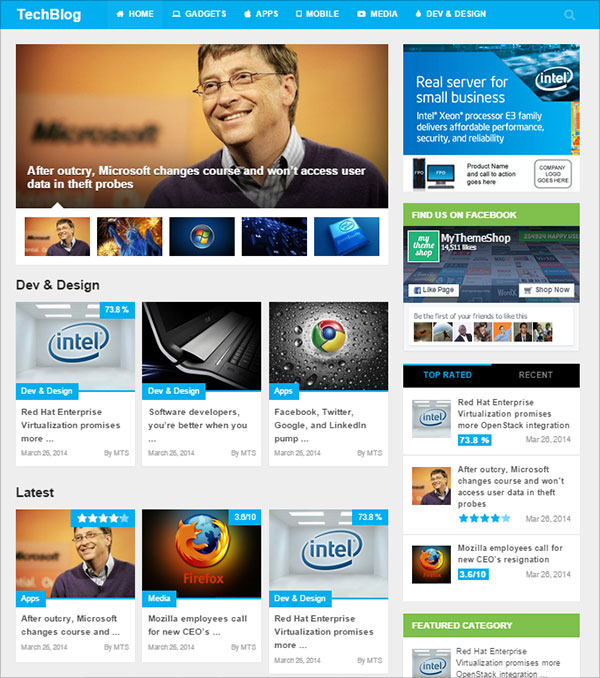 If you are looking for a multi-functional WordPress theme, then you should try Monospace. It is a premium theme that is designed to give unique and impeccable designs to the website owners. It is a fully customized theme and comes with unlimited color and background options, 630 + Google fonts and loads of other features.
It is a fully responsive theme that runs swiftly on the different browsers and devices and also has the ability to boost the website ranking because it offers SEO-friendly feature.
Features
Premium Support – Monosapce gives a professional and knowledgeable support to help you encounter the most disturbing issues.
Custom Widgets – It includes custom widgets library that can save your precious time.
HTML 5 and CSS3 ready – The theme is updated with all the latest techniques that can enhance the performance and functionality of the site.
Lightbox – It comes with Lightbox feature that allows you to present all your multimedia content in style.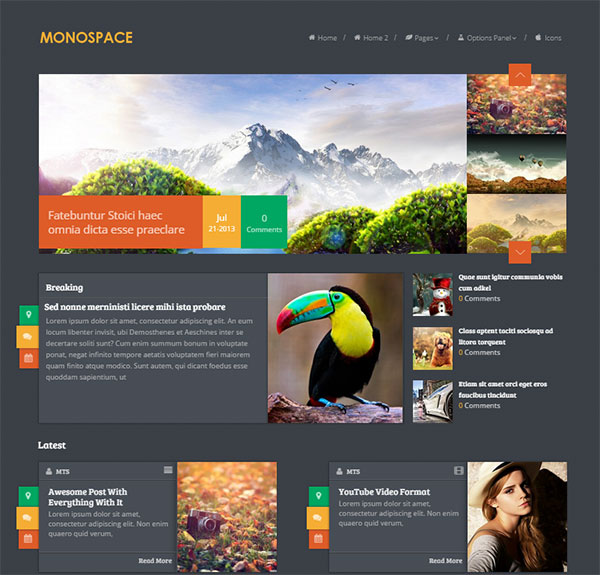 It is a tricolumn , grid layout premium magazine theme that offers ample range of exciting color options, background, amazing font styles and control to customize the design of a site. This amazing theme is ideal for bloggers who want to build a fully-functional theme with an elegant design and some class effects.
It is also a fully-responsive and SEO-optimized theme like others, and also unique features to make your site different from your competitive sites.
Features
Grid Layout – Gridbox includes a structured grid layout that shows posts in rows and columns to allow the users to view the maximum posts on the homepage.
Optional Panel – It offers options panel that can help you control each and every component of your theme from one location.
HTML5 and CSS ready – This is theme uses advanced technologies like HTML5 and CSS.
Social Media Integrated – Promote your site easily by using the default social media buttons that enables your readers to share your content on other social media sites.
Wrapping up
Today, we have discussed the top 10 premium WordPress magazine themes that can help you create a stylish, visually appealing and highly-professional WordPress site. The main purpose of such themes is to give ultimate user-experience across the nation.
After reading this blog, you can easily choose your theme that can fit perfectly to your needs. So, what are you waiting for? Buy a WordPress magazine them at affordable price quickly.
Contributor: Lucy Barret is associated with HireWPGeeks Ltd. as a WordPress Developer for last 5 years. She also provides WordPress customization service with her team of WordPress developer who are working hard in achieving 100% client satisfaction. Follow her company on social networks like Facebook and Google+.
Best Premium WordPress Themes 2015 You would love to buy: