Hey there guys! Thank you so much for leaving your positive feedback and encouraging comments on our previous blogs and we love you for sharing our blogs and mockup PSD files with your friends and colleagues. We are glad that we are being able to help you and guide you with your personal and professional design projects and we would love to hear your suggestions too.
That being said, allow us to share the 'agenda' of our today's blog and yes, you will also be able to get your hands on our free design template as well so, continue reading to know more!
In our today's blog, we will be talking about baby shower, an event that brings smiles to the faces of everyone and there is amazing free food to – for everyone to enjoy but what exactly is a baby shower and what can someone get out of it? Well, it is a party for a woman who is expecting a child and the friends and family members bring in cute presents for the mom to be as well as for the baby.
Sometimes, people as in the parents to be also reveal the gender of their baby during the baby shower parties. Also, nowadays even the parents can throw the baby shower parties and have friends and family members over for a nice gathering but originally any close friend of family member would plan the baby shower party to throw for their loved one. We believe that there is no harm in throwing a party of the sorts even if it is being thrown by the parents themselves because well, this is a time to celebrate, right?
Being the event manager or the "party thrower", it is important for you to know the gender of the baby so that you can set the theme of the baby shower party like you would be getting all things blue if the baby boy is coming and pink for the little princess. Although, there are more colors which can be associated with the gender and it is totally up to you to pick any color that you think will suit the occasion.
For our blog however, we have already picked up a theme and the shower invitation template is for a baby boy – which means that our color theme is mild and dark blue with a hint of white and skin colors to create a fun design. Let us give you all a run down of our free baby boy shower invitation template now!
As you can see that the design template happens to have a mixture of different colors, we have also incorporated some interesting design elements to make it more baby friendly and we can bet no one would decline the invitation of attending the baby shower after receiving this invitation. There has to be a baby somewhere in the design so we decided to put him in a pram which is nothing but too cute to ignore and a blue cloud with rain drops is adding more to the entire theme. Next up is the big announcement which means that it has to be written prominently.
Let's come to the copy of the invitation card now: all the fonts that we have chosen for the design are easy to read but we have also made sure that they are in alignment with the theme, you must have noticed that they are all playful and anyone would be interested to read whatever is written on that invite. It is really important to ensure that the event details are clearly written on the invitation like the name of the parents or whoever is throwing the party, the date and time as well as the venue. Proofread the entire invitation card so that anyone who is invited reaches directly at your house or the venue without having to face any issues.
And of course, we have kept the RSVP section separate than the rest of the invitation because it deserves that, no really. We want all your guests to send in a clear RSVP to you so that you know who will be able to make it to the baby shower. You can add in a phone number (a working one) or an email address or maybe create a WhatsApp group to make it more easier for everyone to inform you then and there. Now comes the backside of the invitation which is created by using only two colors; the main theme color and white polka dots so that it doesn't look dull. You will also be able to get your hands on a solid colored envelope with this blog too so, know that it's a complete package.
So, that's all for today guys! We hope that you will enjoy reading our blog and will also be to create some fun baby shower invitations for your friends, siblings and clients. Don't forget to share your feedback in the comments section down below and we will see you all with another amazing blog of ours very soon!
It's A Baby Boy Free Shower Invitation Card Design Template Ai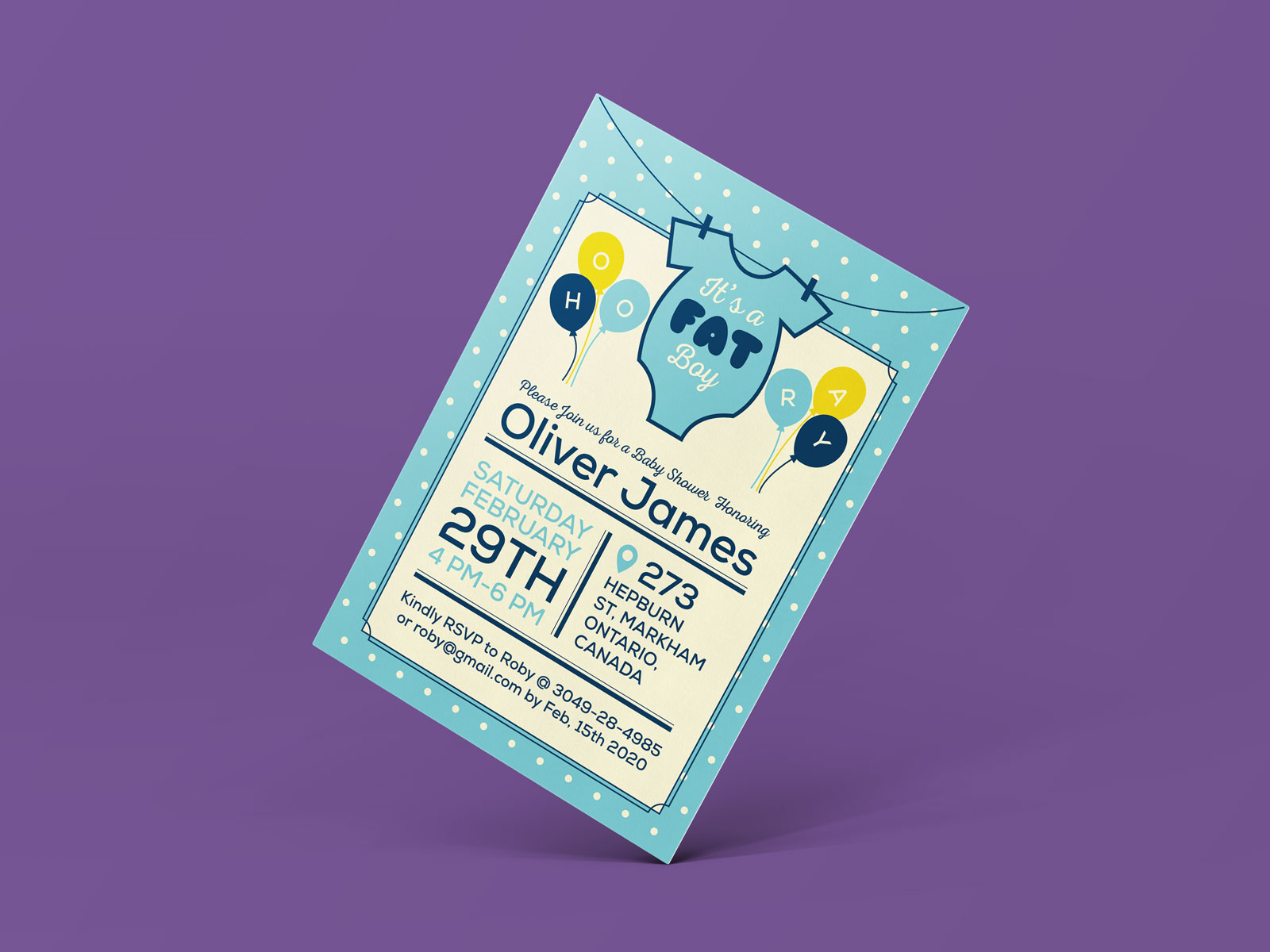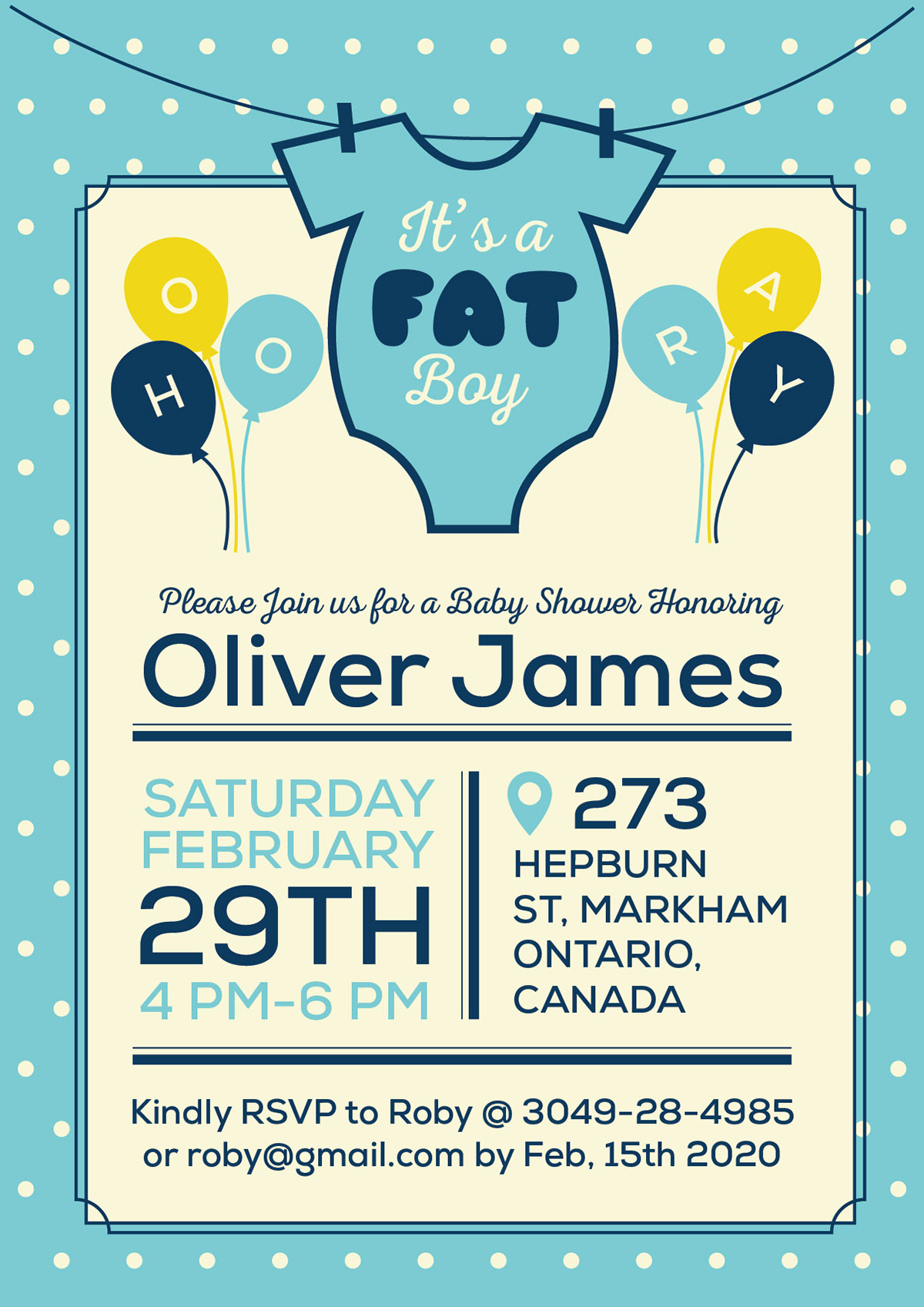 Available Format: Ai
License: Free for personal usage
Zip File Includes: Free Baby Shower Design Template
Design Template Resolution: A4
Note:
1. Free Baby Shower Design Template is allowed to share online (A Must Linkback to this post)
2. Say thanks if you like or share/tweet with your friends. That means a lot to us.
3. And don't forget to subscribe to receive for more high quality premium freebies & awesome articles only.
Download Editable Template
More Flyer & Invitation Design Templates We Designed Recently: