Hi there everybody! We hope that you all are having a great time working on our free mock-up PSD files and that you are also following our easy tips & tricks to create successful campaigns and art works. Our today's blog is all about packaging (eatable) but before we start sharing what we have created as the mock-up PSD, we would like to take this moment to thank you guys for your constructive feedback and for your interesting suggestions on our previous blogs and for also sharing our ideas with your loved ones.
How many of you guys love to eat wafers? We think that most of us do and the best thing about wafer biscuits is that we can have them with literally anything for example; with tea or coffee (if you are really into wafers), to add flavor to your ice-cream desserts, and you can also make your own recipes too by using wafer biscuits and we think we need to stop talking about recipes and stuff otherwise we would want to leave everything that we are doing and so that we can be there in the kitchen to make something with the wafers.
Anyways, as you guys know that eatables will be there as long as the human beings are there which means that there will always be a need to cook, make and bake, manufacture and produce articles that can be consumed. Wafer biscuits not only fall under the category of convenience food but the price ranges are quite reasonable too – making it easier for anyone and everyone to consume them. And since the demand is there, we needed to create a free mock-up PSD file too that you can use for your wafers packaging.
We keep all our free mock-up PSD files highly editable so that it is easier for you guys to create whatever you want to create while working on the files that we have created. You can add your desired design elements, fonts, colors to the free wafers packaging mock-up PSD file as per the requirements of your project and whatever is being expected from you.
Now, let's talk about how you can make your packaging designs effective so that your potential customers can know about you in order to make a purchase! As a graphic designer, marketer and advertiser, you would know that the packaging of literally any product is the very first thing that a person looks at before they get in touch with your business in one way or the other. Another thing that you must always keep in mind is that you need to stand apart from the crowd because there are numerous other businesses already in the market that have made their way to the hearts of their audiences.
To make sure that your business is being recognized and that you are generating revenue(s) as well, you need to cover all the fronts that are important; proper business management and resources to actually produce the products, quality checks, excellent communication and branding on all the relevant mediums and platforms including Out-of-home (OOH) advertising, TV commercials etc. and then of course the availability as well as the striking packaging designs.
Your design brief can help you understand a lot of things that you can use to incorporate into your packaging for example; the audiences' insights which include their age groups, their likes and dislikes, demographics and genders, their socio-economic segmentations. When you know your audience, you also know how to attract them towards your business. Okay so, take the very product into consideration; wafer biscuits are likes and consumed by almost every age group – given that they have teeth to bite them and all. What should be your strategy when it comes to a product packaging that is literally for everyone? It is simple, you need to create a beautiful mix & match of themes and design elements (fonts, colors as well as imagery) that sits well with your different audiences.
For starters; we would like to share a couple of ideas that you can follow to create your wafers packaging designs. Yellow and red colors are considered ideal for food packaging as these colors not only evoke the taste buds (regardless of the age) but also stimulate the appetite as well.
In addition to that; these colors are attention grabbers too. The color green is for natural ingredients and eco-friendliness and if your business is about these things, then you must depict it as well. White color is for purity and you can combine with any other color to create a well balanced color palette for your packaging designs. You must also add the colors of the flavors the wafers happen to have to attract those who are craving for something sweet and biscuity. And when you have created your design options, do compile them all in a nice and detailed mock-up presentation before you share them with the concerned team members.
Free Wafers / Chocolate Bar Packaging Mockup PSD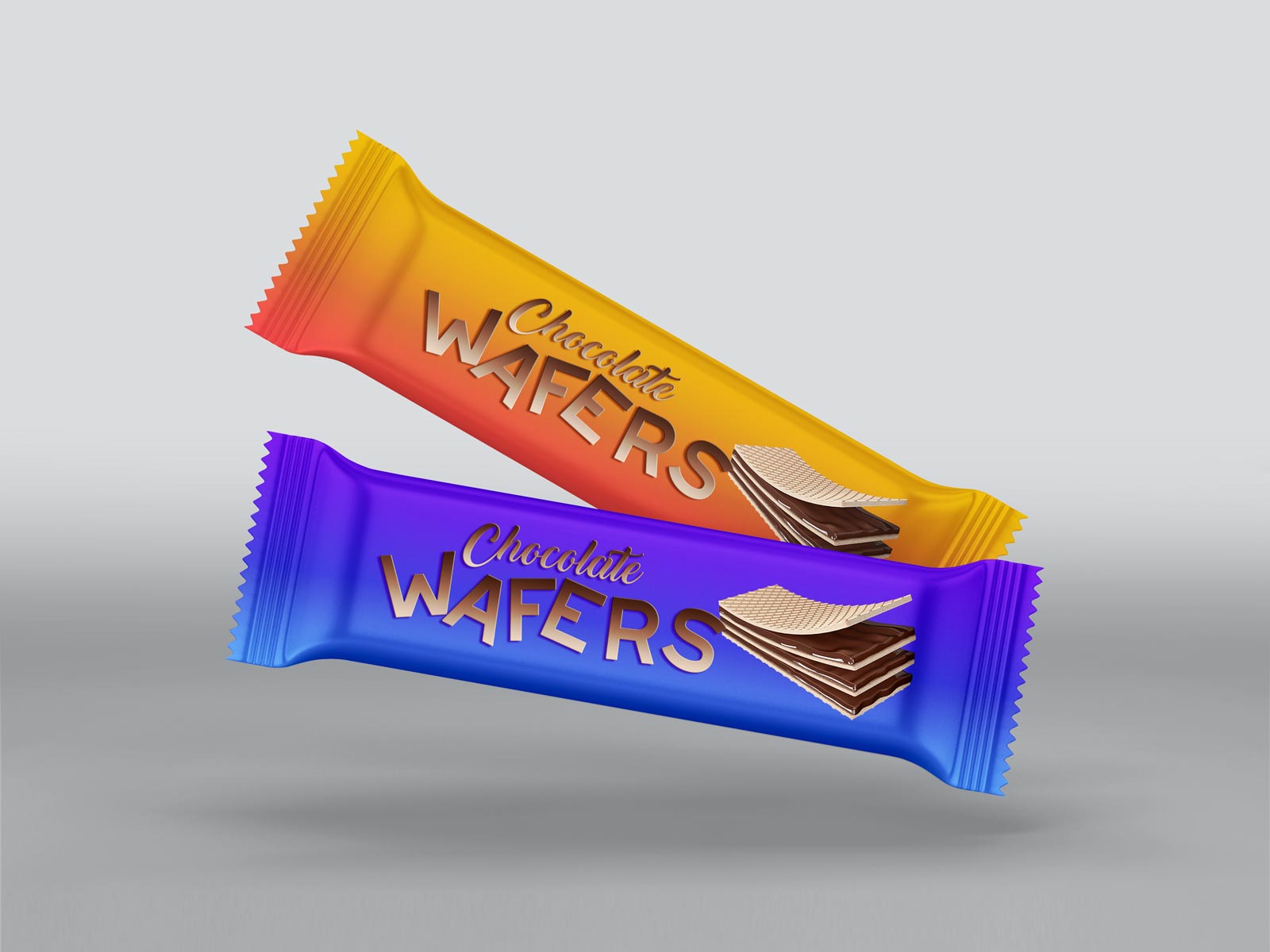 Available Format: Layered PSD with smart object insertion
License: Free for personal presentational use only
Zip File Includes: Wafers Packaging Mockup PSD
Note:
1. PSD Mockup is allowed for sharing online (A Must Linkback to this page)
2. Say thanks if you like or share/tweet with your friends. That means a lot to me.
3. And don't forget to subscribe to receive for more high quality premium freebies & awesome articles only.
Download Wafers Packaging Mockup
More Free PSD Packaging Mockups you would love to download: