Hi there everybody! We hope that you guys are keeping safe and that you are also enjoying reading our blogs as well. Your constructive feedback and interesting suggestions help us create and write better and interestingly, the design that we are about to share with you guys is something you are going to need for your upcoming projects, so allow us to introduce you to our free car service checklist design template.
If you own a car or if you are planning to get one for yourself, you would know that your car needs regular check-ups and maintenance services to be in the proper shape and to work for you as perfectly as you would want it to be. A car service provider makes sure that your car does not have any wear and tear after they have done their job and that the brakes are okay, the engine oil has been changed and things like that and if you are wondering whether or not you should get your car serviced, then we are here to tell you a couple of benefits that will help you in the longer run.
To prolong your car's life, car service providers ensure that all the parts of the vehicle are dust free and are clean so that the ride is smooth and that the driver does not have to come back to them for another month or two. A good car service provider company always has a variety of services to offer such as oil changing, inspecting the cabin air filter, tire pressure, transmission fluid, replacing the brake fluid as well as to make sure that the seats belts and windshield wipers are in good shape too. And whatever is there to be maintained gets maintained for a smoother and safer ride.
Making sure that your car gets serviced regularly is one of the best things you can do as the car owner. There are many people who can get the car servicing done by themselves and that is a great thing to do and then there are proper workshops that hire professional mechanics can do the work for you – both the persons need a document to keep the record of the vehicles that they provide the services for. By maintaining the vehicles' record, not just the service provider but the driver can also know what will need detailed servicing next time and what won't require a lot of time to fix.
With our free car service checklist template design, we actually wanted to made your life simpler – it is literally a design template that you can download for free as is but if you feel that this needs any changes perhaps an addition or subtraction of the services, then you can do that very easily as well. Now, we know that we are living in the time where everyone wants to have access to all things quick and also sustainable, so we have made sure to keep the template highly editable. In fact, we can bet that you will have a great time working on it.
Now, let's talk about actual work – the work that you might have to do in the context of a graphic designer or someone who is assigned to manage the records of the car services! Keeping in mind that our free car service checklist template is highly editable and will allow you to design whatever you would like to design, we feel that you must create multiple design options that you can have approved from your client or direct boss. By doing so, you are actually going to do yourself a favor as multiple design options allow the person(s) to think through things before they can get the stuff printed or produced at a bigger scale. Also, in case of any revisions or changes, the design template will let you do that on the screen too before you get in touch with your third party vendor for printing purposes.
Oh, and if you are on a mission to use as less paper as you would to use, then of course this design template of ours can also be used digitally if you know how to use illustrator and can edit the file by yourself for the record. Just a few things before we wrap our today's blog, though! Whenever you design something for your own brand or for someone you work with, always brand that document. It looks more professional and you practically get to own that document as well.
In addition to that, before you hand in the files to the concerned departments for reviews and approvals, make sure that you have proofread the whole document so that there are no chances of errors. As far as the design elements are concerned, you can add them to the document to make things look classy and attractive.
That's all for today! Get your hands on our free car service checklist template right away and start creating your own designs.
Free Car Service Monthly Maintenance Checklist Template Ai & PDF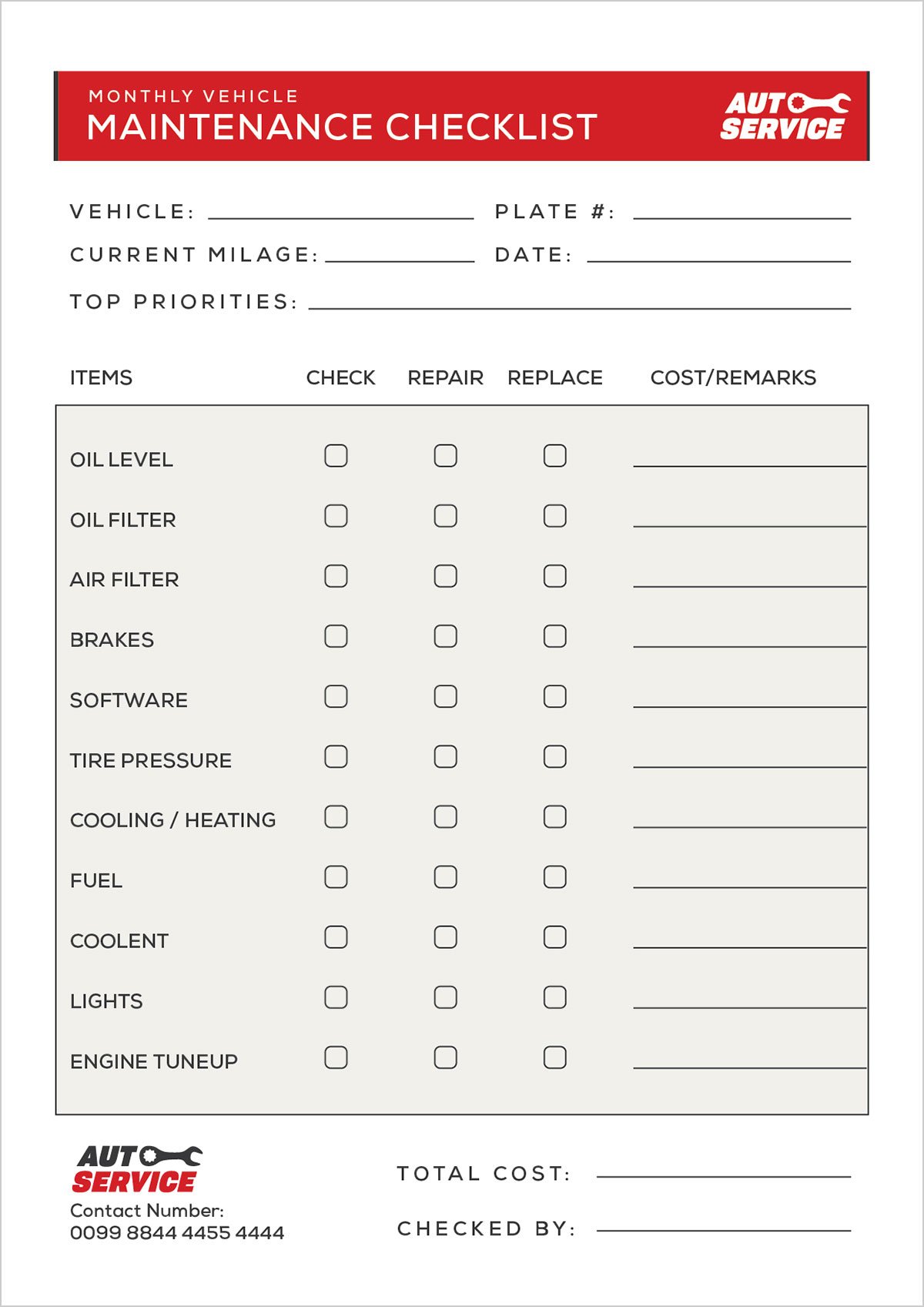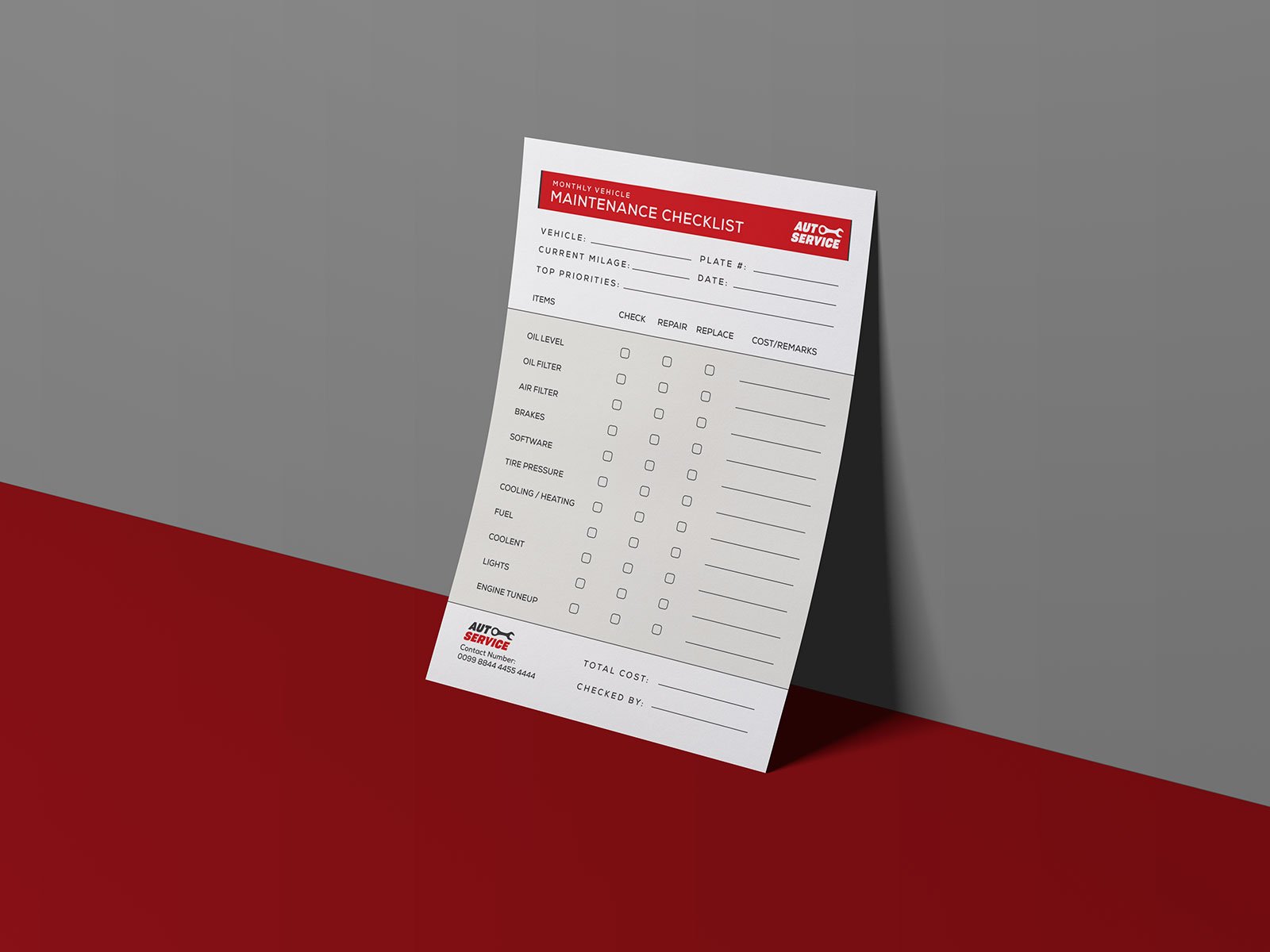 Available Format: Ai and PDF
License: Free for personal usage
Zip File Includes: Free Car Maintenance Design Template Printable
Design Template Resolution: A4
Font Used: Nexa
Note:
1. Free Car Maintenance Template is allowed to share online (A Must Linkback to this post)
2. Say thanks if you like or share/tweet with your friends. That means a lot to us.
3. And don't forget to subscribe to receive for more high quality premium freebies & awesome articles only.
Download Car Maintenance Editable Ai
Download Car Maintenance PDF
More Awesome Free Design Templates: