Hi there, hello there! We are back with yet another interesting blog of ours and we are sure that you are going to love it but before we start sharing ideas on how you can create your very own designs, we would love to thank you all for your overwhelming response on our previous blogs and for also sharing the content ideas with the ones you love.
As you know that our day to day office lives involve sending of documents in one way or the other and most of the times, the documents are confidential like business contracts, appraisals, hiring or resignation letters and things like that so, it is very important to keep that information just between the concerned parties while the ones who carry the documents are only a way to take them from one place to the addressee(s).
For all such purposes, envelopes are designed and produced to make the job easier for everyone involved and from branded stationery to even the plain ones, envelopes are considered to be one of the most important stationery items to exist. Now, we are about to share one of the most fascinating history facts with you guys and here it is: the first ever envelope was made somewhere in 3200 BC in the ancient Middle East.
There are multiple purposes of using an envelope in the modern age other than just sending out documents for example you can send letters, greeting cards as well and if the material is something that is more durable, then you can also send heavy items in the envelopes too. Envelopes can be easily bought from any book store or stationery shop or you can go to a courier company or your nearest post office as well to get the envelopes – this also becomes a more fun thing to do because the same people can dispatch the documents for you to the concerned persons.
Allow us to share how you can create your own envelope designs for your personal and commercial projects. You can create these designs for your own business, for your clients as well as to send out your light weight items to your customers etc. as well. In addition to that, you can also sell customized envelopes for people (like us) who love to write letters and greeting cards. From writing names on the envelopes to making them for events and occasions as well, you can make whatever you would want to create using our free A4 envelope mockup PSD file.
So, what are the pointers that you need to keep in mind while creating an envelope design:
For corporate designs, the envelope must be in one solid color, it could be white or any other complementing color that is in the branding. To make it a beautiful design, use the necessary branding colors that are there – but not too much. Use the colors like you would to create a business card, for instance and you will end up with beautiful envelope designs.
As far as the design elements are concerned, use relevant and meaningful design elements that complement the overall design. Usually, for corporate designs, lines, circles and interesting geometric design elements look really nice. For customized designs; follow your design brief(s) and suggest ways of making the designs look fun.
For the copy, always mention the name of the company prominently so that the addressee knows that you have sent them something and in addition to that, you must also mention the contact information on the back side of the envelope including your phone numbers, fax numbers (if any), email address as well as the website and postal address so that the addressee can contact you easily.
Proofreading is very important for these kinds of stationery items as we are sure that you must have seen documents, business cards etc. on which someone manually adds a thing or two because the original text was not needed, or it was incorrect. That does not leave a good impression on anyone so always make sure that you have proofread everything before you share the copy with the 3rd party vendor.
Lastly, don't forget to create multiple design options for your clients and customers as by doing so, you will be able to share a variety of thought processes including different approaches towards the design and it will help the decision-making bodies to make an informed decision too.
That's all for today! We hope that our blog and free A4 envelope mock-up PSD file will help you create sophisticated designs for your businesses as well as for the ones that you work with. Don't forget to share how you like our blog and while you are at it, feel free to share it with your favorite colleagues as well and we'll see you all next time!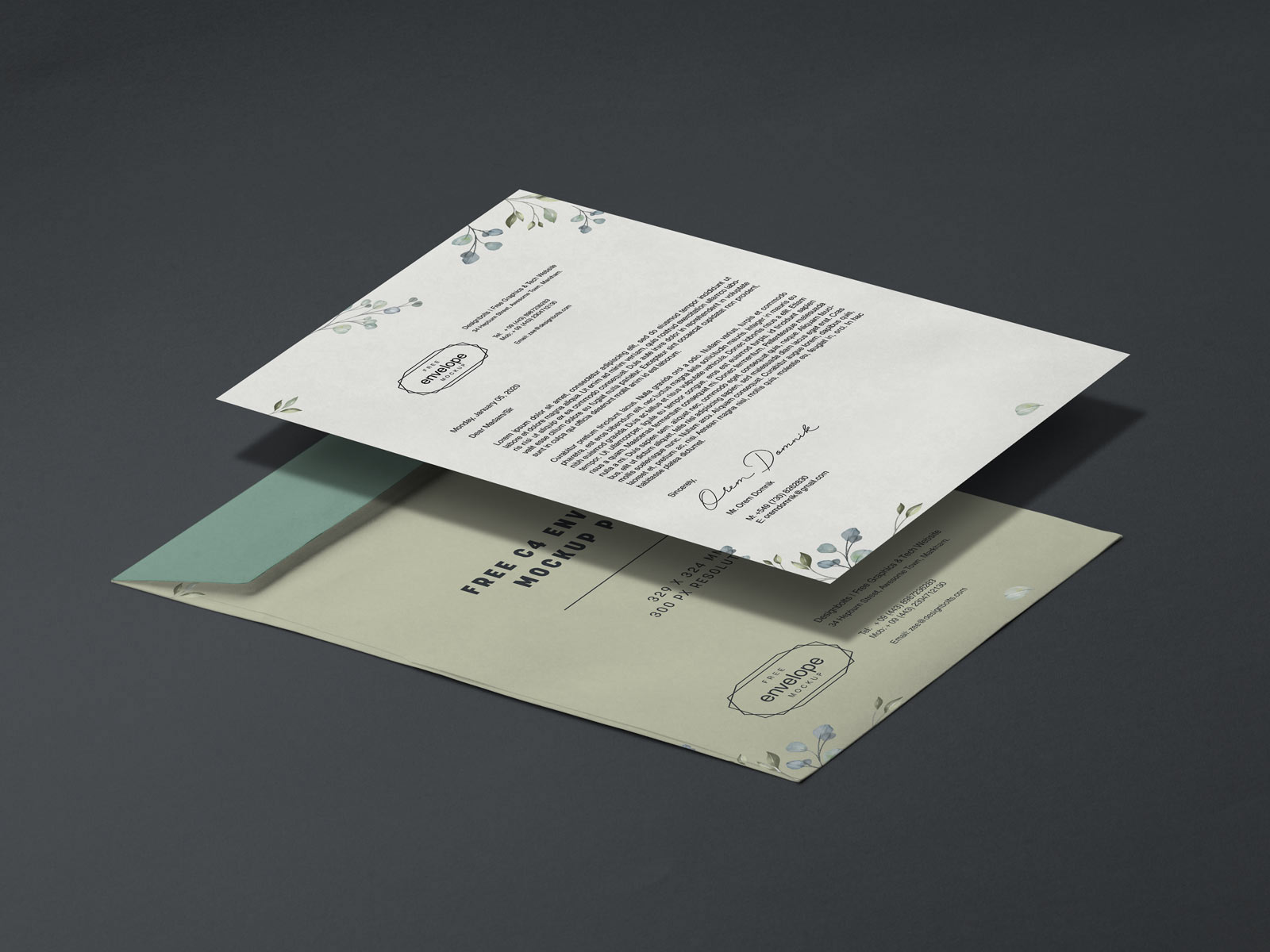 Available Format: Layered PSD with smart object insertion
License: Free for personal and commercial usage
Zip File Includes: Free A4 Letterhead & C4 Envelop Mockup PSD
Mock-up Resolution: 4000 x 3000 px

Note:
1. Free Mockup PSD is allowed to share online (A Must Linkback to designbolts.com)
2. Say thanks if you like or share/tweet with your friends. That means a lot to me.
3. And don't forget to follow or subscribe to receive for more high quality premium freebies & awesome articles only.
Download A4 & C4 Mockup
More Free Mockup PSD Files: