Hey there guys! We hope that most of you are trying to be back on the track with all the ongoing projects and daily jobs because we are really excited to share that we have worked on some amazing new blog topics as well as mockup PSD for you guys and we are all set to put them here but of course, one blog at a time.
So, as we all know that new year brings or may be creates chances of us getting to know new friends that we could make over the parties that we were attending and it does not matter if that was for a short period of time, we would like to let them know that we remember them and that we will use their contact information for surprising them by sending them cute little tokens of love or some greeting cards, you know – and if that is a long distance friendship then this happens to be one of those things which do not require a lot of money, efforts & time.
We know that most of you have gotten the hint but those of you who want to know what's about to happen here, this one is for you: we have created a beautiful greeting card and envelope mock-up PSD file for you guys which is free to download and highly editable as well. Our mock-up PSD will allow you to create anything of your choice in no time and we can bet that you will enjoy working on our file.
You have (almost) got the mock-up PSD file to create greeting cards and envelopes but there is something else that you would need but can you guess what would that be!? Well, that is a bunch of creative ideas for you so, feel free to be inspired and create your own magic.
We will also share the multiple ways in which our beautiful greeting card & envelope mockup PSD file can be used for example; if you happen to own an online business of creating customized stationery items for your clients then you have come to the right place. You can also use our mock-up PSD file if you are one of those creative friends who loves to design personalized gift items for their friends and of course, if you are associated with a creative and digital agency then we know that this blog and mock-up PSD file will help you in designing corporate greeting cards as well as company cards that are shared within the team members on achieving a milestone or on birthdays etc.
But what will you design is the question here, right? Well to give this thing a start, we will suggest you guys to create a content calendar (this goes for everyone who has to follow a certain set of guidelines in order to make designs). And even if you are thinking to use the mock-up PSD file for creating some personal greeting cards and envelopes then it is important to know what occasions are celebrated that require a greeting card or you might want to write down the dates of birth of your friends somewhere so that you would know that it is time to create stuff.
Now, let's come to the ideas and have a look at what we have for you guys! Like in most countries, it is the peak of the winter season and a number of people suffer from seasonal depression as well as many people have to fight some allergies too like flu, cough and what not so you can create designs that say get well soon in a unique way for example; if we were to design a greeting card that was supposed to be sent to a friend who is under the weather then trust us; we would have taken the route of sarcasm. That does not only seem more creative but you know that you will be bringing smile on the face of someone who is nothing but sick.
There are multiple quotes available online too which can be used for some creative copy of your greeting cards. Then you can also send warm wishes and good luck to a close friend's way who is unable to get a hold of whatever is happening – since it is the new year and no matter how prepared we are mentally, we tend to feel a little too overwhelmed and that results in us failing to concentrate on ourselves or on our job.
Another idea to create an adorable greeting card is to follow a love theme as Valentine's Day will be celebrated too and well, we all know how much we love spreading love through our designs. Then there will be some Netflix seasons out too so you better follow the release dates in order to create some theme based greeting cards for your friends / customers.
Oh, and don't forget to make sure that you also create multiple design options and mock-ups as that is the best way to display your collection on the website as well instead of having the card printed and all, yeah!?
So, that is all for today! We hope that you will get your hands on our free beautiful greeting card & envelope mock-up PSD right away and will also create amazing designs for your personal and professional projects.
Free Beautiful Happy Birthday Greeting Card Design & Envelope Mockup PSD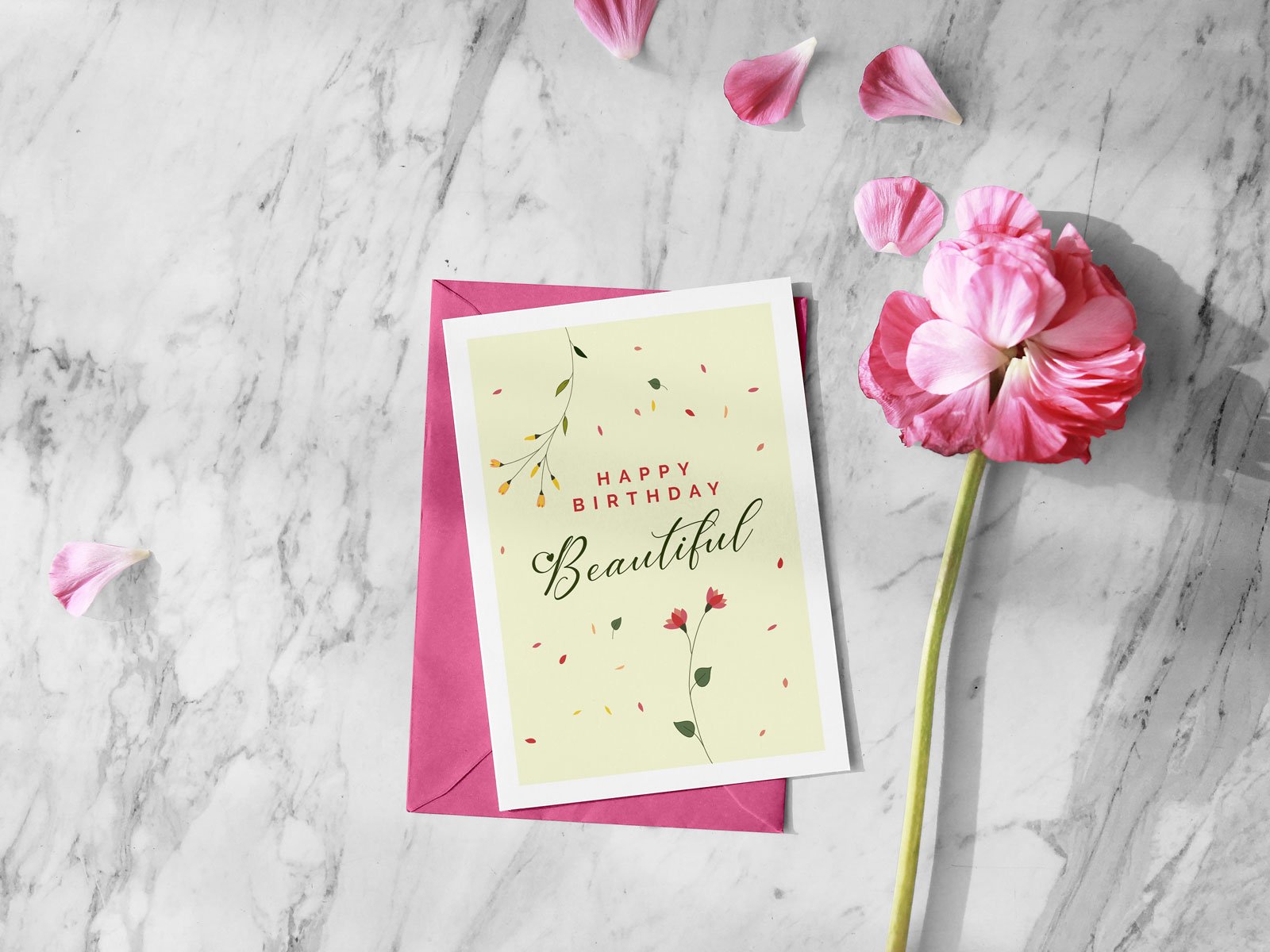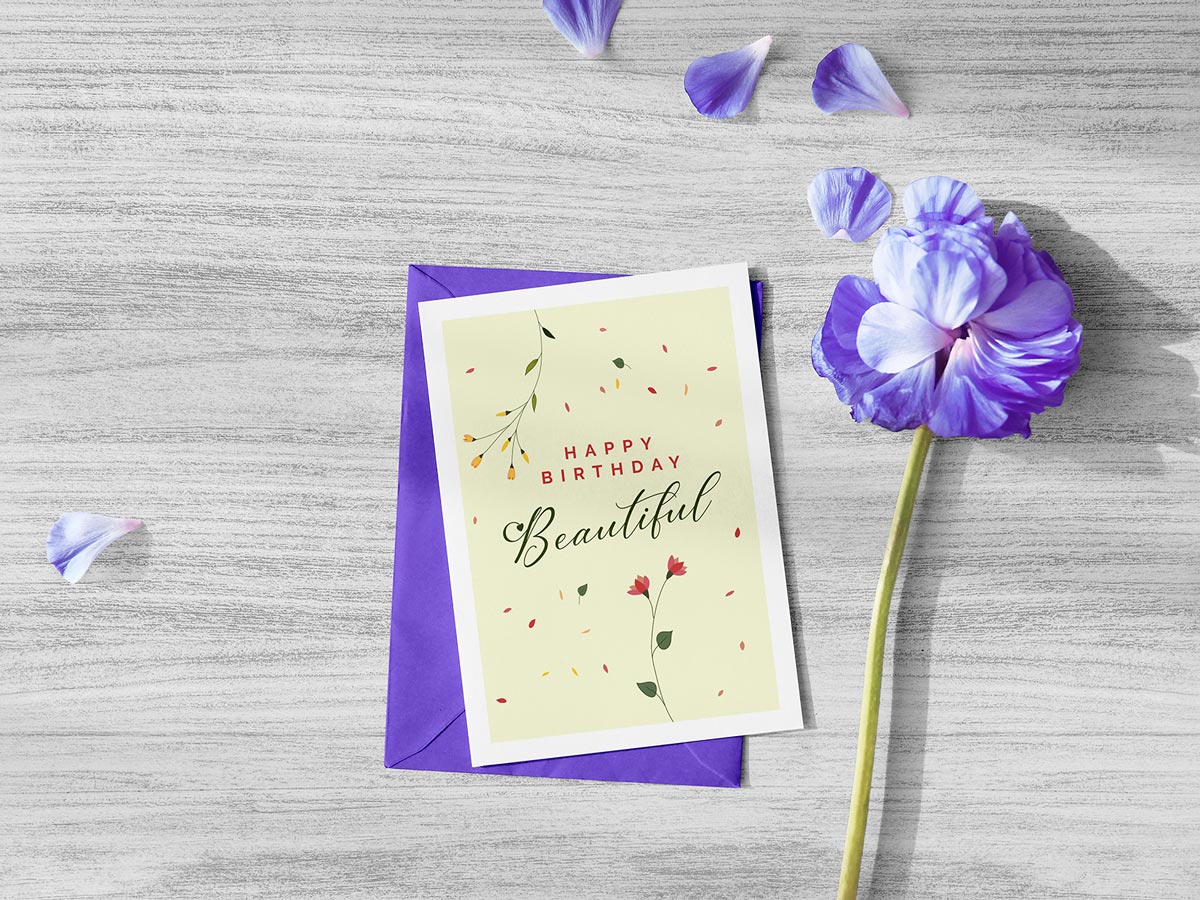 Available Format: Layered PSD with smart object insertion
License: Free for personal and commercial usage
RAR File Includes: Free birthday greeting card design and mockup psd
Design Template Resolution: 5 x 7 inches  (300dpi)
Note:
1. Free Mockup PSD & Design Template Ai are allowed to share online (A Must Linkback to this post)
2. Say thanks if you like or share/tweet with your friends. That means a lot to us.
3. And don't forget to subscribe to receive for more high quality premium freebies & awesome articles only.
Download Birthday Card Design
Download Card Mockup
More Awesome Free Design Templates: