Hi there, hello there! We hope that you guys had a great time reading our previous blogs and are also enjoying working on our carefully created design templates and mock-up PSD files. Today, we have something super interesting for you and we can bet that you will love it too but before we get straight to the point; we would like to thank you all for your overwhelming response on our content and for also making sure that you are sharing it with your loved ones and favorite colleagues as well.
If you have been reading our blogs for some time, you would know how much we love talking about marketing and advertising materials and we know that everything that we share here helps you guys too in one way or the other. But we think it is time for us to share it with you guys that we absolutely love square wall mounted sign lightboxes that are used to display store names or for all sorts of advertising etc. They not only look stunning if designed and mounted at a nice and prominent place, but they have this aura that catches a person's attention. And that's what a business need, right?
Although, there are many ways to utilize a square wall mounted sign lightbox, but what we have created for you guys is super editable in high resolution and it will give you guys a chance to experiment whatever you would like to experiment; from choosing colors to fonts and even playing with the shape too (if you must), you will notice that our free mockup PSD file is all set to help you create an awesome insignia for your business or the one that you are working for.
Recommended: 60+ Outdoor Signage Mockups
There are a few things that we must share here when it comes to Out of Home advertising (OOH) so that you know what you are doing is on point and that you do not have to change anything about it either. We have seen this happening around us and, in the world, too that many brands and business owners don't like taking risks specially when they can. It can be a small digital campaign, or may be changing a tag line to reach the local audiences – which is not too hard to do but the decision-makers feel that they might confuse someone or they might lose their customers but you can only know once you have done that certain something, right?
We know that we talk about taking risks quite frequently and that is mainly because we want you guys to know that there is nothing wrong in exploring the opportunities; because you will know that whatever you have done is something that was required to be done. For many people here too, a square wall mounted sign lightbox would sound an idea not everyone should go for but that is why we are here, you know. We want you guys to go for something that you have not done in the past, introduce something new to communicate and talk to your audience, bring something new to the table for you don't know how many from your existing customers are waiting for you to change a thing or two.
Recommended: 135+ Free Outdoor Advertisment Branding Mockup PSD Files
Next step for you to work on and then execute too is your goal; what do you want to achieve through your messages and how are you planning to deliver that message? These are the things that you must know before you work on literally anything. Set a purpose, a goal to make sure that whatever you are doing is not being done for the sake of it but you want to do it to stand apart from the crowd, to provide the masses with something no one has done before. You must also know what your consumer needs to see. The more ad relevancy you have when it comes to the needs of your consumers, the more you would see them preferring your brands over others.
Also, know that changing the way you communicate is not suddenly going to bring more and more customers to your shops / online stores. You will see that happening with the passage of time but what's important here is how you are talking to them and how you are catering to their needs. So, from picking the right colors to attract your target audience to using age-appropriate words and phrases to making sure that they are there to see your square wall mounted sign lightbox(es), you must strategize the whole process in a way that it works not just for you but for your audiences as well.
That is all from our end! We hope that you enjoyed reading this blog of ours and if you did, don't forget to share your feedback with us in the comments section.
Free Square Wall Mounted Sign Lightbox Mockup PSD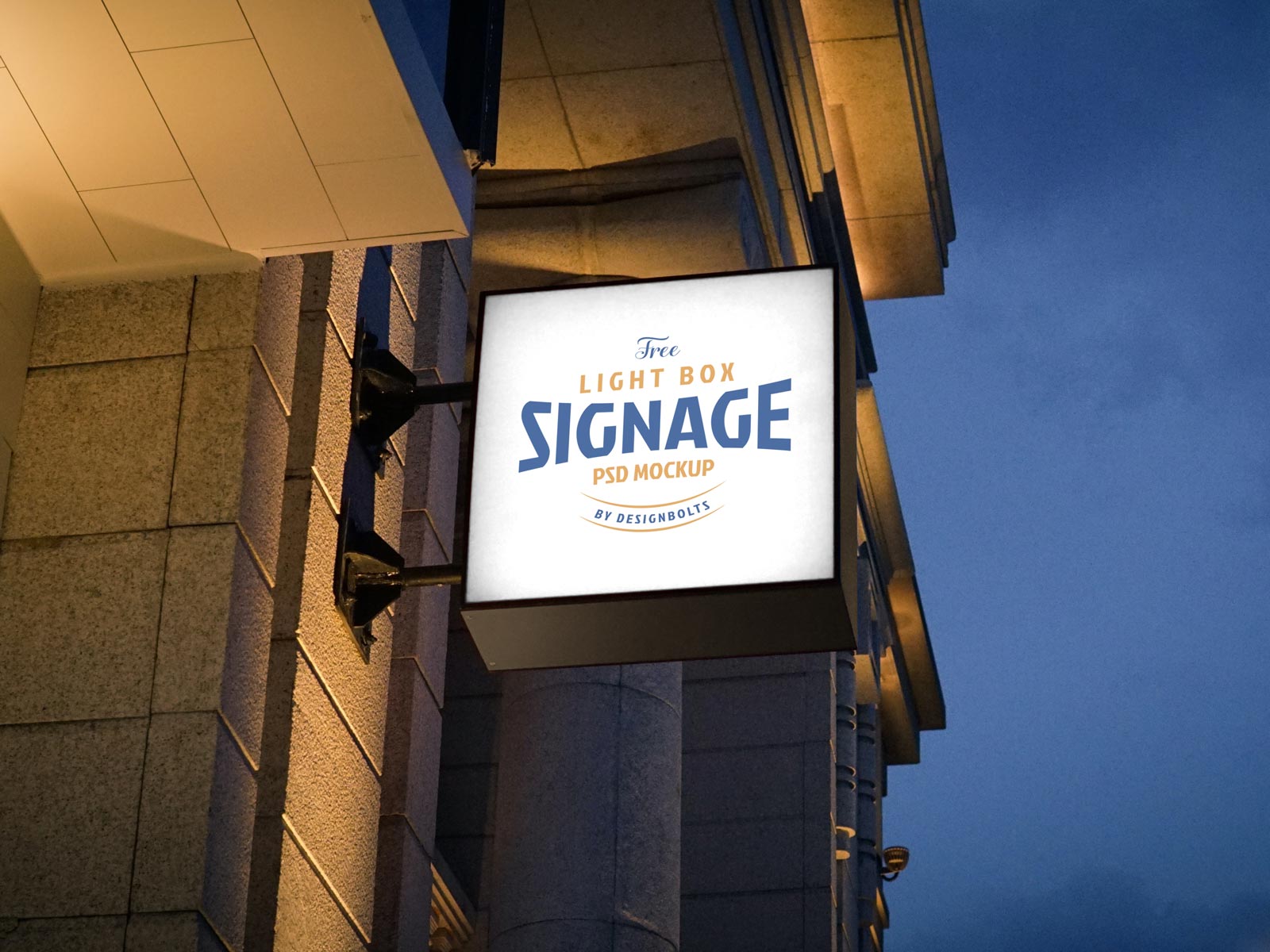 Available Format: Photoshop PSD
License: Free for personal and commercial usage
File Format: WinRAR
Mock-up Resolution: 3200 x 2400 px
Artwork Size: 923 x 923 px
Note:
1. Free Light Box Signage Mockup is allowed to share online (A Must Linkback to this page)
2. Say thanks if you like or share/tweet with your friends. That means a lot to me.
3. And don't forget to follow or subscribe to receive more high quality premium freebies & awesome articles only.
Download Signage Mockup
More Free High Quality Outdoor Mockups: