Hi there guys! We hope that you guys are keeping safe and staying indoors too if the lockdown has been implemented in your city again. These are hard times for sure and we are hoping that we will get over this real soon too. For our today's blog, we are going to be talking about the virus and the things that are associated with it so, let's get started!
Yes, it feels super sad to even mention that the Coronavirus is still here and that due to the negligence of the people, it has started to infect the communities again. But we are sure that you guys must have heard the news about the vaccinations too and that is good news, right? A Turkish-German power couple has put in their souls into making this vaccine to treat the Coronavirus and the reports say that it is 90 percent effective.
We think that the making of the vaccine itself is a huge accomplishment considering the fact that the virus can be defeated now does make us feel happy and of course, proud of those people who are putting in their efforts and energy to make this world a healthier place once again.
Do you guys remember the first time when lockdowns were imposed? And a lot of people were not ready for that for various reasons, of course. There were salary deductions, there were no arrangements for the whole family to be together all the time, you were supposed to get done with the groceries before a certain time slot and then that would be it for the day. A lot of other things kept happening too – there are / were people who still have no idea how to manage sitting in the room when they are working from their home but they also have to get done and over with the house chores as well. There are chances that they may not have anyone to be there for them emotionally and that thing can take a toll on anyone quite easily.
Recommended: 30+ Best Coronavirus Face Shield Visor Masks for Young Kids
Although, a lot of countries succeeded in keeping the number of the cases low by following precautionary measures, their strict rules and policies did not allow the communities to gather anywhere and we think that, that is what needed the most. But many people started to take all such things non seriously and that has resulted in the second wave. Now, that we know that we will have to go back to where we were last year in November, it is also important to realize that we have to be careful about the ones around us too.
Keeping in mind everything that has happened in the past year, we have come a long way and that is the spirit that is required now too. And with the creation of the COVID-19 vaccine, we think it is safe to say that everything will get better and these trying times will be over soon.
Recommended: 20+ Free Coronavirus (Covid-19) Face Mask Mockup PSD Files
Since the vaccine injection happens to be super effective, pharmaceutical companies will be on board for the selling of the injections too and for that all the concerned people will have to have the bottles to carry the injection as well so, we decided to create a free COVID-19 vaccine injection bottle mock-up PSD for the graphic designers around the globe. As you know that we keep all our mock-up PSD files highly editable and we make sure that they are fun to work on too, we can bet that you will love working on this one too.
We have created the mock-up of a tiny glass bottle that is attractive, and you can finalize the sizes after knowing about the requirements of the contents that is going to be added to the bottles. You can also choose colors from the creative thoughts that you have worked on or we are sure that you have received the design brief to follow for the campaigns. While you are going to be at it, you need to experiment with different colors, fonts and design elements to see what looks best and is also complementing your design brief as well and you will be good to go.
Recommended: 100+ More Cool Face Scarf Bandanas to Hide Coronavirus Mask
And that is all for today, you guys! We hope that you will find our blog and free COVID-19 vaccine injection bottle mock-up PSD file super useful. If you have any suggestions or feedback to share with us, feel free to do so in the comments section down below and while you are at it, do also share the blog with the ones who are planning to work on the bottle design for the COVID-19 vaccine injection or any other vaccine for that matter.  Until next time, take care of yourself and stay indoors as much as you can.
Free COVID-19 Coronavirus Vaccine Injection Bottle Mockup PSD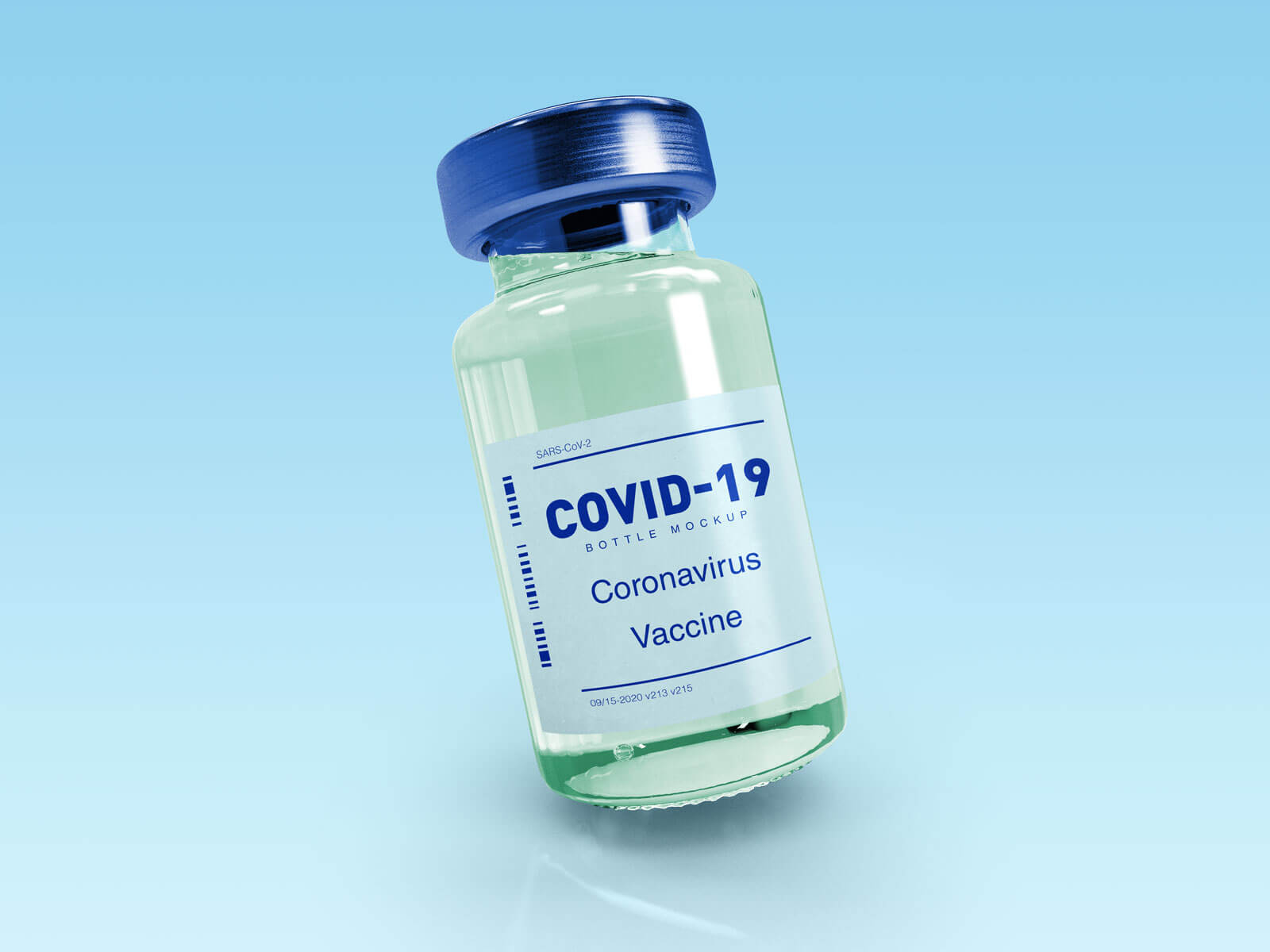 Available Format: Photoshop PSD
License: Free for personal and commercial usage
File Format: WinRAR
Mockup Resolution: 5000 x 3750 px
Note:
1. Free Covid-19 Coronavirus Injection Bottle Mockup is allowed to share online (A Must Linkback to this page)
2. Say thanks if you like or share/tweet with your friends. That means a lot to me.
3. And don't forget to follow or subscribe to receive more high quality premium freebies & awesome articles only.
Download Injection Bottle Mockup
More Free High Quality Free Bottle Mockups: