Hi there everyone! We hope that you all are keeping safe and that our useful blogs, highly editable mockup PSD files and super creative ideas are keeping you busy with your awesome personal and professional design projects. Since it is a new year, your branding needs to be upgraded too and by that we mean every platform that you use for your communication has to be taken into consideration before you work on creating something new and different for the new year including your on-ground advertising spots to your social media accounts so, allow us to share our carefully designed free bus shelter poster mock-up PSD file that you can utilize right away!
As you all know that posters have always been cool – no matter what time period you are in, you have got to check out what the event it is about, what announcement is being made from one of the leading brands in the market, is there a new product launch, a concert of the sorts etc. and people who use posters as a tool to communicate with their audiences are the wise ones because they know that a poster is not just a cost effective mode of advertising but with your creative word play, design elements, colors and everything else that will put up there on the posters will bring the masses to your stores, digital and social media accounts, to your radio channels just to explore more about you as a business and see what you can do to make their lives more fun.
In addition to that; if you know how to use bus advertising correctly, you are already ahead in the game. For example bus stops are considered to be the most brilliant mean of constantly reminding the masses that you exist, that your services / products can help people with whatever they are struggling with or would want to have to do their thing and so on and so forth. These are like a couple of things that you can communicate through your posters while also maintaining that you are that business that cares for the customers and would like to do that in the future as well.
We have already talked about the affordability that comes with bus stop advertising and we would like to share a few other advantages of bus stop advertising with you guys so that you can not only include bus stop posters in your upcoming out-door campaigns but you will also be able to make an informed decisions about the placement of the posters. Since your posters will be placed / pasted / hung at street level, they are going to super visible to every driver and pedestrian and that is a good thing, why? Because the more people check out what you are saying, the more traction you are going to get and once that will start happening, you will see a remarkable increase in your footfall, sales or even online mentions, referrals etc. and more.
– – – – – – – – – – – – – – – – – – – – – – – – – – – – – – – – –
Recommended:
– – – – – – – – – – – – – – – – – – – – – – – – – – – – – – – – –
Bus stop advertising skillfully allows repetition of the 'ads', as it will help the people remember and recall your business etc. whenever they would want to because of the subtle repetition of the business and its products / services. Oh, and of course, bus stop advertising or any out-door advertising for that matter is available literally 24 hours a day and 7 days a week which allows your business message to be consumed at any hour of the day and we can bet that those who know what you are selling or offering would want to stay in touch with you like that.
Recommended: 135+ Free Outdoor Advertisment Branding Mockup PSD Files
Now, let us talk about our free bus stop poster mock-up PSD file that can help you create your very own designs in no time. We are sure that you have memorized the creative strategy process and you also know how to execute it in a way that it will help you get things done in style. Your next step should be to create a log of all the design related elements that you will be using to create your bus posters and once you have compiled them, start incorporating them into your mock-ups so that you can share them with the concerned team members and after getting approvals, the posters can be printed and posted on the relevant bus stops.
That is all for today from our end! We are hopeful that you will like reading the blog and will also enjoy creating stunning designs for your bus stop posters as well. Before we say good-bye from this blog, we would like to encourage you all to share your honest feedback with us in the comments section and while you are at it; do share the blog and our free bus stop poster mock-up PSD file with your favorite colleagues too.
Free Bus Shelter Posters Mockup PSD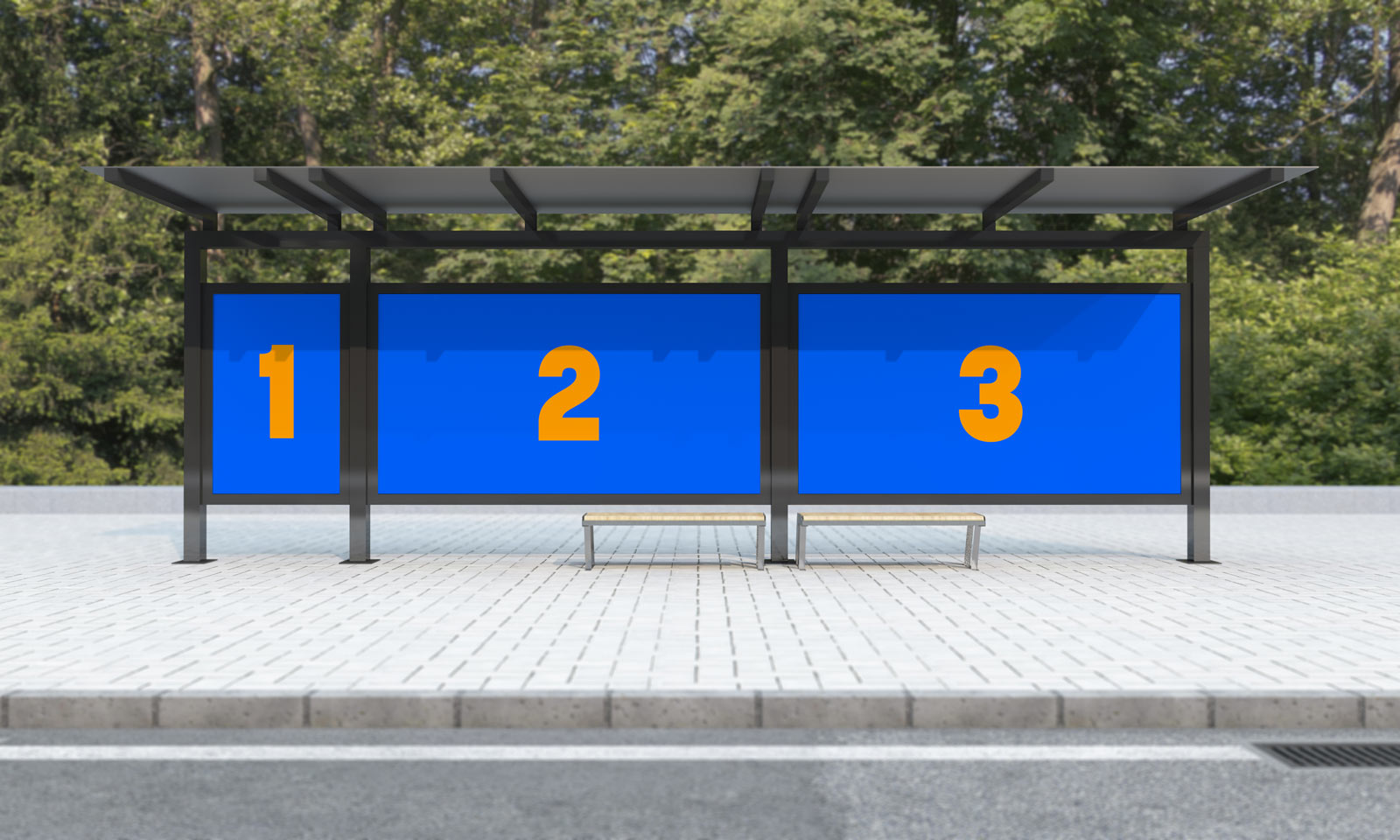 Available Format: Photoshop PSD
License: Free for personal and commercial usage
File Format: WinRAR
Mockup Resolution: 5000 x 3000 px
Note:
1. Free Bus Shelter Poster Mockup is allowed to share online (A Must Linkback to this page)
2. Say thanks if you like or share/tweet with your friends. That means a lot to me.
3. And don't forget to follow or subscribe to receive more high-quality premium freebies & awesome articles only.
Download Bus Shelter Mockup
More free mockups psd files: