Hi there everyone! We are back with yet another amazing and free yet highly editable mock-up PSD file of ours and we are very excited to share how you can make the most of it for your upcoming personal and commercial projects. And before we formally share that information with you, we would love to thank you for the love, support and feedback that you keep sending our way, motivating us through your kind words and also sharing the content with your loved ones too.
If you are one of our regular readers, then you would know how much we love creating items that you can use for your Out of home advertising (OOH) campaigns and we decided to share a brand new mock-up PSD file with you today that will help you create amazing and attractive office building billboards that you can make for your own business or for the clients that you are currently working with. Allow us to share how important it is to not only have a cleaner and subtle branding look of the offices, etc. but to make sure that you are up-to-date with the latest trends as well.
There is a misconception that billboards or OOH advertising campaigns don't really work for the businesses but that is not true because according to a report, more than 70 percent of the individuals in the US alone happen to consume information that is being delivered through billbaords, bus stop branding, and other OOH advertising. So, by keeping that big a number in mind, it is safe to say that not only OOH advertising is more than just effective but it will surely bring you the results that you are expecting.
You can also amplify your campaigns by integrating them on your digital and social media platforms – all you have to do is to work on the ways that will attract your audiences in ways that can also increase the footprint of your OOH advertising. Know that when you have covered all the relevant aspects to deliver your message, you will notice how effective the strategy was. Always keep this in mind that your audiences are almost always looking for innovative ideas from your end or things that can attract them to take an action or two (such as visiting your physical or online store, signing up for your newsletter, following your social media platforms, etc.) that will benefit your business in one form or the other which means that you must consider revamping the branding or upping your communication game.
Recommended: 135+ Free Outdoor Advertisment Branding Mockup PSD Files
Now, let's talk about how you can design the building billboards! Always, always make sure that you don't go overboard when it comes to choosing the design elements, creating content, etc. Simplicity has been and always be the key and you have to accept the fact that you can only influence your consumers when you don't bore them with a lot of information. Keep the copy simple, catchy and to the point. Your design elements (imagery, icons, etc.) should be in high resolution and relevant too so that there is harmony in the overall designs, and in addition to that, the fonts must be bold. The best way to make effective billboards is to make the text readable even from a distance while also making sure that you have one message to deliver, and this shouldn't only apply per billboard but it should be the strategy for the current campaign too otherwise you will end up confusing your audiences and you might never get the results that you were looking for before your went live with the campaigns, you know.
Recommended: 60+ Outdoor Signage Mockups
As far as the colors for the background are concerned, go for any color other than white unless you have planned a teaser campaign and the only way to create suspense is to make a white billboard design and have it displayed across the city. Other than that; you must go for bold and vibrant colors to make the billboards stand and of course, with the right words and relevant imagery, etc. you will be able to make the impact that you wish to make. Lastly, make sure that you have proofread everything before it goes out for printing and the execution of the campaign as it will save your efforts of making changes all over again.
And that is all from our end for today! We hope that you all had a great time reading the blog and that you are set to make your own office building billboards. Do share your feedback with us by mentioning how you liked reading the blog and while you are at it, feel free to share this blog with your graphic designer friends and favorite colleagues as well. We will see you next time with something more fun to read and work on.
Free Office Building Billboard Mockup PSD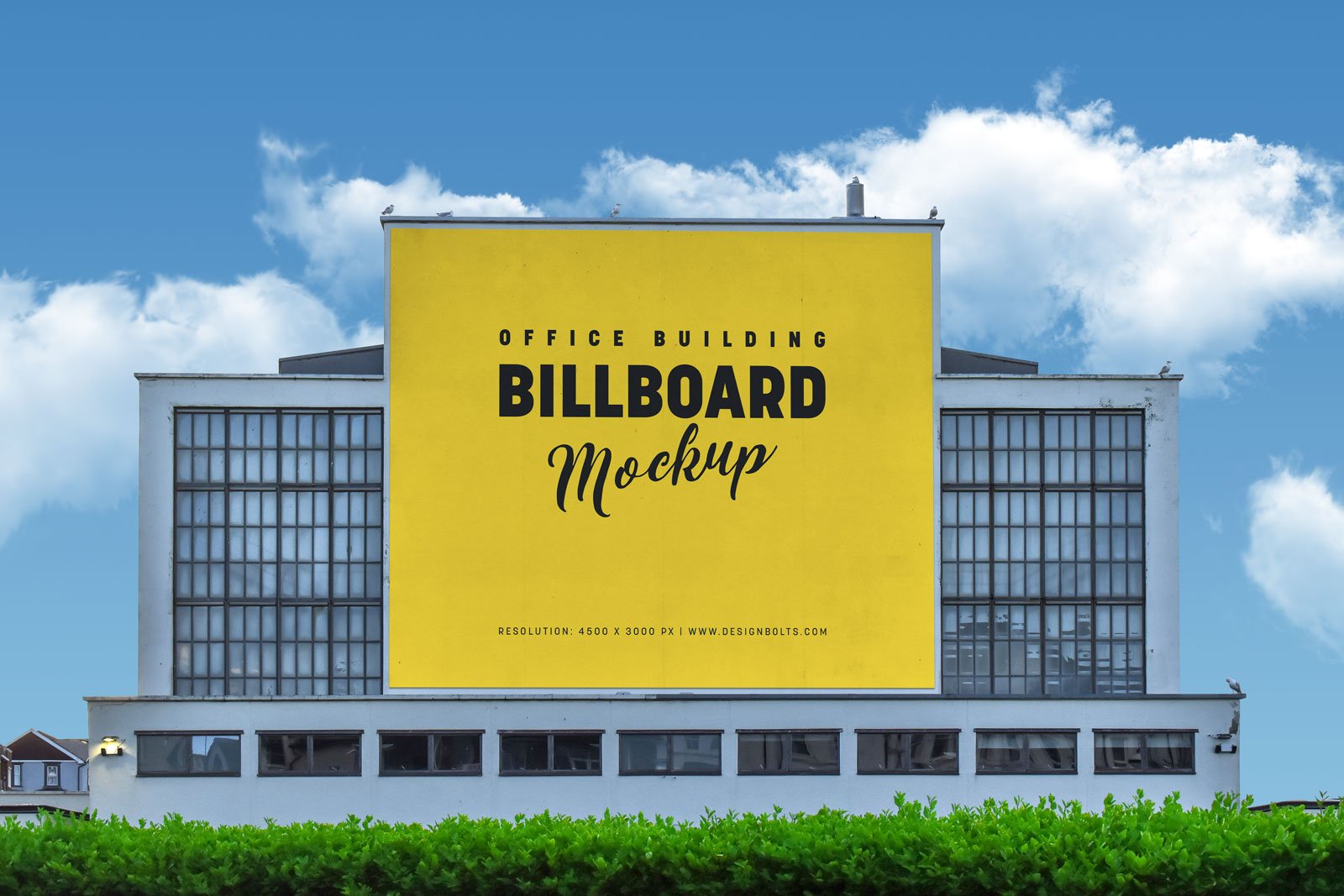 Available Format: Layered PSD with smart object insertion
License: Free for personal presentational use only
Zip File Includes: Billboard Mockup PSD
Note:
1. PSD Building Billboard Mockup is allowed for sharing online (A Must Linkback to this page)
2. Layers are hidden to decrease the size of the file kindly unhide and place your design on a red-colored layer.
3. Say thanks if you like or share/tweet with your friends.
Download Billboard Mockup
More Free PSD Hoarding Mock-ups you would love to download: