Hi there everybody! We hope that you all are having a great time reading our blogs and that you are very excited to check out what we are about to share with you guys today – especially if you love creating logo designs as much as do. And we also can't wait to share everything that you all need to know about the designer who we are featuring in our blog today along with his collection of visually appealing marks and logo designs to inspire you but before we do that, we would like to take a moment to thank you all for the love and support that you send our way and for also sharing our content with the people that you love and care for. We hope to see more of that happening in the future too.
Okay so, first things first; we would like you all to meet Kris Zhgileva who is a Russian graphic designer and has worked on multiple projects for his clients which truly show what he is capable of and we want to say that he is capable of creating amazing, amazing stuff for all sorts of projects that come his way. For our today's blog, we wanted to feature Kris' collection of visually appealing marks and logo designs that you guys can have a look at and also take inspiration and ideas to work on your own upcoming projects too. Doesn't that sound great? We know that it does. So, allow us to share how you guys make your own stunning and super effective marks and logo designs in no time!
As you all know that in order to appear as someone different from all the existing brands in the market, you have to stand apart from the crowd and it would be an understatement to say that it is an easy thing to do. But, of course, it is not something that cannot happen, you know? You can be different, you can be more compelling than your competitors and with the right strategy and planning, you can also become the most preferred brand of your valued customers too. We are sure that you guys must be thinking that yes, that can happen but how? So, the first thing that you guys need to know in order to stay ahead in the game is to never shy away from being creative or even experimental for that matter because it will be one of your experiments that will help you know and learn what is working for you and what isn't, right?
Get to know who your target audience is and only then you should feel confident to start the design process. We know that at times, creating a logo design or branding for any business can be overwhelming but that does not mean that you can't follow the right track to get done and over with things, you know. If you need more brains, ask for them, and get ideas from your team members even from those who are not designers because they will be talking to you like the general public would. And what's better than getting to know how your logo designs can be perceived even before your launch them?
Recommended: What Are The 7 Principles Of Logo Design?
Also, it is always a good idea to keep in mind what your competitors are doing so that you do not end up creating something that will make your brand a 'me too' one. Gather all information that will help you make informed decisions even before you get to your work table and start creating the designs. Another thing that you guys want to keep in mind is that you can also go for unconventional styles of typography, art and unusual color schemes so that you actually do stand out as it will only help you grab the attention of your potential customers and you will be good to go. And we are sure that when you will check out Kris' work, you will also notice how he incorporated unconventional design elements to create these awesome marks and logo designs.
That is all for today, you guys! We hope that you not only enjoyed reading the blog today but that you will also take out some time to share your feedback with us in the comments section down below. Also, don't forget to share the blog with your graphic designer friends, favorite colleagues and students, etc. as well so that they can also make the most of whatever we have shared in the blog today. And before we wrap it up, we would just like to say that feel free to send in your requests so that we can start working on them and be back here super soon with your requested content and more.
Credit: be.net/kriszhgileva
Visually Appealing Marks & Logo Designs 2023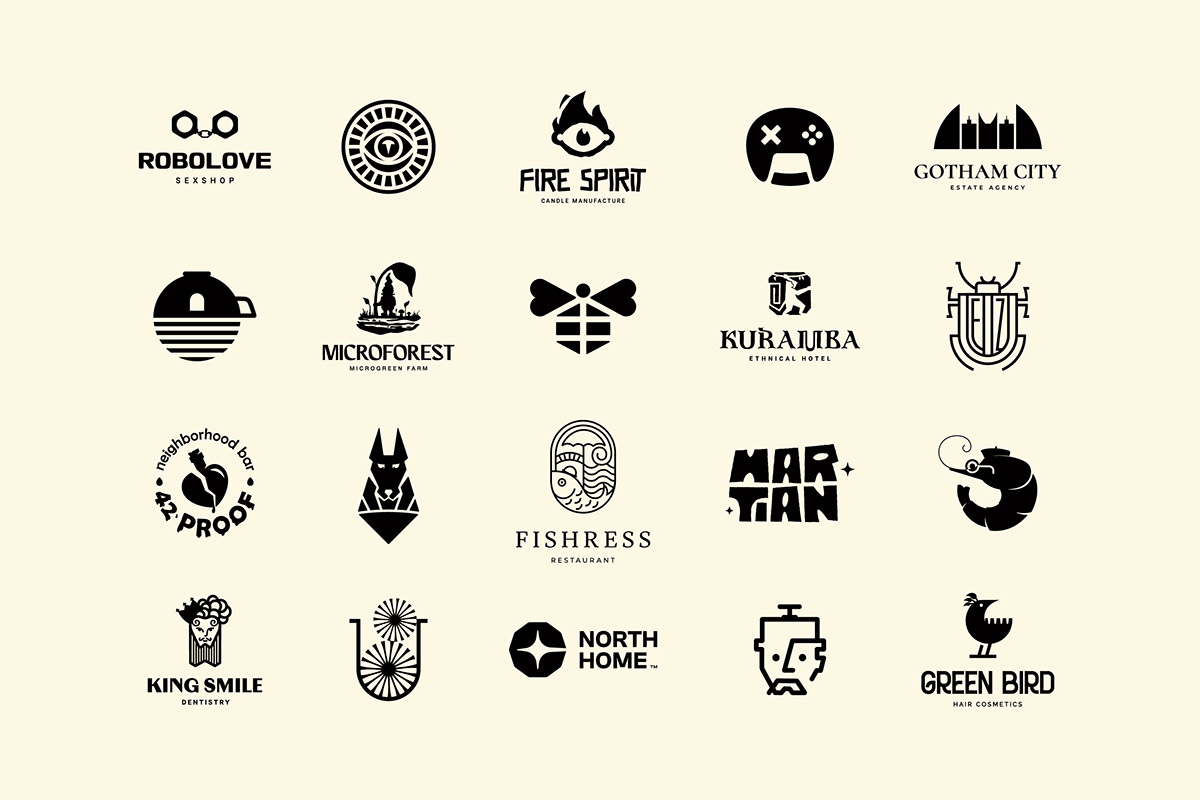 Recommended: