Hi there everyone! We hope that your work life and life, in general, are treating you fine and that you are making the most of our blogs and free yet highly editable mock-up PSD files for your personal and commercial projects and then some more. For our today's blog, we have made this amazing, free outdoor advertising city billboard mock-up PSD file that you guys can get your hands on as soon as you are done reading the blog and start using it to make your own designs for the businesses that you are associated with. But before we share everything that you guys need to know about our mock-up PSD file and how you can utilize it, we want to take a moment to thank you all for the continuous love and support that you send our way and for also for making sure that you are sharing our blogs with the people you love and care for. And we hope to see more of that happening in the future too.
Recommended: 135+ Free Outdoor Advertisment Branding Mockup PSD Files
If you are one of our regular readers, then you would not only know that we share tips and tricks to help you guys make the best designs that will help you bag the deals within the first couple of meetings but you would also be aware of the fact that we make sure that we keep the resources free of cost so that all of you can make the most of them in order to stay ahead in the game. But if you are a new reader, then firstly we would like to welcome you to this creative world and secondly, know that you are in for a treat as we are going to be sharing a couple of easy-to-follow tips that will help you design the most powerful and interesting outdoor advertising city billboards for your own businesses as well as for the ones that are working for.
Also, make sure that you read the blog till the end in order to ensure that you don't miss out on anything.
DEFINE YOUR OBJECTIVE:
Okay so, first things first; you need to define the objective due to which you have planned to design an outdoor advertising city billboard design. You should also be clear on all the elements that you wish to show through the design(s) and while you are it, don't forget to research a bit and see what all is happening in the local market and internationally as well so that you do not end up creating something similar to what is already being communicated by someone else. Because we are sure, no matter how big or small a brand / business is, no one wants to become a me-too brand.
KNOW YOUR TARGET AUDIENCE:
Then you need to focus on getting to know your audience and you can only do that when you carry out extensive research on understanding the needs & demands of the people who will eventually spend their hard-earned money on your products or services. In addition to that, you would also want to see what fascinates them the most and is also being provided by your competitors so that when you do get to know about the market gap, you are able to fill it wisely.
STRATEGICALLY PICK YOUR LOCATION:
For an outdoor advertising city billboard to work out perfectly fine, you need to make sure that you do not pick a location randomly. But, in fact, you need to ensure that any and every location that is being picked for you to have your billboards installed in the city or across the country is done in a strategic manner so that there is maximum visibility.
KEEP YOUR VISUALS SIMPLE:
It's a fact that when you're designing something, you want to add everything to make it look powerful but in order for an outdoor advertising city billboard to work, it is important that it is simple to make an impression. An over-done billboard design won't get you the results that you wish to receive. Use colors, imagery and typography to complete the overall design and don't forget to add a call to action (CTA) in your designs.
Recommended: 60+ Outdoor Signage Mockups
That is all for today, you all! We hope that you not only had a really nice time reading this blog today, but that you will also take out the time to share your valuable feedback with us in the comments section as well. Also, while you guys are at it, don't forget to share the blog and this free outdoor advertising city billboard mock-up PSD file with your graphic designer friends, favorite colleagues and students, etc. as well so that they can make stunning designs of outdoor advertising city billboards for their personal and professional tasks.
Free Outdoor Advertising Square City Billboard Mockup PSD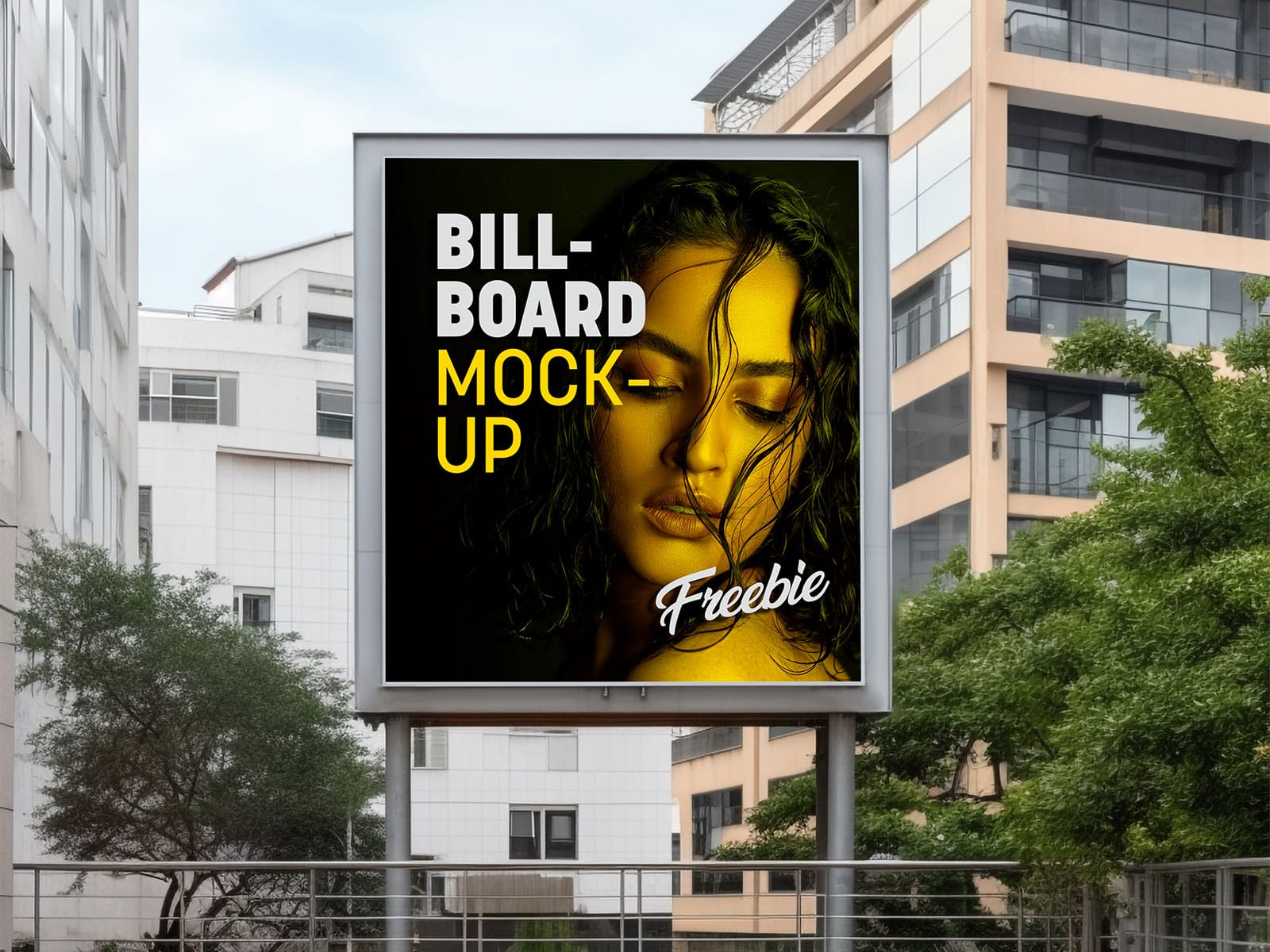 Available Format: Layered PSD with smart object insertion
License: Free for personal and commercial usage
RAR File Includes: Billboard Mockup PSD
Note:
1. PSD Building Billboard Mockup is allowed for sharing online (A Must Linkback to this page)
2. Layers are hidden to decrease the size of the file kindly unhide and place your design on smart layer.
3. Say thanks if you like or share/tweet with your friends.
Download Billboard Mockup
More Free PSD Hoarding Mock-ups you would love to download: