Hi there, you guys! We hope that you not only had a really nice time reading our blog but that you also utilized it for your personal and commercial projects as well. For our today's blog, we wanted to share something different and let's say unusual with you guys and we can bet that you all are going to love reading it as much as we did when we were working on it. We can't wait to formally begin the blog, but before doing that, we would like to take a moment to thank you for the love & support that you always send our way and for making sure you are sharing our blogs within your personal and professional circles as well. And we hope to see more of that happening in the future too.
If you are one of our regular readers, then you guys must have read our blogs that feature our free yet highly editable business card mock-up PSD files but if you are new here, then allow us to first welcome you all and also let you know that you are in for visual treats and then some more. Secondly, we are sure that you guys must have seen unique business card designs owned by other people and there are chances that you have one for yourself too that can really make a person ask "Oh, why did I not think of that idea?", you know?! So, keeping in mind the increasing demand for having something different for yourself when it comes to professional communication, we thought that it would be a really great idea if we shared with you guys a free Instagram business card mock-up PSD file. Make sure that you all read the blog till the end in order to work on stunning designs for yourself and for your clients too.
Okay so, when it comes to having business cards, the first and most important thing to keep in mind is that no matter how much technology is going to disrupt all that we do in our lives (and for good), there will always be a need to have business cards that you can exchange with your business partners, potential clients and customers and relatives, etc. as well. Do you want to know why? Well, the answer is simple! It is because when you exchange a business card with someone before a meeting or during a conference, you tend to develop a personalized contact with the other person and if your business card is good and you happen to be a people person as well, then know that you have successfully made another work friend/business acquaintance for yourself. And that will benefit you in the long run too.
So, what is it that you can do with our free Instagram business card mock-up PSD file? For starters, you are going to leave a mark in the mind of the person you will give your card to. In addition to that, you will also be able to very subtly promote your business – and not just in front of that person only but if you are (really) good, then chances are that you are going to be promoted within their circles as well. That sounds like a nice plan, right? Well, there is more to our blog and we want you guys to make sure that you also follow our tips and tricks that we are about to be sharing with you guys to help you create beautiful designs for your Instagram business cards!
Recommended: 5 Types of Printing Techniques for Business Cards with Examples
As the name suggests, your business card design should really be either a self-created snapshot of your Instagram business account or you can also make the most of a screenshot taken from your phone as well. Also, just to be clear, make sure that you are actually present on Instagram too to make the business card more sense, alright!? For the back side of the business card, you must have your / business name present prominently and to make it easier for your potential customers, you must also place a QR Code of your Instagram account in the design so that they can follow you right away. Lastly, proofread the content multiple times before you share the design for the printing process.
That is all for today, everyone! If you liked reading the blog, do not forget to let your friends, family members and favorite colleagues know about it too. Also, feel free to share your feedback with us in the comments section and while you are at it, do let us know about your special requests as well so that we can work on them and be back here super soon with your requested content and more. Until then, keep creating super awesome designs!
Free Instagram Business Card PSD Template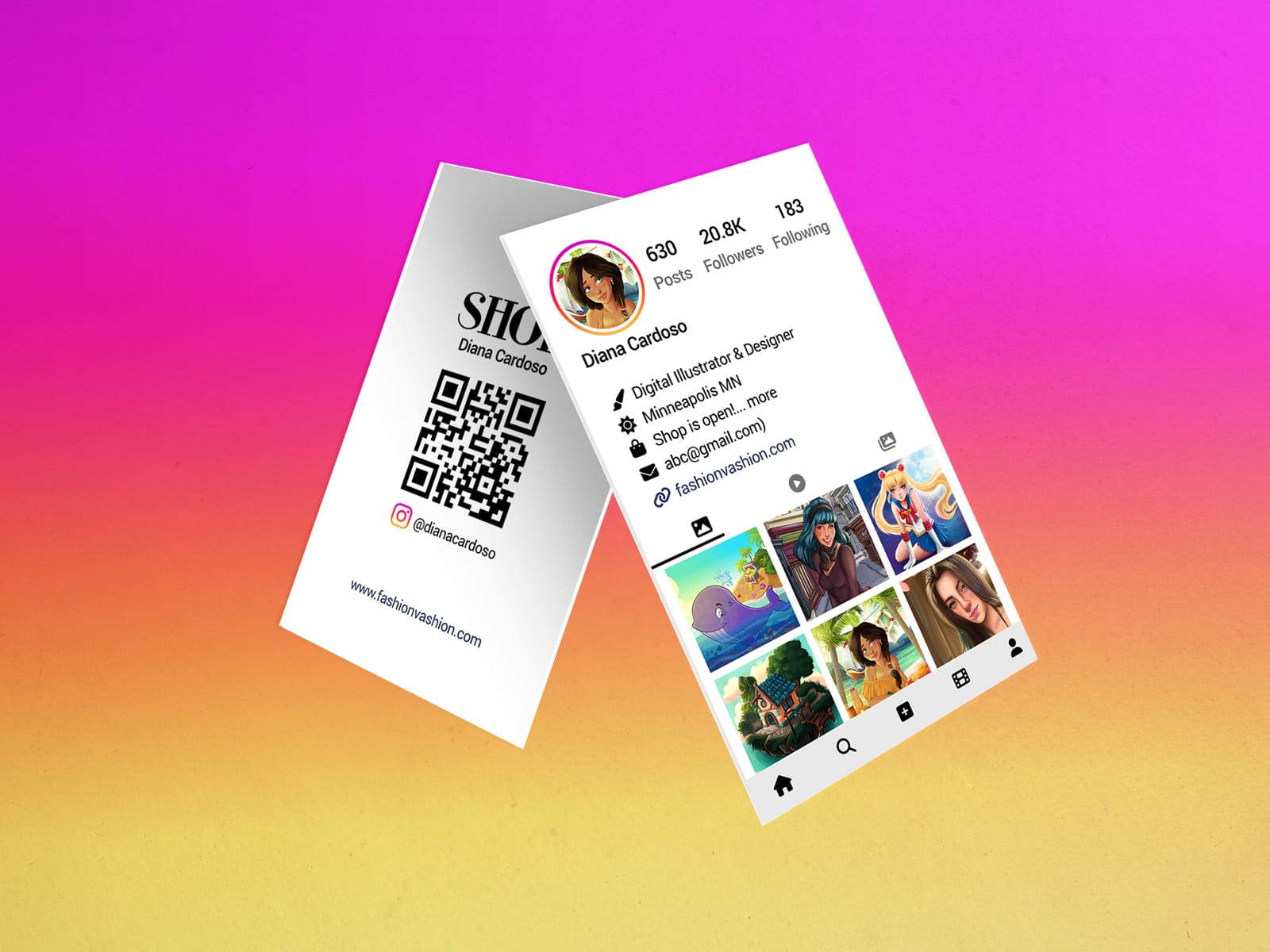 Available Format: Photoshop PSD
License: Free for personal and commercial usage
File Format: WinRAR
Artwork Size: 85 x 55 mm UK size
For Icons Use: Font Awesome Font | Free Roboto Font Used For Text
Note:
1. Free Business Card PSD Template is allowed to share online (A Must Linkback to this page)
2. Say thanks if you like or share/tweet with your friends. That means a lot to me.
3. And don't forget to follow or subscribe to receive more high quality premium freebies & awesome articles only.
Download Business Card Design
Recommended: