Hi there everyone! We are back with yet another interesting and super useful blog of ours. We can bet that you won't just have an amazing time reading it but that you will also be able to make the most of the trips and tricks that we are about to share with you guys to help you create the most powerful and stunning airport signage. We can't wait to begin our blog formally but before we do that, we would like to take a brief moment to thank you all for the love and support that you shower us with and for always making sure that your friends, favorite colleagues, and acquaintances, etc. are also reading our blogs and benefiting from them. And we hope to see more of that happening in the future as well.
When you are working on airport signage, you need to know and understand that it is not your usual wayfinding design but you must keep in mind that an airport is a public place that is visited by hundreds of people every day and not all of them talk or understand the local language(s) so you have to be their guide in many different ways. For example; you must have observed that when you are traveling from one place to another, there is always a fear of getting late and then eventually missing the train, airplane, etc. Right?
In addition to that, if you have relatives or friends who are also present at the stations/airports to see you off, they are panicking on an entirely different level as well which means that they would be looking out for details for you while you would be trying to find your way on your own as well. All of this means that you and anyone and everyone who would be there with you would like to get their hands on information that is being communicated or written in easy-to-read language in fonts that are not too hard for the eyes.
We would also like to mention here that for international airports, it is vital to use symbols, especially for visitors who do not have much exposure or can't understand simple English or any other local language because, with the help of symbols, it will become easier for them to navigate without being dependent on other people at the airport or other stations, etc. The next thing that you would want to have a better understanding of is the surroundings within and outside the airport. For example; you would want to pick locations that are visited not just by the passengers but by other people as well especially if you are putting up signage that promotes your branded message(s), you need to ensure that anyone and everyone who enters or leaves the airport can read what you sell or offer and will also get in touch with you as soon as they can to know more about your business, etc.
– – – – – – – – – – – – – – – – – – – – – – – – – – – – – – – – –
Recommended:
– – – – – – – – – – – – – – – – – – – – – – – – – – – – – – – – –
It is important for us to also mention that along with airport signage, if you are going to display messages about your brands, then you must consider the factors that will help you create a long-lasting impression in the minds of your existing and potential customers. Here, we would also like to share that keeping in mind the surroundings, you can also create different versions of your promotional messages which you did not go with for the rest of your campaigns' signage. By doing so, you will be able to install highly targeted signage inside and outside the airport(s) which will increase the walkability of the campaigns that you are going to go live with.
To give you all a quick recap of what we have mentioned above, we would like to conclude the blog by saying that you must consider going with just one font for all your airport signage while experimenting with typography here and there to make things less boring. Use high-quality images and take help from symbols to create pictograms to develop meaningful signage.
Recommended: 135+ Free Outdoor Advertisment Branding Mockup PSD Files
That is all for today, you guys! We hope that you not only liked reading the blog but that you will also take some time to leave your valuable feedback in the comments section as well. Also, do not forget to share the blog with your graphic designer friends, colleagues, and students so that they can get their hands on our free airport signage mock-up PSD file and start creating impressive designs for the businesses they are associated with. We will see you guys next time with something more fun & exciting to read and work on until then keep creating magical designs.
Free Airport Digital Signage Mockup PSD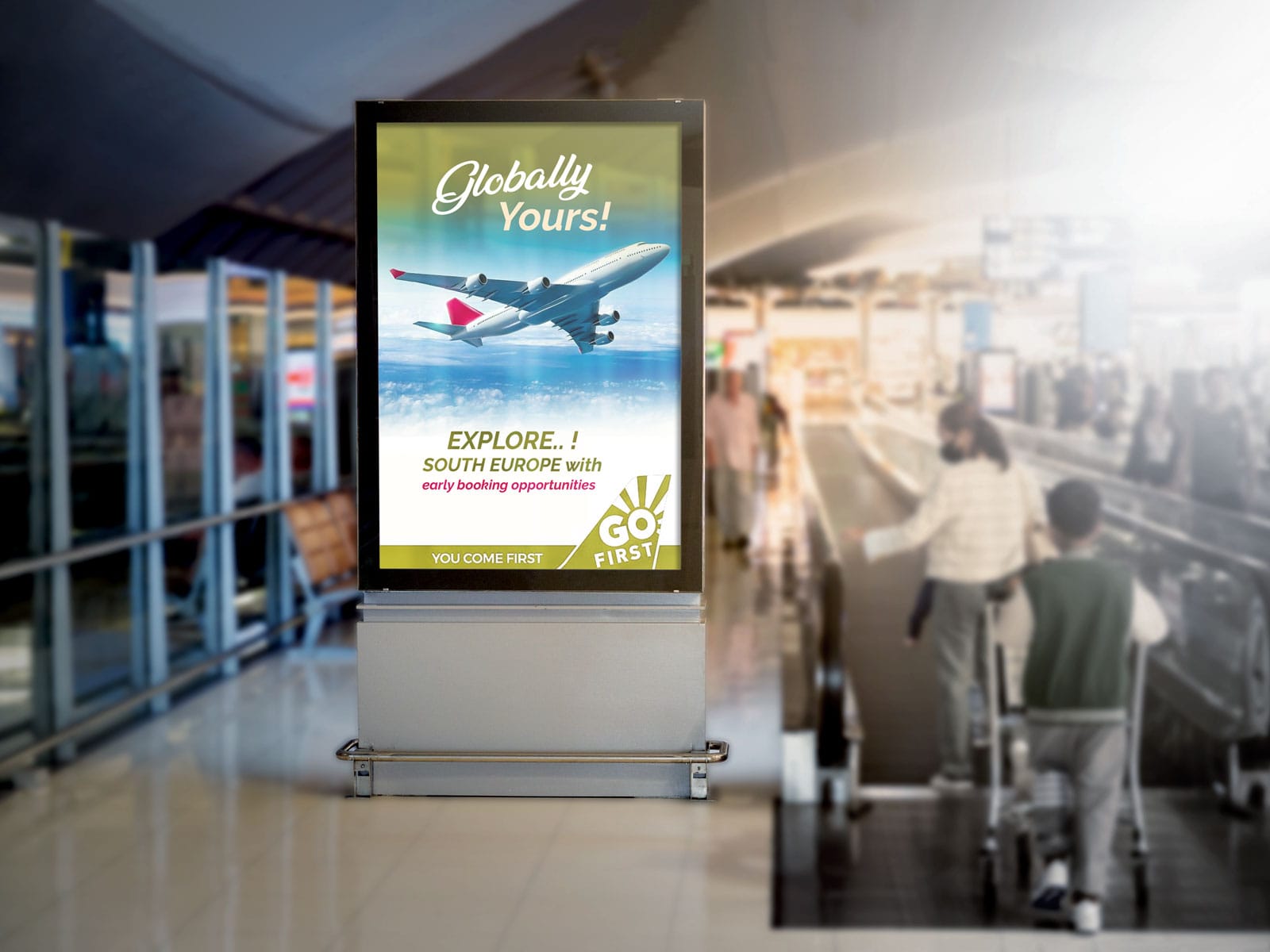 Available Format: Photoshop PSD
License: Free for personal and commercial usage
File Format: WinRAR
Mockup Resolution: 4000 x 3000 px
Note:
1. Free Digital Signage Mockup is allowed to share online (A Must Linkback to this page)
2. Say thanks if you like or share/tweet with your friends. That means a lot to me.
3. And don't forget to follow or subscribe to receive more high-quality premium freebies & awesome articles only.
Download Digital Signage Mockup
More free mockups PSD files: