Hi there everyone! We hope that you all are having an amazing time reading our blogs and that you are super excited to check out what we are about to share with you all today. We also hope that all the blogs, tips & tricks and everything else that we happen to share here are helping you get done and over with interesting projects for your personal and commercial clients. We cannot wait to share everything that you guys need to know in order to create the best and most impressive airport departure announcement board designs but before we do that, we would like to take a moment to thank you all for the constant support and love that you send our way and for also making sure that your friends, family members and favorite colleagues are not only reading our blogs but also making the most of them too. And we will be happy to see more of that happening in the future as well.
If you guys have been reading our blogs for quite some time now then you must have read multiple blogs that feature signage mock-up PSD files but if you are someone who has just started to read the blog today, then we would first like to welcome you all to this creative platform of ours and we want you to know that you are in for a treat. In addition to that, we would also to say that whatever we are going to share here in the blog today is something that won't just benefit you for creating airport departure announcement boards but you will also be able to get more information on how one must carry out extensive research in order to create nothing but meaningful and impressive designs for themselves and for their clients and customers too.
So, the airport (departure) announcement board is also known as the flight information display system of FIDS. This system is (quite obviously) controlled by computers which show the mechanical or electronic display to the passengers and anyone else present at the airports, etc. to get information about a flight or two. We are sure that you would know that FIDS displays real time information so that if a flight is delayed or has been cancelled, then the passengers can make arrangements as to what they will be doing till the next flight is scheduled to fly.
Now, keeping in mind that FIDS / airport departure announcement boards happen to display information which is crucial for anyone and everyone, it is extremely important for all of you to understand the task fully well and then create designs that are being expected from you. There are a couple of things regarding the airport departure announcement boards that we are about to share with you guys which will help you get started nicely. For example; you must know that the airport departure announcement boards vary in size depending on the size of the LED which is going to be installed at the finalized locations inside the airport.
– – – – – – – – – – – – – – – – – – – – – – – – – – – – – – – – –
Recommended:
– – – – – – – – – – – – – – – – – – – – – – – – – – – – – – – – –
You also need to consider the readability of the announcement boards that will be displayed on the premises of the airport (otherwise what is the point, right?!). In order to ensure that your target audiences can get the information that they would like to have while also dealing with all the emotions they would feel during their time at the airport, you would want to prioritize fonts and their size as well. In addition to that, you would want to consider organizing the information in such a way that it gives away the important details in the right manner like placing the critical information at the top and the rest will follow. Lastly, include directional information in your airport signage to make things easier for anyone and everyone who will come across your departure announcement boards.
Recommended: 135+ Free Outdoor Advertisment Branding Mockup PSD Files
That is all for today, you guys! We hope that you not only enjoyed reading the blog today but that you will also get your hands on our free airport departure announcement board mock-up PSD file right away and start creating your designs. We would also like to encourage all of you to share the blog with your graphic designer friends, students and acquaintances so that they can also create their own designs as per the client briefs for their future projects. Feel free to share your feedback with us and while you are at it, do not forget to let us know if you guys have any special requests to make so that we can work on them and be back here with your requested content and more super soon.
Until next time keep creating magical designs for yourself and for the businesses etc. that you are associated with.
Free Airport Departure Announcement Board Mockup PSD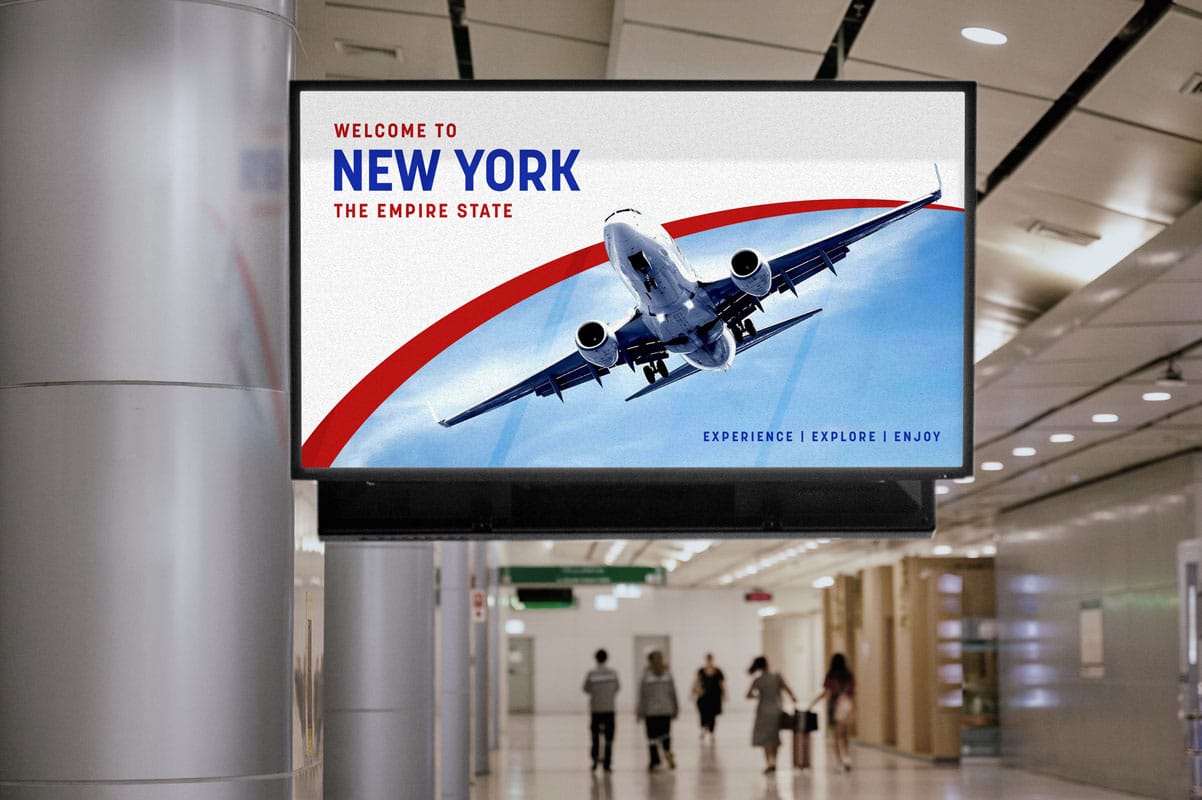 Available Format: Photoshop PSD
License: Free for personal and commercial usage
File Format: WinRAR
Mockup Resolution: 3500 x 2330 px
Note:
1. Free Airport Signboard Mockup is allowed to share online (A Must Linkback to this page)
2. Say thanks if you like or share/tweet with your friends. That means a lot to me.
3. And don't forget to follow or subscribe to receive more high-quality premium freebies & awesome articles only.
Download Airport Signage Mockup
More free mockups PSD files: