Hi everyone! How are you guys feeling today? We hope that our super useful and interesting blogs are not only keeping you busy but that you are also making the most of them for your personal and professional projects, etc. For today's blog, we are going to be sharing our free yet highly editable front & back mug mock-up PSD file and along with that, you guys will also be read a bunch of easy-to-follow tips and tricks that you can incorporate into creating stunning mug designs for your own business or for the ones that you are associated with. But before doing that, we would like to take a moment to thank you guys for the love and support that you send our way and for always making sure that your near & dear ones are not only reading our blogs but are also benefiting from them as well. And we would love to see more of that happening in the future too.
We are sure that you guys must have a couple of mugs in your collection that you do not use but only bought them to keep as souvenirs or your loved ones got them for you as tokens of love. Nonetheless, mugs are not only considered as really nice and creative gifts but they are also sold as souvenirs as well. Also, there is a very high chance that you guys have also come across businesses that create customized designs as per the requests of their customers and we want you all to know that creating mugs is an extremely fun way to channel your imagination and skills. And we are sure that it won't hurt anybody if you could make money out of it too. 😉
In this part of our blog, we are going to be sharing a couple of tips that can help you create unique and interesting designs for yourself or your customers so, make sure that you guys read the blog till the end to make informed decisions.
Like every service or product that you, as a business offer, you have to define the purpose of your mugs because without knowing the purpose, there are chances that you will get overwhelmed and won't be able to stay on the right track. In addition to that, we want to mention here that creating mug designs for personal use will always be different from the designs that will be purchased as corporate gifts so when you know and understand the purpose of your business and in this case, the purpose of creating the mug designs, it will become easier for you to decide what you would want to incorporate into creating your designs.
Never forget to check out what is happening around you in your category of business to get inspiration and stay up to date with the latest trends that are being followed in the market. You can consider online stores which sell mugs for customization or if you have some time, you can also visit physical stores to see what are the popular designs which are being created and purchased by the masses. Your next step in the process is to identify the design trends and get to know your target audience so that you can utilize all the insights to create brilliant mug designs. Know that the information that you will gather by conducting simple research will help you tailor your designs according to the preferences of your existing and potential customers and you will also be able to bring stuff to the table that is not being offered by your competitors so it would be a win-win for both you as well as for your customers.
Choose colors wisely and make the most of typography by choosing fonts which are easy to read and also complement the overall look and feel of your designs as well. Lastly, never compromise on the material of the mugs and printing quality and you will be good to go.
That is all for today! We not only hope that you had a really fun time reading this blog but that you will also share your valuable feedback with us in the comments section down below. We would also like to encourage you guys to share your special requests with us so that we can work on them and be back here super soon with your requested content and more. While you are at it, don't forget to share this blog with your graphic designer friends, family members and favorite colleagues as well so that they can get their hands on our free front and back mug mockup PSD file and create their unique designs for their upcoming projects. Until next time, continue reading our blogs and creating magical designs.
Free Front & Back Coffee Mug Mockup PSD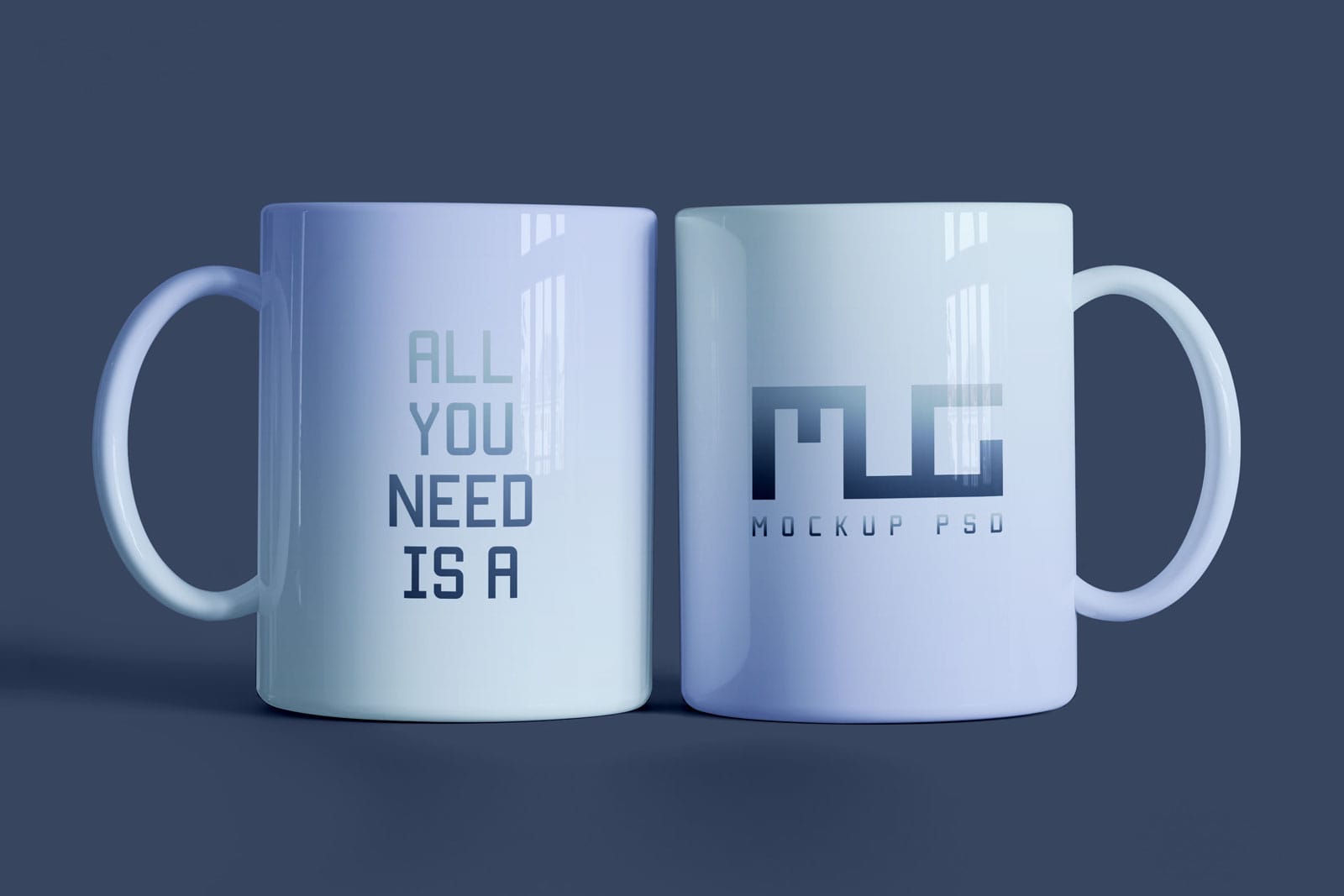 Available Format: Photoshop PSD
License: Free for personal and commercial usage
File Format: WinRAR
Mockup Resolution: 3000 x 2000 px
Note:
1. Free Coffee Mug Mockup is allowed to share online (A Must Linkback to this page)
2. Say thanks if you like or share/tweet with your friends. That means a lot to me.
3. And don't forget to follow or subscribe to receive more high quality premium freebies & awesome articles only.
Download Mug Mockup
More Free Mug Mockups Designed By Us: