Animated movies have done a lot in the world of movies. There is this massive growing interest in people to watch 3D movies on big screens. It has its own intensifying thrill; it has its own enjoyment and escalating buzz. It is itself a pleasure to feel oneself a part and parcel of the movie. People now have forgotten to go after action movies, thrill and adventure as animated movies have the spark to excite mirth and sheer no matter what age group you fall amongst.
My eye never gets close upon an animated movie whenever it is to hit the cinemas I drive straight to my friends and we all roam for fun in the big screen cinema. An American movie which recently released on June 20th 2013 called, "Monsters University" became the center of attention of millions. It is much talked about especially among the teens and youth. This comedy movie had an abundance of fun aspects to keep audiences' responsiveness intact. One feels an urge to take admission into the Monsters University oneself.
The story revolves around "Mike"—a kid who wants to become a "scarer".He along with a team owe to scare the world of children and are bound to pass out in the final exam of the semester to get into the program. "Sulley" a large blue monster is adding fuel to the fire with his growing enmity for Mike. As the story fetches forward movie becomes more exciting. It is their mutual elasticity, mischiefs, predicaments, pranks and fun undertakings which make the movie worth watching.
Today I am bringing along Monsters University icons you can share with your friends on social networks. Tag your own monsters chicks and make them laugh hard till they pull off their hair. Slog through the collection downright. Do check out our previously fun packed Despicable Me 2 Minion Icons Post. You gonna love it too.
& don't forget to Subscribe us for more Free Icons, free PSD and free Vectors.
Monsters University 2013 Icons in 256 Px PNGs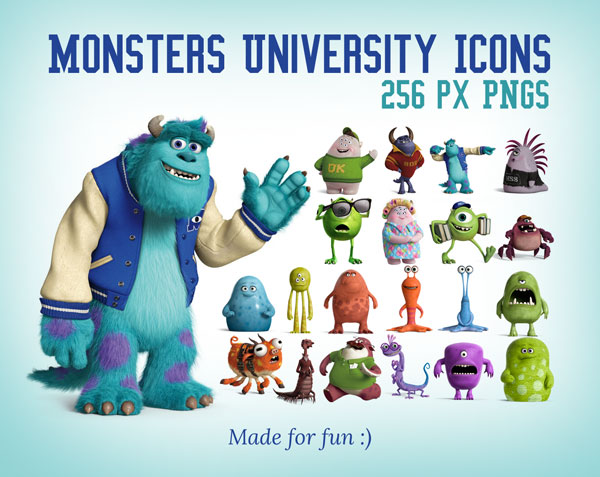 Monsters University Icons 
License: Free for non-commercial use
All characters are Copyright © 2013 Walt Disney Pictures
Awesome Free Icons: