If you're a conference or corporate event, roller banners or 'pop up banners' are a great way to grab people's attention. They are ideal for exhibitions, conferences and point of sale promotions. In fact, it's rare to see an exhibition stand without a pop up banner, simply because they look great but require no effort to assemble or transport.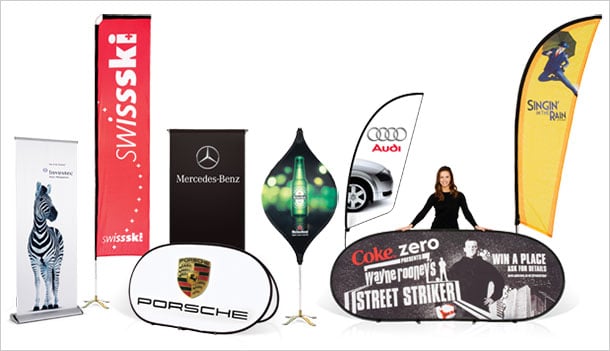 Roller banners are so-called because they can be rolled out into a standing position, giving you a large, free-standing banner that will really stand out at your exhibition or sales event. As they standalone, you can put one anywhere which is great if you are travelling round trade fairs or shops.
The banners are so popular because they're quick and easy to set up- once the banners have been rolled out, they are easily retractable. They look impressive but are actually lightweight and compact, making them easy to carry around and store.
Pop up banners are so effective because they of their imposing, standalone nature- your target audience will see them before they even reach your stand. If your pop up banner looks appealing it could also draw people towards your stand. Roller banners look interesting and grab people's attention, providing an effective way of communicating with your target audience.
However, as pop up banners are so noticeable, it's important to get the design right, otherwise it will put people off your stand from five paces away! If you haven't used roller banners before, it can be tricky designing for a medium you have no experience of. There's lots of consider, like the colour, layout and typography. Are you sure that your ideas will translate well into a roller banner?
There's no point drawing people's attention to a huge, standalone disaster. It might seem costly, but using a professional designer will ensure the best possible design. It's not always necessary to use an expensive design agency either. You might find that your printer's has their own in-house design agency which won't be as costly. instantprint, for example, have a team of professionals who can design you a great roller banner for a small fee.
Once you've confirmed a design idea from their team, instantprint.co.uk will print off your roller banners on high quality polyprophene. The banners also come with their own carry case so you can transport them easily and without damaging them.
Recommended Posts: