With the growing interest of people in blogging we see a new blog each day that has different features and some really surprise packages to attract the beholders and to hold on to the attention of the audiences. In the hodge-podge of internet websites where it has become difficult to pinpoint which blog has quality and excellence there is one thing that can grab a massive amount of people to the online platform is through the first hand channel provided by social media icons.
The icons set make you connected with the blog so you can get updates, trending and latest happenings of the blog. It is a proper and official way to keep a check on the posts of the blog. A blogger is very keen about the fact that how many visitors he grabs on his blog on daily basis that is why social media icons set are placed either on the top header, in the sidebar or in the footer of the blog, (whichever way possible) to have the audiences intact through the quick social networking sources.
I myself have designed plenty of social networking icons set that you can choose from as per your demand and requirements of the blog. The post I am presenting before you is containing 130 free HQ shaded social networking icons. You can place these icons in the dark and light backgrounds of the blogs.
Surely they will look equally good on both kind of blogs. Have a look at the collection and do let me know how far you found these appropriate for your respective blogs. These social media icons are shaded ones and are very alluring to give a thump to the audiences/traffic so they will keep a click on the posts and become a part of your online journey through social media icons.
Don't forget to Subscribe us for more Free Icons, free PSD and free Vectors.
130 Free HQ Shaded Social Networking Icons | Vector Ai + 512 px PNGs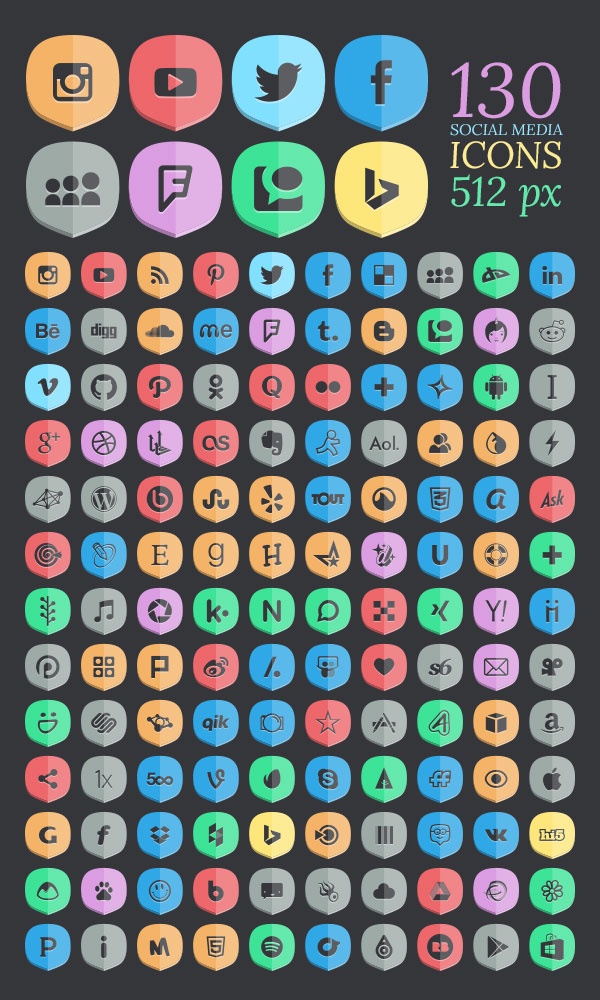 Free Social Media Icons: [40 Icons]
Available Sizes:  32 px for both Dark & Light Backgrounds
License: Free for personal use only + (Link Back to this Icon Set)
Free HQ Social Icons
—————————————————————————————————-
Premium Version for only $ 6.00 [130 Icons]
Available Format:  Editable VectorAi  file (Can easily be edited, color or scaled to any size)
Available Sizes:  512 px, (Looks beautiful on 32 px)
License: Creative Commons Attribution 3.0 Unported License (Link back not required)
[paiddownloads id="98″ return_url="https://www.designbolts.com/thank-you/"]
Looking for more Social Media Icons styles: