Hey there guys! Today we have something very unique and interesting for you all and we would love if you could just stop whatever you are doing and continue reading this blog. Because today we will talk about feather flags – yes, you read that right and allow us to explain what we mean in detail.
A feather flag is designed and created to promote and a short message or it is placed near an event venue to draw attention of the passersby. This is something you all must know that a feather flag is not something new – but we have called it unique because not a lot of brand managers and advertisers use it to meet their advertising goals. Little do they know that a feather flag is one of the most affordable methods of promoting a business message and happens to attract more number of people because of the unique shape.
We would also like to share a brief history of feather flags before coming to the actual point. So, as per the history and records we came to know that feather flags were a thing in the 1970's and having them designed for a business wasn't dependent on the size of the organization. Then internet was made accessible for the masses and of course some of the advertising materials sort of stayed in the past.
Recommended: 100+ Outdoor Mockups
However, any event organizer or retail market owner with a passion to stand out from the crowd and also want to achieve their advertising goals efficiently will always go for a feather flag. To make sure that you don't go wrong with your feather flag following are some of the effective design tips which you must always keep in mind for a smooth process of promoting a business message:
First things first, make sure that there is a theme of your feather flag. And when we say theme, we don't want you to start thinking of ideas which can be used for just one time. Come up with ideas and themes which can be used for multiple campaigns – in this way you will be able to save some resources (money, time & efforts) and can also stay relevant with the brand message for longer durations.
Once you have chalked out concepts and ideas, create a color palette for the design. You can choose different sets of colors as well to represent your brand. It has been observed that brighter colors reach and attract larger audiences so that's an insight which can help you in choosing colors for your feather flags. And here is one bonus tip, don't go too bright and only involve colors that are eye friendly.
Location also matters a lot when it comes to a feather flag because the main purpose of it being placed near a business location is to gather more and more eye views as well as to increase the footfall. For retail businesses, it is a good idea to keep the feather flags closer to the location of the store(s) so that your audience doesn't get distracted while coming to purchase something from you. And for events too unless you have arranged an event which is remote and you are just spreading the word.
It is extremely important to define a purpose which you want your feather flags to serve for you and your business. Our suggestion would be to have the feather flags designed for special and premium events only. By doing so, you will be able to promote your events in an effective manner. Some of the events which can be arranged and announced through feather flags are; sale events, soft launches, conferences (local & international), small scale meet and greet sessions for social media influencers, training programs etc.
As far as the copy of a feather flag is concerned, make sure that you follow the rule of saying the maximum by using minimum number of words. You don't have to be wordy at all – no matter what. And since you don't have a lot of space on the feather flag either, it is better to place the logo nicely on the top and communicate the message in the rest of the space.
Now that we have explained how to create effective designs of feather flags for your brand or for your event management company, we would also like to emphasize on the importance of having the designs approved by creating different mockups in one single presentation. In this way, you will be able to demonstrate, explain and justify your designs by meeting the client one to one or by sharing the ideas over Skype (or anything else for that matter).
Clients always like presentations that are well explained and that's how you'd be able to get your ideas approved by putting them into our free and easy to edit feather flag mockup PSD file.
Free Feather Flag Mockup PSD (4 Different Types)
Quill, Sail, Blade & Teardrop mockup templates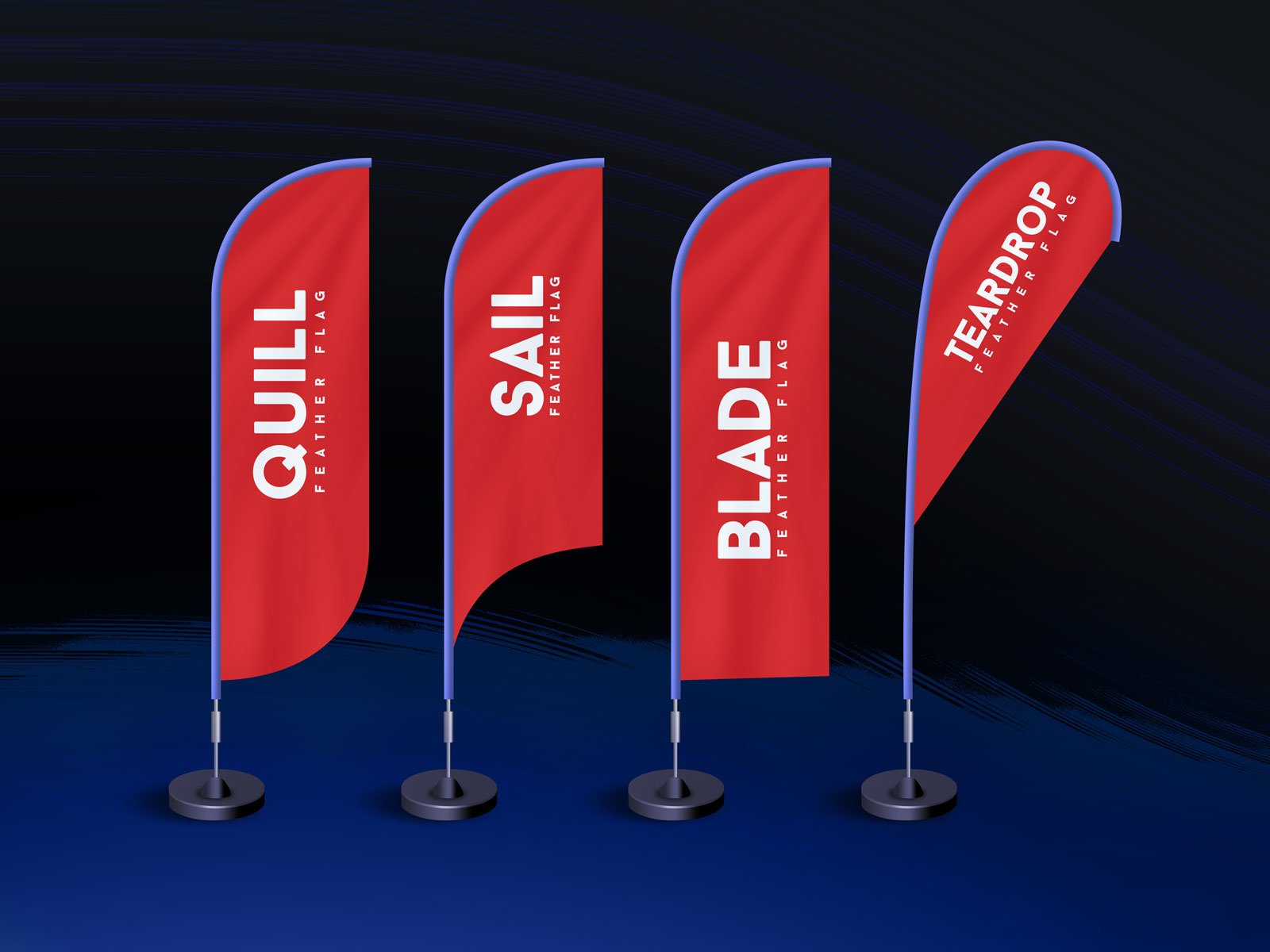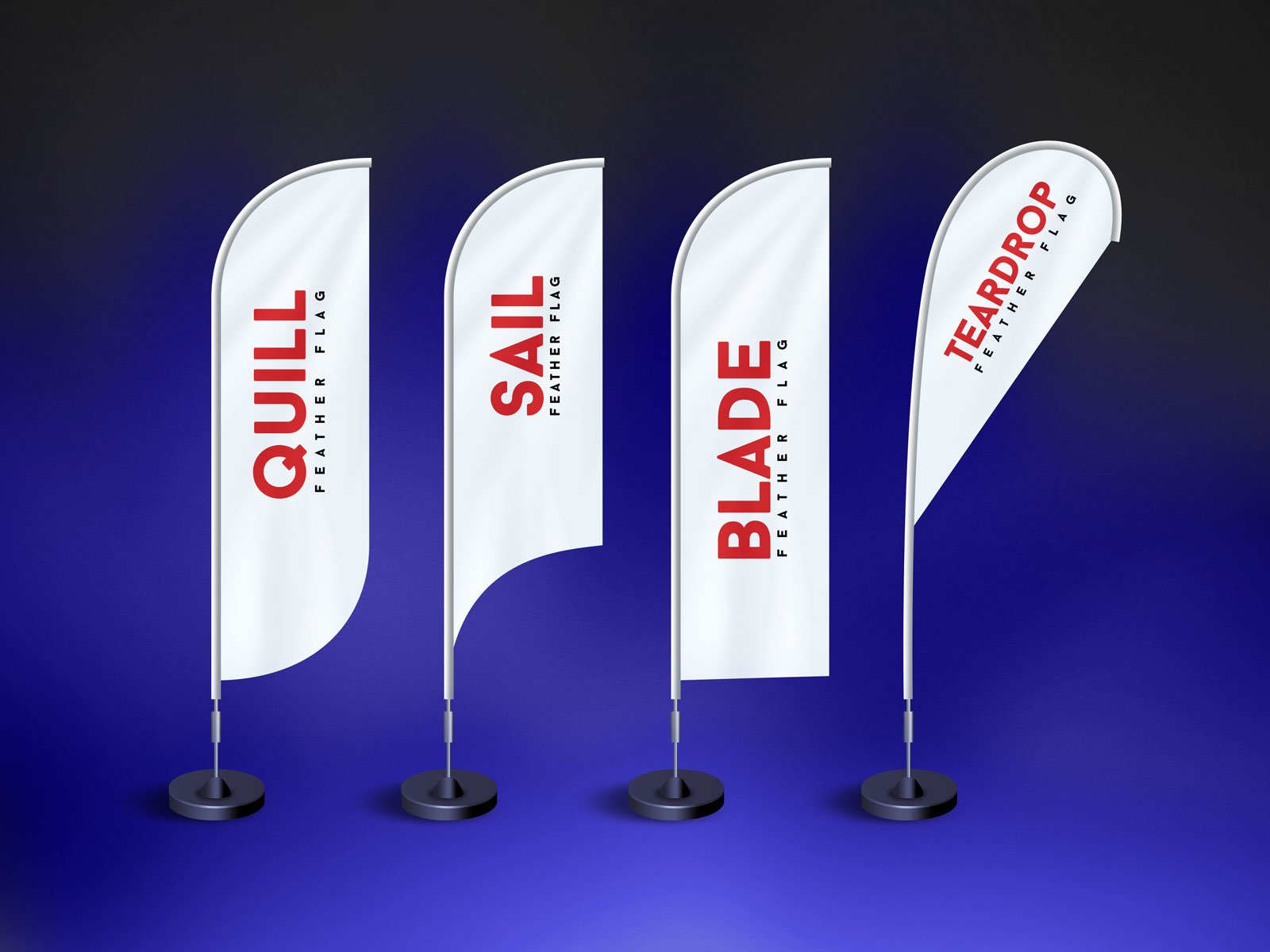 Available Format: Photoshop PSD
License: Free for personal and commercial usage
File Format: WinRAR
Mock-up Resolution: 4000 x 3000 px
Note:
1. Free Feather Flag Mockup is allowed to share online (A Must Linkback to this page)
2. Say thanks if you like or share/tweet with your friends. That means a lot to me.
3. And don't forget to follow or subscribe to receive more high quality premium freebies & awesome articles only.
Download Feather Flag Mockup
More High Quality Mockup PSD Files: