Hey there guys! Thanks so much for your overwhelming response on our previous blogs, we really appreciate that fact that you guys take out time to read our content and also share it with the people you care about. Keep sharing your positive feedback with us because it motivates us to do what we love doing!
As you all know that whenever we create content to post here, we do a lot of research on the topics that are trending so, that we can help you with the design stuff and also to respond to your queries and over the weekend, we had a little extra time so we decided to work on something that many of you have been asking for – a spa flyer design template. To give you guys an overview on our today's blog, know that we will be talking about what happens at a spa on a regular day and why it is important for you to know so that so you can create amazing spa flyer designs for yourself as well as for your clients.
There are a number of spas that are offering their services around the world and since it is always a great idea to spend a day at a spa, the service providers can be seen working on newer and better techniques and treatments so that they can make their customers feel great by visiting a spa near them.
Okay so, a spa treatment normally includes services like facials, massages like Swedish massage, hot stone massage, sports massage, deep tissue massage, trigger point massage etc. Then there are spa manicures & pedicures, make-up applications and electrolysis (a treatment in which a specialist removes hair roots or blemishes from a client's skin by applying heat that uses an electric current.
You can also get body treatments like exfoliation, aromatherapy, "wraps & packs" as well as hair styling & cutting too. And if you like you can also have your hair dyed at a spa that offers the service. We believe that spas are absolutely necessary – especially during this age as all these services are being provided to customers to help them improve their health and well being as the treatments and different services that we have mentioned above not only help improve the blood circulation but also release toxins from the body.
– – – – – – – – – – – – – – – – – – – – – – – – – – – – – – – – – – – –
More Free Premium Flyer Templates:
– – – – – – – – – – – – – – – – – – – – – – – – – – – – – – – – – – – –
In addition to all things good that "a day at a spa" brings to the person, we also know and believe in the fact that spa services can also help in relieving (chronic) pains like sciatica, muscles spasms and arthritis etc. And now, that you guys have an idea about the services that are offered at spas, we would like to start talking about the actual thing here and that is the spa flyer design template.
To create a spa flyer design, it is important for you to not only understand the needs & demands of your customers but you should also be aware of the services that the spa is planning to offer. For example; if a number of services are being offered then you must categorize them in such a way that the information does not look like it's a lot!
Another important thing that deserves our attention is that color palette and whenever you start choosing colors, always keep your own self in mind and ask this question: Would you like those colors if you were looking at a spa flyer? And if you feel confused then that's the time to rework on that and everything else if need be. Similarly, design elements are also important but you will also have to make sure that you are not putting in a lot of design elements only to make the design look stunning, you know!?
Allow us to share a few colors that will look more than just great on your flyer design:
Green
Light Pink
Black
White
Golden
Light blue
Brown
All these colors emit positive energy and will also help in getting the message across through their energetic vibes but here we would also like to mention that you can choose whatever colors you want and mix them with some other hues to see how things work for your spa and its flyer design. And pick nice design elements for the design as it has to be super calming and easy to look at too. You can go for circles, lines, collages as well as some really nice visuals to support the design.
And this is all for today, you guys! We hope that you will find this blog of ours super helpful and that you will also create some really cool spa flyers designs for yourself and for your clients too. Don't forget to share the blog with your friends and favorite colleagues as well and we will see you next time!
Free Spa Flyer Design Template in PSD Format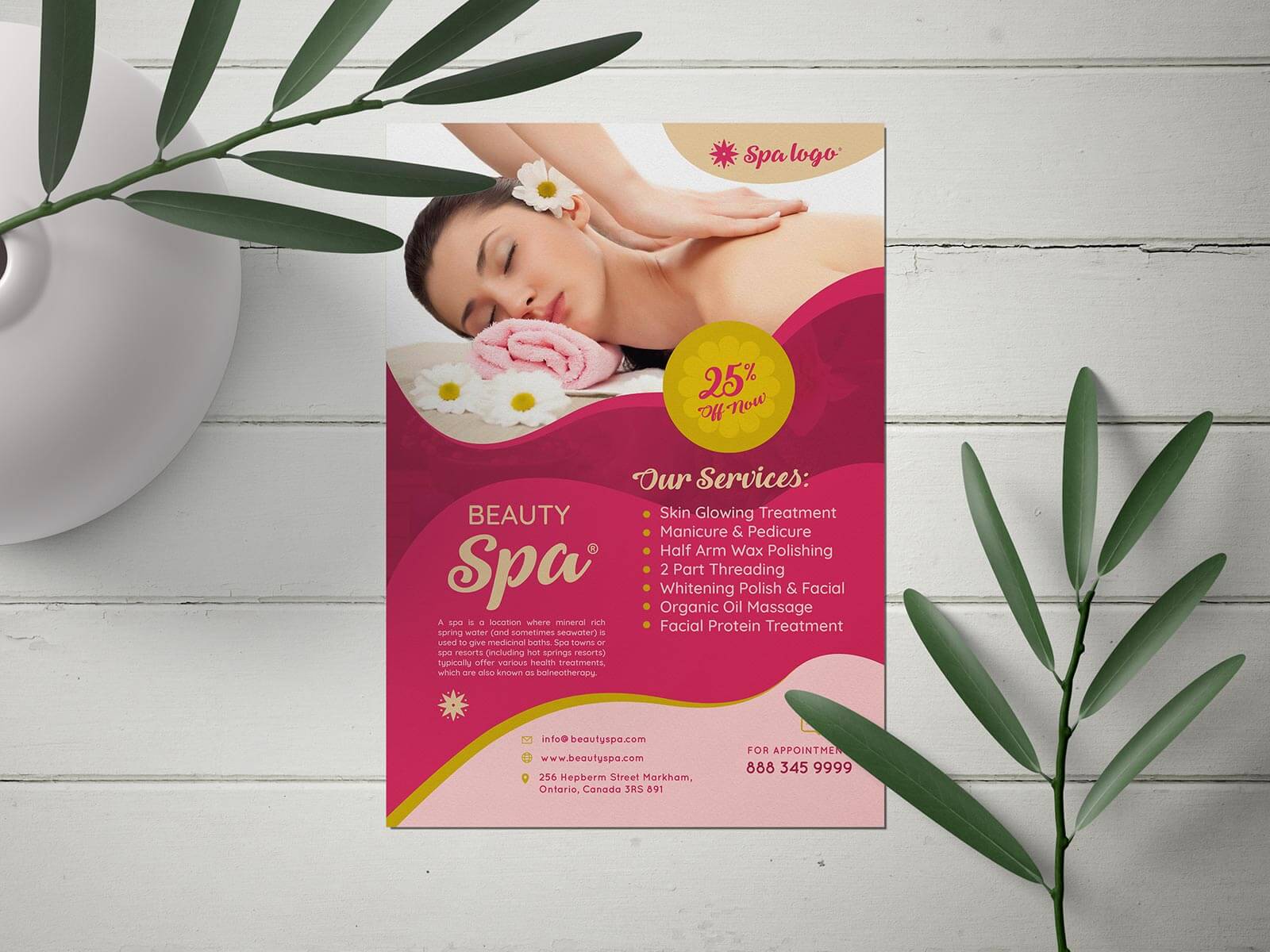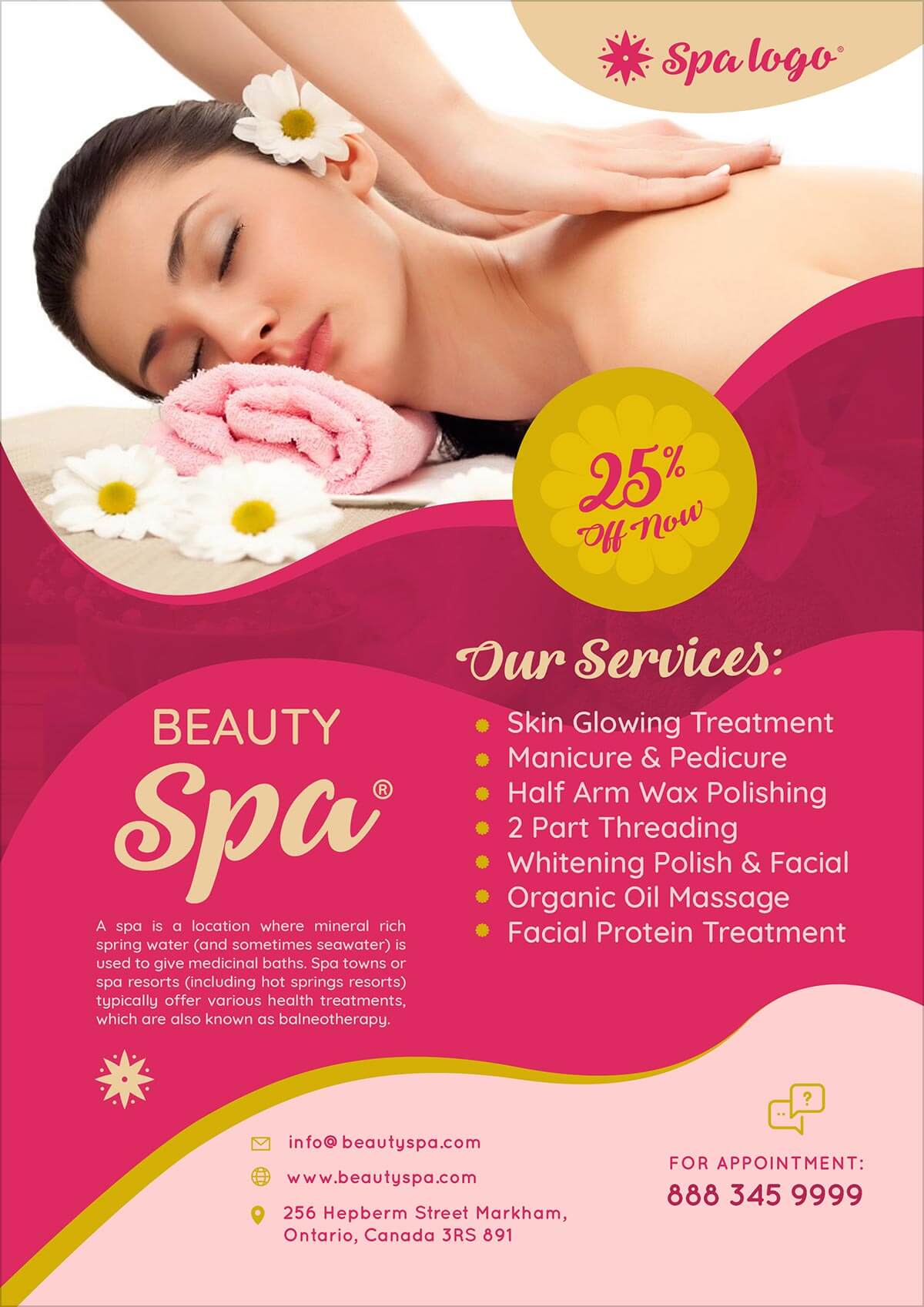 Available Format: PSD
License: Free for personal & commercial usage
RAR File Includes: Free Spa Flyer Template
Design Template Resolution: A4
Font Used: Queen of Heaven, Quicksand (OTT) > Link to Download
Mockup: Goodmockups.com
Note:
1. Free PSD Template are allowed to share online (A Must Linkback to this post)
2. Say thanks if you like or share/tweet with your friends. That means a lot to us.
3. And don't forget to subscribe to receive for more high quality premium freebies & awesome articles only. Unsubscribe anytime.
Download Pizza Flyer