Hi there everybody! Before we share what we have created for our today's blog, we would like to thank you all for your valuable feedback on our previous blogs and for also spreading the content and designs with your friends too.
For the ones who are thinking to launch a new business idea in near future, you will be happy to know that we have created a free shadow mailer box mock-up PSD file. You can get your hands on it right away and can create whatever you would want to design as per your requirements. Allow us to share a little something about the mailer box first. So, a mailer box is a paperboard packaging that is designed for more than one purpose; you can literally store your products in a mailer box, or you can use it to dispatch stuff like stationery or light clothing items.
The best thing about these mailer boxes is that their double side walls make them durable and a better option that are already available in the market. And keeping in mind various things that new businesses or businesses in general have to cater to, we think that mailer boxes are not only cost effective but with these boxes, you know that your customers will receive their packages in one piece (since transporters do not really care about what's in the box to be honest).
Oh, and did you know that there exist a number of types of the mailer boxes? All of them are unique in their own ways and are designed carefully to perform their respective duties. We would love to share the types of mailer boxes with you guys too:
Rigid mailer box
Shoulder mailer box
Telescope mailer box
Collapsible mailer box
Corrugated mailer box
Full overlap mailer box
Roll end tuck top mailer box
Their prices depend on the size of the boxes and of course, if you are buying in bulks, then you can get a pretty good deal in reasonable prices too but since, you have gotten hold of our free shadow mailer box mock-up PSD file now, you do not have to worry about the design price at least. These mailer boxes can be made in any color and design as per the requirements of your demands or the brief that you may have received. But if you are working for someone without the design brief then we can help you with the basics too so, continue reading to know more!
As we have mentioned this above that the mailer boxes are used for a number of purposes; you are free to incorporate the theme of the business / product in order to initiate the design process. For example; if you are working with a pizza bar and they want you to design their first ever mailer box then in addition to the branding of the business that must be included in the design, you can make the mailer box interactive too.
Now, think of an ideal situation where a group of friends orders pizzas for themselves. They must be planning to spend the night together watching Netflix or playing video games but there is one thing that can make them hooked to your business and that's a board game. Is that correct? Well, it sounds like that to us. You can literally create a board game on the mailer box (literally anywhere) to engage with the audience in more than one way.
In the past a few months, we have seen many small businesses that emerged from scratch and are now making huge amounts of money. There could be many reasons of them being successful in such a short time but the one thing that we know is that they worked hard to find the gap so, that they could offer a solution to a problem / need through their business. and their packaging help them achieve their business goals just like that.
You must be wondering about your unfinished and secret business ideas too at the moment so, why do you not start from today and get done with the final tweakings before you launch your very own business too? Honestly, it could be anything from a Work from Home strength pack to a book lover package to a customized make-up accessories box – all you have to do is to start working on it.
As you know that you can design anything & everything with your imagination and skills so, we will conclude or today's blog with a few effective design tips:
Keep your mailer box design idea unique – so unique that it makes your business stand out. Your mailer box can literally be a gift box too. Think of ways in which you can not only promote your business for the direct customer, but you can also land indirectly in your potential customer's hands too.
Mention your business contact information clearly so that your potential customers can reach out to you easily.
Don't be boring, experiment with multiple thoughts, ideas and themes to see what's working best for you and your business before you finalize the designs for the mailer boxes. This also includes colors, fonts and design elements.
Free Shadow Mailer Box Mockup PSD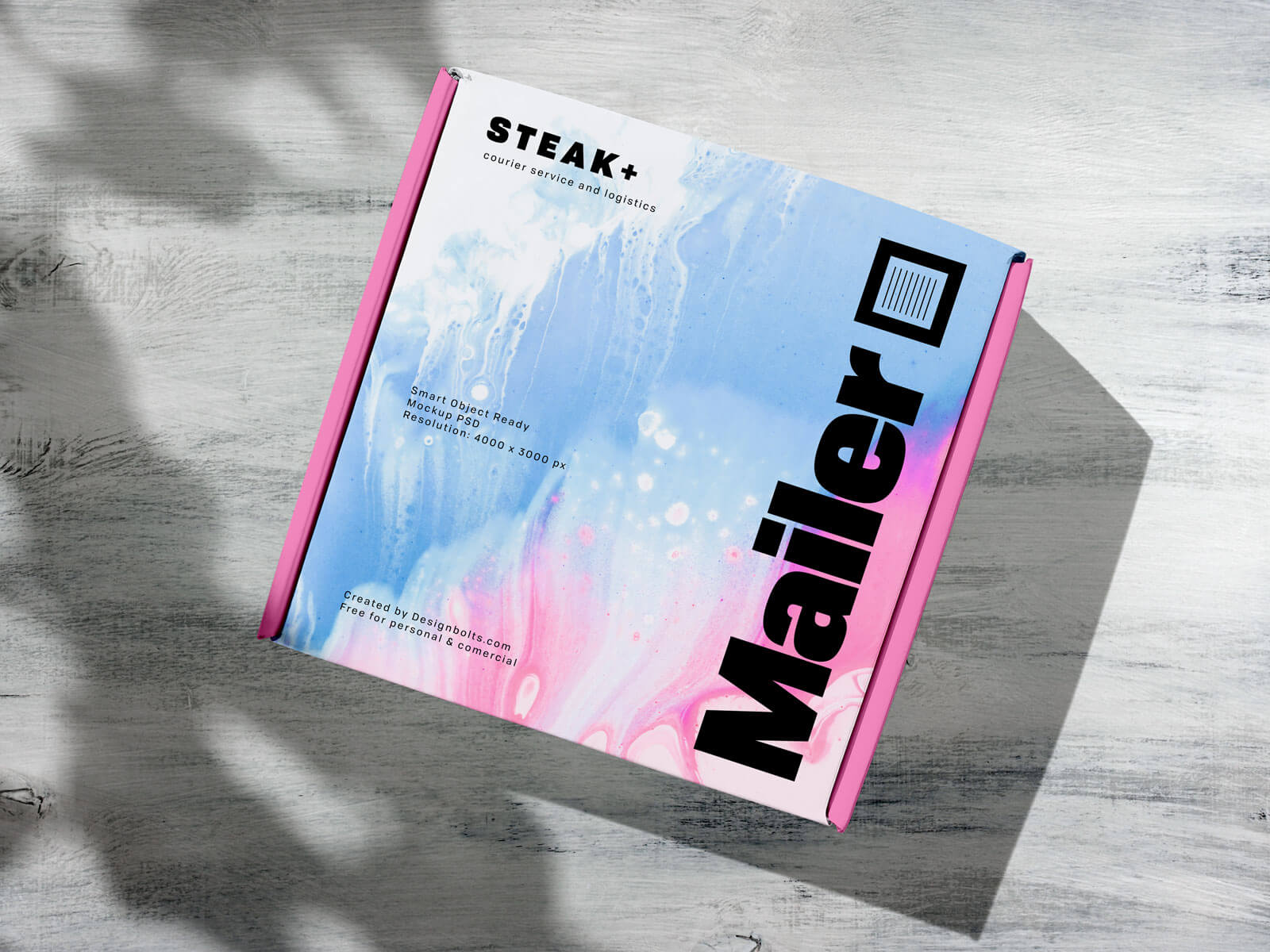 Available Format: Layered PSD with smart object insertion
License: Free for personal presentational use only
RAR File Includes: Mailer Box Mockup PSD
Note:
1. PSD Mailer Box Mockup is allowed for sharing online (A Must Linkback to this page)
2. Layers are hidden to decrease the size of file kindly unhide and place your design on red colored layer.
3. Say thanks if you like or share/tweet with your friends.
Download Mailer Box Mockup
More Free Mockup Packaging PSD Files: