Hi there everyone! We are overwhelmed to read your feedback and suggestions that you guys have been sharing with us over the week and we would like to thank each one of you for taking out the time to go through our content and to also make sure that you keep encouraging us through your valuable comments. For our today's blog, we have created a shop fascia mock-up PSD file with a poster so let us get started!
As you guys know that we work on free mockup PSDs and design elements to make sure that everything is accessible to everyone without having to worry about anything. You, making successful mock-up presentations, designs and everything else is our reward.
We feel super happy to mention it here that our virtual family is growing daily and since there would be many new readers who have joined us today, we would like to talk about the basics first. Okay so, a shop fascia is basically an ad that a business puts up at the front of their shop etc. quite literally.
To make any business successful, it is important for the marketers and advertisers to know that they are not only spending the money wisely, but they are also choosing the right spots to spend the budgets on. A shop fascia is one of those marketing materials that only make a business stand out, bring more & more customers in but it also spreads the word with all the positive sentiments too. And we know that most businesses want that to happen. Right?
Recommended: 60+ Best Signage Mockups
Also, considering the fact that we all are trying our best to come back to the life that we used to live before the spread of the Coronavirus, we would advise all of you to give a new touch or renovate your business branding in such a way that you are also able to welcome your existing & potential customers in style. It is kind of necessary – mainly because most of the people would want to see something new and unique, something that catches their attention and something that can help them distract too.
And we are sure that you guys know how to make things work using our free and highly editable mock-up PSD file so, we are just going to share a few effective design tips to help you guys with your task.
Recommended: 100+ Outdoor Advertising Mockups
Before you start working on your creative ideas, you must ensure that there is harmony between the design(s) for the fascia and the poster itself. By creating something on the same lines will amplify and that is what we want. Although, we would suggest you guys keep changing the poster every now and then and here is why. Posters can be quirky and playful, and you have to make the most of them. When we say quirky, we mean that you must allow your creative juices to flow in order to attract more and more eyeballs.
As far as the shop fascia is concerned, we would like you guys to know that keep it formal – if not formal-formal then you can create a fusion of two different themes to make it work. But do know that different businesses have different tones to set. For example; you can create a shop fascia that has serious vibes if you are working on one for a hotel or a restaurant. For a bakery however, you can set a casual tone and it will look cool. If your business sells clothes for men, women and kids, then you will have to set a tone that goes with all the age groups and genders so, that everyone feels included.
Your themes, design elements, colors and everything else will keep on changing depending on what you want to talk about and sell / provide to your customers so, feel free to be as creative as you can be in order to create brilliantly attractive designs. Yes, we know that measuring physical eyeballs in not a thing, but we would still encourage you to make your branding designs so engaging that your potential customers cannot resist visiting your store etc.
And since this involves money and most probably third-party vendors as well, it is always a great idea to make sure that you also work on a detailed mockup presentation. The best thing about any mock-up presentation is that it allows every concerned team member to analyze and visualize the thought processes, designs and how things should be moved forward.
That is all for today you guys! We hope that you will find our blog and free shop fascia with poster mock-up PSD file useful for your personal & commercial design projects and will also create a bunch of interestingly unique designs too. Oh, and don't forget to share the blog and our tips with your friends and favorite colleagues.
Free Storefront Shop Fascia With Poster Mockup PSD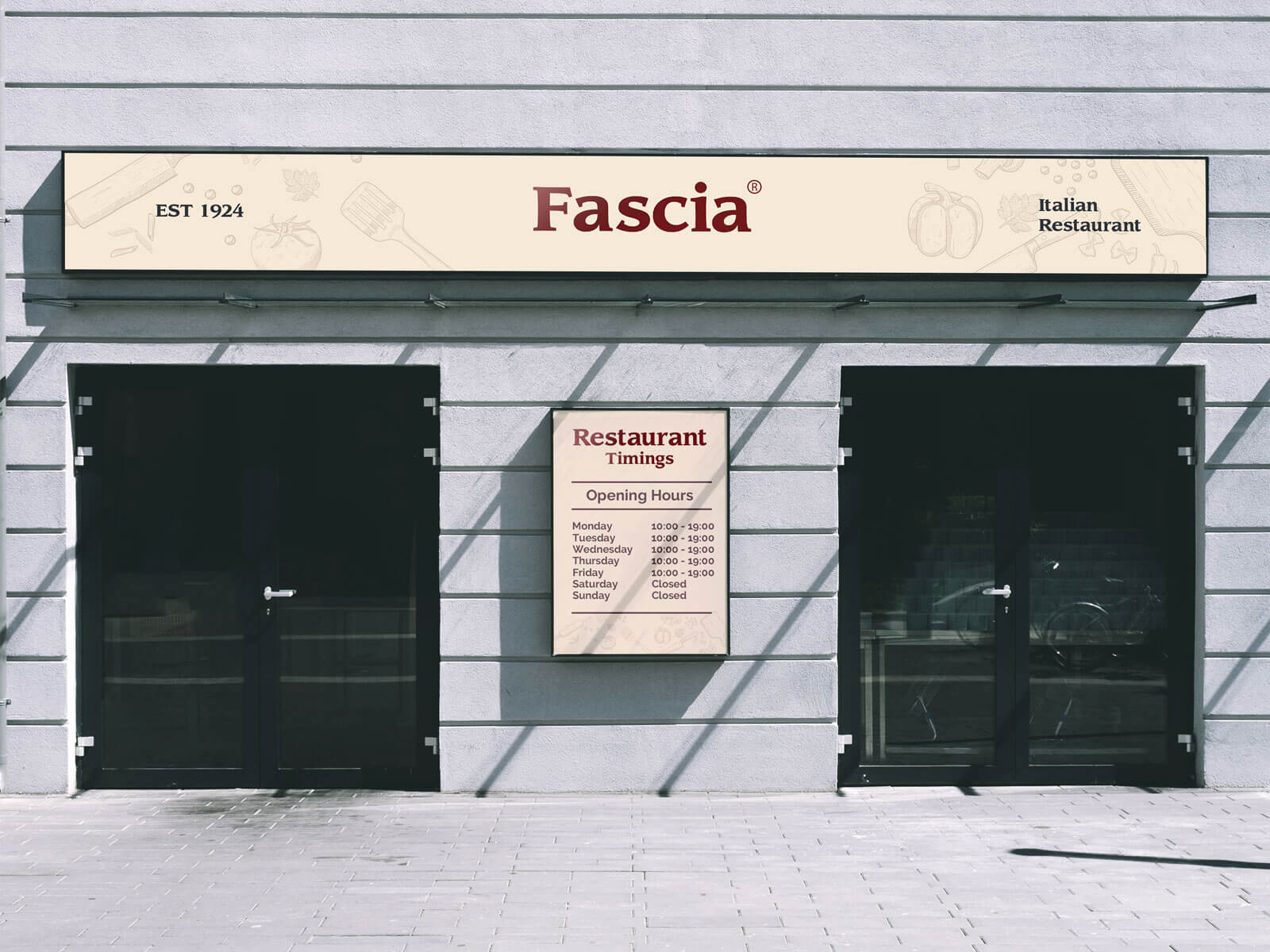 Available Format: Photoshop PSD
License: Free for personal and commercial usage
File Format: WinRAR
Mockup Resolution: 3000 x 2250 px
Note:
1. Free Shop Fascia Mockup is allowed to share online (A Must Linkback to this page)
2. Say thanks if you like or share/tweet with your friends. That means a lot to me.
3. And don't forget to follow or subscribe to receive more high quality premium freebies & awesome articles only.
Download Fascia Mockup
More High Quality Free Outdoor Mockup PSD Templates: