Hi there everybody! We are back with yet another amazing & useful mock-up PSD file for you guys and of course, a bunch of easy to follow and effective design tips but before we start talking about that, we would like to thank you all for your overwhelming response and for your constant support too. Also, keep sharing our content and creative ideas with your friends and favorite colleagues as that encourages us to continue creating more and better stuff every day.
So, for our today's blog, we wanted to talk about something that can help you work on your outdoor advertising especially since many countries around the globe are still fighting with the second wave of the Coronavirus and the lockdowns and everything else has impacted the modes of marketing and advertising so much that all the businesses have to rework on their strategies and stuff.
We have created this free billboard mock-up PSD file for you guys which is considered one of the most effective out of home advertising material for all sorts of businesses that exist. Billboards are also considered as a great source of storytelling and with the passage of time and by incorporating modern techniques and technologies; there are newer forms of billboards available too which makes promoting the brand messages even more fun. In this blog, we will share how you guys can make the most of our free billboard mock-up PSD file so, let us get started!
The first and the foremost advantage of billboard advertising for a consumer / customer is that they do not have to buy anything to indirectly get in touch with your business. Through billboard advertising, no newspapers are required, no passes or invites are necessary and even then, your message can be delivered easily to large numbers of people – just like that. Then of course, billboards are displayed at such areas that are busy so that more and more people can view them, your message reaches to people at a much faster speed and it is cheaper too which works for both you (the business) as well as for your potential customers.
Billboards are accessible to the target audience more effectively then any other medium. For example; almost all the businesses have gone digital and that is a great thing but there still are many people who are not present on any social media platforms whatsoever but in order to reach them, the most effective way is to talk to them through your billboard. Another interesting thing to mention here is that billboards convert audience into sales and increasing footfall too.
In addition to all the benefits of billboard advertising that we have mentioned above, we would also like to share it with you guys that billboards are literally used as a cause of distraction. Imagine being on road and you come across a really nice and engaging billboard that grabs your attention right away, you would not only want to check out their website or any other digital and social media platforms that exist but there is a very high probability of you going to the store / office to purchase something or book the business for their services.
You can personalize the billboards as much as you would want to and the model is cost effective too – keeping in mind the brand retention it causes and the impact that it has on the audience for being highly targeted and being there for anyone and everyone to look at, go through the brand message, and then eventually get in touch with your business. Through meaningful messages, attractive designs and strategic display of your billboards, you can build brand awareness and can also broadcast your brand's messages to as many people as the billboards will be visible to.
We know that you are thinking of all the ways you can follow to create your own billboard designs and your first step was to be here in our blog so that you could get your hands on our highly editable yet absolutely free billboard mock-up PSD file. Your next step is to work on your strategy to make things work for you. And that's how you are going to do it:
Make a creative brief for the billboard designs that includes design elements, colors tones and hues, copy (logo, tag lines etc.).
Arrange brain storming sessions with your team members to discuss the possibilities and explore the options of what you can create in order to meet your business goals. set realistic objectives and goals so that you and your team can meet them too instead of overcommitting anything.
Create multiple options of the designs so that you have a variety of them to share with your team leads or with your clients. It is always a good idea to try out something that your business has not tried – this will help you bring newness and modernity to the brand and its message.
Be subtle and to the point as far as the copy is concerned, make it so impactful that your potential customers would want to take an action (sign-up, store visit, social media following etc.) after looking at the billboard and you will be good to go.
That's all for today! We hope that this blog and our free billboard mock-up PSD fie will help you make interesting billboard designs.
Free Street Billboard Mockup PSD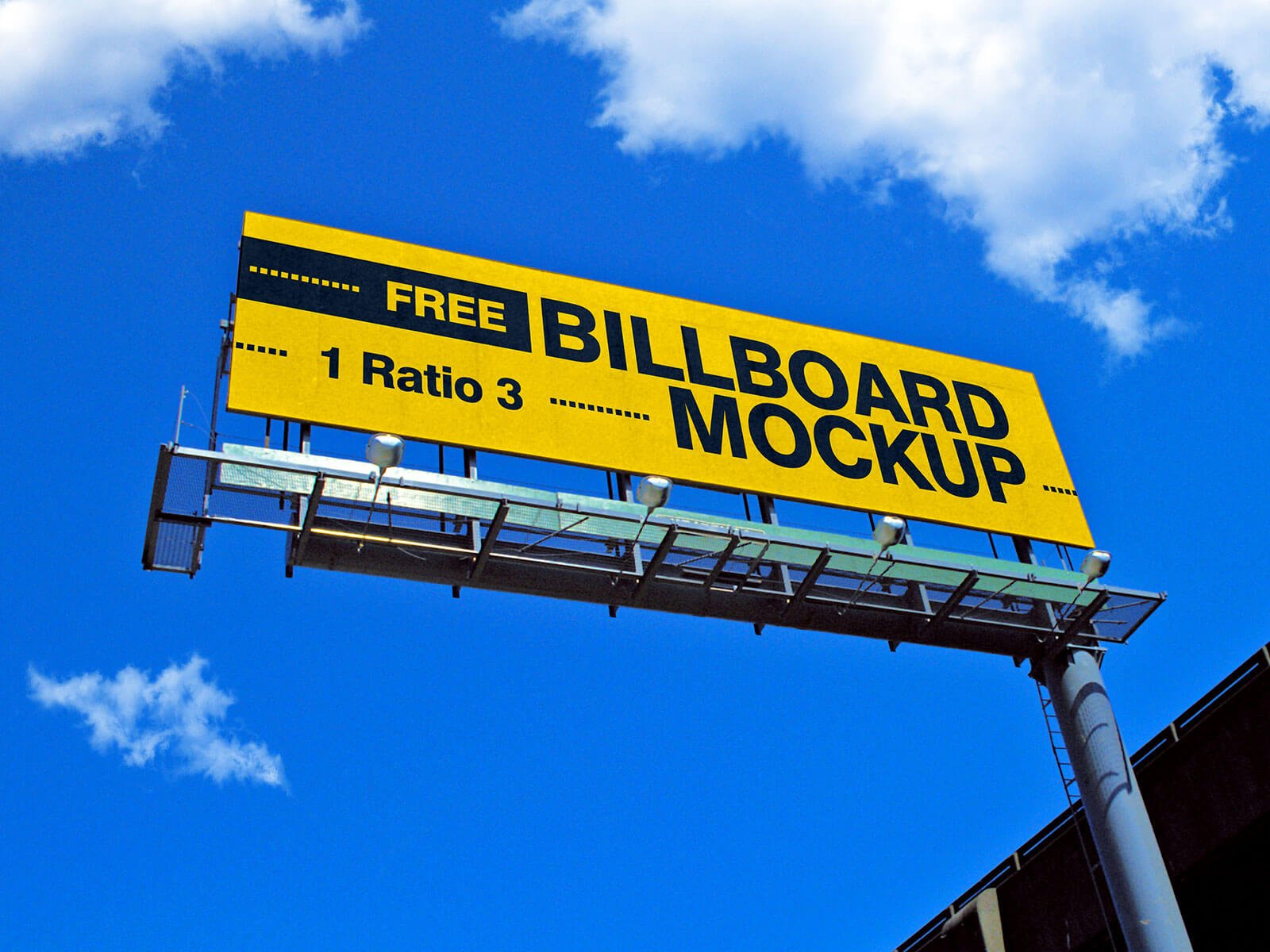 Available Format: Layered PSD with smart object insertion
License: Free for personal presentational use only
WinRAR File Includes: Street Billboard Mockup PSD
Note:
1. PSD Outdoor Billboard Mockup is allowed for sharing online (A Must Linkback to this page)
2. Say thanks if you like or share/tweet with your friends.
Download Billboard Mockup PSD
More Free PSD Hoarding Mock-ups you would love to download: