Hi there everybody! How are you guys doing today? We hope that your work life and life in general are treating you fine and that you are not only reading our blogs but are also making the most of them too by utilizing them for your personal and commercial design projects. We have been reading your interesting comments under our blogs and to say that we feel super happy to have you guys as our readers would be an understatement. Keep your suggestions and feedback coming in!
As you know that quite recently, we decided to cover a few important marketing and advertising materials for both existing and soon to be launched businesses so that more and more of you can use them to create your own stunning designs for your upcoming brand campaigns and stuff and to continue that, we are about to share our free ceiling mounted backlit board mock-up PSD file and tips & tricks on how you can make things work for yourselves. Let us get started!
With the passage of time, marketers and advertisers find the gap and then create mediums and materials that can be effectively used to run out various types of campaigns on digital and social media platforms as well as on-ground too. Keeping in mind the innovations that keep taking place, we thought of covering this interesting backlit board that not only looks classy being mounted in the ceiling but it is one of those advertising materials that are bound to grab your attention.
For those who would like to know more about the backlit boards, this one is for you: a backlit board is specifically designed to ensure that the target audience sees it and then take the necessary action that is required to get in touch with the business. Since, backlit boards are not something new, they have also become an affordable medium to talk about your businesses as well and what's better than an effective mode of communication? A mode of communication that does not mess with your budgets, right?
Recommended: 20 Creative Sign Design Ideas For Inspiration
If you are one of those people who are thinking about the pros and cons of the ceiling mounted backlit boards, then we would like to inform you guys that it will be all worth it and here is why: installing a ceiling mounted backlit board will help you get in touch with your existing and potential customers / consumers directly and with the right amount of easy information, they will also be able to visit your website or follow you on your social media platforms as well.
In addition to that, know that ceiling mounted boards do not come in anyone's way. They are put up on display nicely and do their work super efficiently helping you promote your business in a great way. Also, illuminated signs are always attracting a lot of attention – no matter what time of the day is and we think that is pretty interesting and useful too especially if you are a new business and you want more and more people to get to know about you.
Recommended: 60+ Best Signage mockups
The best thing about illuminated signs is that they allow marketers and advertisers to make fun things and be versatile too and traffic engagement is guaranteed because these signs are made to work, to deliver the promotional messages nicely etc. Like anything and everything can be designed on these backlit boards or other illuminated signs for that matter and it will be fun to look at. It is also important to note here that backlit signs have become a personal favorite for a number of reasons like the fact that light has a positive impact on the viewer and they like to see what is there to be looked at, you know. The general notion attached to these signs is that there is something important displayed right in front of our eyes so we must look at it too.
We know that this will be really interesting for you to know that illuminated signs also make human emotions become stronger when they are around them and in that moment, they want to make a decision like entering the store, going through the shelves and all and eventually purchasing a thing or two as well. And we believe that when you can get that done this easily, you should do it.
Our free ceiling mounted backlit board mock-up PSD file will help you achieve your business goals in no time; and you will be proud of yourself and the progress of your business and that it literally what we want. So, what are you waiting for? Get your hands on our mock-up PSD file right away and start making fun and powerful boards today. And if you liked reading our blog, then do share it with your favorite colleagues too.
Free Ceiling Mounted Backlit Board Mockup PSD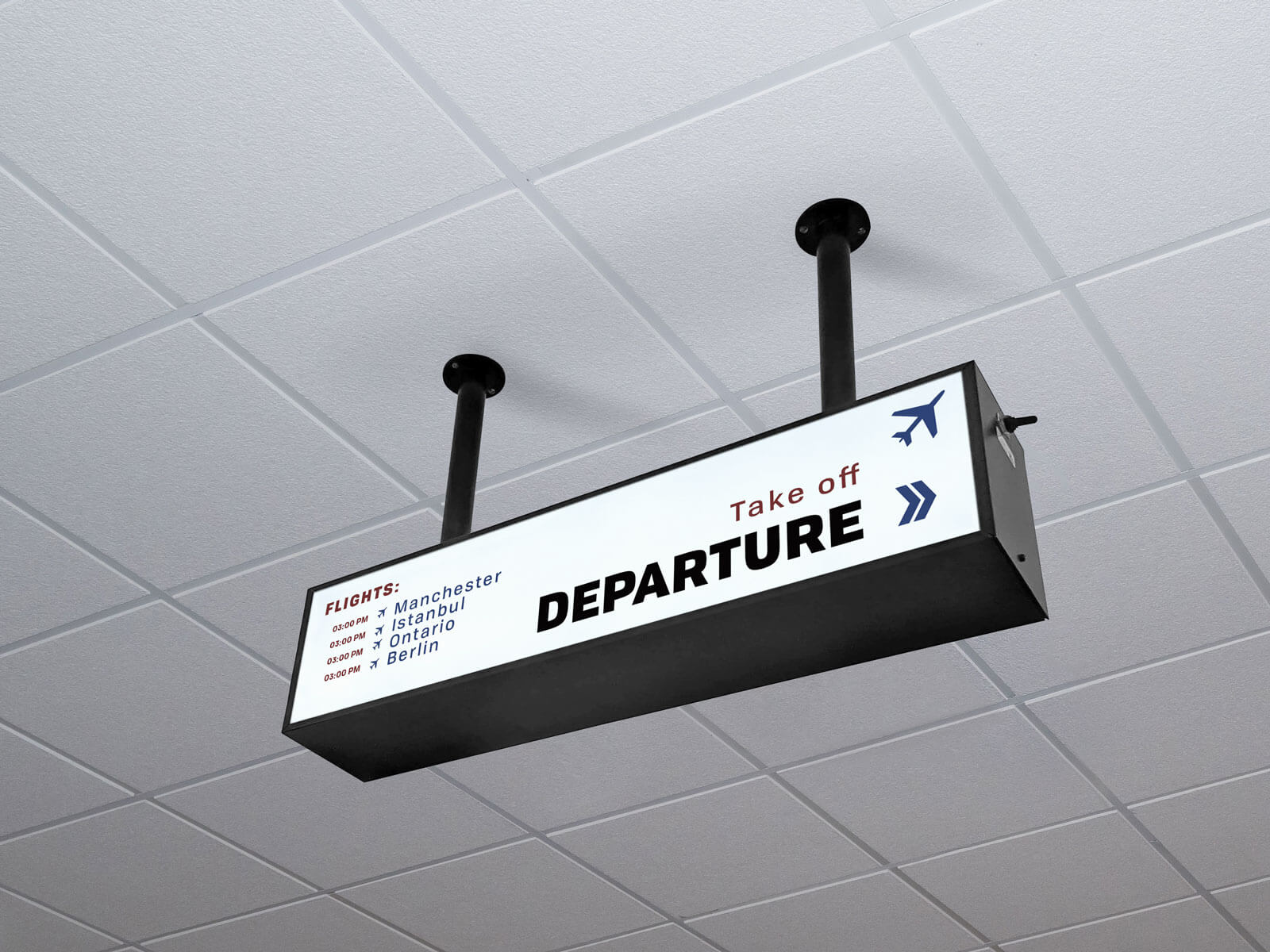 Available Format: Photoshop PSD
License: Free for personal and commercial usage
File Format: WinRAR
Mockup Resolution: 3000 x 2250 px
Note:
1. Free Mockup is allowed to share online (A Must Linkback to this page)
2. Say thanks if you like or share/tweet with your friends. That means a lot to me.
3. And don't forget to follow or subscribe to receive more high quality premium freebies & awesome articles only.
Download Backlit Board Mockup
Recommended: