Hello there everybody! We hope that you guys are keeping safe and that our blogs and free mock-up PSD files are helping you with amazing design projects as well. Earlier this week, we were working on our content plans for the coming weeks and we decided to add in some stuff that can benefit gamers and those who occasionally play games so, guys let's dive right into our 35 best gaming desks of 2021 that you must go through and purchase soon.
Although, almost every house or office has furniture that you can use to place your systems and other stuff gaming desks are essentially important because you do not know how much time you are going to spend while playing a game and if the furniture items are not gaming-friendly, you will get exhausted. To avoid exhaustion, furniture is designed and manufactured to provide support and comfort to the users and since this is a one-time investment, you won't regret spending your money on one of these gaming desks.
Now, allow us to share what you can enjoy after having installed these gaming desks! First things first, know that these gaming desks come in different colors that are not only aesthetic but they can also complement your home décor as well (yes, they are that good!) and the colors include white, black, pink, rustic brown, etc. Also, these gaming desks are made of metallic frames, desk bases, and painted with real carbon fiber. You can pick any option that you like and that matches your requirements and you will be satisfied with the end product.
It is interesting to mention here that even our laptops get heated up when we use them for hours and hours but the gaming desks, you won't face that problem. The gaming space and the frames are designed using such materials that are supposed to keep the space and consoles etc. cool and honestly, we would love to get our hands on such a thing because the moment it feels like the systems are heated up, so many people get anxious and shut everything down so that they do not happen to lose their work and stuff, you know.
To ensure a seamless and smooth gaming experience, the manufacturers of these gaming desks came up with different styles and shapes as well to not only offer a variety of options but to provide an unmatched service as well. For example; an L shaped gaming desk is ideal to be placed in a corner and it comes with more space too so you can easily set up your gaming consoles and can also decorate the desks with your favorite figurines, table clocks, candles, and lamps, and of course, your games/documents/books and all can also get an organized space as well.
We would also like to mention it here that these gaming desks are fully equipped with accessories as well for example; a cup holder so that you do not have to place it on the table. Oh, and there will be no chances of spilling accidents too. Then there are hooks on which you can safely hang your headphones and they won't come in the way either. Still, want to know more cool things about these 35 best gaming desks? Keep reading the blog to get impressed!
In addition to being available in different colors and materials, these gaming desks come in different sizes. You can choose how big or compact your desk would be depending on the gaming area. Oh, and all these desks are super easy to assemble too and if you love DIY projects, then we are sure that you will love assembling these gaming desks as well. A couple of gaming desks come with a customer satisfaction guarantee, which means that you are in safe hands and know that every penny you will spend on these awesome desks will be worth it.
That is all for today, gamers and everybody else! ? We hope that our blog and this extensive list of the 35 best gaming desks of 2021 will help you make an informed decision. We would suggest that you take some time out to go through the specs and everything else that these gaming desks offer and once you have done that, only then purchase the item(s) that make sense to you because we know that it can get overwhelmed. Also, don't forget to share your feedback with us and while you are at it, do share the blog with your gamer friends as well.
Lastly, if you have any suggestions, feel free to share them with us and we will come back with that very content for you guys.
35 Best Gaming Desks Of 2021 By Amazon
1. 31-inch Gaming Table with Headphone Hook and Cup Holder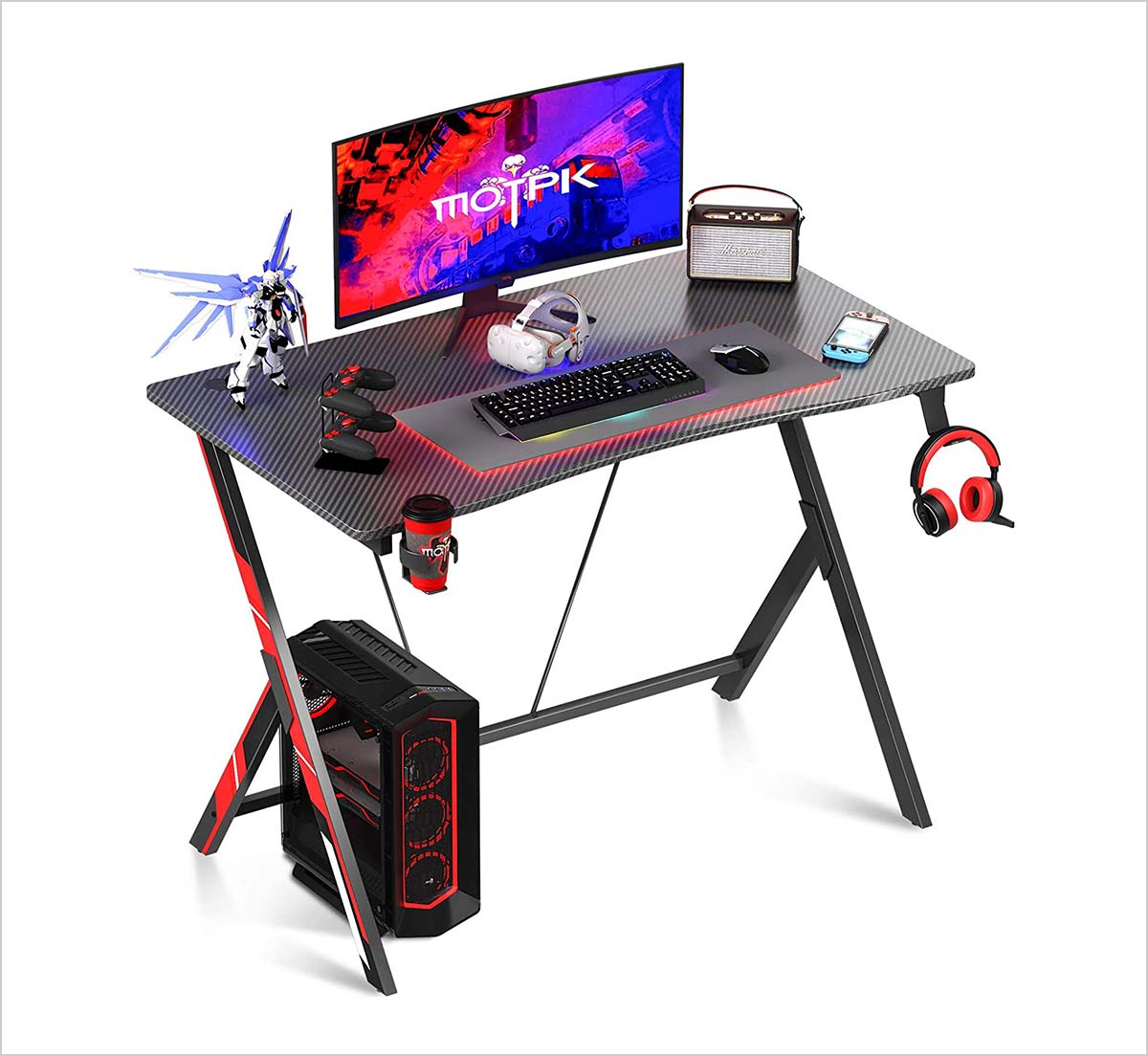 2. 39-inch Ergonomic Gaming Desk Z-Shaped Sturdy Computer Table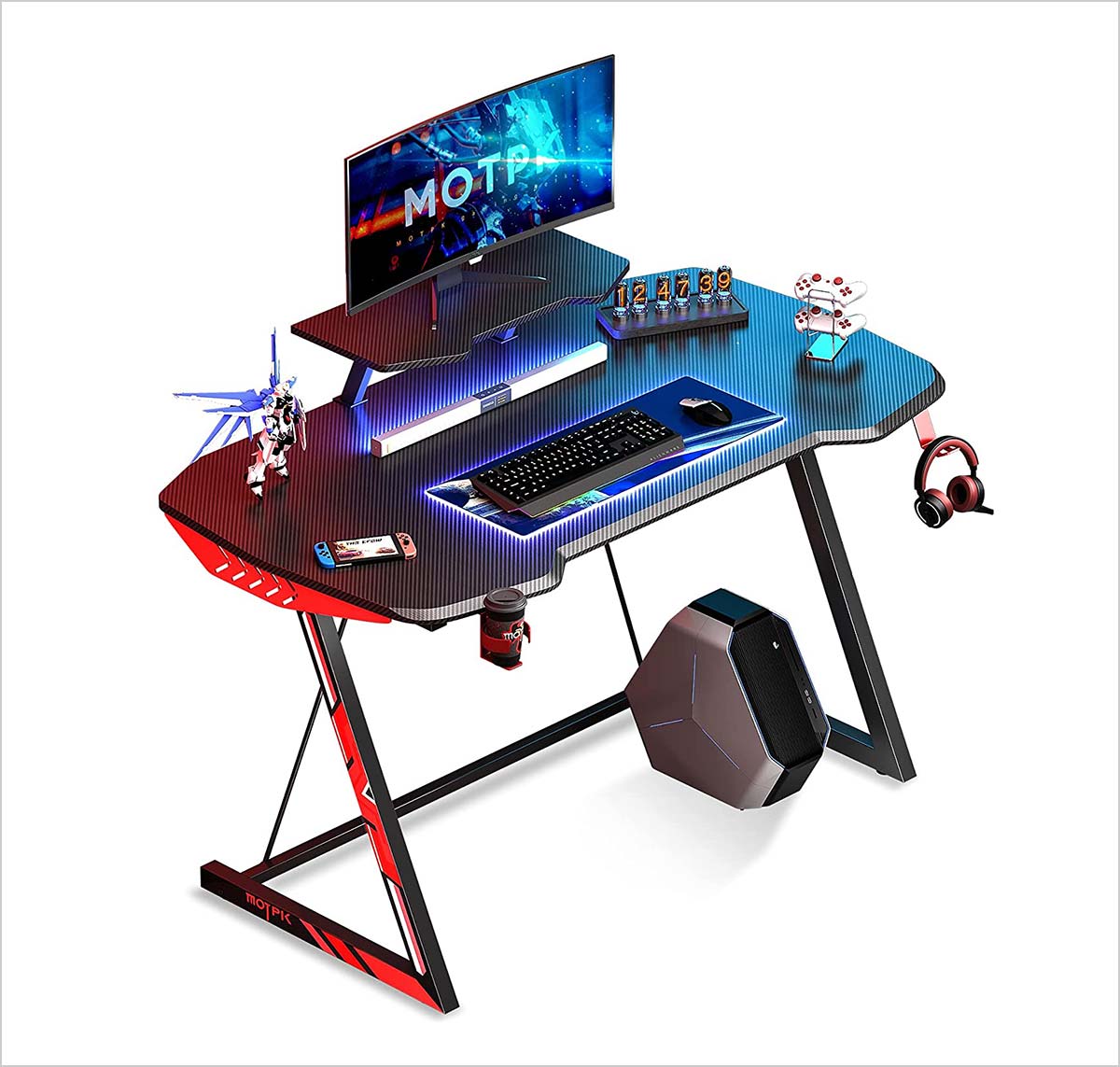 3. 47inch Professional T-Shaped Racing Style Gaming Desk with Headphone Hook and 2 Cord Collectors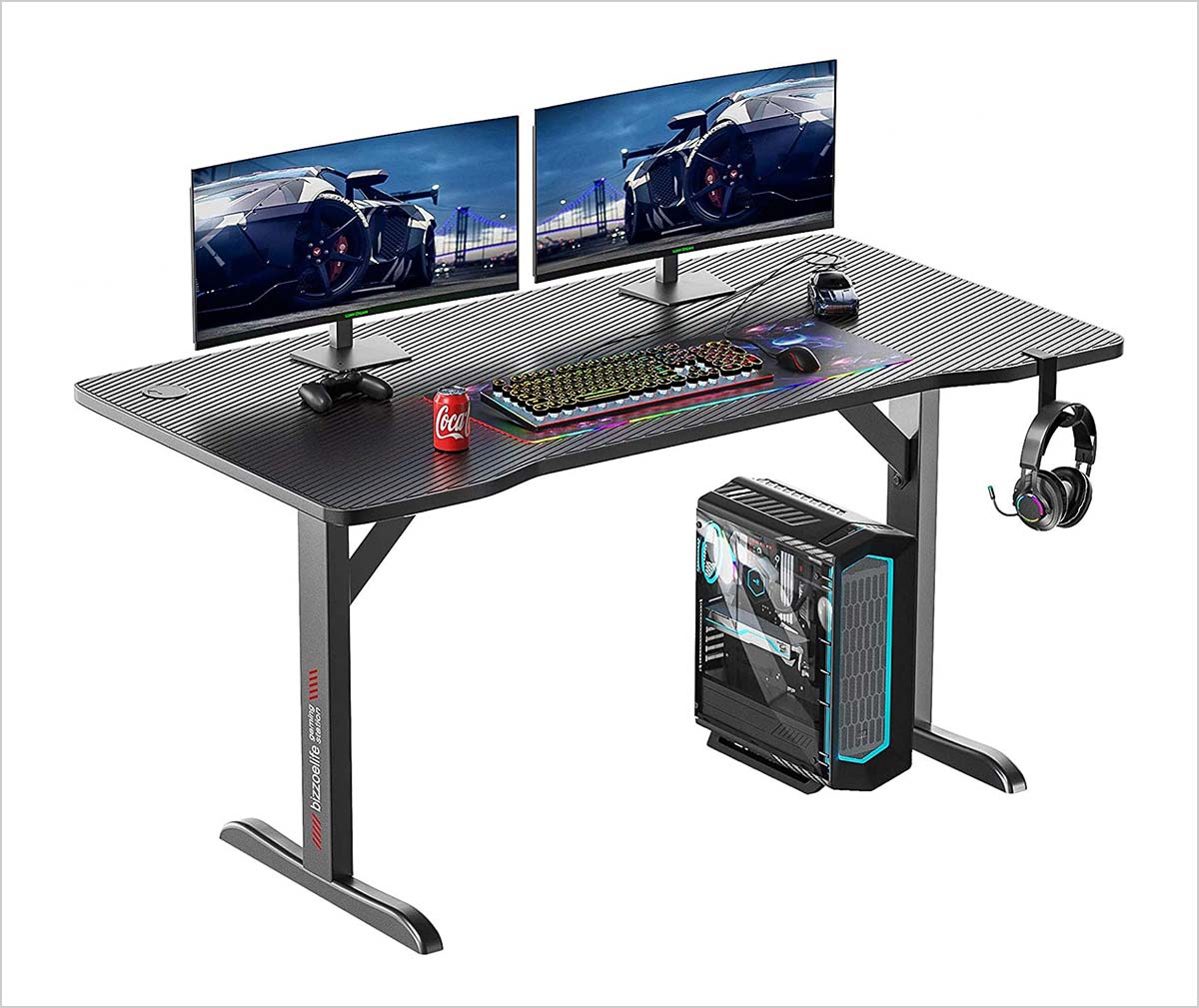 4. Desk for Gaming with Free Mouse pad | Cup Holder and Headphone Hook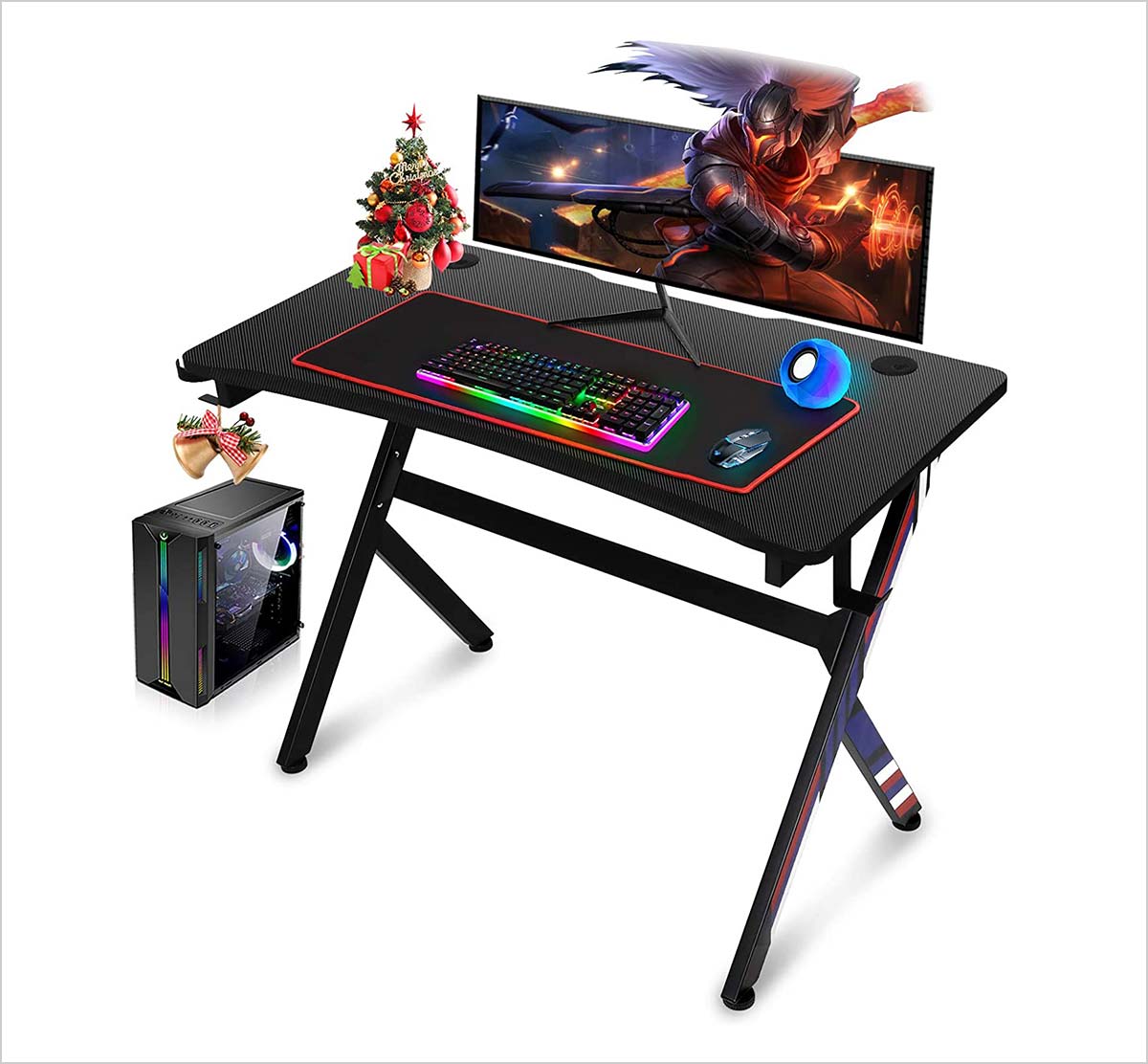 5. 2-Tier Simple PC Gaming Desk for Home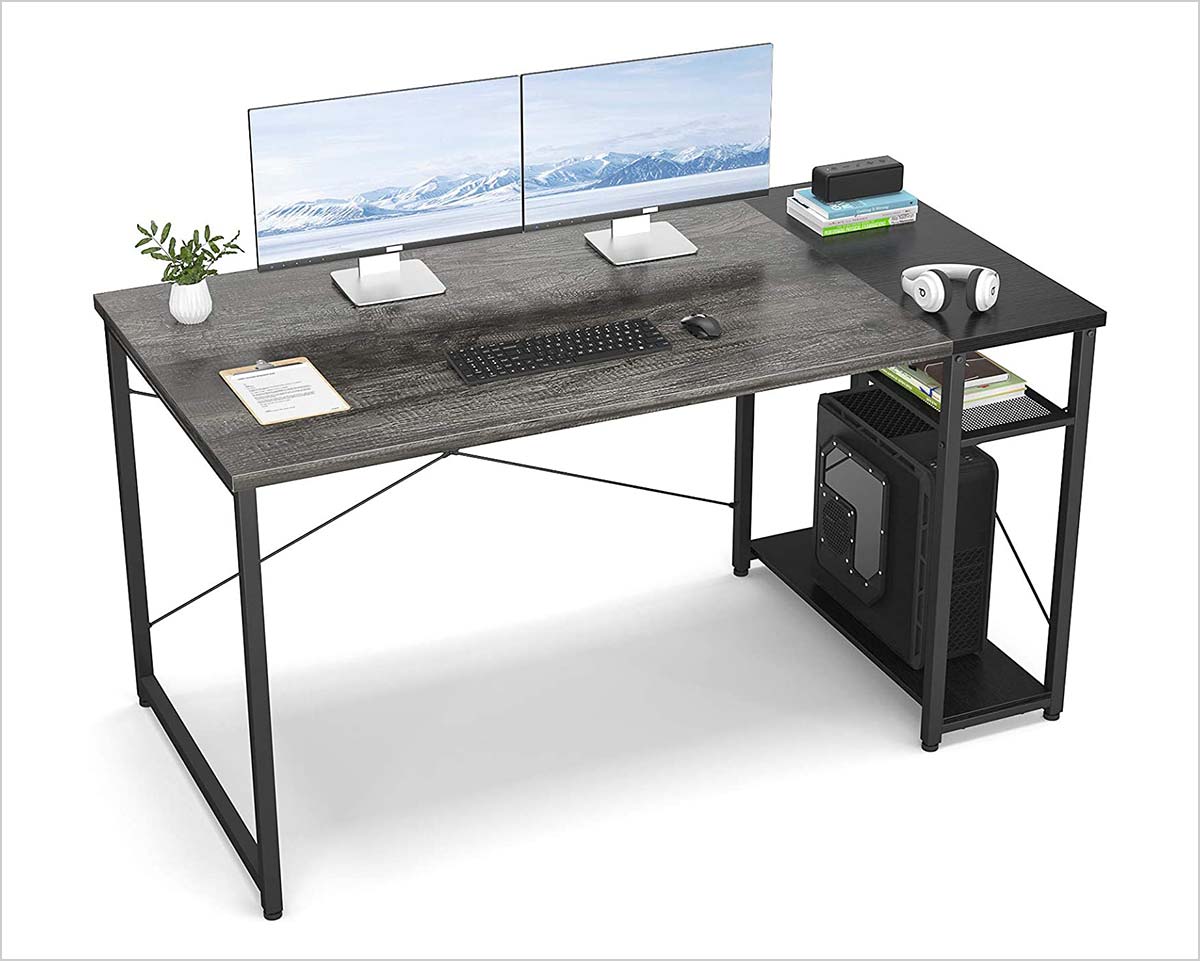 6. 60 Inch T- Shaped Carbon Fiber Surface Computer Desk with Full Desk Mouse Pad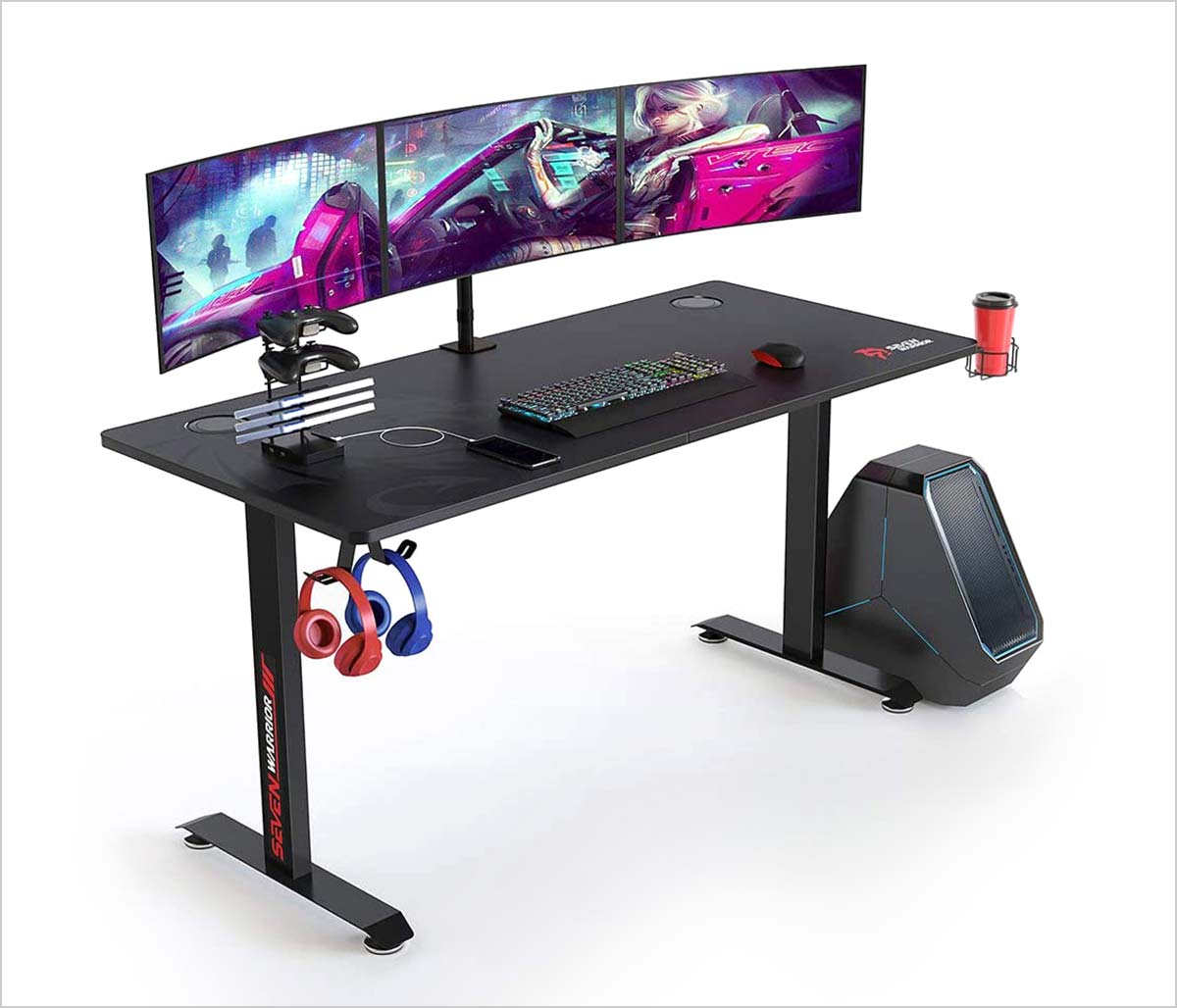 7. 60-inch Computer Desk Z Shaped Large PC Tables with RGB LED Lights Mouse Pad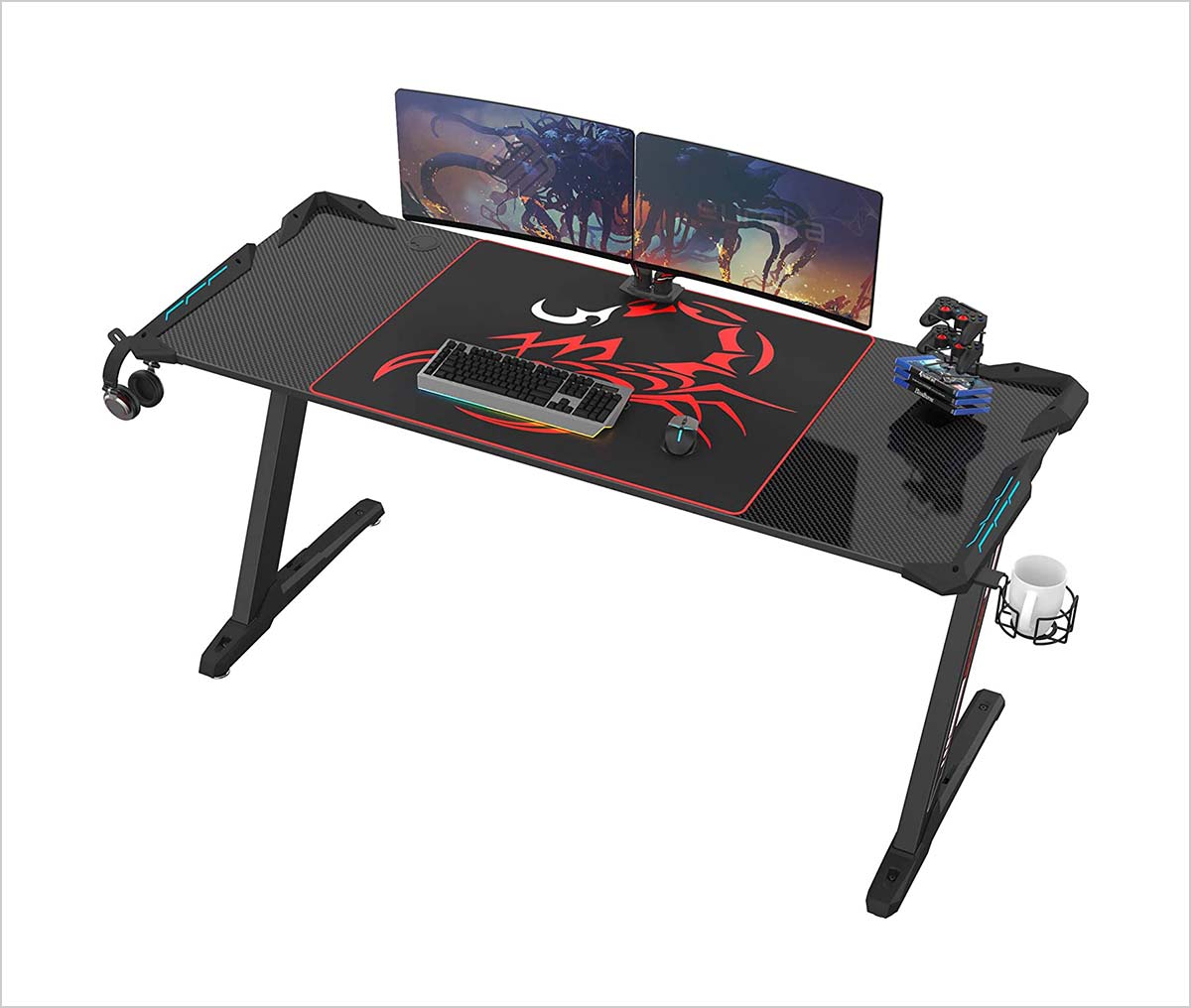 8. Gaming Desk 55 inch PC Computer Desk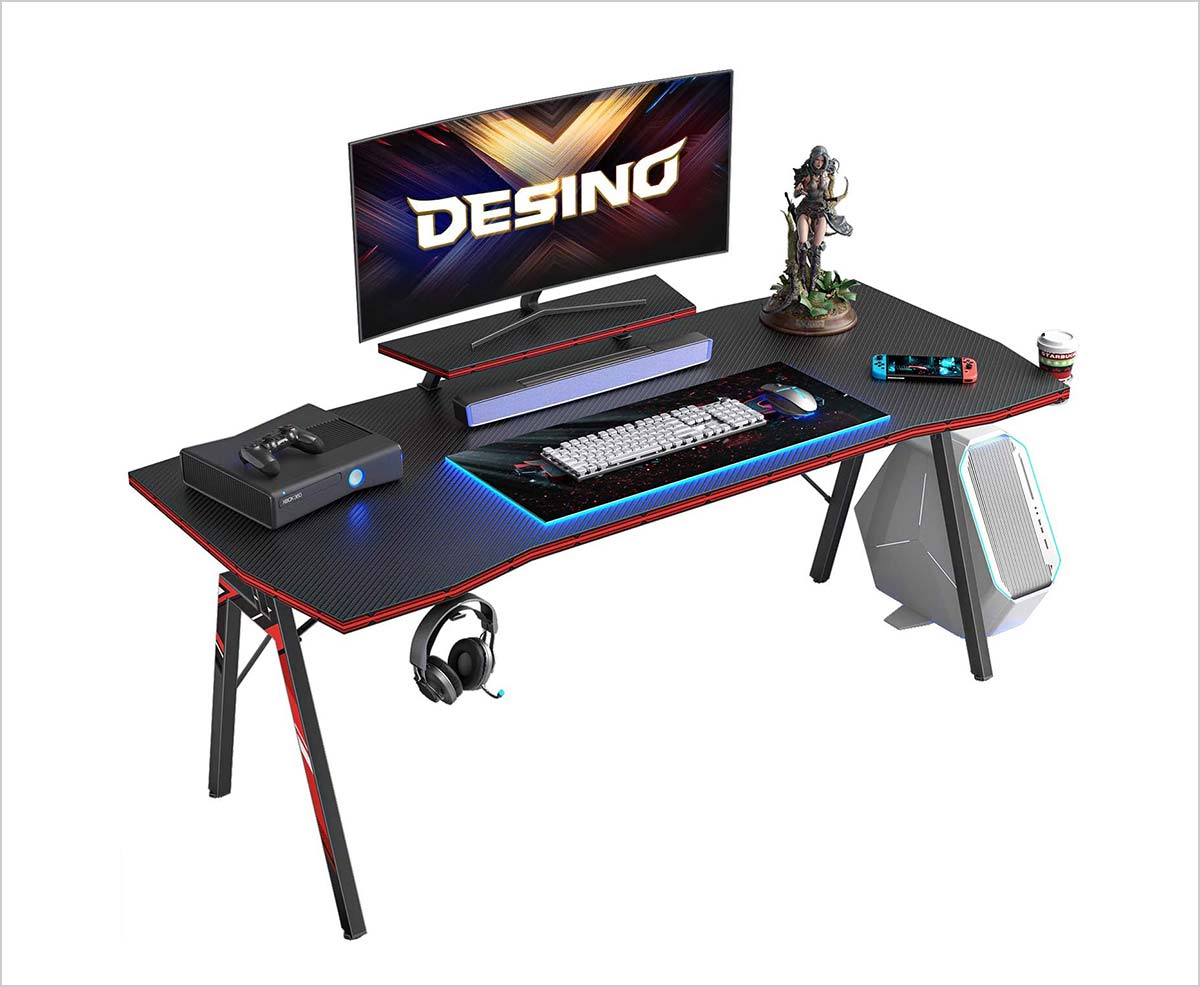 9. 60 INCH with Dual Monitor Mount, Carbon Fiber Surface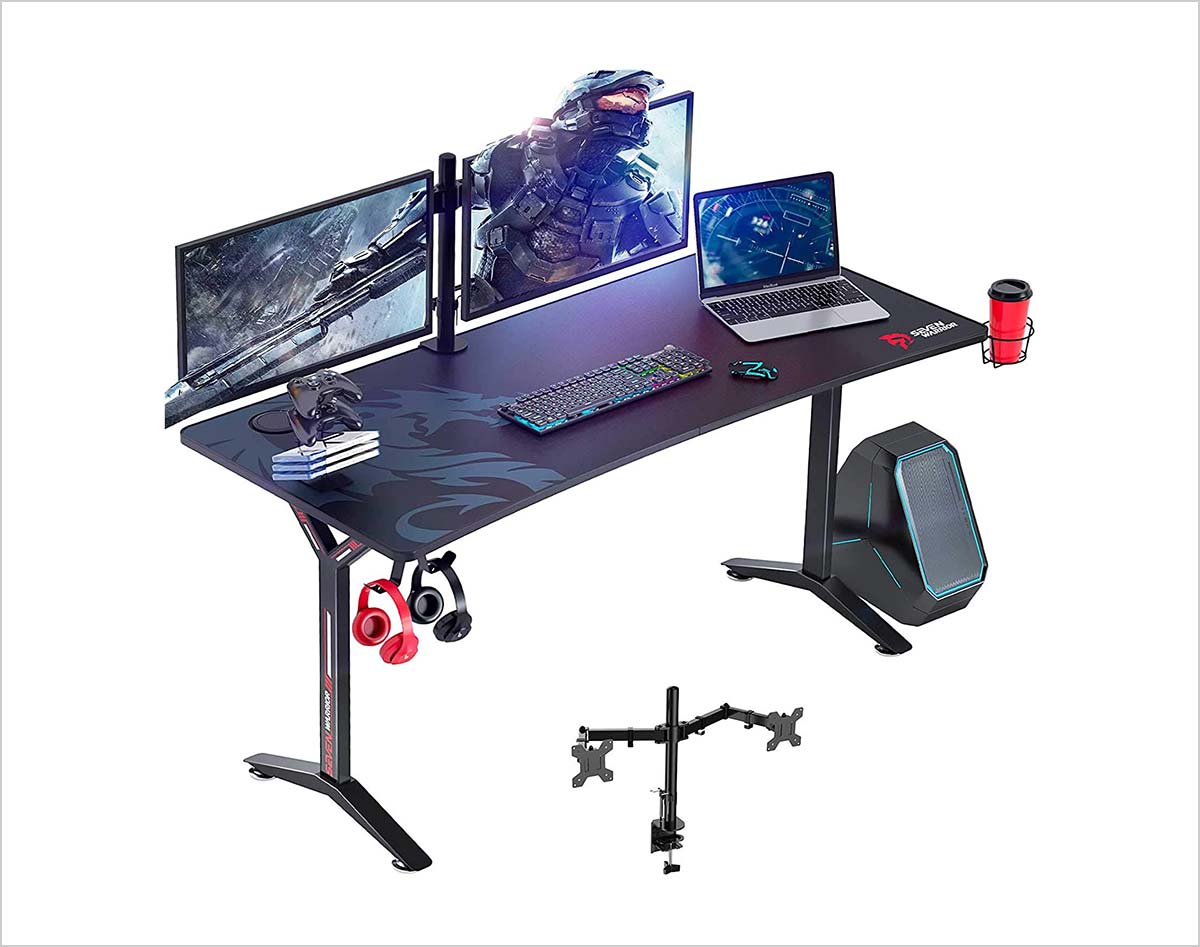 10. 55 inches Gaming Desk Computer Gamer Desk Pro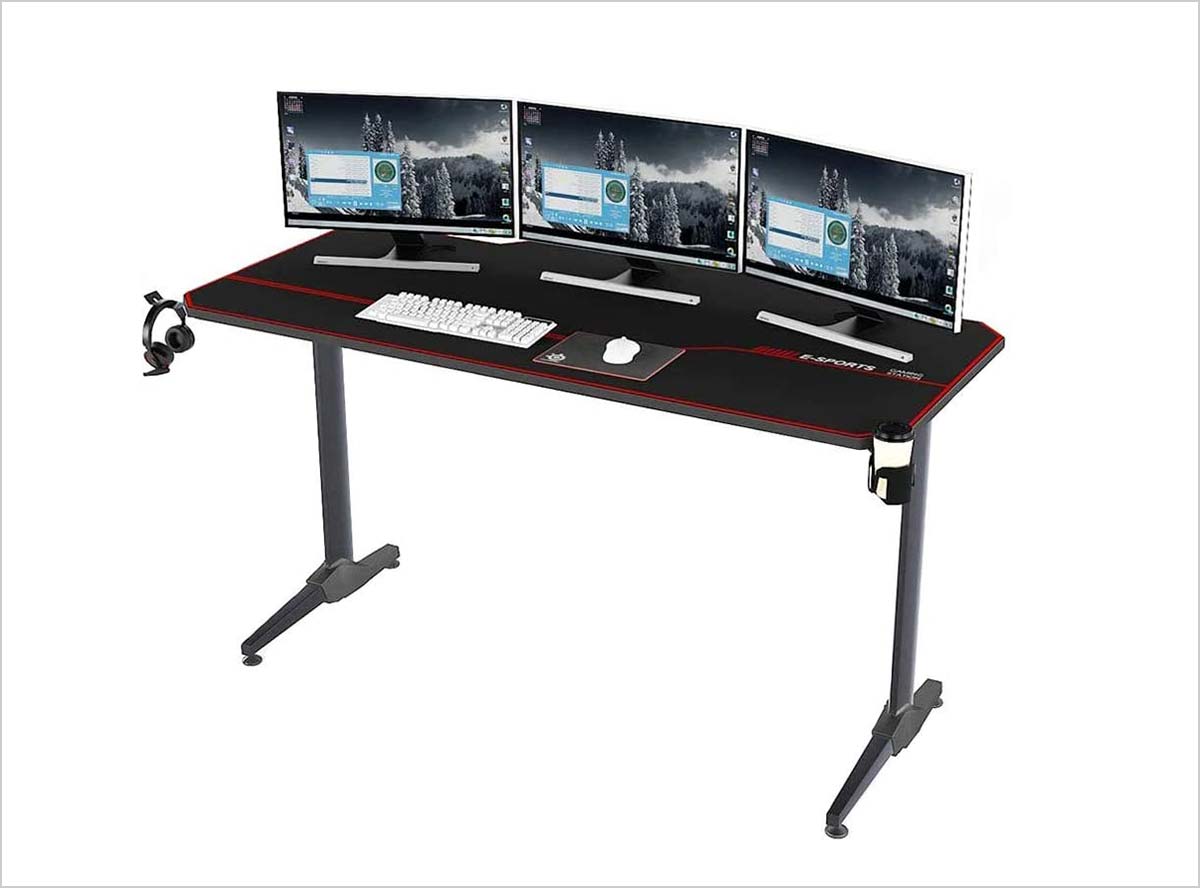 11. EUREKA ERGONOMIC Tempered Glass RGB Gaming Desk 43Inch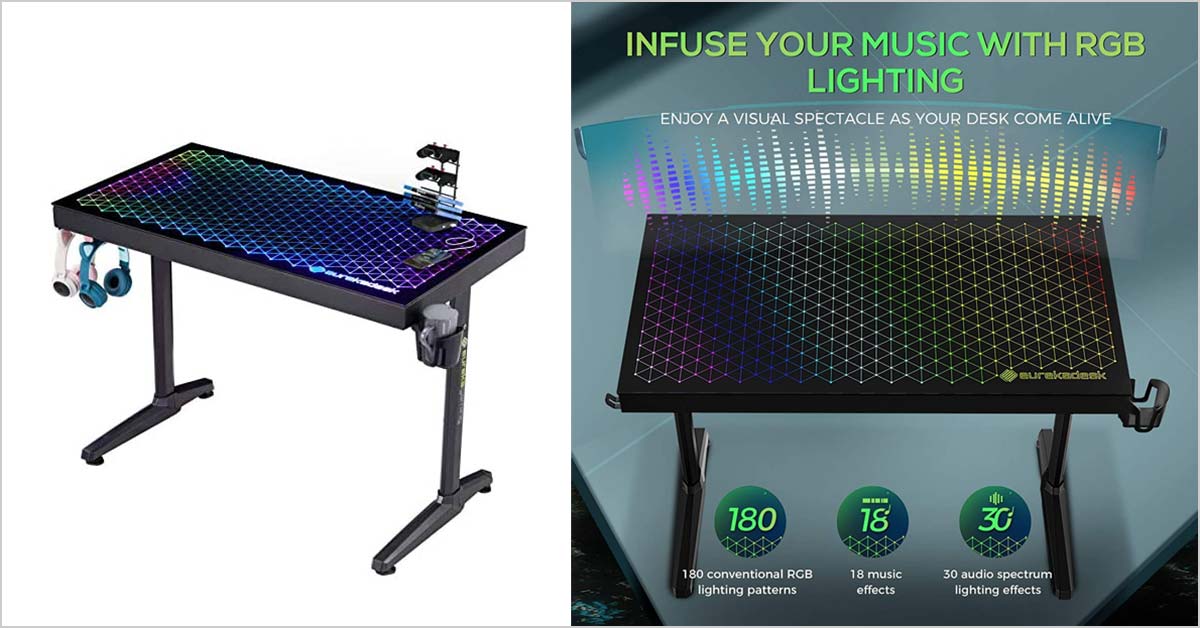 12. 44-inch Ergonomic Gaming Desk with USB Gaming Handle Rack & Full Desk Mouse Pad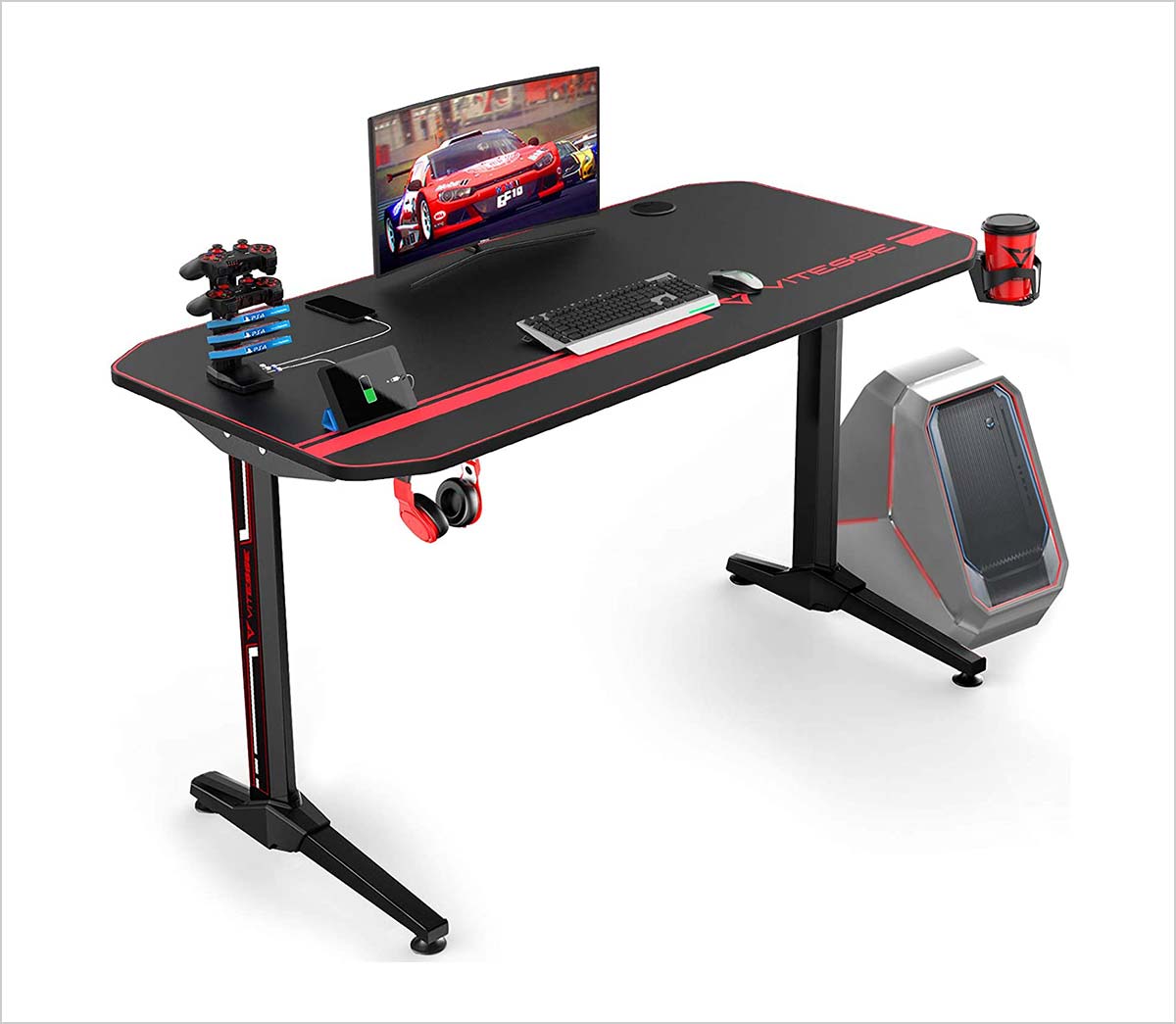 13. Gaming Table Home Computer Desk with Mouse Mat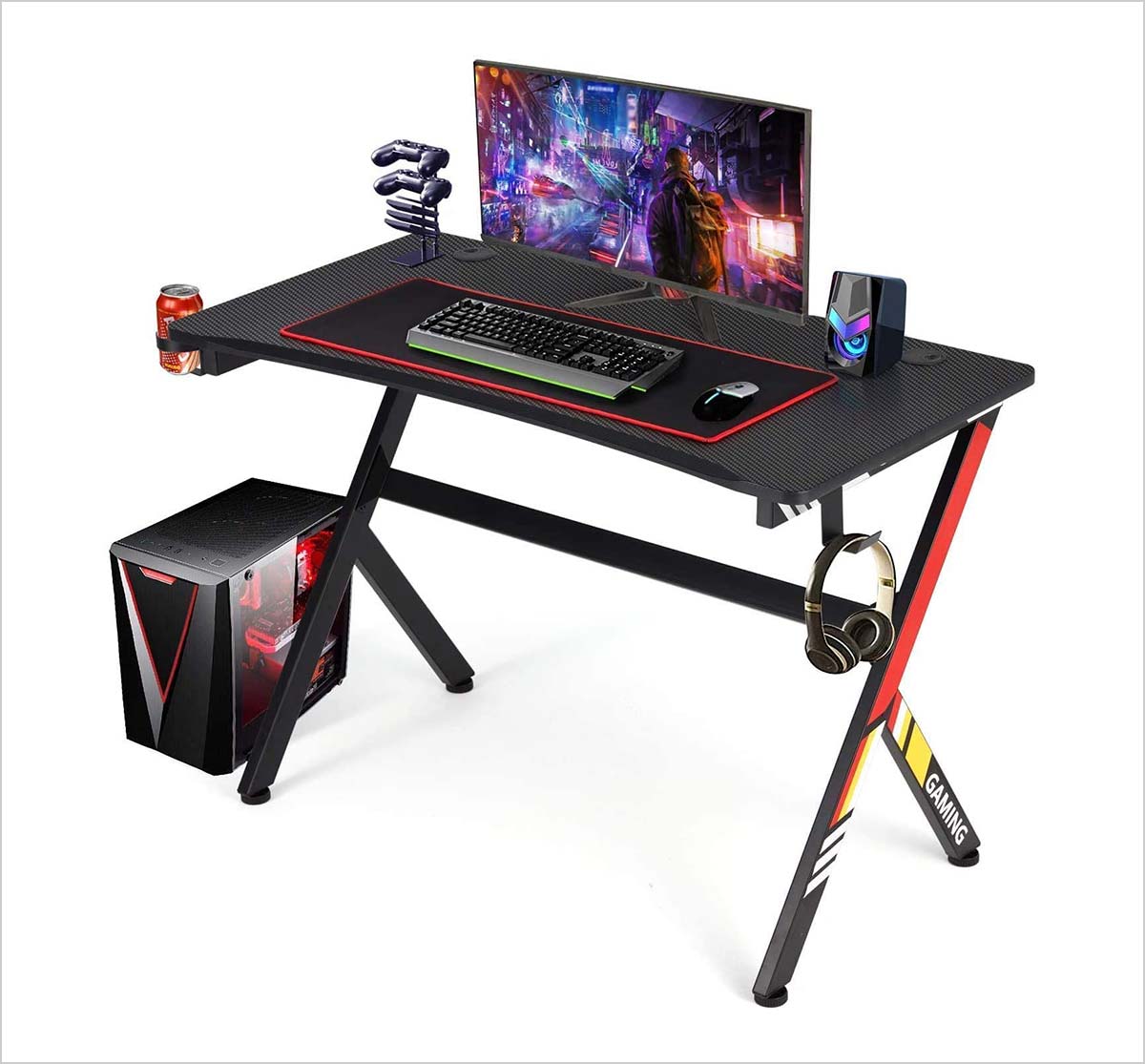 14. Gaming Desk 45 INCH R Shaped Gaming Table PC Computer Desk Home Office Desk for Men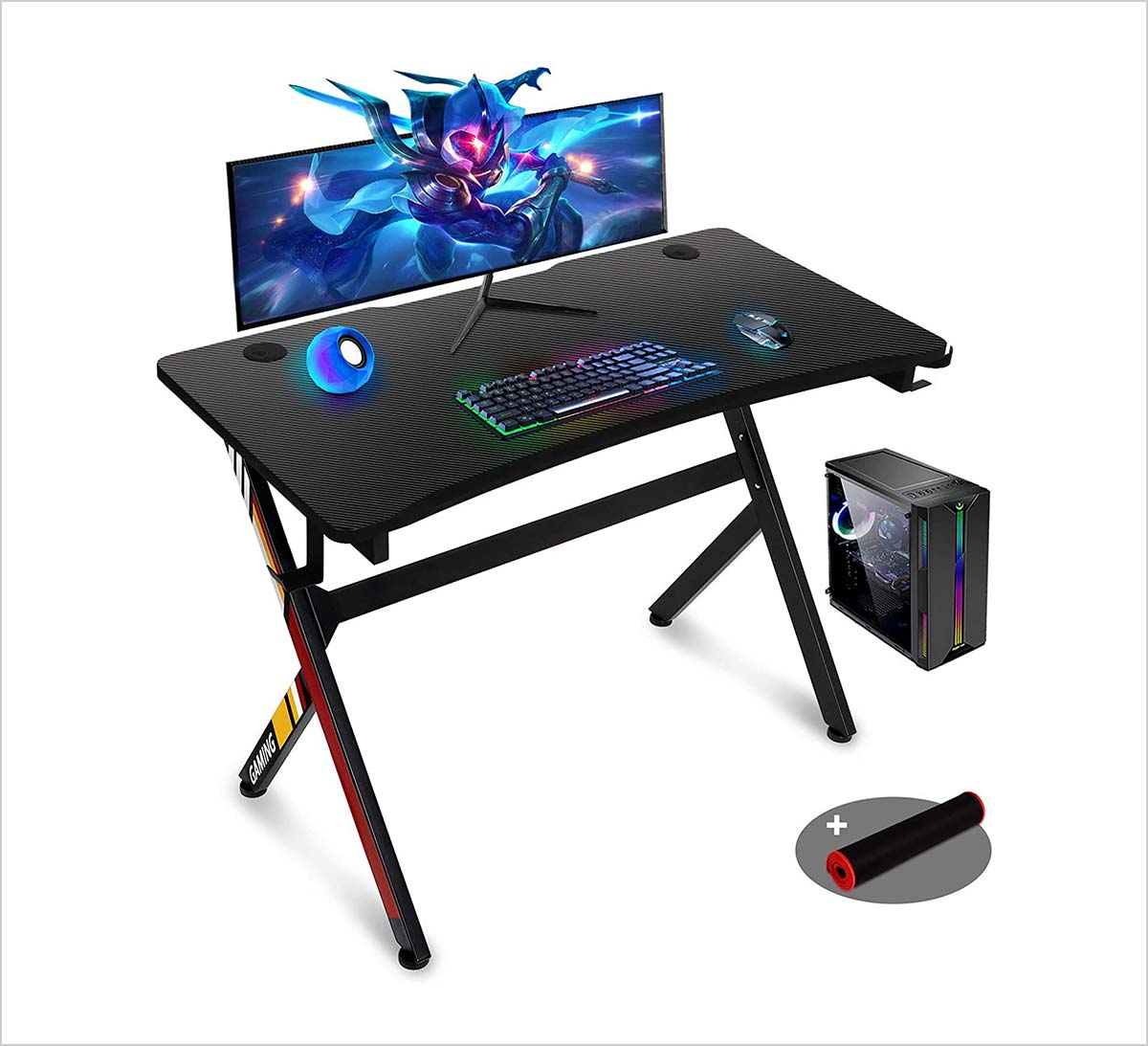 15. 40 Inches with Monitor Shelf Gaming Table Home Computer Desk with Cup Holder and Headphone Hook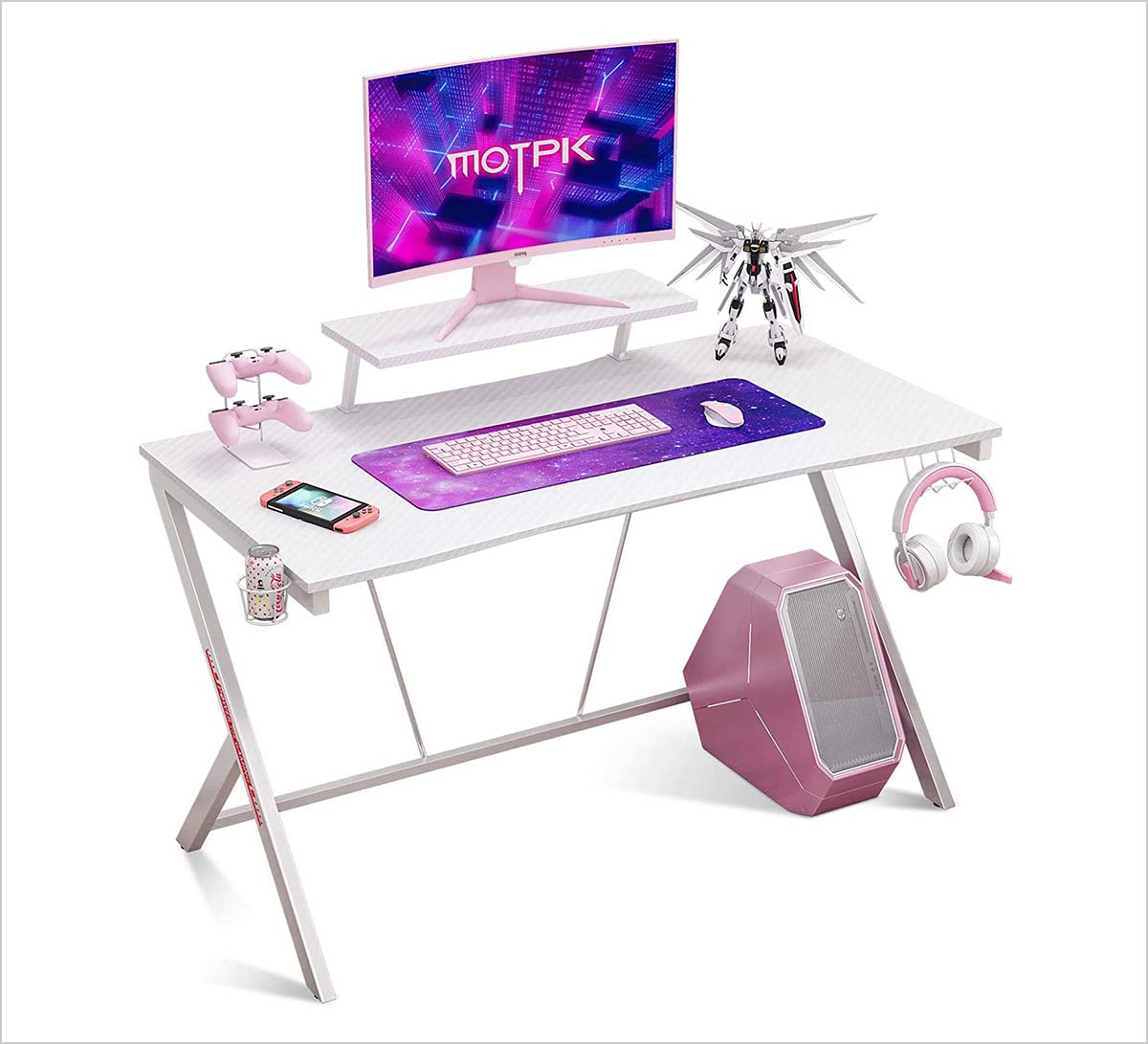 16. 47 inch – Ergonomic PC Gaming Desk with LED Lights Cup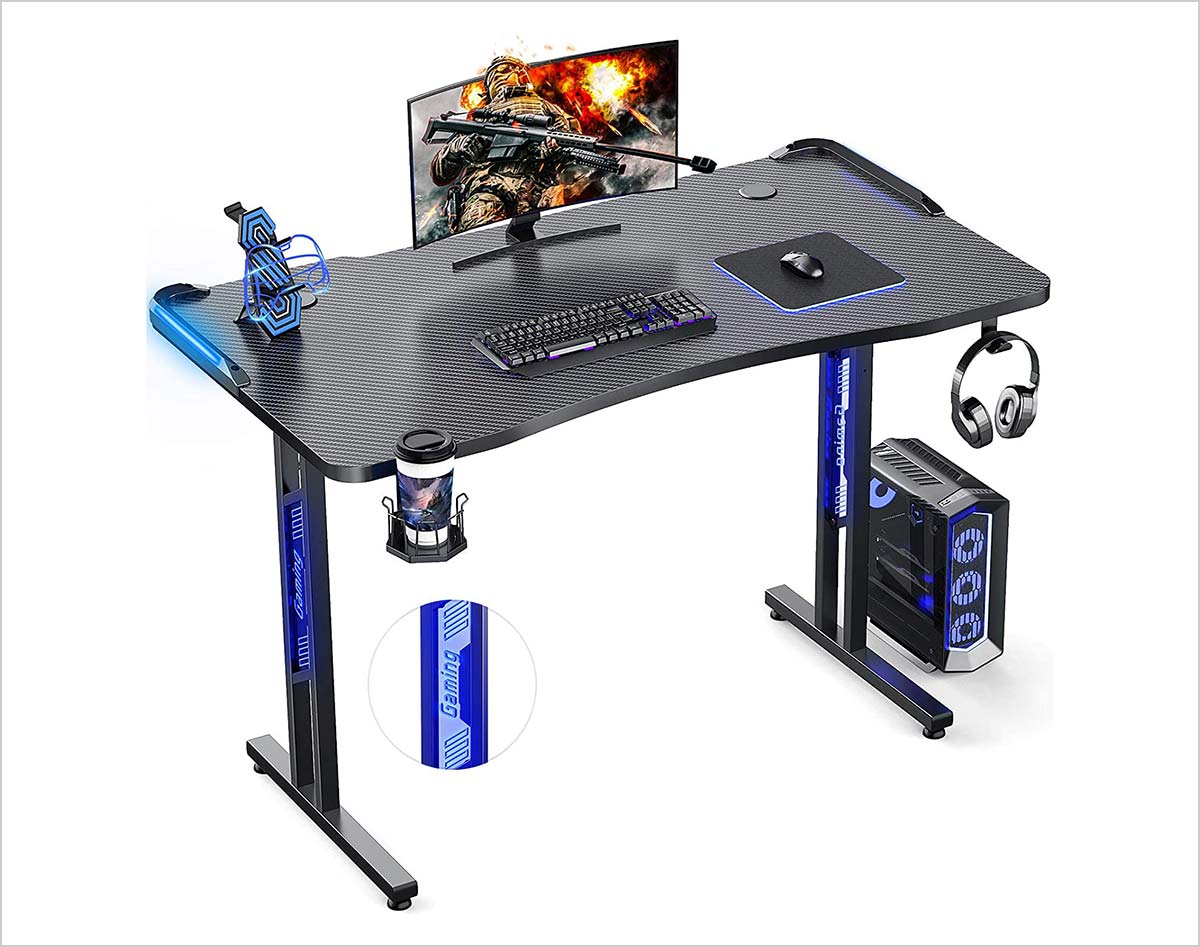 17. 44 Inch Home Office Table, T Shaped Racing Style Computer Workstation with Handle Rack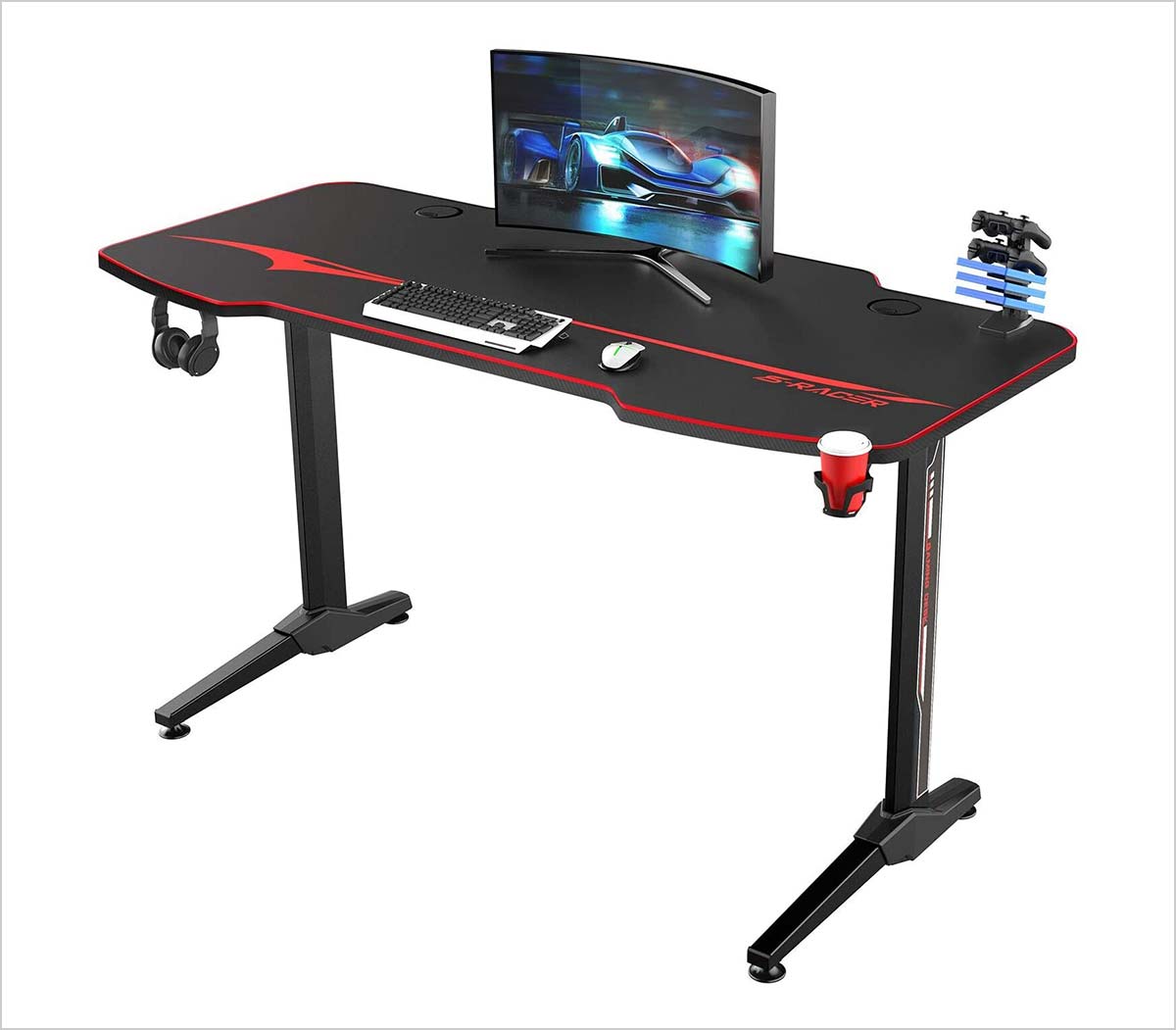 18. 41.7 Inches Multifunction Computer Gaming Desk Music Workstation With Removable Display Support Plate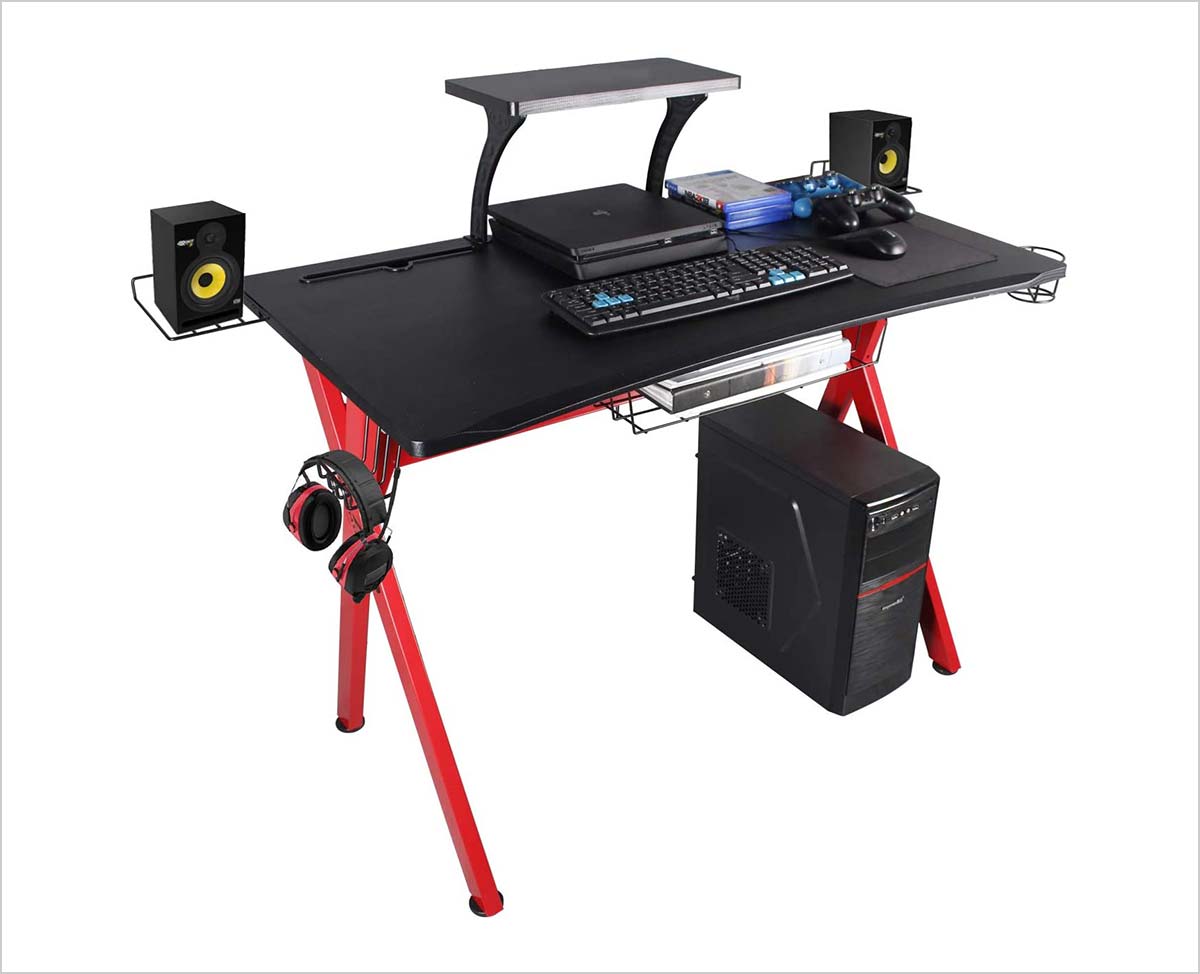 19. 50.6 Z Shaped Office PC Computer Gaming Table with Retractable Cup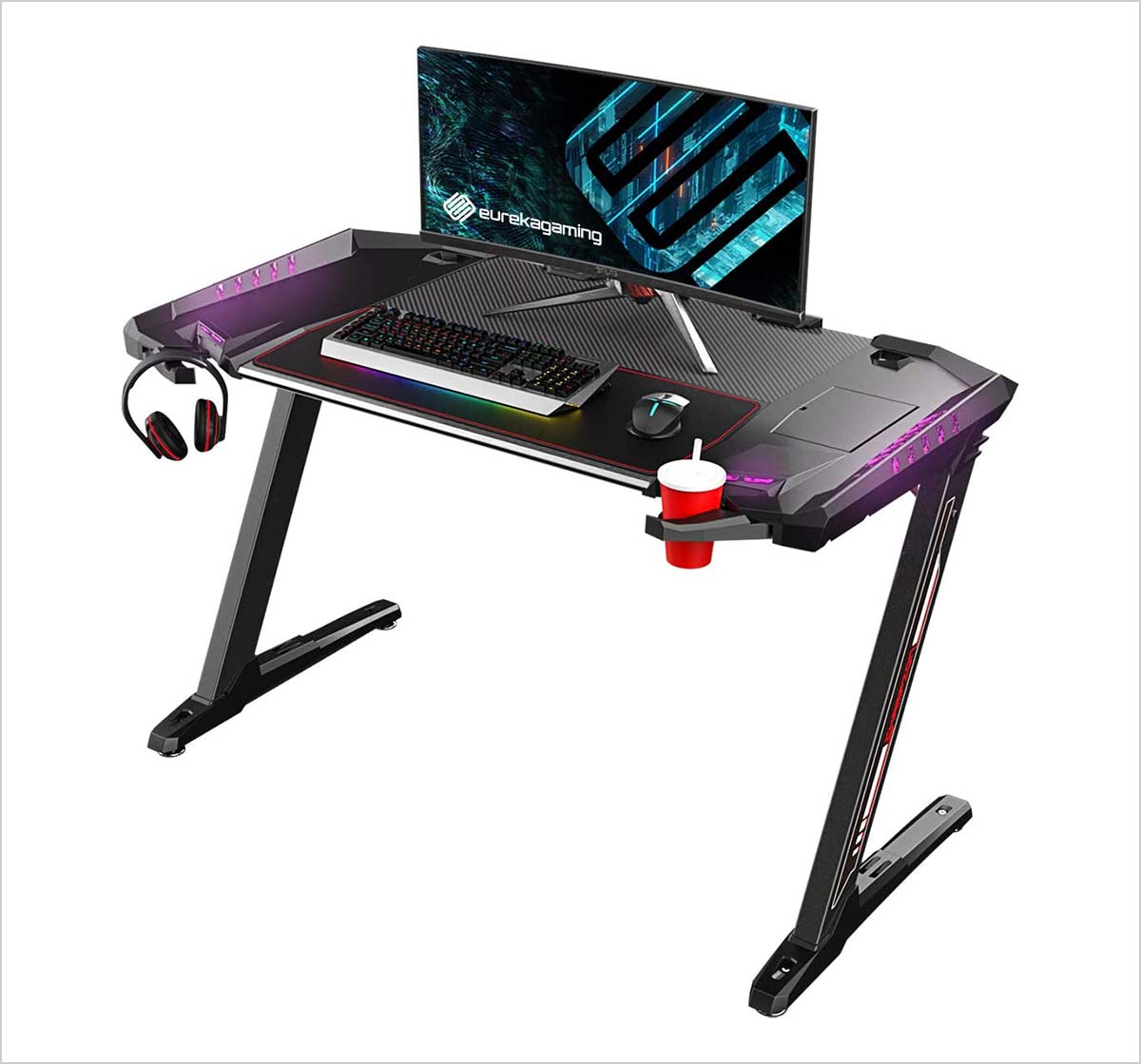 20. WDT Gaming Desk 55 inch, Racing Style Large Gaming Table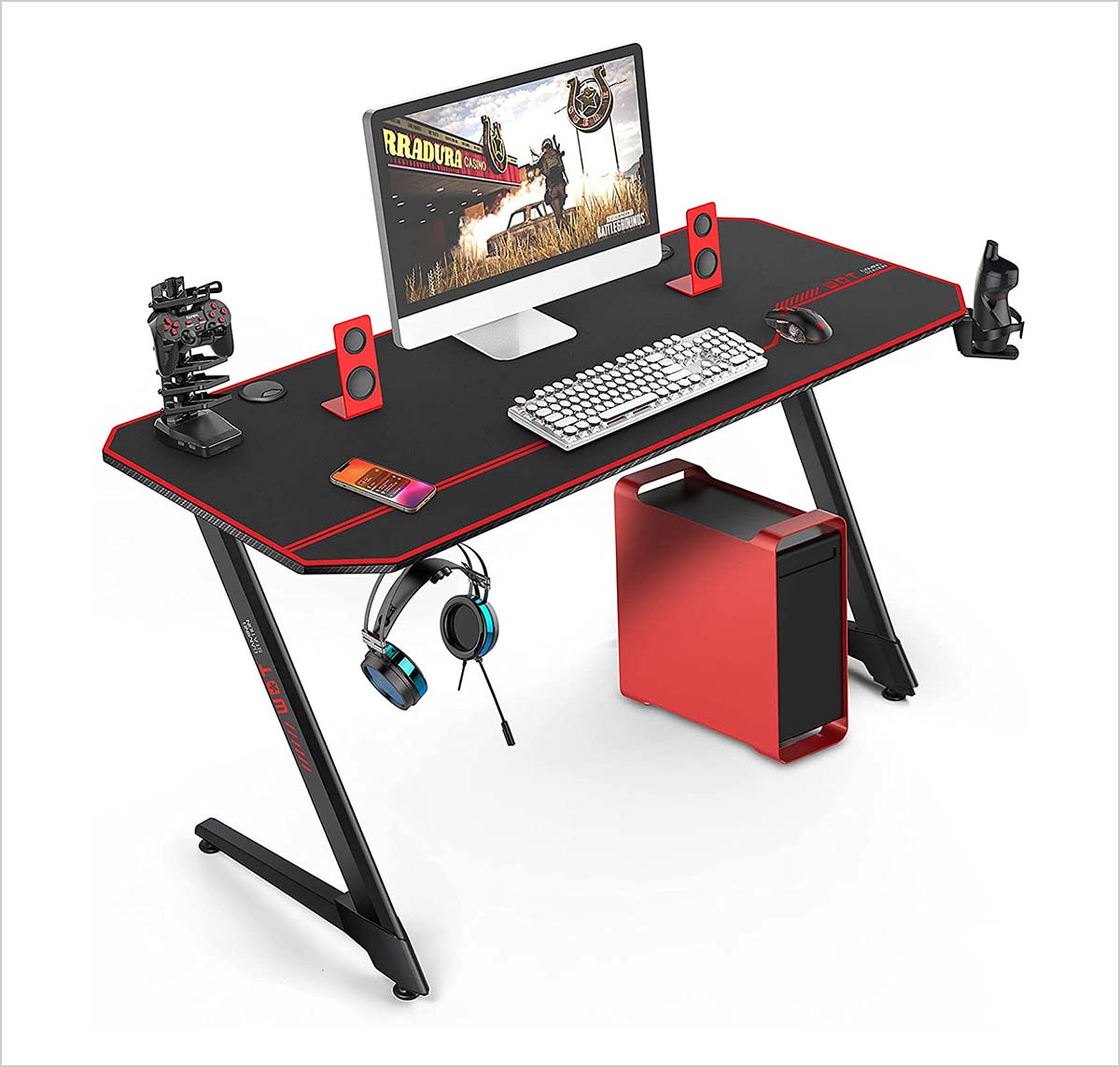 21. Gaming Computer Desk – 45-Inch Ergonomic Table with Cup Holder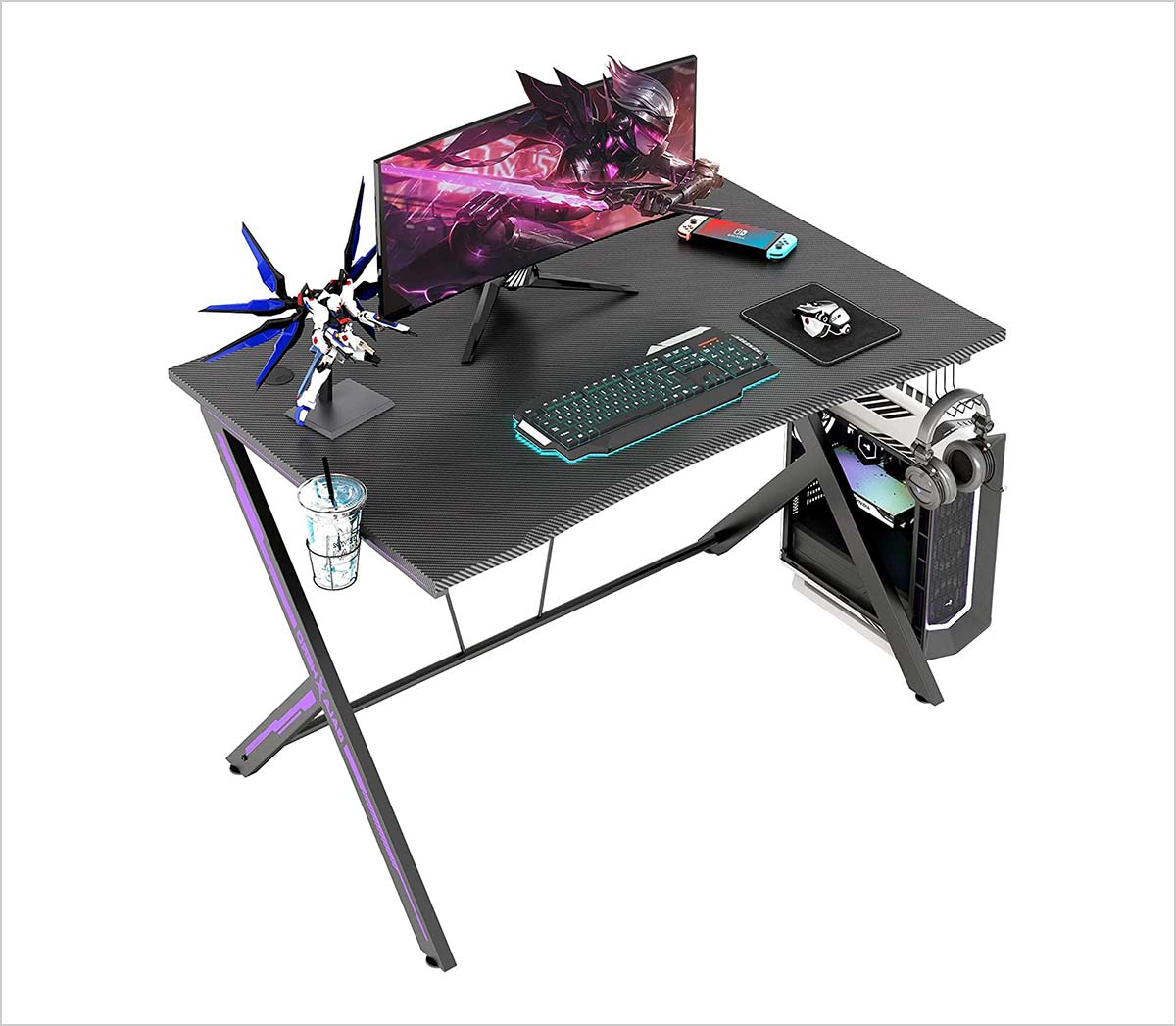 22. 40 inch PC Computer Desk, Home Office Desk Gaming Table Z Shaped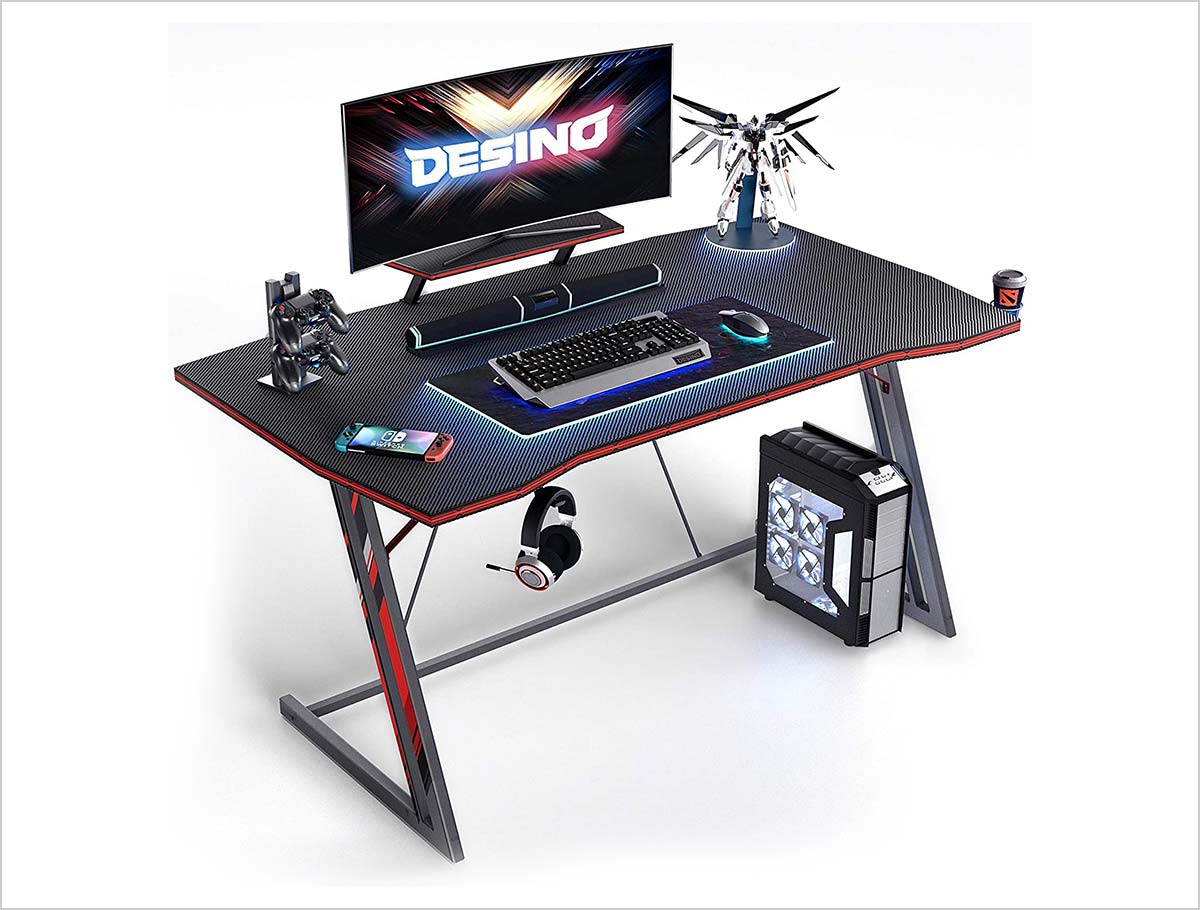 23. Gaming Table with Cup Holder Headphone Hook Z Shaped Leg 47.2 Inches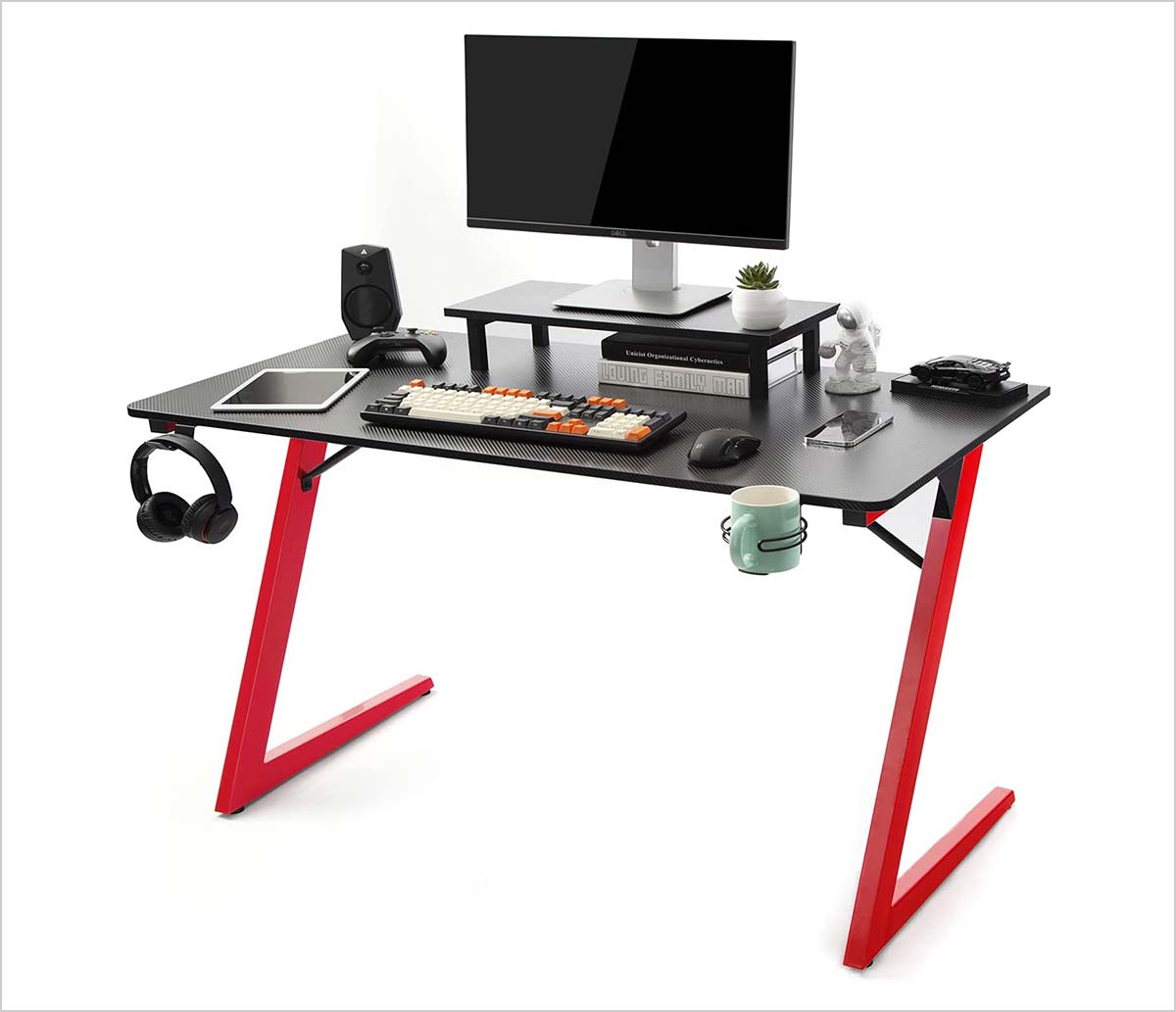 24. 40 Home Office Desk Ergonomic Computer Desk for Gaming T-Shaped Gaming Table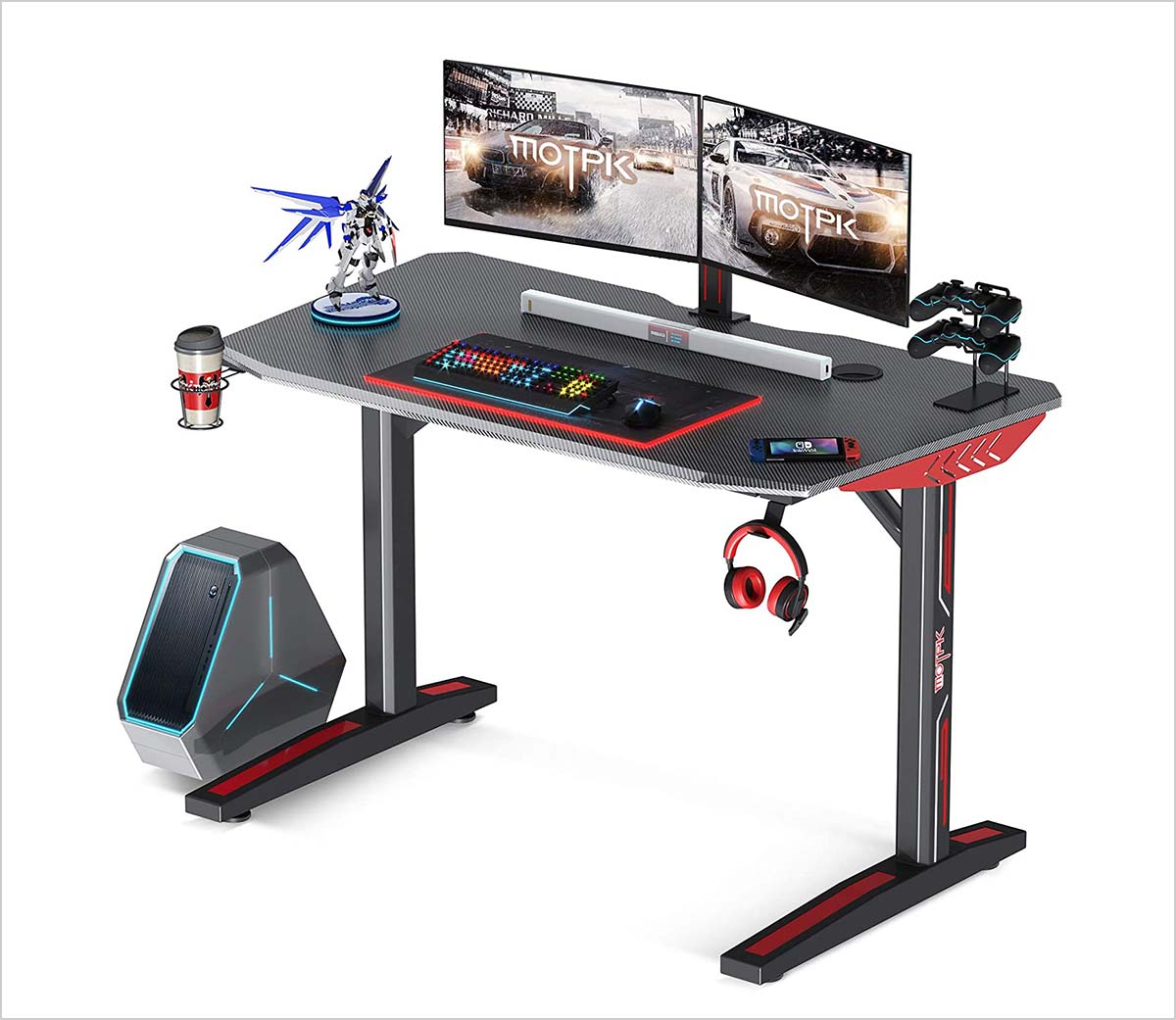 25. 55 Inch PC Computer Desk, Computer Gaming Desk Gamer Workstation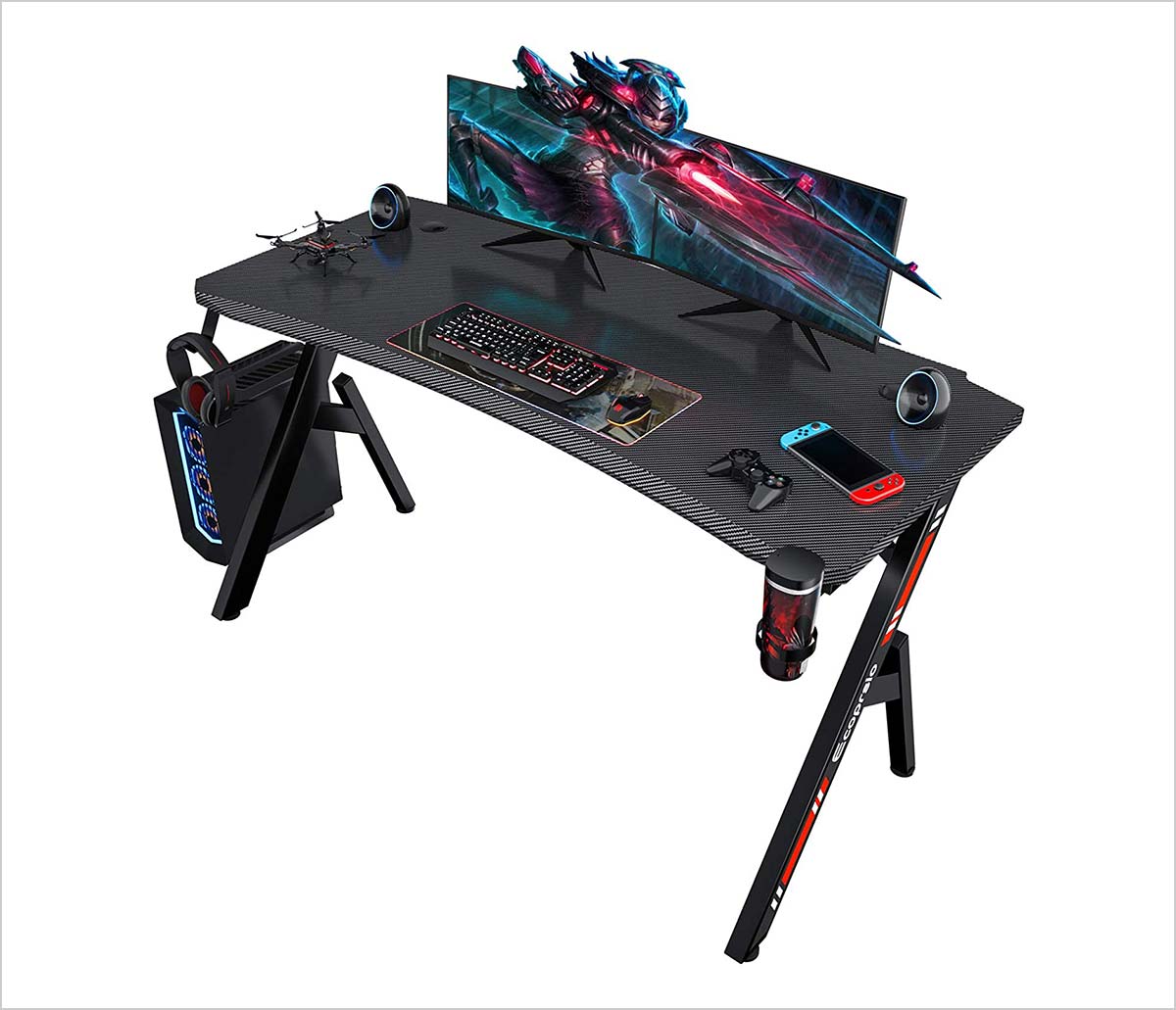 26. Gaming Desk 63 Inch PC Computer Desk with Free Mouse pad & Gaming Handle Rack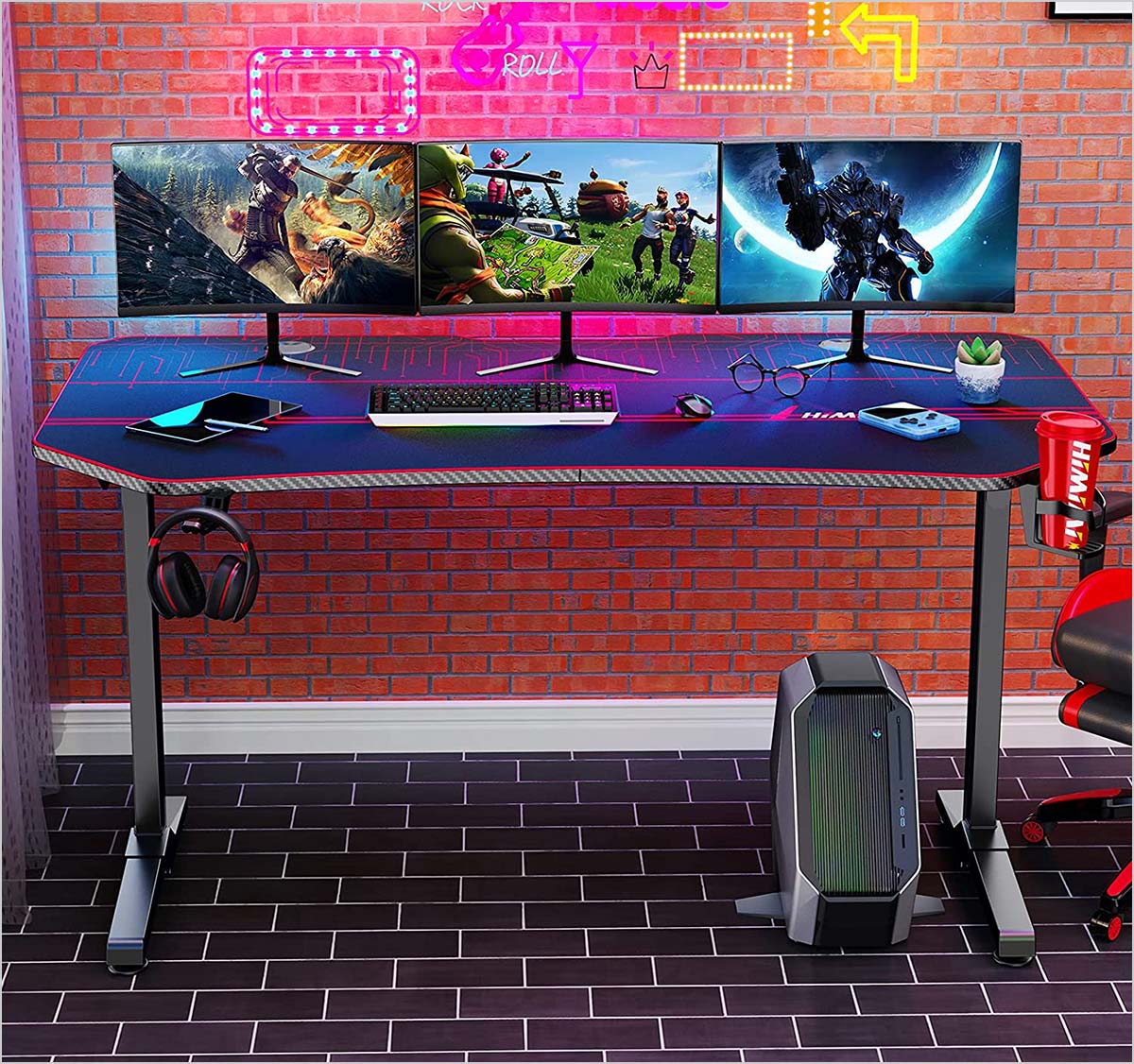 27. EUREKA ERGONOMIC Z60 Gaming Desk 60 inch Computer Desk Z Shaped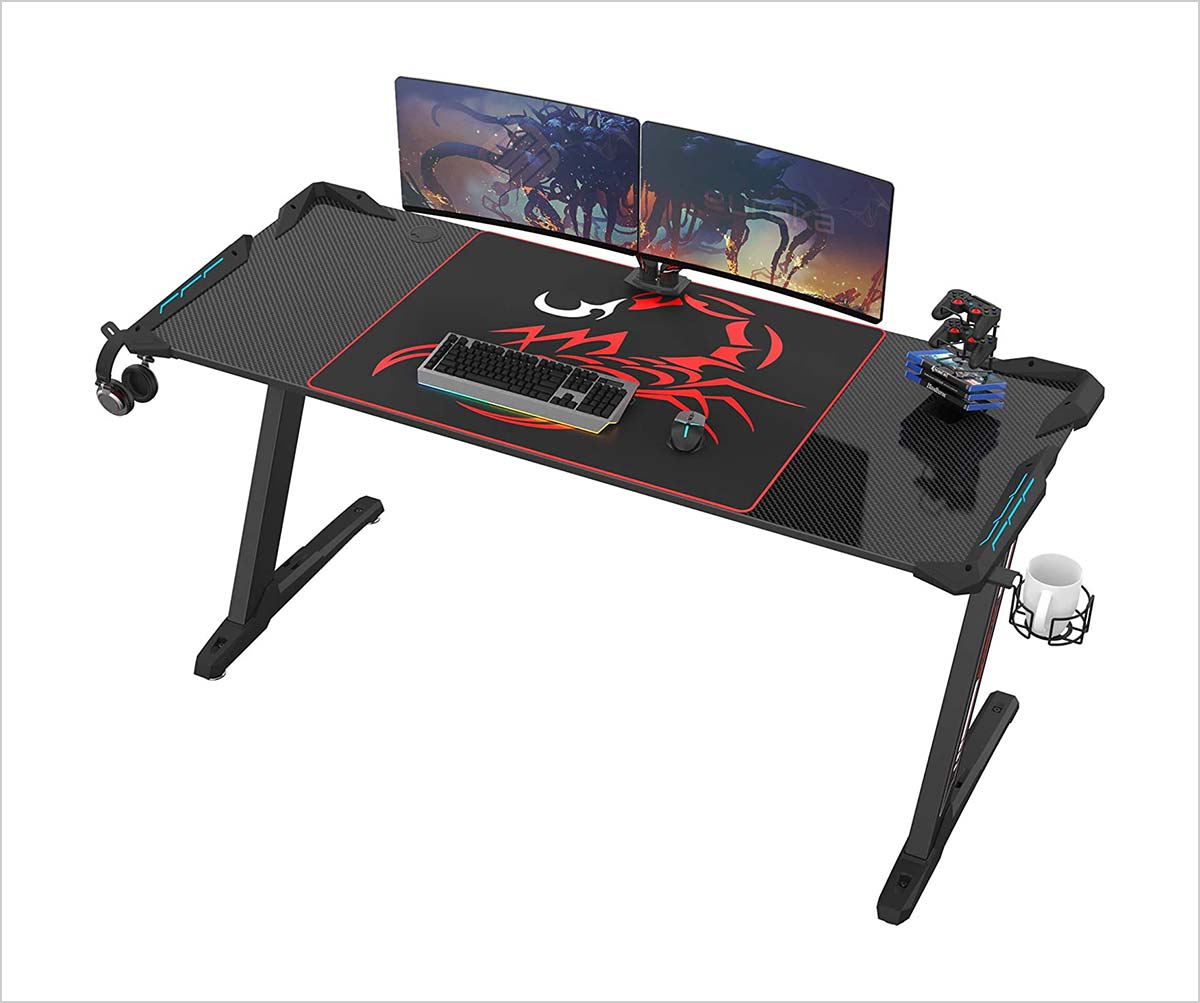 28. EUREKA ERGONOMIC Curved Computer Desk 63 Inch for Home Office Gaming Height Adjustable 26-32 Inches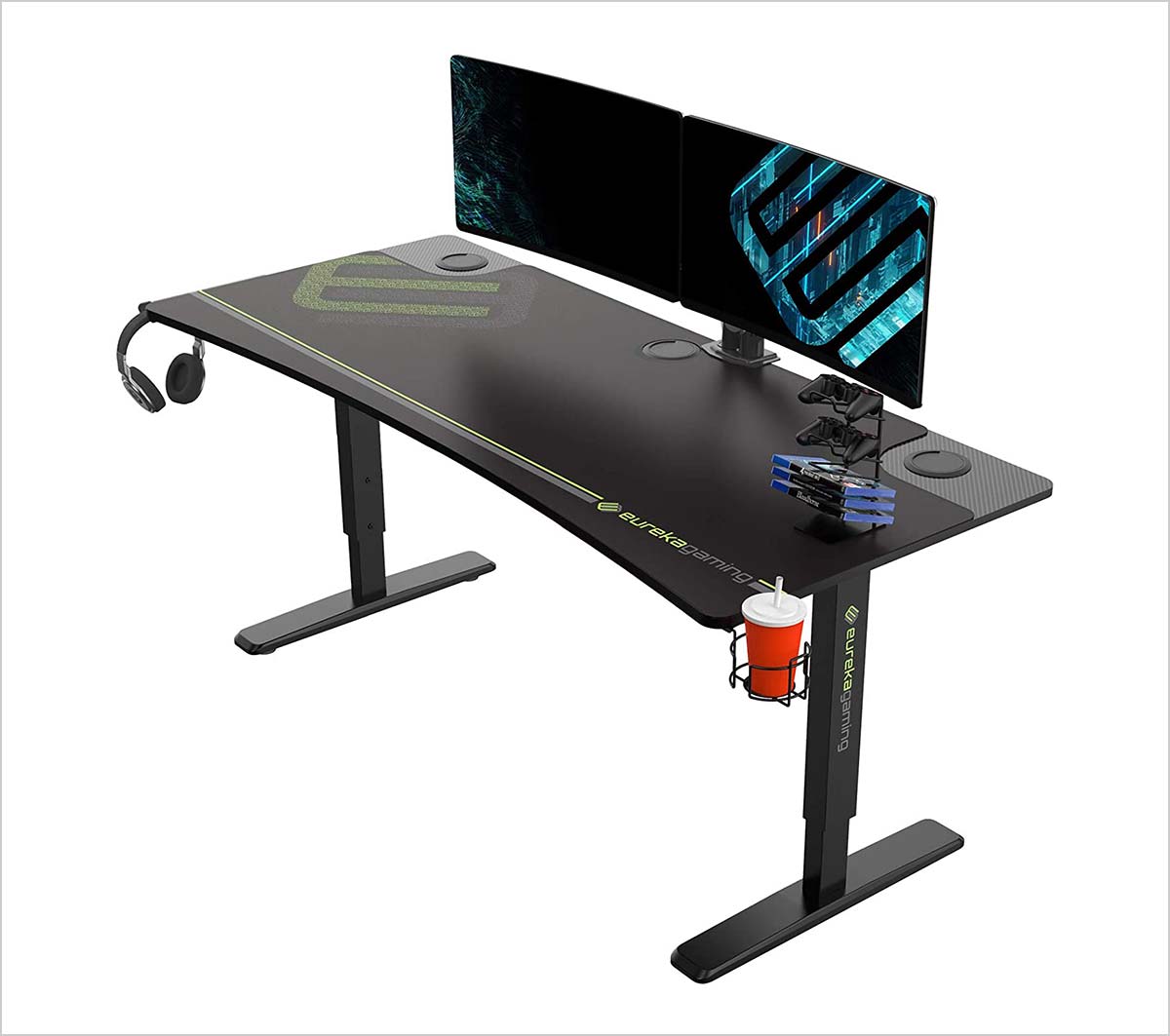 29. DESIGNA Gaming Desk 63 Inches K-Shape Office PC Computer Gaming Desk Gamer Tables with Mouse Pad, Cup Holder, Headphone Hook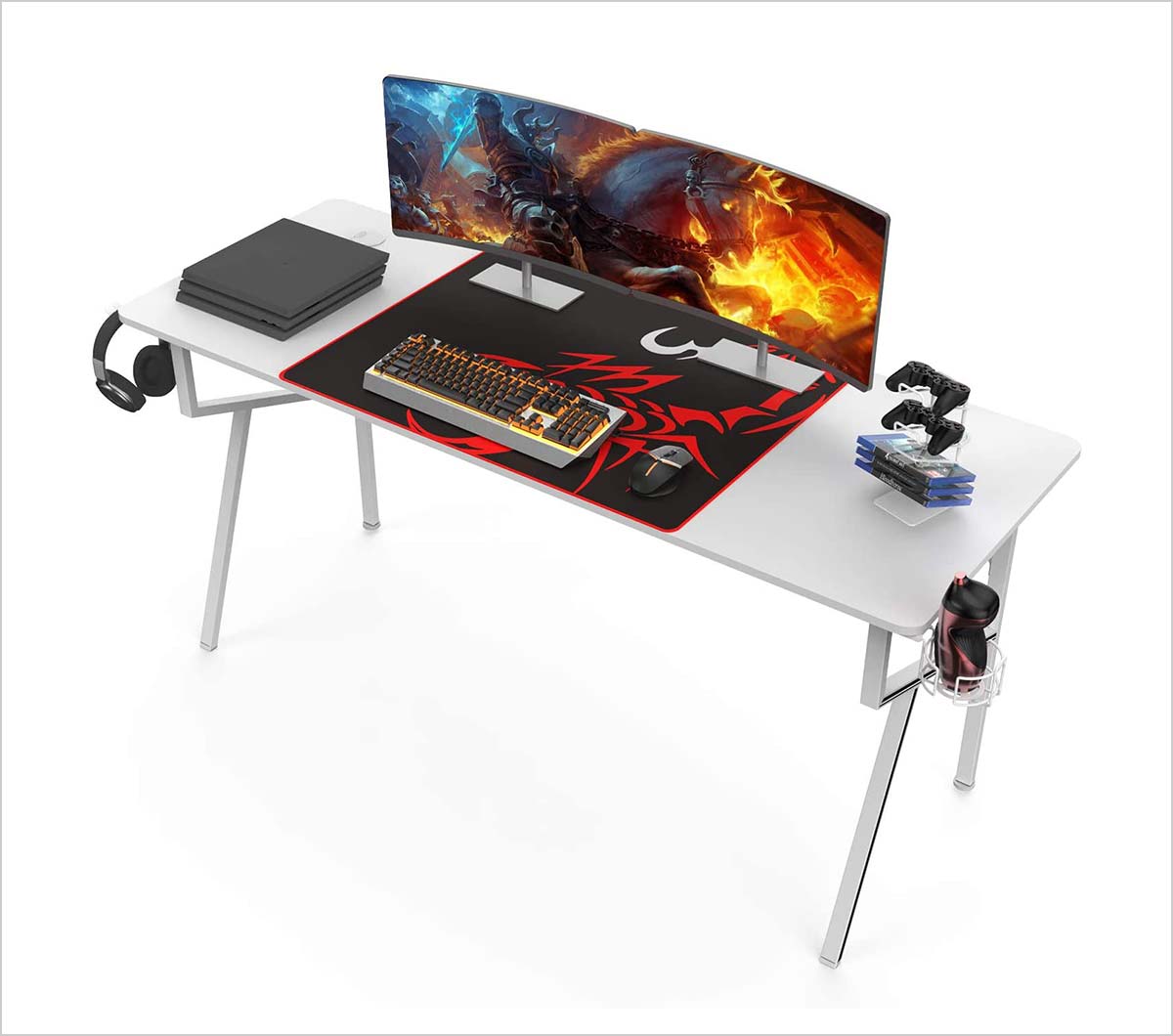 30. GT RACING Gaming Desk with Cable Management Ergonomic Computer Desk Carbon Fiber Game Workstation Z Shaped with Cup Holder and Speaker Holder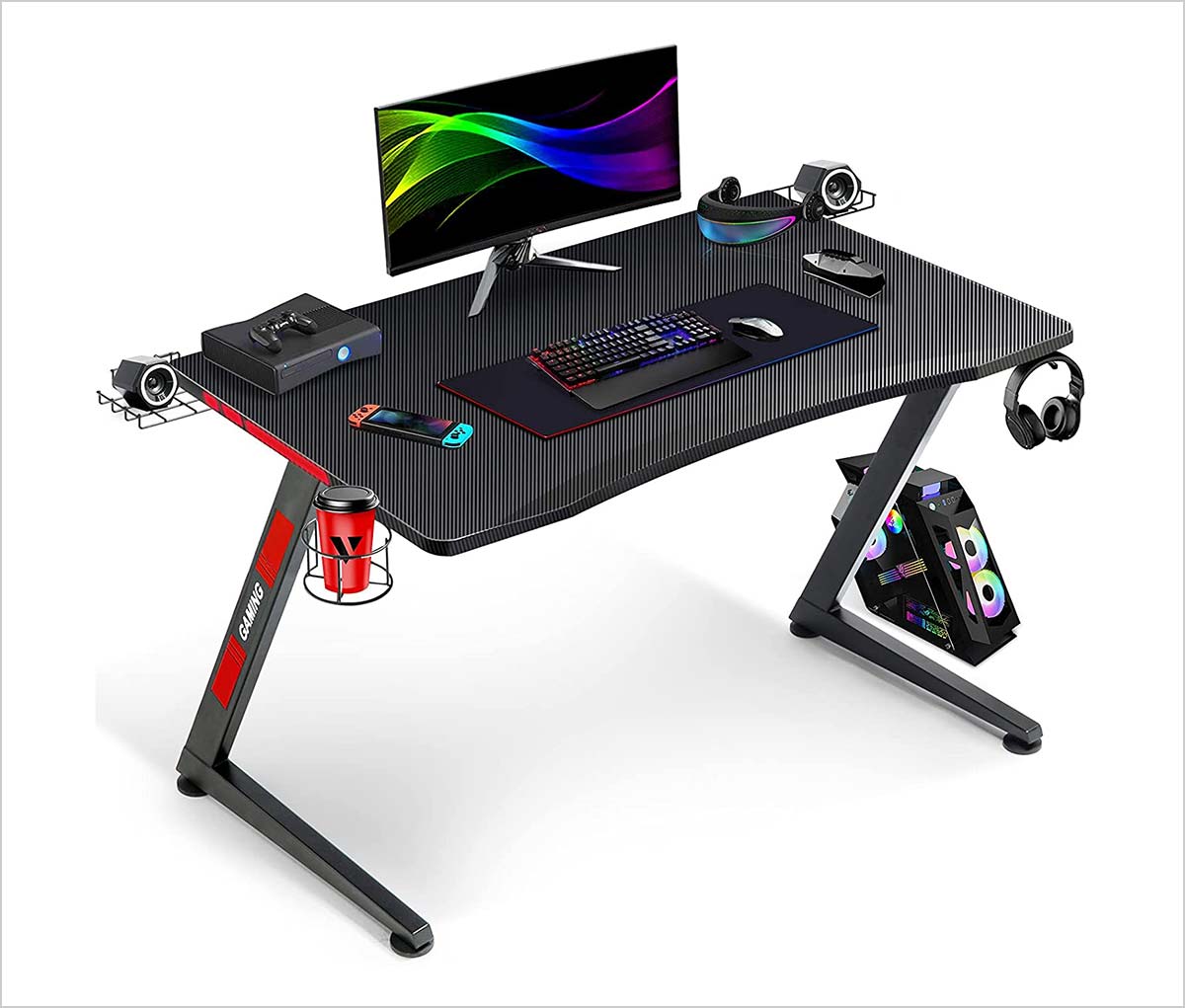 31. MOTPK Gaming Desk 40 inch Z Shaped Home Office PC Computer Desk Table Carbon Coated with Monitor Stand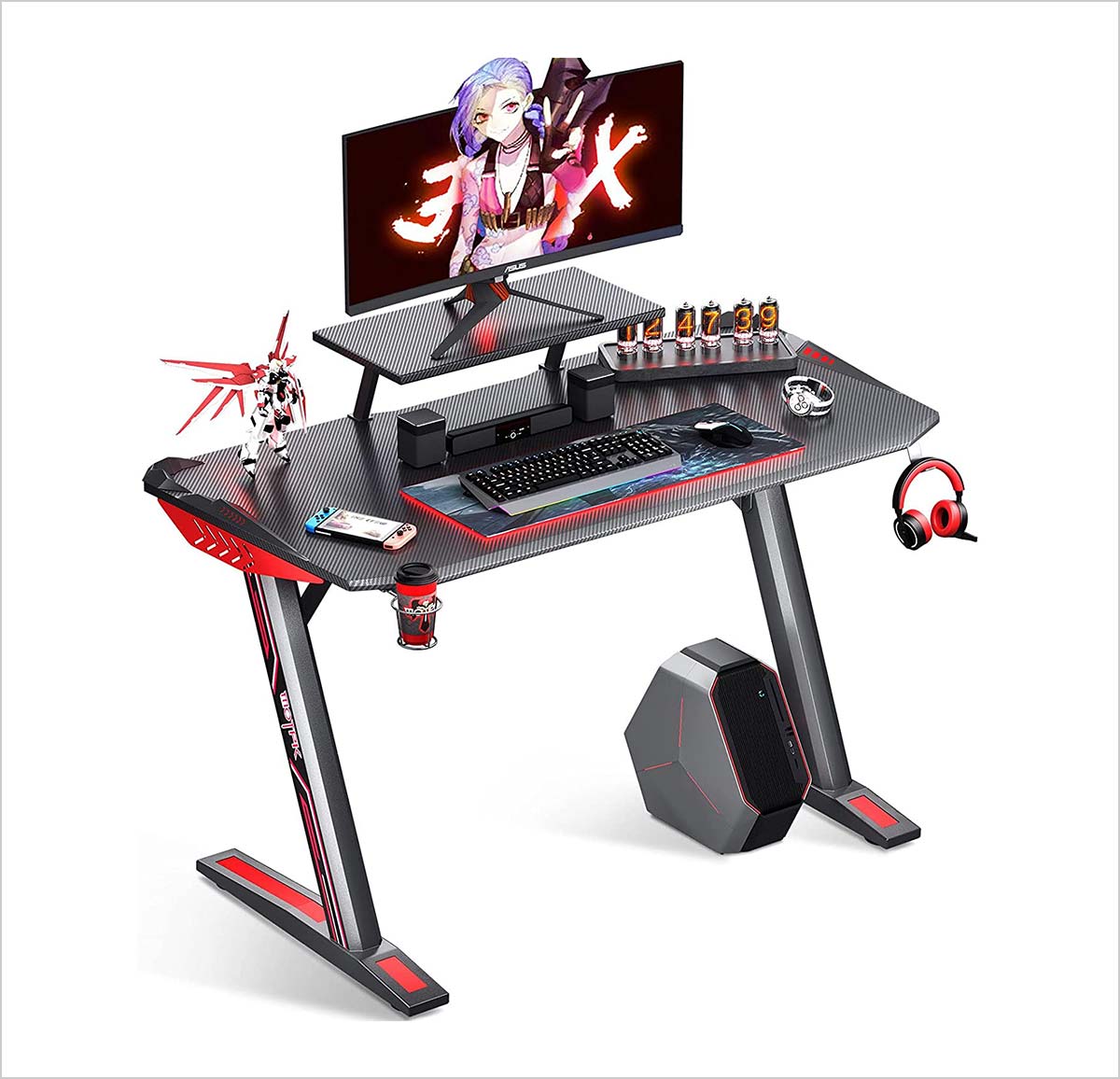 32. Luxurious Gaming Desk 47 inch with RGB LED Light and Wireless Gaming Handle Rack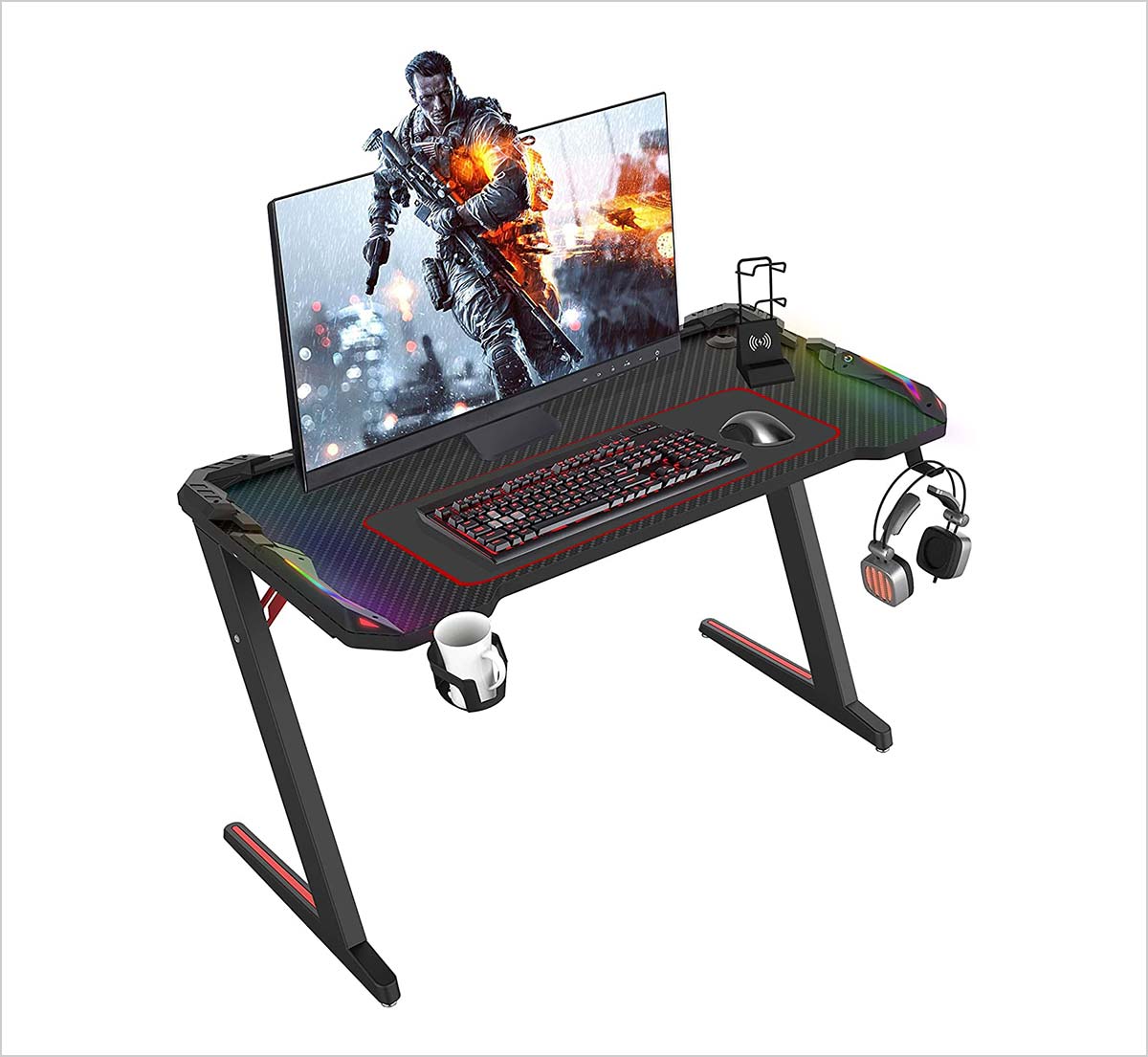 33. OUTFINE Gaming Desk Home Office Computer Desk Gamer Workstation with Carbon Fiber Surface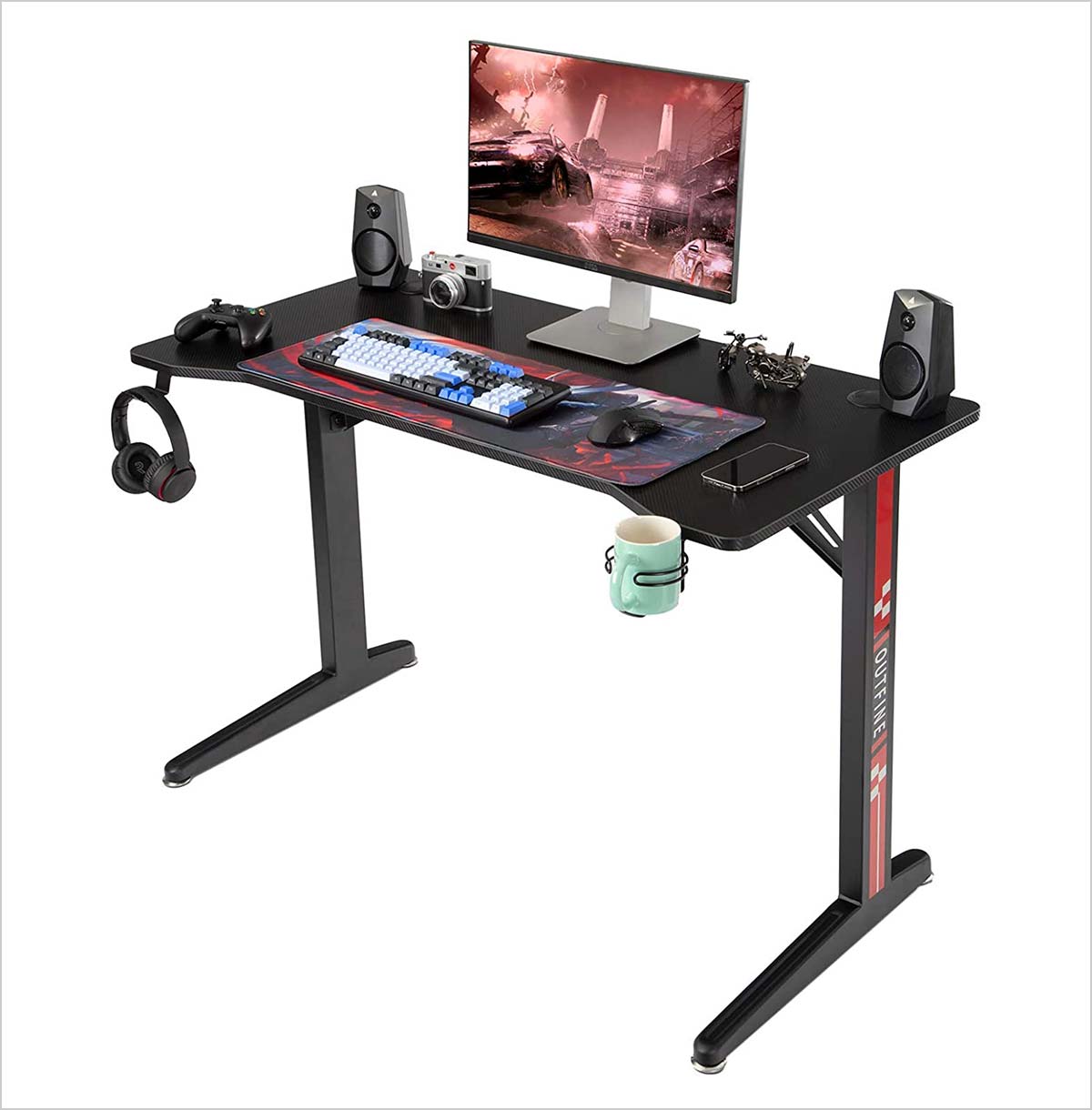 34. EUREKA ERGONOMIC 65 inch Electric Height Adjustable Standing Desk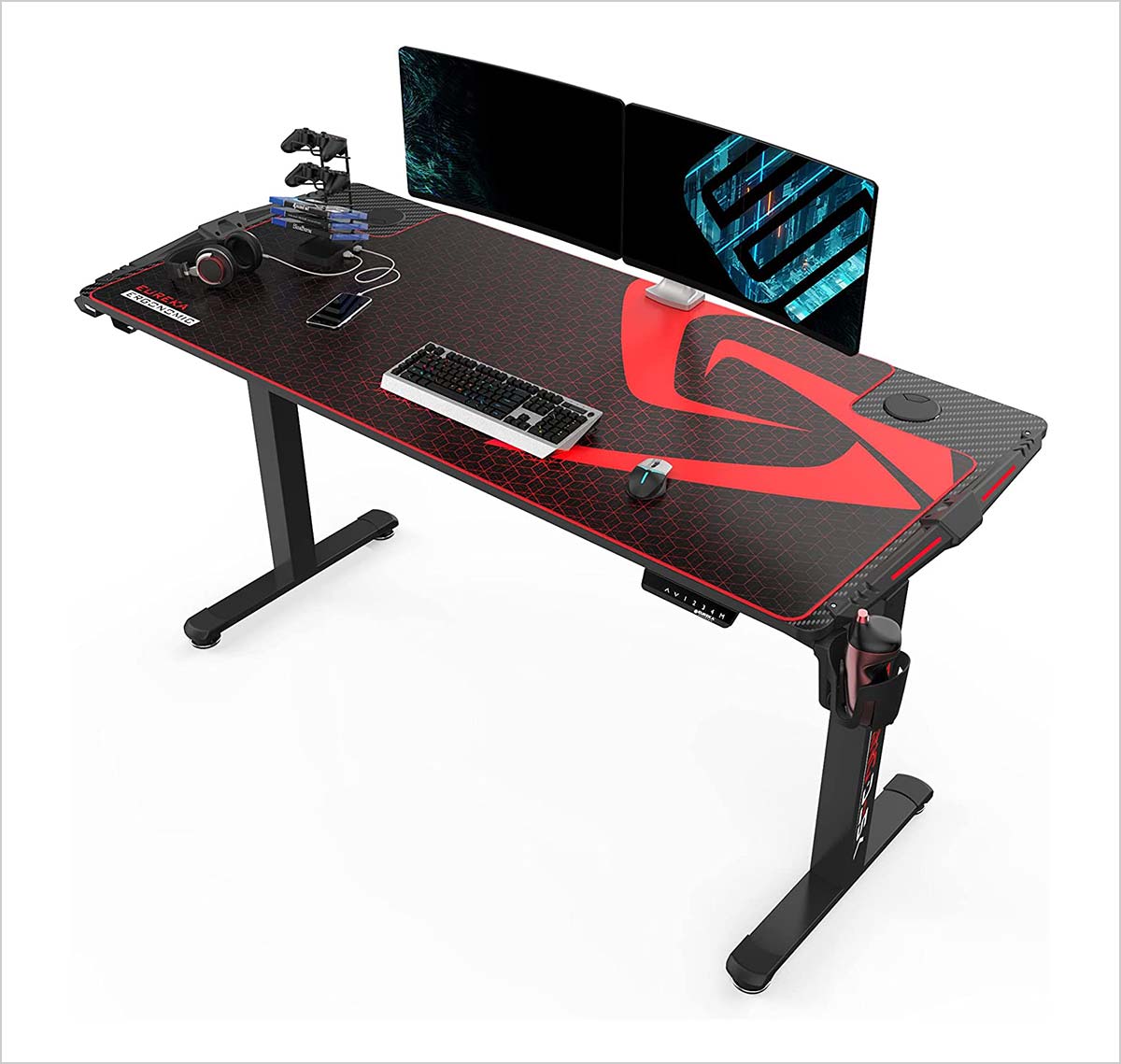 35. Racing Style Gaming Desk 45.2 47.2 Inches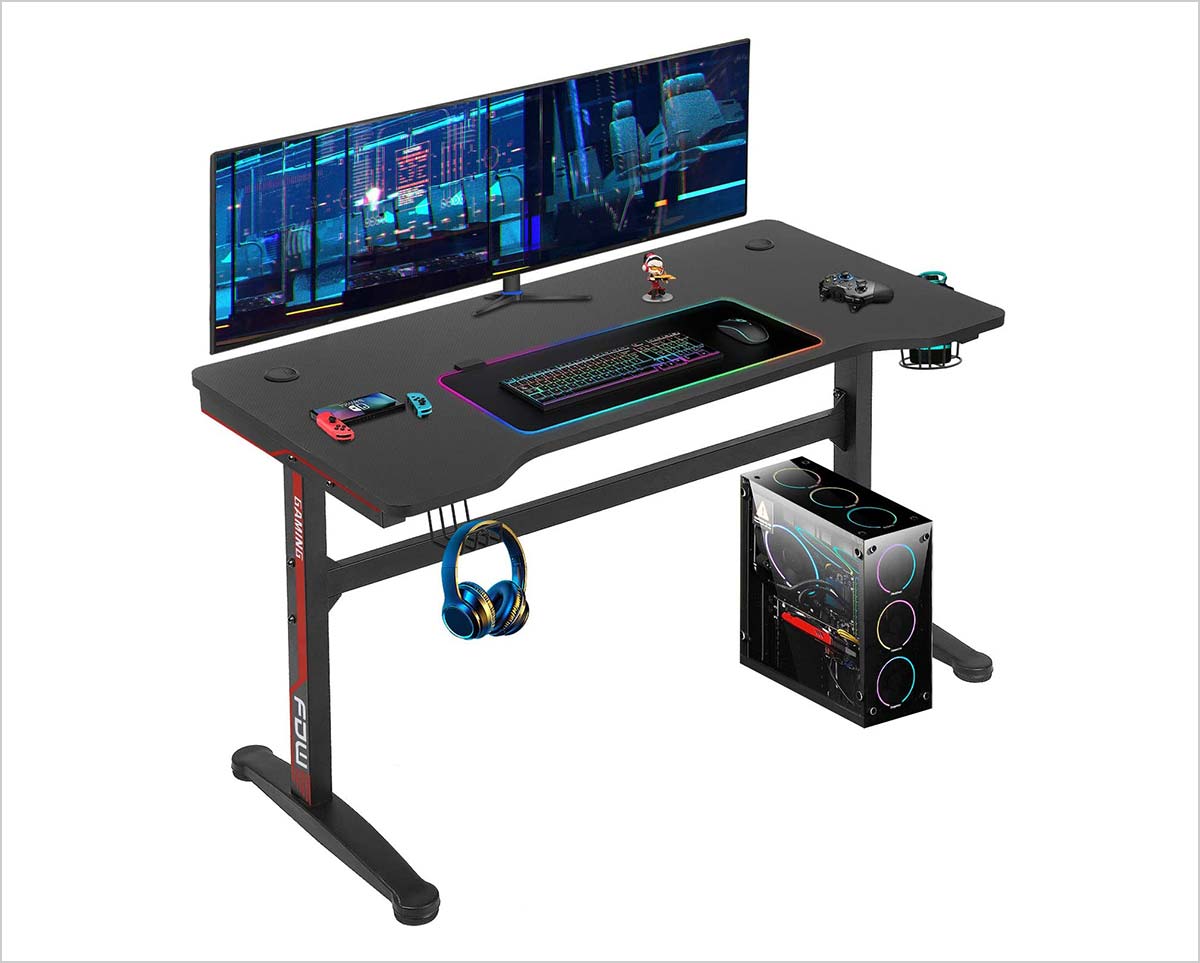 Recommended: