Hey there everyone! Our today's blog is going to be super fun to read and the mock-up PSD file is an amazing one to work on so, while we share the details and ideas on how you can make the most of it, we would like to thank you guys for your overwhelming response on our previous blogs. It feels absolutely great to know that we have got your constant support and we promise to create anything and everything that you will need for your personal and commercial design projects.
Like any packaged product, storefronts play an important role in making or breaking your business and it is not a difficult thing to understand, to be honest. You have to put up a good show so that more and more are interested to enter your store otherwise, it would be something really boring on the road and not a lot of people would want to step inside your store even for window shopping.
We are sure that you must have worked with a couple of business owners / brand managers who do not really believe in the idea of keeping up with latest or modern trends when it comes to branding their business online and or ground. Then the businesses start to die down slowly and not many people can figure out what's happening. So, first things first; you need to work on a plan that allows you to revisit your on-ground store branding and revamp it wherever it is needed. There are chances that you might not have to rebrand everything that is there all the time but if there is something that needs your attention, then don't think twice and invest in your efforts to ensure that your business's impression is not getting hurt.
Like every logo, it is totally up to you to make it more fun / classy depending on your business and its branding needs. You can go for something blingy and something casual using vibrant colors or you can go with dark and serious tones with fonts like Helvetica to give a more mature look, you know. You can also choose to light it up using backlit logo panel so that it is more visible during the night time or you can keep it simple too – everything depends on your budget and your branding strategy.
Recommended: 60+ Best Signage Mockups
However, we would also like to mention it here that you must never let your budgets affect your (awesome) plans. All you have to do is to make your plans work. It is not hard to do so, and we have a couple of tips to help you with that! We know that revamping or even creating a simple logo design can require you to spend a lot of money depending on the size of the logo and the type of it too. But that does not mean that you have to settle for less. With our free storefront logo mock-up PSD file; you can make whatever you want to make so be as creative as you want to be.
Secondly, get in touch with multiple vendors to know about the current market rates before you lock your deal. Interestingly, there are many Facebook groups and other communities on social media platforms that can help you with getting the most reasonable quotes for your business tasks. Ask around, do your research, find the best people (read their reviews etc.), and then get your work done through them. It is, no doubt a small world that can connect people instantly so why not try that, when you can!?
Recommended: 100+ Outdoor Advertising Mockups
Oh, and you need to make sure that you are also creating at least 2 to 3 mock-ups of your designs that you can present to your internal and external team members. With the help of your mock-up presentations, you guys will be able to incorporate all sorts of revisions and changes effectively and that will also help you come up with more ideas too. We know that we always say that to you guys that you need to work on the mock-ups as well but that's only because we know how they come in so handy that they make everything easy to design and execute.
That is all, folks! We have put in a lot of efforts into making this free storefront logo mockup PSD file and we are sure that by utilizing it, you will be able to execute your creative thoughts and ideas easily. If you do, feel free to share your design journey with us in the comments section and while you are at it, don't forget to share the blog and our free mock-up PSD file featuring the storefront logo with your favorite colleagues as well. We'll come back soon with something even more fun & exciting in our text blog, so stay tuned.
Free Storefront Logotype / Typography Logo Mockup PSD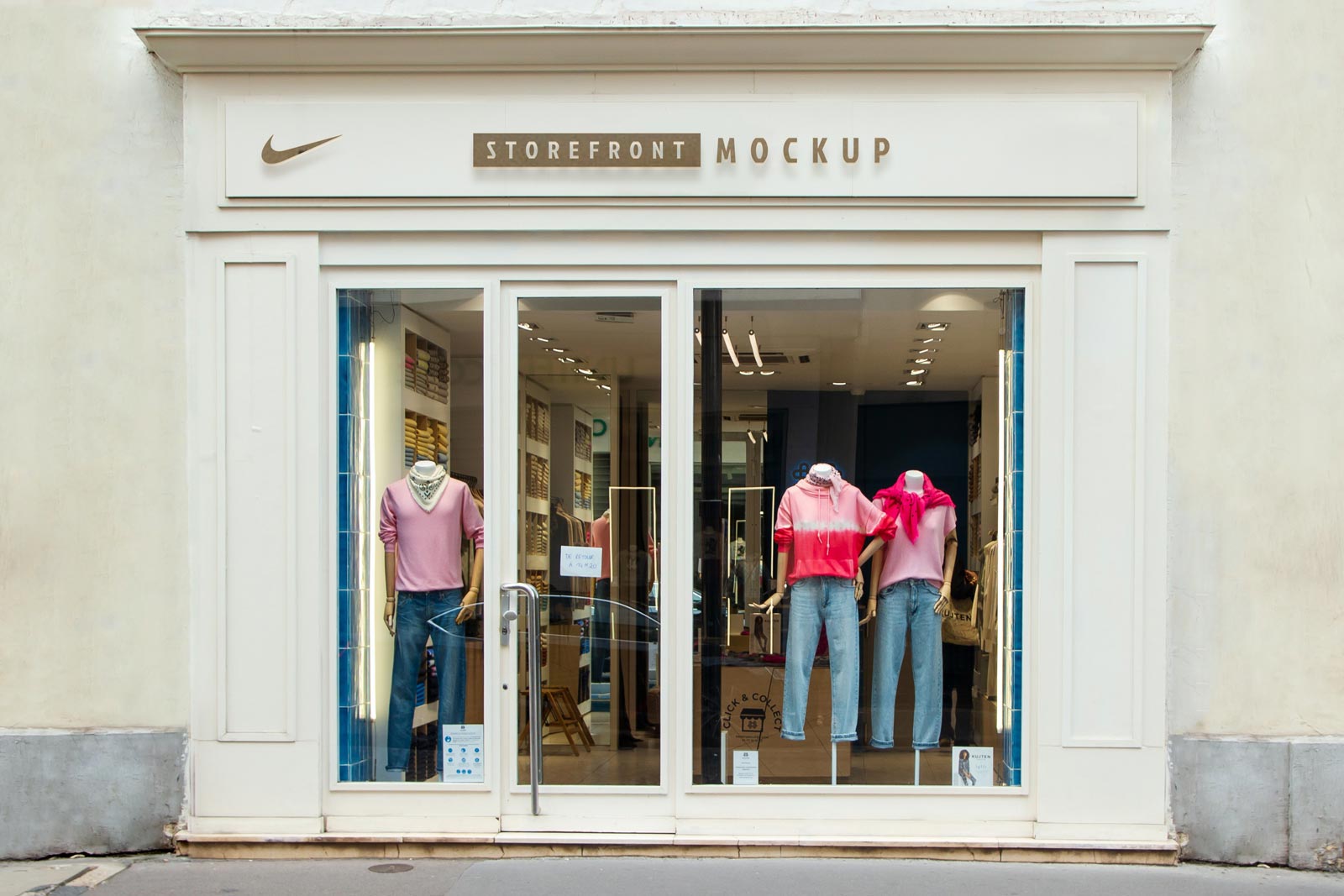 Available Format: Photoshop PSD
License: Free for personal and commercial usage
File Format: WinRAR
Mockup Resolution: 3523 x 2349 px
Note:
1. Free Storefront Mockup is allowed to share online (A Must Linkback to this page)
2. Say thanks if you like or share/tweet with your friends. That means a lot to me.
3. And don't forget to follow or subscribe to receive more high quality premium freebies & awesome articles only.
Download Fascia Mockup
More High Quality Free Outdoor Mockup PSD Templates: