Hello there everybody! How is life treating you guys? We hope that whatever you are doing is bringing the peace with it that you need and that you are also getting done with your creative and design projects like a pro by making the most of our free mock-up PSD files, fun and easy to follow tips, and powerful ideas as well. In our today's blog, we will be talking about cosmetics and their packaging and how you can utilize our free shampoo and cream cosmetics mock-up PSD file to create designs for your businesses, so let us get started right away!
Although, this applies to literally anything and everything that is being manufactured and produced that it's the packaging of the products that entice the potential customers and they make a decision to spend their money on those things but when it comes to cosmetics and their packaging; everything becomes a lot more crucial and you have to make sure that whatever you are putting out there is nothing but fascinating enough for people to pick the bottle from the shelf and buy it without even knowing it in totality. That is the power of beautiful packaging and how it plays an important role in convincing the audiences to check out the newly launched products for themselves.
Recommended: 30+ Premium Quality Product Mockups
If you are a graphic designer and are also working with a marketing and advertising agency then we can bet that you must have heard someone suggesting you up your social media game. Because only then you can leave a good impression on your potential clients as they will see your social media platforms first and then contact you knowing that you can bring the same magic to their businesses as well. That same thing goes for cosmetics and their product packaging too because the packaging lets the audiences decide whether or not it will bring good results to their skin, hair, etc. We are sure that now it is clear that you have got to pay special attention to your product packaging before you make it available in the markets.
We have seen many brands going for pink and blue hues in the past for their cosmetics so they could easily target the females and males in the market and even though, that worked quite well for a lot of companies, we are now here trying to make our ways around other available colors as well that can be used to create product packaging. And also, if some color is not available; it can always be created, right so that you do not restrict your products to a certain gender, you know. In this part of our blog, we will share how you can pick the best colors for your packaging, and then we will share a couple of top color palettes that you can use to create or to recreate your own packaging designs.
Recommended: 80+ Best Packaging Mockups
First things first; think of the (primary) customers as you have to make sure that your product can connect with them. By keeping the target audience in mind, understanding their needs and then providing them the right solutions, you will be able to ensure that it is your business or products, your customers need to invest in. Another thing that you need to work on is the representation of the product. Through your packaging designs, you can let your potential customers know about the ingredients / contents of the product which will eventually help them in making an informed decision. You can also use relevant design elements to make the composition look more understandable.
Another thing that you need to focus on is ensuring that you are standing apart from the crowd so, while choosing colors for your packaging designs, go for the ones that are not used on regular basis, pick the unique ones, the ones that are impactful and will work for you in the best possible ways. You can also depict cultural preferences as well in order to be even more relevant to a certain culture, area of the country, etc. Also, make sure that you guys have core brand colors and that you will stick with them too while also playing around with other colors, elements, and design approaches to see what is bringing you great results and what isn't.
Now, as far as the top effective colors for cosmetic packaging are concerned; you can go with the following:
Red
Gold
Black
White
Brown
Green
Yellow
Turquoise
Royal / Navy Blue
That being said, it's time for us to say goodbye for this blog so that you can all start working on your upcoming design ideas and packaging by using our free shampoo and cream cosmetics mock-up PSD file. We hope that you had a great time reading our blog and that you will also share it with your favorite colleagues as well.
Free Cosmetics Shampoo Bottle & Cream Jar Mockup PSD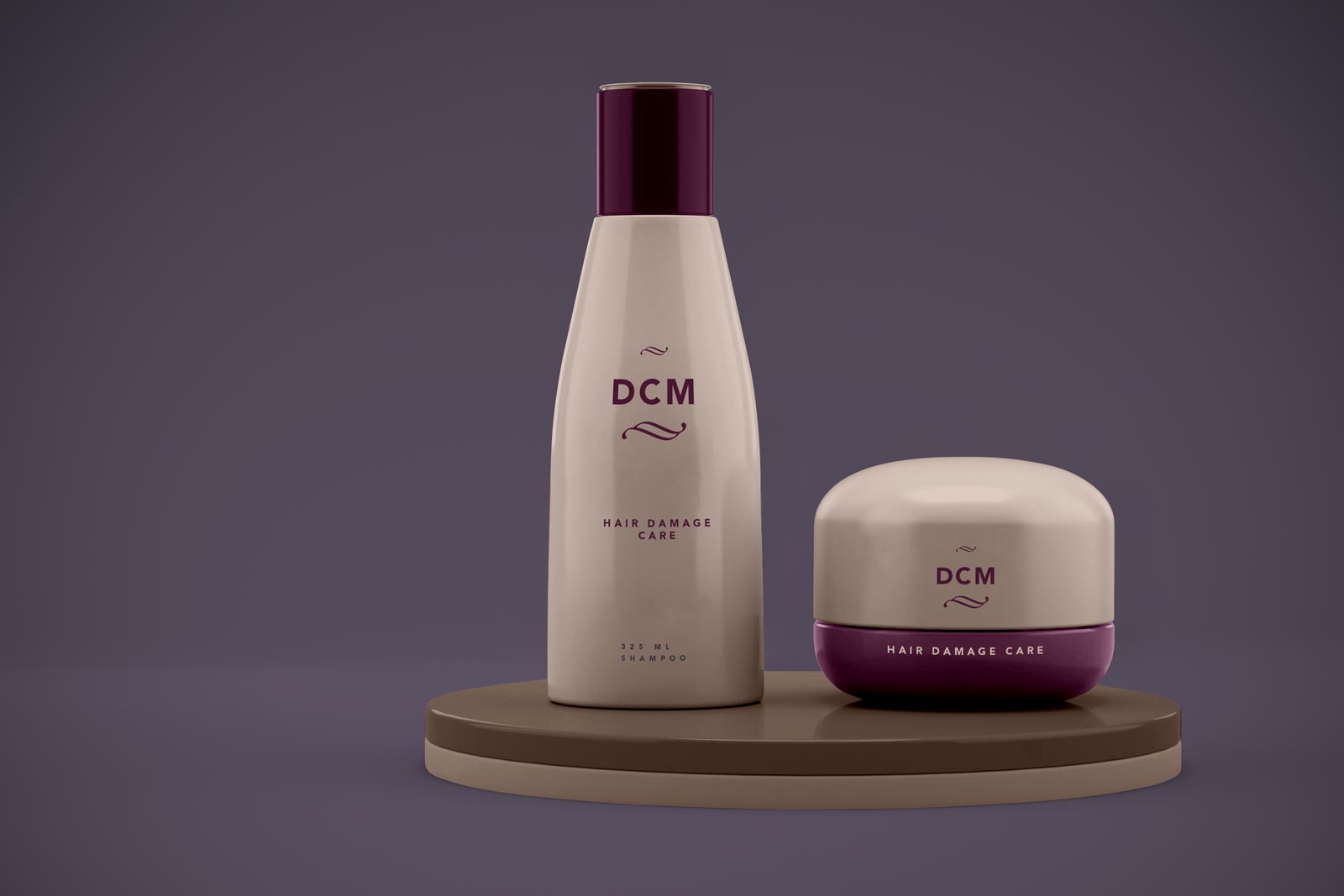 Available Format: Layered PSD with smart object insertion
License: Free for personal and commercial usage
RAR File Includes: Free Shampoo Mockup PSD
Mock-up Resolution: 3500 x 2333 px

Note:
1. Free Plastic Shampoo Mockup PSD is allowed to share online (A Must Linkback to this post)
2. Say thanks if you like or share/tweet with your friends. That means a lot to us.
3. And don't forget to subscribe to receive for more high quality premium freebies & awesome articles only.
Download Shampoo Mockup
More Free Product Mockup PSD Files: