Hi there everybody! We hope that you guys a really good start to the new year and that you are all geared up to make great things happen. Like everyone else in the world, we also have a couple of resolutions that we will try to not only keep and work on as well, but we will also make sure that we do not disappoint ourselves in the new year and that brings us to the question: do you guys have any resolution(s) for the year 2022? If you do, feel free to share them with us in the comments section, and if you still haven't decided what you will be planning to accomplish in 2022, that is okay too. Let's just hope that this one is a good one for each one of us!
In our previous blogs, we have talked about multiple outdoor advertising billboards and how they can be super beneficial for your personal & commercial design projects but today we will be talking about how you can make the most of an outdoor advertising campaign without going out of the budget while also ensuring that your message is being delivered correctly. Know that this is not going to be a digital advertising vs. outdoor advertising kind of a blog but what we will share might want you to plan your next campaign in a way that you would want to allot more budgets for the outdoor advertising. Let's get to it right away!
First things first; never assume that your audience might not be present on this or that platform without conducting a proper research and the reason why we are sharing this here is because only researches can help you get to the right audiences. There is a general perception or in fact, an assumption in many countries that people do not watch TV now or listen to the radio for that matter, but that's not true. Those people who do watch TV do that despite the fact that they have access to Netflix or even have accounts on SoundCloud etc. so, you have to make sure that you have gotten to know where your audiences are before you create a campaign for them.
Secondly, make sure that you know what's happening in the world when it comes to marketing and advertising as it will give you a better idea to strategize your campaigns for example; not many people are a fan of digital advertising or even SMS marketing for that matter and it's mainly because they feel that, that is too much – almost all the time scrolling through ads or even skipping ads while watching or listening to something online and even being bugged at random hours with cheesy and hardcore sales message are some of the things people do not like now.
Recommended: 135+ Free Outdoor Advertisment Branding Mockup PSD Files
It not only disturbs an individual's personal time routine, but businesses literally get reported and blocked from any communication whatsoever in the future too. Do you know what the means? They will never hear from your brand, products or its services and even if they will, they are not going to like 'you' as a business and we can bet that you do not want that to happen. So, to avoid all of that; go big and meaningful. Outdoor advertising never went out of fashion and it never will so build your brand, its familiarity and recall in a way that your potential customers would like to keep hearing your story and by doing so; your targeted audiences will keep interacting with you in way or the other.
Outdoor advertising is also great as it lets you customize the brand message as per the location, design, demographics etc. In addition to that, you can also customize the message after carefully reading a certain area and the people that live there so that you can communicate with them in an effective manner and trust us, your outdoor advertising campaign will become a hit but to make it even more successful, make sure that you get your hands on our free outdoor advertising billboard mock-up PSD right away in order to start working on a couple of projects in the coming week. Oh, and do not forget to create a nice & detailed mock-up presentation before you share the designs for approvals.
Recommended: 60+ Outdoor Signage Mockups
That is all for today from our end, guys! We hope that you not only enjoyed reading our blog, but you will also be able to use our free outdoor advertising billboard mockup PSD file for your upcoming projects super soon and if you do, don't forget to share with us how it went. Also, while you are at it, feel free to share our blog with your graphic designer friends and favorite colleagues as well and we will see you guys next time.
Free Outdoor Advertising Billboard Mockup PSD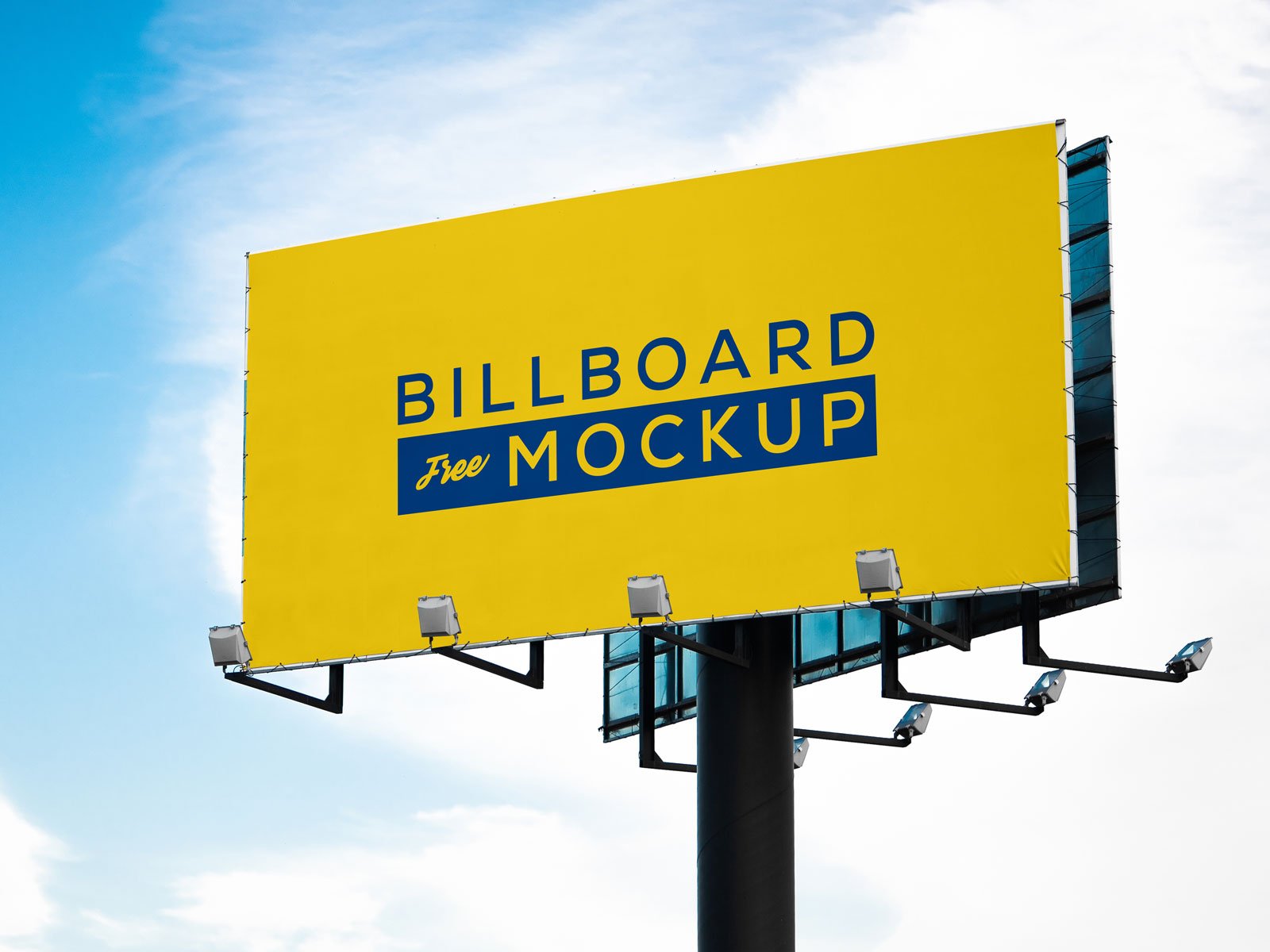 Available Format: Layered PSD with smart object insertion
License: Free for personal presentational use only
Zip File Includes: Outdoor Billboard Mockup PSD
Note:
1. PSD Outdoor Billboard Mockup is allowed for sharing online (A Must Linkback to this page)
2. Layers are hidden to decrease the size of file kindly unhide and place your design on red colored layer.
3. Say thanks if you like or share/tweet with your friends.
Free Hoarding Mockup PSD
More Free PSD Hoarding Mock-ups you would love to download: