Hi there everyone! We hope that you all are having a great day and that you cannot wait to read our today's blog too but before we start talking about what we have created for you guys and how you can make the best bus stop posters for your businesses, we would like to thank you all for your overwhelming response on our previous blogs and for also sharing them with the ones you love. It is always a pleasure to create something for you guys so, let us dive into our free yet highly editable bus stop poster mockup PSD file.
We know that we have talked about this before as well and we would like to mention everything that you must know in order to roll out an out of home advertising campaign, but before we share the details, we want you all to make sure that you guys do not limit yourself to a couple of things because right now, there are chances that you might know about the possibilities, but you will miss out on many things if you sort of restrict your communication to a certain category of audiences or platforms for that matter.
It does not work like that, really. Some of your audience might be on digital and social media platforms, but what about the ones that are not present online and can still give you business? Let's talk about that and more in this part of our blog. It is an amazing success for each one of us who is directly and indirectly working with brands and businesses to help them where they wish to be by letting them know about their audiences' behaviors, shopping patterns, how they get connected with a business and what they dislike about the communication etc., but it also becomes kind of difficult to make stakeholders understand that they need to be everywhere and that they need to be accessible.
We feel the problem lies when we become too dependent on digital and social media platforms that we tend to either ignore the conventional mediums or we practically exclude all such platforms because, well we live in a digital world and there is no use spending money on out of home advertising. But what if we told you that you are wrong? Or that you need to expand your horizons in a way that more and more people can trust you when they wish to avail your services or purchase your products? It is true, and we are sure that with the passage of time, businesspeople will eventually realize that no matter how digital the world will become, we will still be attracting relevant people towards our businesses through bus stop advertisements, through billboards, through flyers and brochures as well as through newspapers.
– – – – – – – – – – – – – – – – – – – – – – – – – – – – – – – – –
Recommended:
– – – – – – – – – – – – – – – – – – – – – – – – – – – – – – – – –
One of the reasons why bus stop advertisements or posters (as far as our today's blog is concerned) still work is that they get more attention from the people who are on the roads. Those people will not only read what's there to be read and will get in touch with your businesses through websites, social media accounts or through phone numbers etc. but even if they are not the targeted audience, they will pass on the message to the ones who are. Makes sense? We bet it does. In addition to being effective, bus stop poster advertising can be done in reasonable pricing as well so, it is like a win win situation, really and all you have to do is to trust the process.
Whenever an out of home (OOH) advertising campaign needs to be executed, make sure that you know the well visited spots too so that you can have your posters etc. displayed their nicely and the best thing that you can do in order to make everything work in your favor is to get in touch with a third party vendor who will not only be able to print your posters and other things but also knows how to do the placement thing as well. If you have time and if it comes under your domain, then we suggest you also visit the places as well so that you are 100 percent sure that whatever is going to happen will be perfect.
Recommended: 135+ Free Outdoor Advertisment Branding Mockup PSD Files
The best practice will always be to create mock-ups no matter how big or small a campaign is because it will help each one of you visualize how the posters will look like in real life, if the designated spots are good options for your campaigns, and if there are any changes that need to be done so that you can incorporate them before you have everything printed and pasted during the execution stage. We can bet that our free bus stop poster mock-up PSD file will help you create stunning designs for yourself and for your clients and if you do utilize the PSD file, let us know in the comments too.
Free Bus Stop Poster Mockup PSD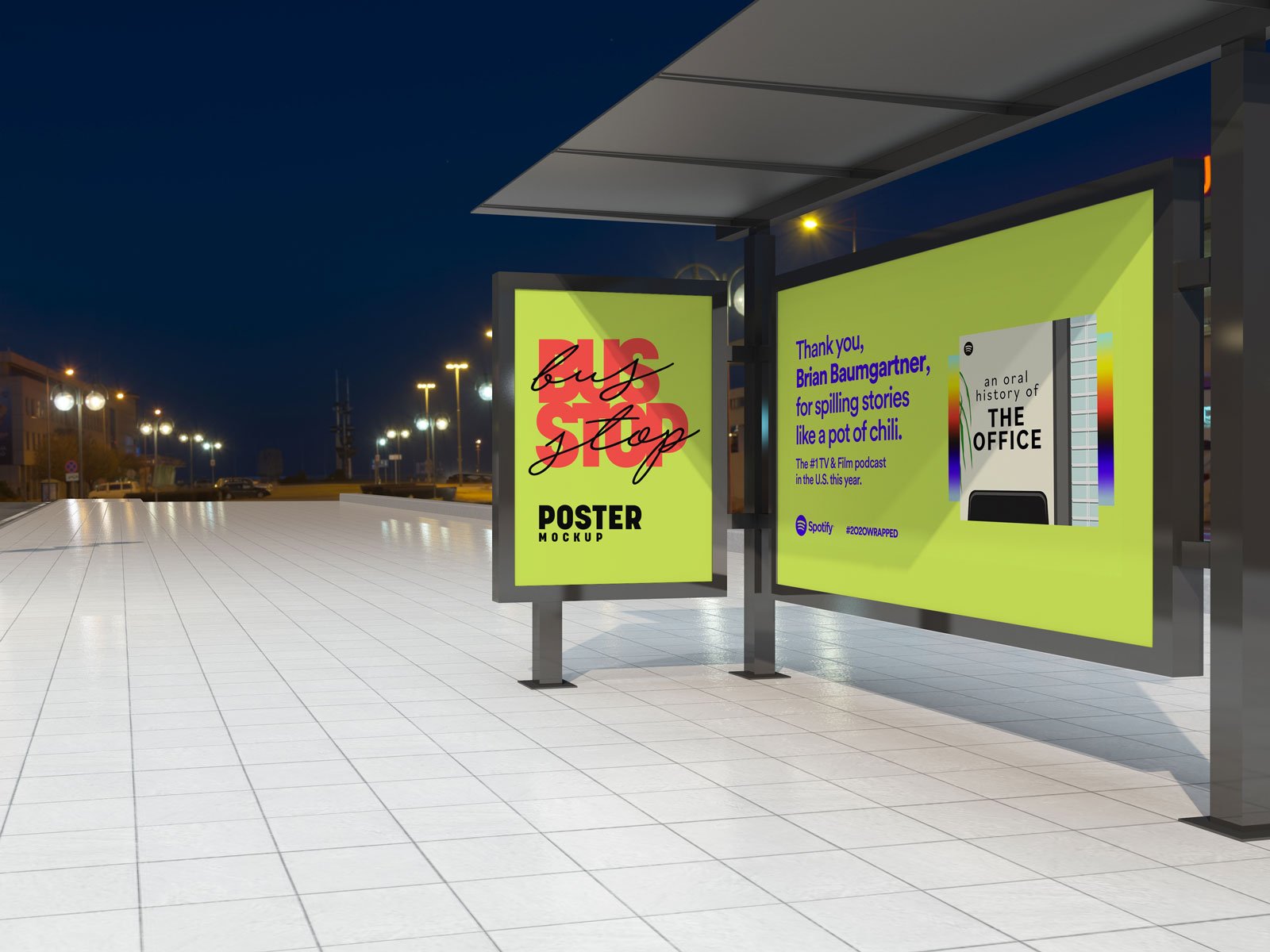 Available Format: Photoshop PSD
License: Free for personal and commercial usage
File Format: WinRAR
Mockup Resolution: 4000 x 3000 px
Note:
1. Free Bus Stop Poster Mockup is allowed to share online (A Must Linkback to this page)
2. Say thanks if you like or share/tweet with your friends. That means a lot to me.
3. And don't forget to follow or subscribe to receive more high-quality premium freebies & awesome articles only.
Download Mockup
More free mockups PSD files: