Hello there everyone! We are back with yet another fantastic and super useful blog of ours. And we can bet that you all are going to love reading it because not only do we have a free yet highly editable round signage mock-up PSD file to share with you guys but we also have a couple of easy-to-follow tips and tricks to share today so that you can make the most of our mock-up PSD file for your personal and commercial projects. We can't wait to share everything that you guys need to know about how to utilize our round signage mock-up PSD file but before we do that we would like to take a moment and thank you all for the constant support and love that you shower as with and for always making sure that your friends, family members, and favorite college are also reading the blogs and utilizing them too. We hope to see more of that happening in the future as well.
Recommended: 60+ Best Free Signage Mockups
If you guys are our regular readers, then you would know how much we love talking about signage designs and how our tips and tricks can help you create a bunch of exciting designs for your projects, etc. but if you have just started reading the blog today, then allow us to first welcome you all to this blog of ours where we not only try to make things super creative but we also make sure that whatever we share here is something that you can use in one way or the other. Since the holiday season is about to begin, we wanted to share something with you guys that you can either work on before you go enjoy the holidays with your loved ones or you can come back from the much-deserved break and then upgrade your signage, that's your call but we know that no matter when you get things done, you are going to be great.
For all sorts of signage, the most basic thing to keep in mind is that you have to know what your competitors are doing. That can also include all sorts of communication that goes live from their platforms and then you can work on your ideas to execute. Bear in mind that your ideas do not only have to offer something different from what is being already offered but if you are making intelligent decisions, then you can stay ahead in the game too. And that's what you can do effortlessly if you know what you are doing. In addition to making the shop display, etc. look attractive, you also have to make sure that your products/services are (of) top-notch so that your existing and potential customers don't have a choice but to get in touch with you and only you.
Recommended: 50+ Vintage Hotel Signage Ideas
In this part of our blog, we are going to be sharing the tips and tricks that you all have been waiting for so that you can get your hands on our free round signage mock-up PSD file right away and start creating your own designs. Make sure that you read the blog till the end so that you don't miss out on any information!
So, first and foremost, no matter how fancy the signage is around you in the market, you have got to keep your signage simple as by doing so, you will be able to get more and more people to actually know what you are selling or offering which will make them easier for them to make a decision even before they step inside one of your shops. Your next step is to make sure that your signage is actionable. Now, what does that mean?! Well, allow your audiences to take action the moment they come across your signage which could either be them making a call to get more information about a certain service that you are offering or they can visit your store to find out more about you.
Your color palette needs to be in compliance with your brand's personality and while you are at it, make sure that all the images that you are going to be using for the signage are high res. to make a lasting impression.
That is all for today! We not only hope that you had a great time reading the blog but that you will also take some time and share your valuable feedback with us in the comment section. We would also like to encourage you guys to share the blog with your graphic designer friends, favorite colleagues, students, etc. so that they can make interesting round signage designs for the projects that are currently working on. And we will see you guys next time with something more fun and exciting to read.
Free Round Signage Mockup PSD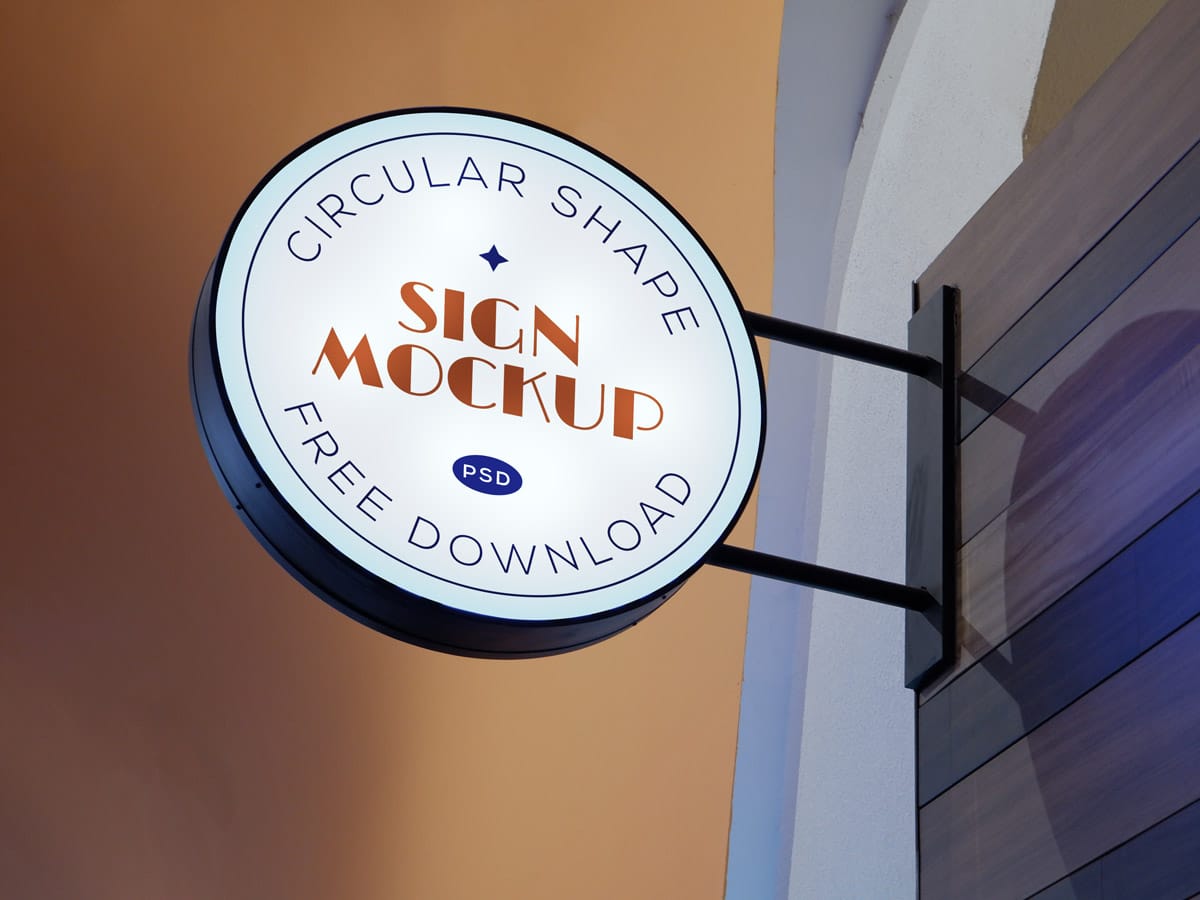 Available Format: Photoshop PSD
License: Free for personal and commercial usage
File Format: WinRAR
Mock-up Resolution: 4000 x 3000 px
Artwork Size: 1860 x 1860 px
Note:
1. Free Sign Mockup is allowed to share online (A Must Linkback to this page)
2. Say thanks if you like or share/tweet with your friends. That means a lot to me.
3. And don't forget to follow or subscribe to receive more high-quality premium freebies & awesome articles only.
Download Round Signage Mockup
More Free Sign Board Mockup PSD Files: