Hi everyone! We are back with yet another super useful and interesting blog of ours and we can bet that you will have a nice time reading it and making the most of our free yet highly editable bakery shop round sign board mock-up PSD file. We cannot wait to share everything that you guys need to know to make your own unique designs but before we do that, we would like to take a brief moment to thank you all for the love and support that you send our way and for always making sure that your near and dear ones are not only reading our blogs but are also utilizing them for their personal and professional projects as well. And we want you all to know that we would love to see more of that happening in the future too.
Recommended: 60+ Best Free Signage Mockups
If you guys are our regular readers, then we are sure that you must have read our previous blogs in the past which feature interesting signage mock-up PSD files for various businesses, etc. but for this blog, we wanted to share something that will be beneficial for bakery shop owners so that you guys can revamp or create attractive designs for this year or the coming one in order to attract more and more customers. Make sure that you guys read the blog till the very end to make stunning designs and stay ahead in the game like a pro.
Okay so, first things first; you need to understand your target audience and how they behave when it comes to buying bakery products so that you can offer them your stuff in a way that is not only different from your competitors but it is so convenient and easy to shop from you that with the passage of time, you will become their preferred business too. When you will start working on your signage, you must also keep in mind whatever is around the shop itself so that you can experiment and improvise as per the circumstance. For example; there might be trees around the shop and you would not want to cut them down so that you can see what can be done in order for your customers to read your signage without the trees blocking their view. Make sure that whatever you decide is smart and efficient in every sense of the word.
In the next steps, you must ensure that you go for legible fonts that are not too fancy but also not too sad – for that matter, because it is a bakery shop, after all, you know so it is literally your responsibility to make things all happy and welcoming, right!? Then, go for colors that are high in contrast to set the tone and to stand out as well. You can go for high visibility by choosing colors for the background that are not too dark but very friendly and cutesy. We would also like to mention that your branding elements must be incorporated so well in the designs that they are prominent as they will help you become more and more recognizable and with the passage of time, you can also, very subtly, drop adding the branding elements such as the logo and tagline, etc. in your digital and social media content.
Recommended: 50+ Vintage Hotel Signage Ideas
Always keep in mind that the size of the signage matters way more than you can imagine so when you know it is a crucial aspect of your branding and making an impression, you need to pay attention to it. We suggest that you go for large sizes so that your sign board, etc. can be visible even from a distance because the more the views, the more customers you are going to have and honestly, who doesn't like that, hmm!? Lastly, consider the hierarchy and place your information in such a way that the most important details are at the top and the rest of it can be placed at the bottom of it.
That's all for today! If you liked reading the blog, feel free to share your feedback with us in the comments section down below and while you are at it, don't forget to let your friends, family members and favorite colleagues know about this blog too so that they can benefit from it for their upcoming projects, etc. and then some more. We would also like to request you guys to share the topics and areas of interest that you want us to create mock-up PSD files and we promise to be back here with your requested content and more super soon. Until next time, keep reading our blogs and creating magical designs for yourselves as well as for the businesses that you are associated with.
Free Bakery Shop Round Sign Board Mockup PSD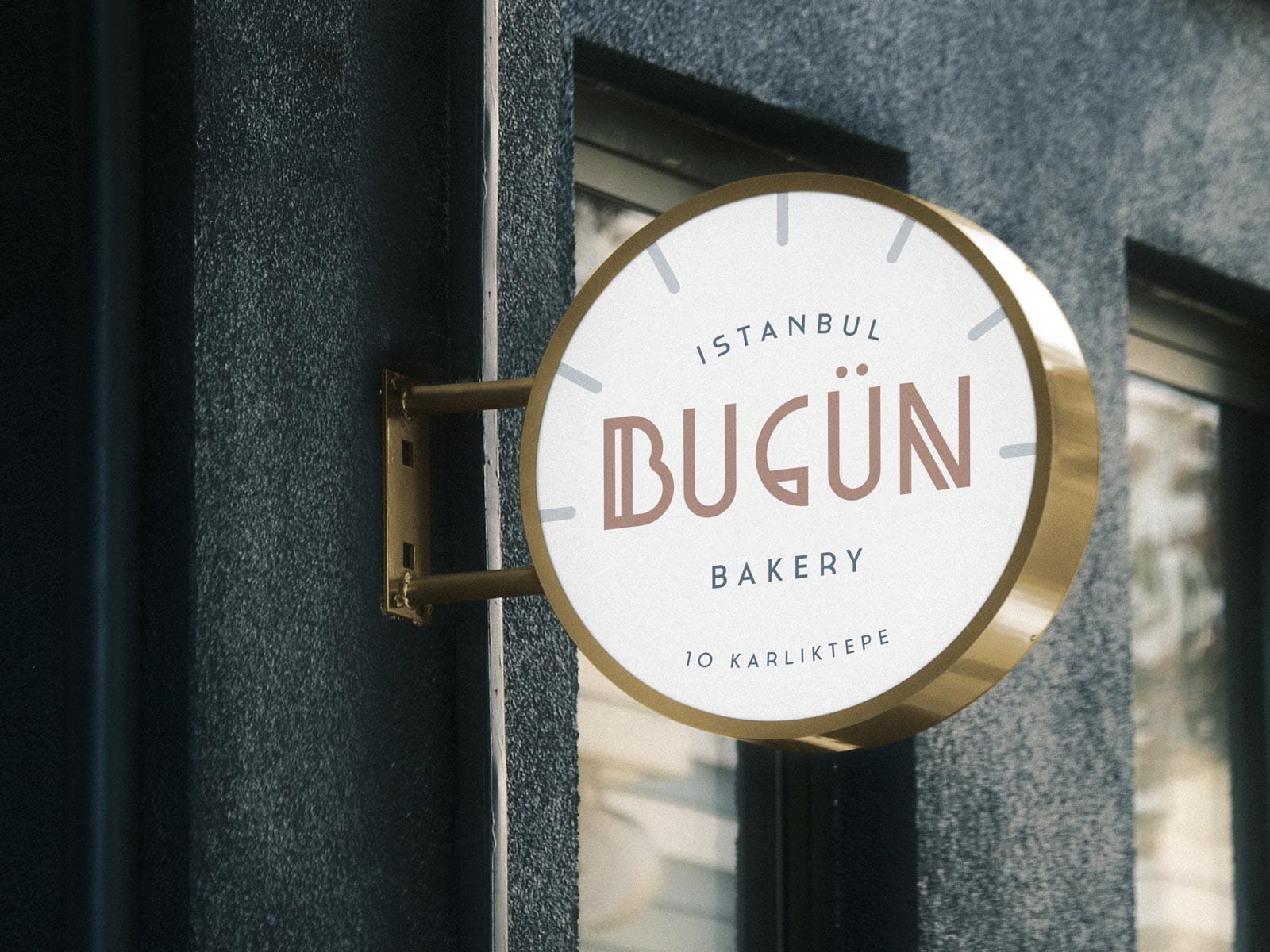 Available Format: Photoshop PSD
License: Free for personal and commercial usage
File Format: WinRAR
Mock-up Resolution: 4000 x 3000 px
Artwork Size: 1694 sq px
Note:
1. Free Sign Mockup is allowed to share online (A Must Linkback to this page)
2. Say thanks if you like or share/tweet with your friends. That means a lot to me.
3. And don't forget to follow or subscribe to receive more high-quality premium freebies & awesome articles only.
Download Sign Mockup
More Free Sign Board Mockup PSD Files: