Hi there, you guys! We hope that you are having a great time reading our blogs and that you are very excited to not only check out our free yet highly editable mounted round sign mock-up PSD file but also want to know how you can make the most of it by following our tips and tricks. And we will share all of it that can help you make the perfect and effective designs but before we do that, we want to take a moment to thank you guys for the love & support that you send our way and for also encouraging us to keep creating stuff that we love to create. We would love to see more of that happening in the future too.
Recommended: 60+ Best Free Signage Mockups
As you guys are aware of the fact that creating designs for any business regardless of its scale requires you to define the purpose of the signage that you are working on. So, for making interesting designs of the mounted round signs, you will have to do the same that is to define the purpose of your signage. For example; if it's for a business then the objectives will be different from a mounted round sign which is being created for an event. Once you know the purpose of creating the signage, you will be able to make informed decisions.
Your next step is to determine the size of the signage and in addition to that, you must also consider where the signage is going to be displayed so that you can ensure that the size that you have gone for is appropriate for visibility even from a distance. We would also like to share with you guys that it is a must to put all the important branding elements into the design so that the information can instantly give away the message that it is your business. Also, make sure that all the branding designs are consistently being incorporated as it will help your potential customers with the recognition and being too experimental with things will only confuse them and we are sure that you would not want that to happen.
We would love to mention here that to design effective signage, it is very important that you go for fonts which are not only easy to read but go for ones which are readable even from a distance so that you can gather as many eyeballs as you would want and eventually more and more people will be visiting your stores or attending your events, etc. Make sure that you do not go for super fancy fonts or styles for that matter because that is not what you need when you are interacting with masses, alright?!
Recommended: 50+ Vintage Hotel Signage Ideas
If you guys are our regular readers, then we are sure that you have read our previous blogs in the past in which we have always encouraged you to only go for visuals and other design elements that are created in high resolution. There are multiple reasons for doing that but the most crucial one is that you want to make it a good show and that can only happen when you do not compromise on the quality of everything that goes live from your end. It is also a good thing to consider color contrast for your designs but again, do not opt for anything that won't align with whatever is being already designed for your business, event, etc. The keyword here is consistency and you have to ensure that you always, always consider it – no matter how big or small the project seems to be.
The most effective signage designs are the ones which are simple (not too simple though!), engaging and speak for something so you will have to ensure that your next mounted round sign reflects simplicity, is not cluttered and tells what it is all about because otherwise you won't be able to achieve your business goal(s). Lastly, proofread everything before it goes to the vendor for printing and execution.
That is all for today, friends! If you liked reading the blog, don't forget to let us know how you wish to go ahead with it for your personal and commercial projects. And while you are at it, don't forget to share this blog with your graphic designer friends, and family members who run their businesses as well as with your favorite colleagues so that they can get their hands on our free mounted round sign mock-up PSD file and create stunning designs and then some more. We will see you guys next time with something more fun & exciting to read and work on, until then, keep reading our blogs and creating magical designs for yourselves and for the businesses that you are associated with.
Free Mounted Round Sign Mockup PSD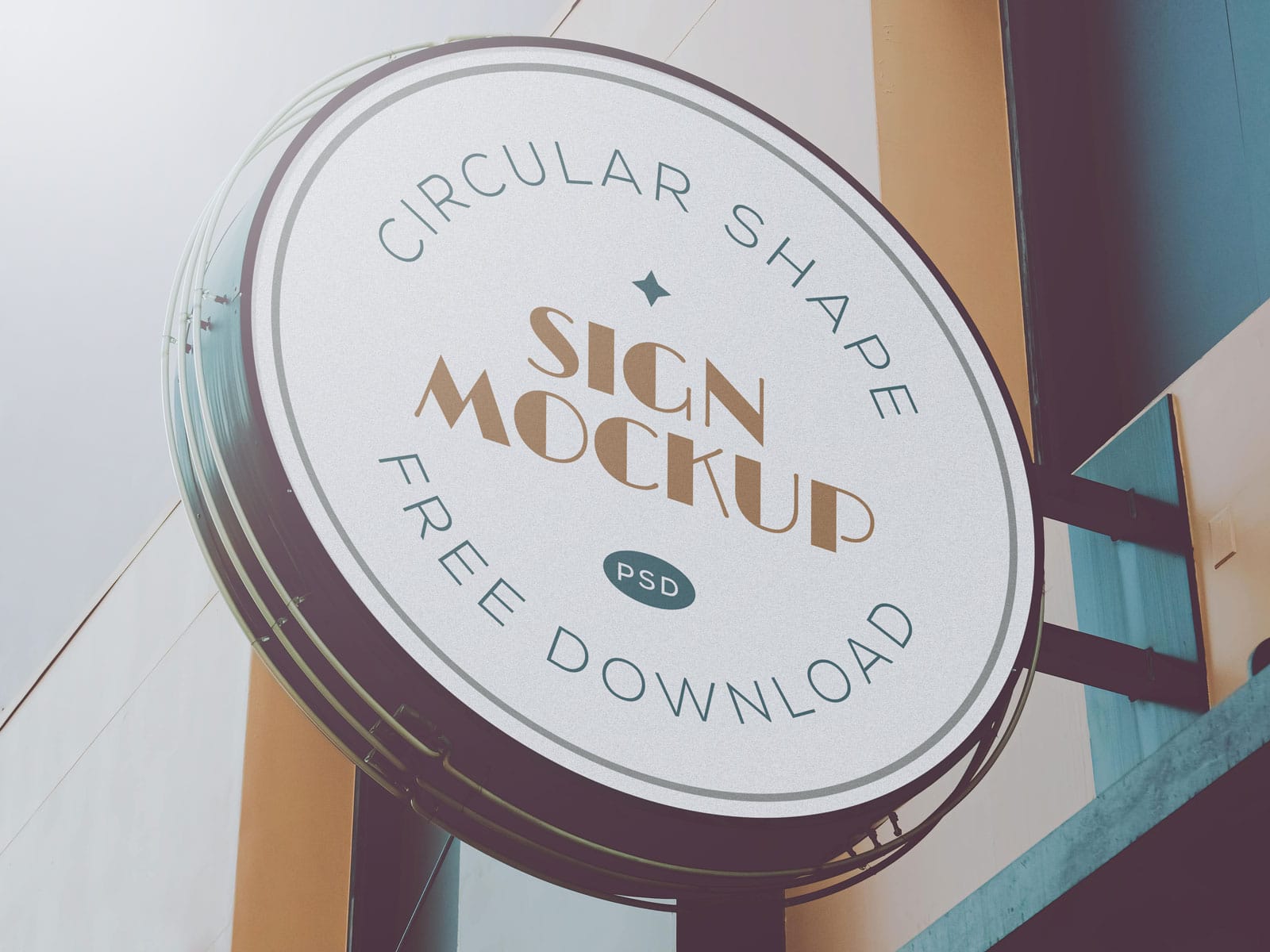 Available Format: Photoshop PSD
License: Free for personal and commercial usage
File Format: WinRAR
Mock-up Resolution: 4000 x 3000 px
Note:
1. Free Sign Mockup is allowed to share online (A Must Linkback to this page)
2. Say thanks if you like or share/tweet with your friends. That means a lot to me.
3. And don't forget to follow or subscribe to receive more high-quality premium freebies & awesome articles only.
Download Sign Mockup
More Free Sign Board Mockup PSD Files: