In this big world who knows you? Did you climb a mountain top? Are you a winner of Fear Factor? Or have you won an Academy award? Are you famous like Picasso or Pablo Neruda? What recent big achievement you had? Well not every one of us makes a bigger famous name like them because these people are gifted and chosen by God for special appearance in the world.
But we are no less, we can still do much greater on our part. We can make our names bigger in the work and field we do, we can make our own history. We can beat our own previous self and come out with flying colors. We can make our recognition possible if we keep a check and balance of excellence and quality of work.
And the most important thing to hit the masses easily in the market is to do it through the medium of electronic media, however there are other advertising modes that you can go about keeping your budget in mind. Advertisements are also striking especially the road side banners and hoardings attract pedestrians towards them so make sure it is happening enough that even a person driving by could stare it for a while. It is an impression build up tactic so don't lose the dint of yourself by doing hanky-panky and by not investing on the advertisements.
My post today will help you if you are finding one mock up to insert your own advertisement elements for the client. Simply put the desire elements into this mockup and it is ready to be shown to him in a good presentable style. I am unfolding before you free wooden outdoor advertising shop wall sign mock-up PSD, have a look at it and let me know how you are going to sue it in your projects. Stay hooked to us because we are all decked up to enthrall you with latest goodies and with all the info about latest design and art trends of the town.
Subscribe us and motivate us with your feedback which is like an Oxygen for all of us. Here we go!
Free Wooden Outdoor Advertising Shop Wall Sign Mock-up PSD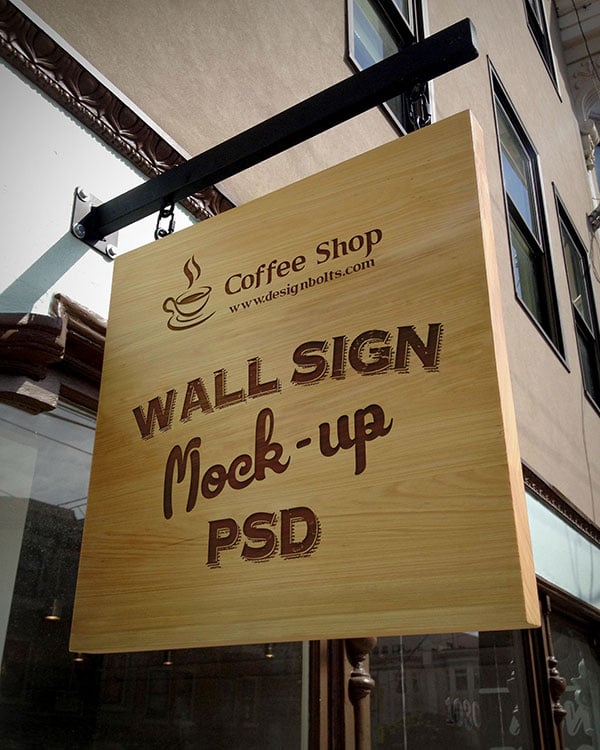 Available Format: Layered PSD with smart object insertion
License: Free for personal and commercial use
Note:
1. Mock-up is not allowed for redistribution
2. Layers are hidden to decrease the size of file kindly unhide, ungroup and place your design on red color layer.
3. Linkback if you want to share online
Free Wooden Outdoor Wall Sign Mockup
More High Quality Free Mockup PSD Files