We all are so much immersed in our daily routines that we hardly take time out to stand and enjoy the beauty of nature around, we hardly get to see even our friends being so busy, but wait up; we can always find a way out to enjoy and make memories with friends and family. We can go about several ways to make ourselves active and energetic. Movies have a vital role to play in our lives, we learn from the moralistic ending of movies, we make the characters our favorites, and we buy the merchandise of their impersonations.
Animated movies always are heart winning because they are true to type, they are close to reality, they bring out the good/bad of a character to leave us spell bound to decide which way we should pick up and peruse. Superheroes are not only enjoyed by kids and children; but we being adults and mature minded also have our personal infatuations and crush on superheroes. Which superhero is your favorite of all times? Let us know.
Well when I talk about myself, I personally love Spiderman, the way he throws off his web and makes his way to big latitudes is phenomenal, I have been following every of his series and therefore I am super excited to inform you about the arrival of Spiderman homecoming, which will be launched this July 7, 2017 (USA). The plot obviously resolves around Peter who manages his life being in the school and being a Spiderman himself, let us see what villains throw at him and how does he tackle the situations. I am sure it is going to be a sensational movie with some jam-packed action, adventure and sci-fi effects.
Have a look at the collection of Spider-Man: Homecoming (2017) movie Desktop wallpaper in HD quality. Set any of these on your desktop or on your homescreen, you will love them all, stay tuned to us and we will bring the best for you in future as well.
Spiderman Homecoming Cast
Robert Downey Jr. as Tony Stark / Iron Man

Marisa Tomei as Aunt May

Tom Holland as Peter Parker / Spider-Man

Angourie Rice as Betty Brant

Michael Keaton as Adrian Toomes / The Vulture (Villain)

Martin Starr as Mr. Harrington

Jon Favreau as Happy Hogan

Bokeem Woodbine as Herman Schultz / Shocker

Zendaya as Michelle

Kenneth Choi as Principal Morita
Spider-Man: Homecoming (2017) Movie Wallpapers in HD Quality
Spider-Man Homecoming Logo Wallpaper
Spider-Man Homecoming Villain Wallpapers HD
Spider-Man Homecoming Wallpaper of Iron-man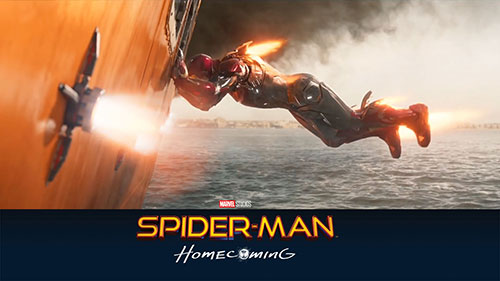 More Movie HD Wallpapers You would love to download: