What is MDM? I know what you are thinking, oh great – another acronym to try to decipher and remember. While it is an acronym, it is also a powerful one because it can help you secure, manage and protect mobile devices across your organization. Mobile devices have quickly become essential for companies to enhance and add efficiency to their organization. Plus with more and more workers in the field and on the move, there needs to be an easy and efficient way to help secure those devices and manage the settings, apps and information they connect to. This is where MDM (mobile device management) comes in.
Think about how many devices you have personally. It can be difficult to keep track of the details about them (which operating system is installed, serial numbers, etc). Now expand that to consider how many devices are in your company and the number expands exponentially. It makes that inventory spreadsheet you are using to try to keep track of who has what device and what is on those devices outdated very quickly.
Mobile device management can help you inventory those devices as well as keep track of device type, who the device is assigned to, and more. This helps you ensure you always have up to date device information to be able to make informed management decisions.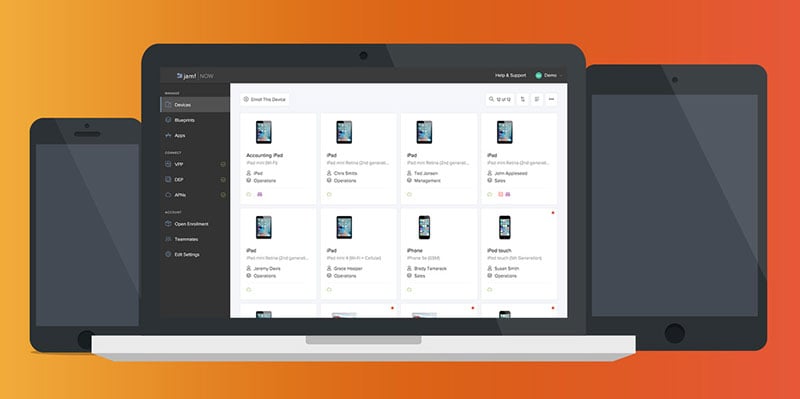 Additionally, trying to update all of the operating systems, apps and settings manually and per device can quickly turn into a very time-consuming process especially because those devices are not always "in the office" they are at client locations, on job sites, in retail locations and everywhere in-between. Configuration profiles give you the ability to tell your devices how they are supposed to behave. While you once had to manually configure devices, MDM technology allows you to automate the process of configuring passcode settings, Wi-Fi passwords, and more. Profiles also have the ability to restrict some items such as the camera, Safari web browser or even placing the device in single app mode to focus its use for one purpose.
All of the mobile devices being out in the world instead of in the office compounds the need to not only be able to update those devices but also secure them. The security and privacy of devices and access to corporate resources are a top priority for any company. To proactive protection like enforcing passcode and encryption to remotely locking or wiping a device if it is lost or misplaced, the ability to protect devices and the data they access is of utmost importance.
MDM provides a complete toolset to address deployments and ensure device security from deploying new devices and gathering inventory, to configuring settings, managing apps or wiping data. Jamf Now is a cloud-based mobile device management solution for the Mac, iPhone, iPad and iPod devices in your workplace. With Jamf Now, device management is fast, accessible and affordable, so you can support your users without help from IT. Jamf Now can help you with:
Automatic Setup: Eliminate manual setup with automatic device enrollment.
Device Security: If a device is lost or stolen, it can be remotely locked or wiped.
Wi-Fi Settings: Configure devices to automatically join secure wireless networks.
Device Inventory: Keep track of device settings with current details and status reports.
App Distribution: Distribute apps from the iOS, macOS and B2B App Store
Email Setup: Automatically configure email accounts on all of your devices.

Start managing your Apple devices today. Manage your first three devices for free and add more for just $2/device/month.
Recommended Posts: