Since New Year is just around the corner, we are sure many of you must be working on your corporate giveaways. What are you guys planning to include in the package this year? If you are stuck at the first step and cannot come up with interesting ideas then allow us to share some really cool and useful corporate giveaway ideas with you guys. Our ideas will not only make your brand stand out but the stuff in there will be so beneficial you might want to keep the packages for yourself.
Normally, brand managers prefer sending wine bottles, key chains, note pads, journals, tea coasters, t-shirts and polo shirts and of course mugs. We are not saying that these items are not cool enough to send to a business partner all wrapped in a premium packaging but there should be more to that generic giveaway baskets and packages. Like a branded and wireless set of headphones, stationery items for example; pens, mechanical pencils, maybe a branded leather gift set.
You can even take an extra mile for your partners and friends and gift them branded water bottles too. How about a USB drive? Sounds techy and useful, right? Because that is exactly what we want to do. To help you in creating one of the best designs for your corporate giveaways, we have designed a free USB drive mock-up PSD for you guys.
Also, anyone can get their hands on our mock-up PSD for their personal and professional design projects to make things work in a creative manner. Our high quality USB drive mock-up PSD file is easy to edit and you will be able to add as many colors and design elements as you want to have to produce amazing designs.
But before doing that, there are certain things which we want all of you to know so that you can nail the USB drive mockup presentation and have the ideas and approved in like minutes. If you want to know the tips & tricks you gotta continue reading this blog of ours:
If you are creating USB drive mock-ups then it means that you will be using your brand colors so that the person can see the connection but if you are designing generic USB drives then you must – in all cases, play and experiment with colors, patterns and design elements to see what works best for your clients.
A USB drive does not have a lot of space for you to write on unless you are choosing a card USB to design which means your copy will have to be precise and interesting enough to catch attention.
If  your USB drive has a cap – it is important to brand it too so that nothing seems out of proportion.
We do not want to restrict any of you from exploring your creative imagination and design possibilities and that is the main reason why we have kept the USB in one solid color but if you want to incorporate a theme into your design then you are free to do so. Your best bets would be anime characters, actors from seasons & movies, super heroes for school and college going students.
Now that you got your hands on the best and of course, free USB drive mockup PSD file created by us, you also have read some effective design tips which will help you in creating stunning USB designs, what else do you need to make sure that everything goes as planned – keeping in mind that you have to get done and over with the pitch presentation you have been ignoring for the past two weeks? You need a solid plan that won't be considered as a failed attempt. And do you know how that can happen?
Well, it is simple! What you have to do is to create variations of the concepts you have thought of and compile them in a presentation for a better understanding and demonstration session – be it with your internal team or with your clients. Not a lot of people are a fan of creating mock-up presentations which ultimately land them in some back and forth exercise of making designs, sharing them for approvals, having to revise the design or change the entire idea and repeat all of that.
All of the above mentioned practices not only waste the time of the teams that are involved but it seems like a lot of work which might never see light of the day. So, in order to avoid repetitive discussions, work on impactful mockup presentations, demonstrate your ideas during one-on-one meetings, discuss the challenges and defend the thought process with rationales because that's the only way through which stakeholders can take informed designs regarding printing and publishing of their promotional materials.
Free USB Flash / Pen Drive Memory Stick Mockup PSD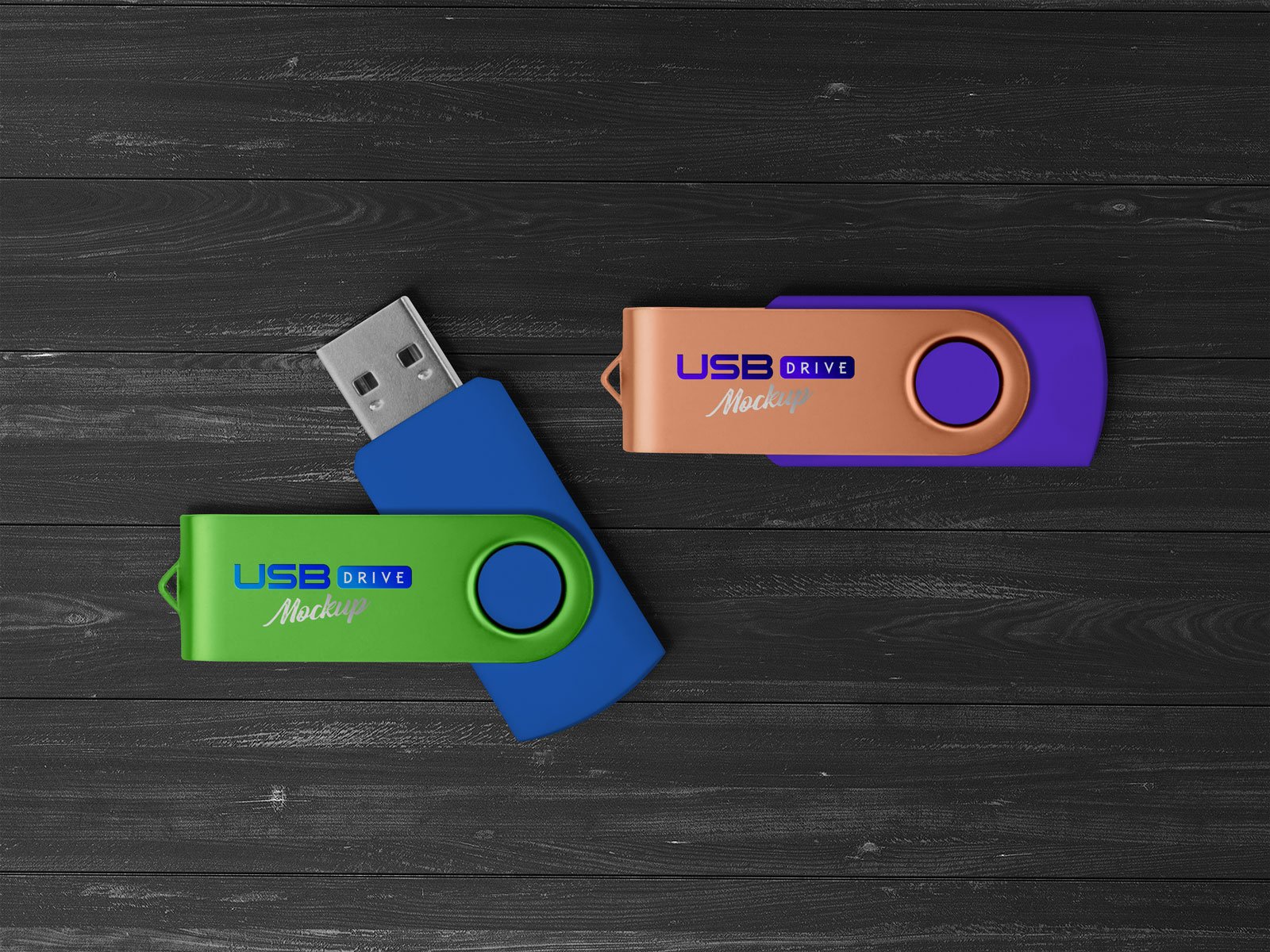 Available Format: Layered PSD with smart object insertion
License: Free for personal and commercial usage
WinRAR File Includes: Free USB Flash Drive Mockup PSD
Mock-up Resolution: 4000 x 3000 px 

Note:
1. Free USB Flash Drive Memory Stick Mockup PSD is allowed to share online (A Must Linkback to designbolts.com)
2. Say thanks if you like or share/tweet with your friends. That means a lot to me.
3. And don't forget to subscribe to receive for more high quality premium freebies & awesome articles only.
Download Pen Drive Mockup
More Fresh Free High Quality Mockup PSD Files: