Hey there guys! We will start our blog today with something that will take you to the time when you were a school going child who would love to spend their pocket money on buying stickers and stamps. We remember it really well that when we were kids, we would collect all sorts of stickers of our favorite Disney characters, numbers, alphabets and shapes. It was not just for the sake of hoarding the tiny little stationery items because we would use our collectibles in completing our various arts & crafts projects – and that did make us our teachers' favorites too.
Little did we know that there will also come a time in our lives that we will be creating stickers and their mock-ups on demand to satisfy the cravings of our creativity, imagination and graphic designing skills and we are glad that it turned out pretty awesome. So, if you are one of those regular readers of ours who were sending in requests for round and rectangle stickers mockups then continue reading our interesting blog to know more!
Like we always share the do's and don't's of creating your designs before you share them with your team lead or client, we are going to share how you can create some brilliantly designed round and rectangle stickers using our absolutely free yet highly editable mock-up PSD file.
First things first, shortlist the objectives which you want to achieve through your stickers as well as the aspects of functionality – meaning what do you want your stickers to do for you? Let us help you with the objectives first. For example; do you want sales through your stickers? Is it an event message you want to promote or do you want the stickers to work as warning signs? Is the purpose of your stickers nothing but decoration? These are some of questions which you can ask while getting the brief(s).
Once you are clear about the objectives, you would want to work on the copy. Always use the logo of the brand or company to stay relevant otherwise the stickers won't send a clear cut message to the audience. The fonts should be classy and easy to read. Keep in mind the rule of saying the maximum by using minimum number of words and don't choose go too wordy as a sticker is a sticker and not a pamphlet, you know!
You must also be aware that there are stickers which are created by following the mirror image too so, make sure whatever copy goes on the stickers makes sense after being pasted.
Choosing colors for any promotional material is crucial and might take a lot of time. To be on the safe side, your best bet is to choose the brand colors and play with them to make something that stays relevant to the brand but also talks about the actual thing for which the stickers are being created. But if your brief expects something different from the brand colors then pick colors that are trending. Also, ensure that you don't use heavy on the eyes colors because they might mess up with the text making the stickers look like a kid's coloring book.
Let's pause for a second here because we are going to ask you all a question – Have you ever wanted to put up a sticker on your laptop that looks bad as in finishing-wise? If you are someone who takes their stickers seriously then you answer has to be no. Because finishing is one of the factors that decide the quality of your stickers. Now, we know that, that the finishing is dependent on the budgets too but always propose a premium finishing to your clients etc. as it will not only 'defend' your designs but it will also help the brand achieve their purpose in style.
So, how do you make an impression about everything that we have mentioned above? Like how do you plan to share your designs with your boss or with the brand managers? No clues? Well, the best way to demonstrate a design to the concerned bodies is to create a mock-up presentation which will not only give a run down to all the parties but it will also help you explain the design along with its rationale.
Mock-ups are basically created so that informed decisions can be taken regarding the printing and publishing matters because a) money is involved and b) you would not want to bag negative criticism by the end of the day. If you want to have your designs approved during a review meeting, always create a mock-up presentation that displays multiple design options and the reasons why you would want to take that design route. Trust us when we say this, your mockup presentations will prove that you are a dedicated resource who wants to produce nothing but the best.
Free Textured Round & Rectangle Sticker Mockup PSD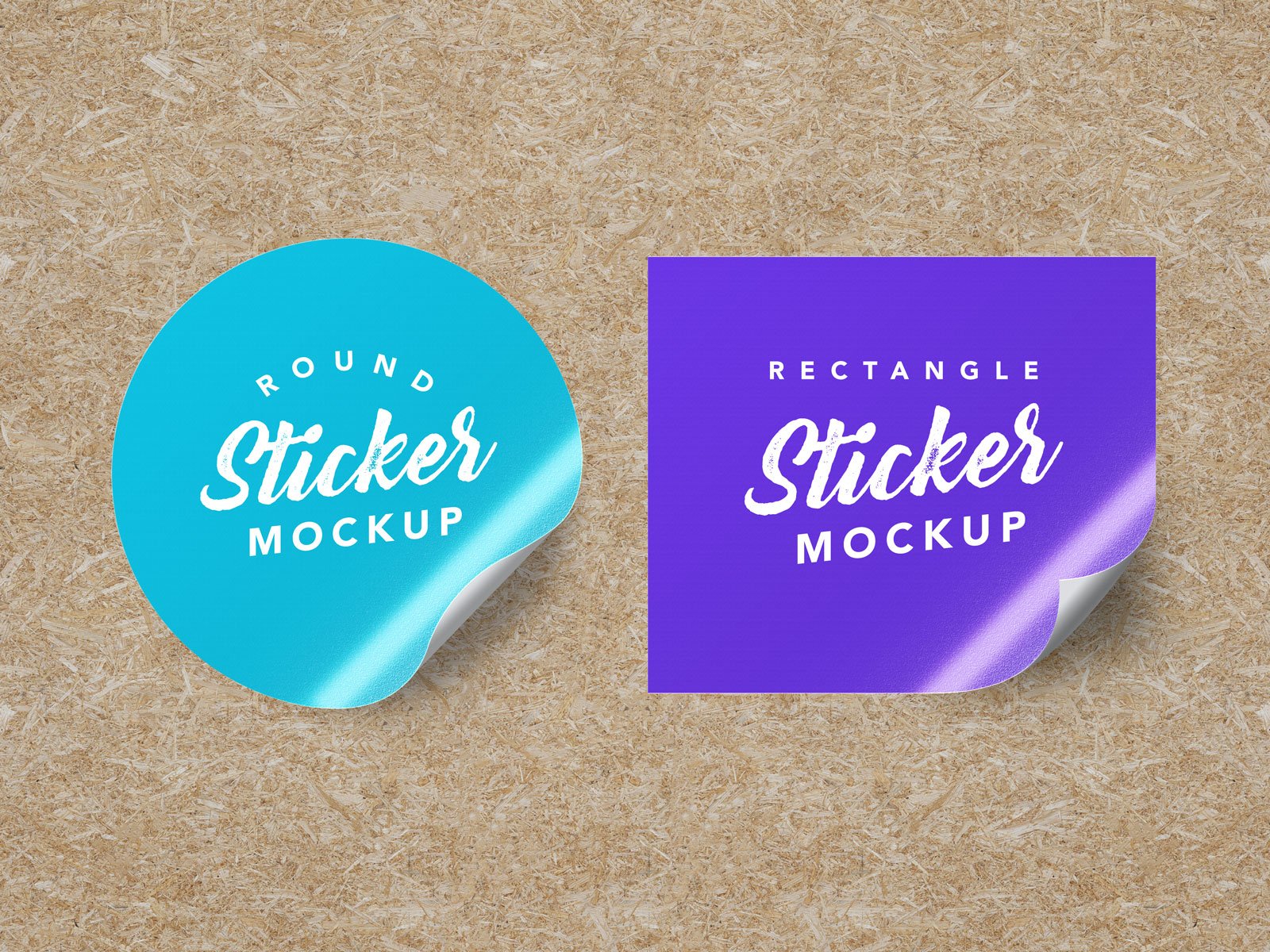 Available Format: Layered PSD with smart object insertion
License: Free for personal and commercial usage
WinRAR File Includes: Free Sticker Mockup PSD
Mock-up Resolution: 4000 x 3000 px 

Note:
1. Free Sticker Mockup PSD is allowed to share online (A Must Linkback to designbolts.com)
2. Say thanks if you like or share/tweet with your friends. That means a lot to me.
3. And don't forget to subscribe to receive for more high quality premium freebies & awesome articles only.
Download Sticker Mockup
More Fresh Free High Quality Mockup PSD Files: