Hi there friends! We are thankful to you for sharing your positive feedback with us on our previous blogs, we hope that you will also get at least one of the gadgets from our 5 must have gadgets in Coronavirus pandemic blog.
As you all know that ever since the outbreak of the virus, many companies either had to close their businesses etc. and shift the model to work from home or they had to change the entire conversation & communication. As 2020 had just started, many brands and their advertising and marketing agencies were busy in creating content plans, having discussions over media budgets and we can bet that many people around the world must have been prepared at least six month plans for their upcoming advertising and marketing projects.
But then something happened and almost everyone had to revise everything; from media buying & spending plans to content calendars to postponing shoots for their TV commercials too. And while we know that it must be hard considering the fact that at times, it can take several weeks for plans to get approved and finalized (and we are not even counting the time that it takes for the plans to be made etc.), we also know that it is also important for all the brands & companies around the globe to start working on the content that is relevant.
There are ways in which brands can communicate with their audiences without always talking about the virus itself for example; you can share tips & solutions with your target audience on how to stay safe during this pandemic or you can talk about all the fun activities that people can arrange within their houses to spend time with their family members. The best thing about sharing activity ideas right now is that you can do it regardless of what you sell and provide as a service.
Recommended: 50+ Cool Coronavirus Masks
We have seen multiple brands who have gotten mental health doctors on board and they are talking to the audience on many different topics which include taking care of one's own self, taking care of the loved ones & friends and also making sure that nothing takes a toll on your mental health. Although, we know that it is more than difficult for many people to still think that everything is going to alright, their anxiety and overthinking are the reasons why it is hard for them to take things lightly but we think that having someone to talk to might be a solution during this time.
And honestly, if a brand is caring enough to come up with this idea where they are offering help by sharing tips then we would definitely want to stick with them and may be even communicate with them at some point so, that we can find a solution or two for our own problems like taking care of our thoughts etc.
Recommended: 30+ Funny Coronavirus T-Shirts
Another thing which socially responsible brands can do is to literally stop selling their products and announcing sales because it is not just poor strategy, but it is also not needed at this point. Allow us to tell you why! Buying clothes, shoes, perfumes and everything else that falls under the category of a luxury item is not being considered necessity and no one is thinking about upgrading their wardrobe or car or mobile phone either so, we would suggest you all to save your creative thoughts and budgets for the days when things will be okay or better and then feel free to promote your new collection of cool vehicles, dresses and everything else for that matter.
You must be wondering what should be done if talking about the products & services does not seem ethical, right? Well, we have a few ideas to share with you guys and we can guarantee that you can make things work for your social media platforms and other communication outlets. As we have mentioned this above that talking about precautionary measures will help huge groups of people in keeping themselves safe from the virus.
Recommended: Free Coronavirus Stickers 
You can create a fun list of activities that will help your audiences in arranging game nights for their family members and another interesting idea is to change the lingo. You must have seen people saying that they are stuck at home and that they cannot leave their house and hang out with their friends. To help them feel better about the situation of lockdown / curfew, all you need to do is to come up with words that can give them hope.
Use words like safe at home instead of saying stuck at home and instead of saying depressed and lonely, you can talk about how this time can be utilized in spending days & nights with your loved ones etc. By doing that, you will not only come across as a brand that is optimistically there for their audience but you will also be able to engage with people in a good way. So, to create your designs and communication, all you have to do is to check out these 10 different Coronavirus vectors that can be used for your design projects. We have also designed some color schemes that you can use or use any virus color palette of your choice.
Feel free to share the blog and vector files with your designer friends as well and don't forget to share your feedback with us in the comments section down below!
10 Free Different Coronavirus Vectors Ai & EPS with Color Schemes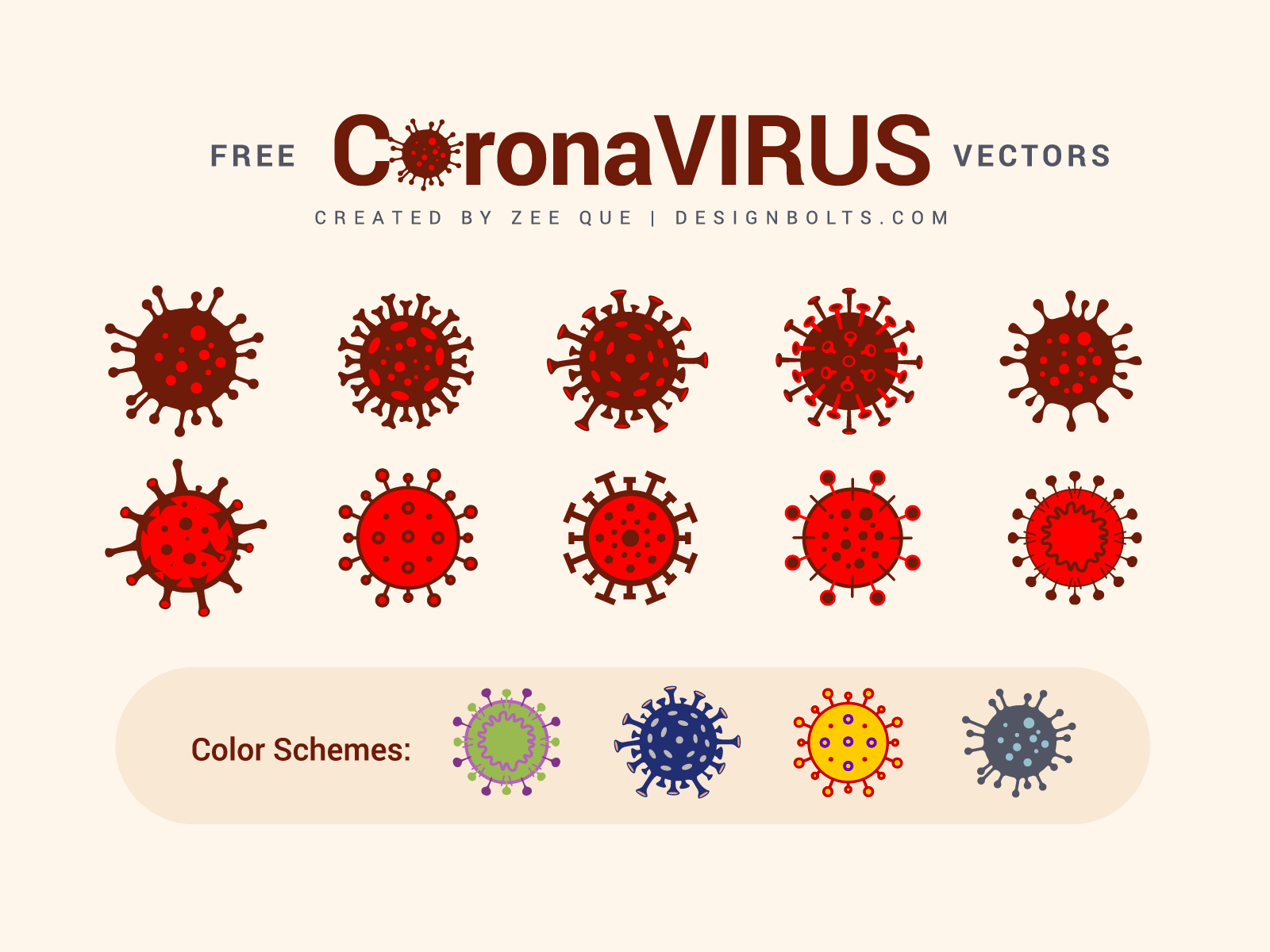 Available Format: Vector Ai and EPS
License: Free for personal and commercial usage
File Format: Zip
Note:
1. Free Coronavirus Vectors are allowed to share online (A Must Linkback to this page)
2. Say thanks if you like or share/tweet with your friends. That means a lot to me.
3. And don't forget to follow or subscribe to receive more high quality premium freebies & awesome articles only.
Download Coronavirus Vectors
Recommended: