Hi there friends! We knew that you guys were waiting for yet another amazing blog of ours and here we are with something so fun, you are going to love everything about today's blog. As we all know that many people around the world are in self quarantine for more than two weeks now, we get that most of you must be getting bored too. It's only natural and it is okay to feel that way.
To be honest, no one saw this coming and when the lockdown was implemented, many of us thought that it is some sort of a house arrest thing and we just couldn't feel good about it. We get that too and it's because we have always been the ones who attend college, go to work, make sudden hang out plans with our family members & friends and enjoy everything that we do and then one day, we get told to stay indoors for this number of weeks and that number of days. It came as a shock to many people whereas; many took a sigh of relief because leaving the safe spaces and being exposed to the virus is not only scary but it started to leave a bad influence on the mental health of more than half of the population.
But like we have said in our previous blogs as well, that since all of this is new and we had to take some time to adjust to the new "settings" of how our world operates, we also had to bring major changes to our regular day life as well. For example; now, we are staying in doors 24 hours a day and 7 days a week which means that we need to focus on our work life (if we are working from home) and we also need to acknowledge the fact that there are our family members present as well and not all of them would be working and not all of them would be getting with the daily chores at home.
Everyone has got a life pattern and now we have to co-exist in such a way that we do not ruin anyone's personal peace, nor do we step in, in anyone's space. But what about the time when all of us would be done with the work and household chores? Well, we will have some time to sit together and reconnect, right? And for how long are we going to do just that? As in we can reconnect with our family members etc. for may be one week and then we would have to find something interesting to still sit and talk and work on the bonding, right?
Recommended: 50+ Cool Coronavirus Masks
If you are one of those people who want to spend time with your family members but most of you have run out of topics and you do not feel like playing Monopoly every night, then we have something super fun to share with you guys. Continue reading to know more!
We could have chosen to write another blog and try to motivate you all on staying healthy by adopting a new habit or getting to learn a new skill during this time of self-quarantining but that idea sounded a little boring to us so, we started to look for artists and their work which has been shared in the form of illustrations, digital designs and artworks and we came across this extremely talented artist's illustrations and we thought to share them here with you all.
Recommended: 30+ Funny Coronavirus T-Shirts
So, Ana Duje created illustrations that are basically challenges which anyone can take, if they feel like doing it – that is. The key is to not feel pressurized or make it a goal that you have to come out of this more skilled or that you have to be more than just productive and only then you all will feel great about taking the challenges that we are about to share here. Let's have a look at what Ana has created as her #coronaretreatchallenge design project!
We know that many of you must be remembering all the times when you could go out and eat your favorite stakes at one of your favorite restaurants, right? Well, once this is over, you will be able to go back to that place again and to other eateries as well so, how about you create a list of all the restaurants you'd love to go to when this is over? You can also pay attention to all the untouched and half read novels that you bought and finish them too!
Video calling is one of the best things that could happen to our generation – to be honest! Set a time with your friends and arrange a video call session over the weekend because it is important to check on our friends and loved ones during these times.
And do you like to cook? Or want to cook something today? Well, Ana's illustration is all set to motivate you to cook even if you are not dressed (fully). Have a look at that along with the illustration of cleaning & organizing your house. Oh, and if you smoke know that, this can be your time to quit smoking, okay?! 😉 We have plenty of other illustrations to add to this blog as well and we'd encourage you all to have a look at them once you are done reading it.
Here Are Few Ideas To Stay Busy At Home:
Take A Long Bath
Make A DIY
Workout With YouTube
Clean Your Plants
Learn A New Recipe
Organize Your Photos in Albums
Listen To Podcasts
The Book You Always Wanted To Read Now is the Time
Sort The Wardrobe by Colors
Do Yoga
Watch "FRIENDS" again
Do Your Manicure
Clean The Bottom Of The Pans
Write A Diary
Learn How To Make Origami
Learn How To Solve Rubik Cube
Decorate The House
Clean The Windows
Start Meditating To Relax
Start To Use Sewing Machine
Learn Art, It Is A Therapy
Learn To Play An Instrument
Sketch Your Favorite Cartoon Character
Create A Lego Challenge
Paint A Room
Delete Old Photos
Watch A New Movie
Learn To Knit
Learn To Code
Donate to Local Food Shops
Fun Illustrated Ideas While Staying At Home by Ana Duje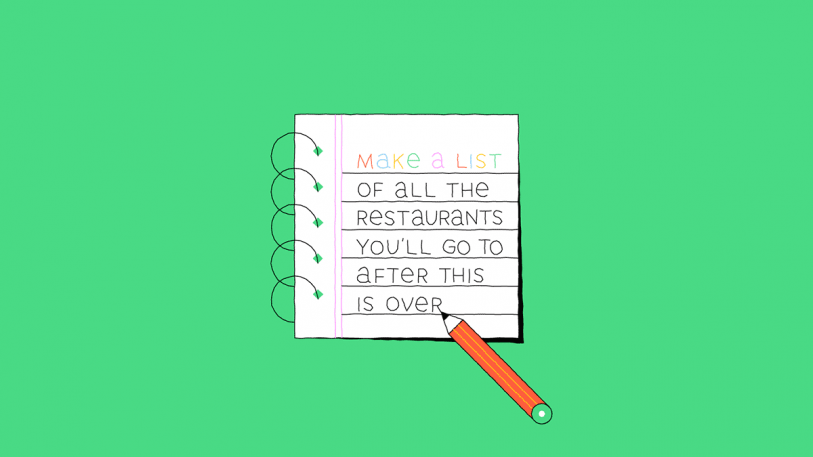 Credit: be.net/anaduje
Recommended: