Adobe Photoshop is perhaps the most popular graphic design and image editor tool. It lets you design and enhance photos, illustrations, and graphic objects.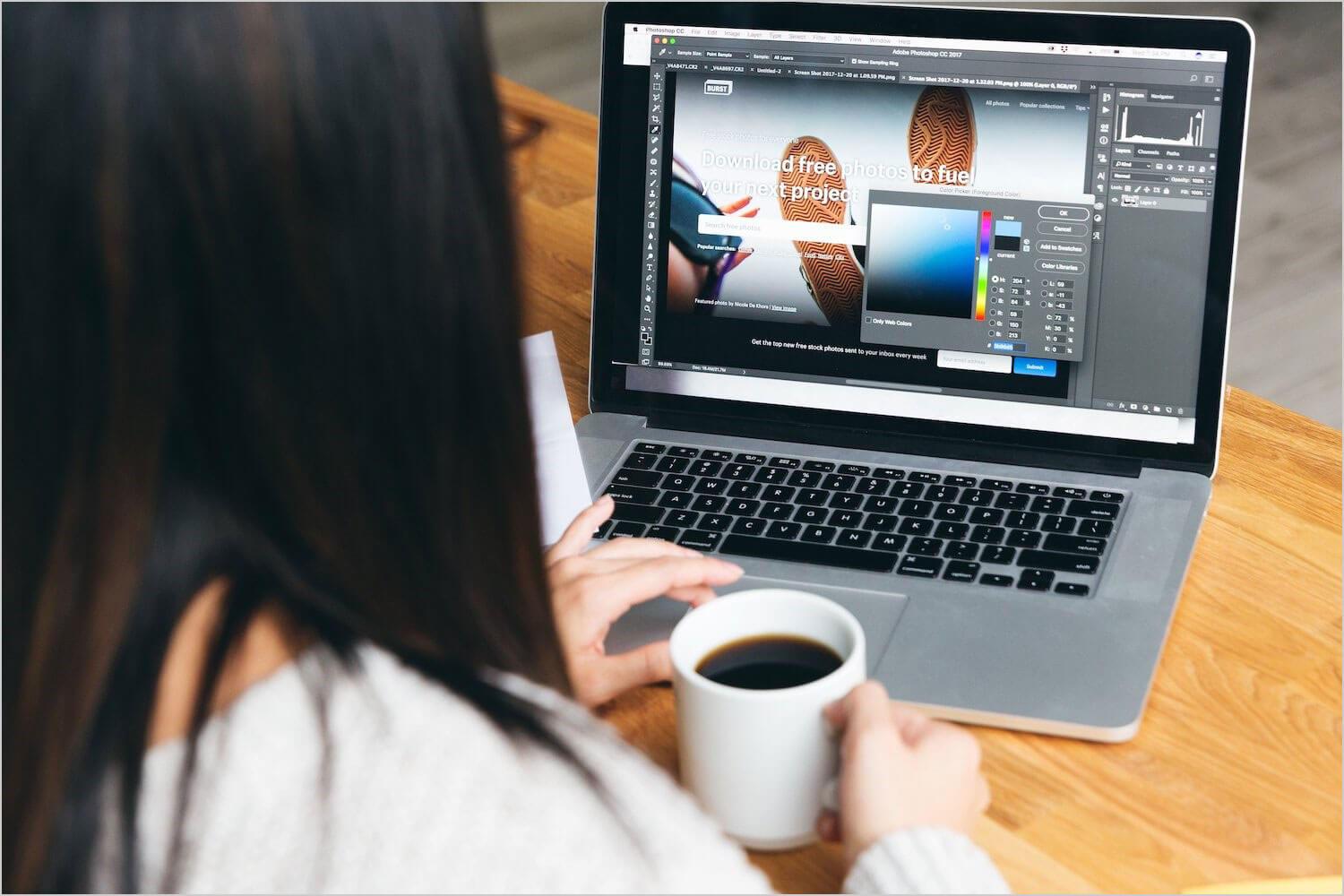 However, creatives and designers are always on the lookout for image editing apps that help them achieve photo editing tasks in a cost-effective way, even if they're not as extensive as Photoshop.
If you're looking for a Photoshop alternative, you need to consider the different features you get with Photoshop and pick out the ones you need. Let's take a look at some of the best Photoshop alternatives worth exploring.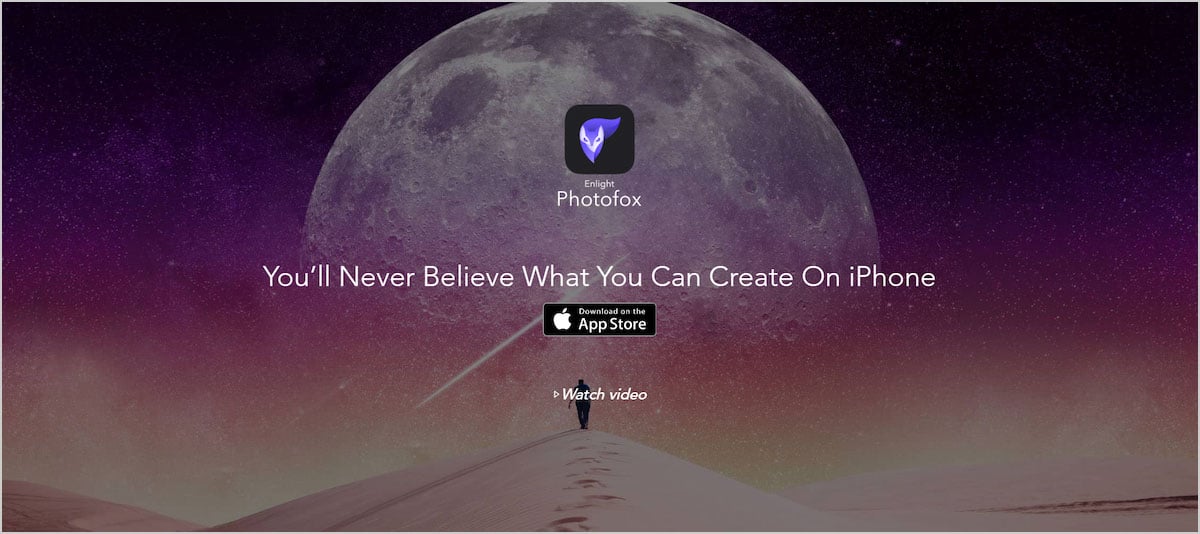 Photofox is a powerful photo editing app for iOS that helps you easily create stunning art. It's one of the best alternatives to Photoshop that works on both iPhones and iPads. Photofox supports most standard image file formats including JPG, PNG, and TIFF.
Notable Photofox Features:
It offers advanced editing tools (such as curves, heal, and intensity) and layer technology to help you blend and build images.
Lets you easily add text to your photos and draw, paint, and add elements on your art.
Gives you access to a variety of effects, beautiful backgrounds, and artistic glitches that transform a normal photo into a breathtaking masterpiece.
Pros:
Comes with tools to modify your photos like brushes, presets, effects, and tonal adjustments.
Makes image editing extremely quick and easy compared to Photoshop.
Cons:
Only available for iOS and iPadOS users.
Photofox is perfect for creatives and designers.
Price: Free to download. Offers in-app purchases.

GIMP is a cross-platform image editing software that helps you modify images. It's an open-source Photoshop alternative available for Windows, Mac, and Linux operating systems. GIMP supports XCF, JPG, PNG, GIF, TIFF, and raw image formats.
Notable GIMP Features:
It comes with paint features such as the paint tool (brush, airbrush, pensil, and clone) and custom brushes and patterns.
Offers transformation tools (rotate, flip, scale, and sheer), editable text layers, and color correction features.
Packs editing tools (layers, levels, masks, and curves), MNG support for animations, and a library of plugins.
Pros:
Gives you a lot of advanced editing options.
Packs a history toolbar.
Offers support for image slicing. 
Cons: 
Steep learning curve.
No drawing features.
No Camera RAW filter.
It's an ideal tool for graphic designers, photographers, and illustrators.
Price: Free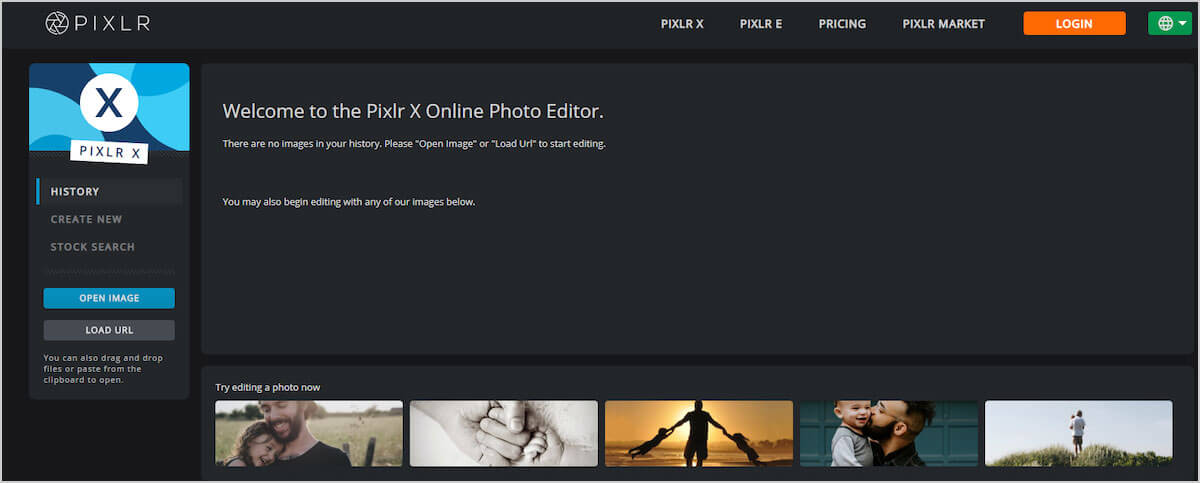 Pixlr is an easy-to-use online photo editor that offers all the basic photo manipulation tools for resizing, cropping, whitening teeth, and removing red-eye. It's a free, browser-based alternative to Photoshop available on iOS and Android operating systems. Pixlr supports PXD, PNG, JPEG, JPG, BMP, TIFF file formats.
Notable Pixlr Features
You can rotate, straighten, and flip photos and crop images using preset image ratios.
Its built-in text tool lets you add stylish fonts to your images.
Packs Instagram-like filters, extensive layer support, and modifying image vibrance, shadows, and highlights.
Pros:
Offers web accessibility including mobile devices.
Packs history tools.
Offers HTML5 support.
Cons: 
You need an internet connection to use Pixlr.
Slow editing experience.
Has issues with font sets.
Pixlr's UI is similar to Photoshop making it an ideal solution for beginners.
Price: Free for access to basic editing tools and limited overlays and stickers. Premium plan starts at $3.99 per month.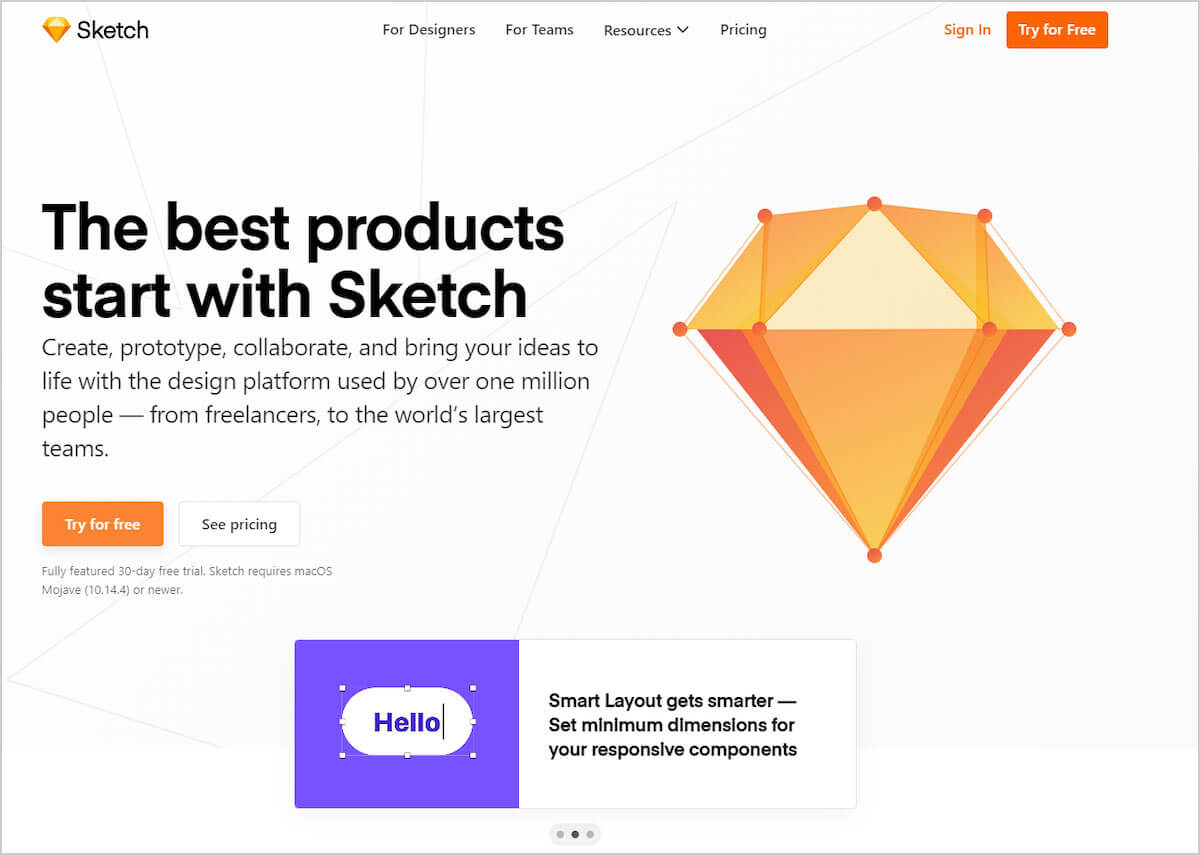 Sketch is Mac-only image editing software that lets you design, collaborate, and share work with clients and developers. It's a useful alternative to Photoshop and offers some of the same features such as color picker, layers, gradients, and style presets. Sketch lets you import files in PNG, JPG, TIFF, WebP, SVG, EPS, AI, PSD, and PDF formats.
Notable Sketch Features:
It comes with a simple user-interface and offers a library of community-created plugins.
Supports infinite zooming and vector shapes.
It's a flexible tool that lets you create a new graphic using the Vector or Pencil tool, or design a new graphic using primitive shapes.
Pros:
Built for digital design with vector, pixel-perfect tools.
Enables you to create and collaborate with team members.
Easily export code and presets.
Cons: 
Only works on a desktop Mac.
Have to use a plugin to access more responsive design features which can create issues when Sketch updates.
It's a professional vector graphics app suitable for professional web designers.
Price: $99. Free trial available.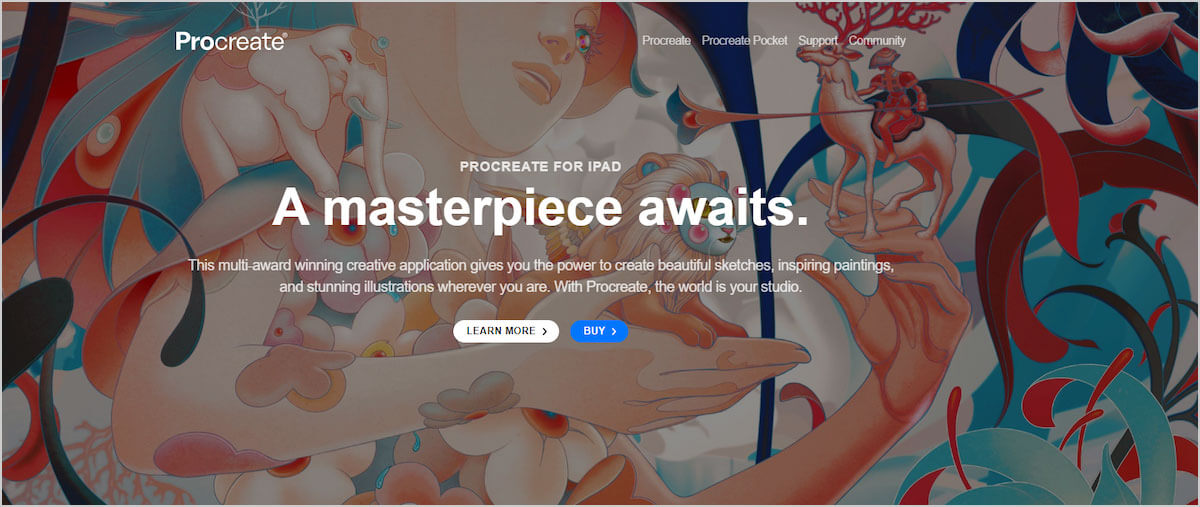 Procreate is a creative painting application strictly for iOS systems (iPads and iPhones) that lets you design beautiful sketches, paintings, and illustrations. It lets you import files in .procreate, PSD, JPEG, GIF, and TIFF formats.
Notable Procreate Features:
Simple to use layout that gives you access to a number of features including inks, brushes, pencils, unique digital goods, and advanced layer compositing.
Comes with a variety of brushes to help you bring your ideas to life and its added palm support makes sure you don't accidentally draw over your canvas.
Fully supports first and second generation Apple Pencils.
Pros:
Comes with a free Procreate handbook integrated into the app that gives an overview of all the apps' tools and features.
Has an active community of users and receives frequent updates.
Cons: 
Doesn't offer all the design features you get in Photoshop.
Has a steep learning curve for users with no digital drawing experience.
It's built primarily for artists and designers.
Price: $9.99.

Affinity Photo is powerful photo editing software that helps you correct and retouch your photos as well as design complex fine art with dozens of layers. It supports Windows and iOS operating systems, and offers most of the same features found in Photoshop. Affinity Photo supports all popular file formats including JPEG, PNG, RAW, TIFF, AI, PSD, and PSB.
Notable Affinity Photo Features:
Offers live, real-time editing, massive image support, and ability to zoom and pan at 60 fps.
Depending on your equipment, Affinity Photo is capable of delivering high speeds, unlimited undos, and fewer crashes than Photoshop.
Pros:
Affinity Photo is easy-to-use and incredibly fast.
Cons: 
No Android version available.
Have to purchase the iPad version separately.
It's a great option for designers and photographers.
Price: $49.99. Free trial is available.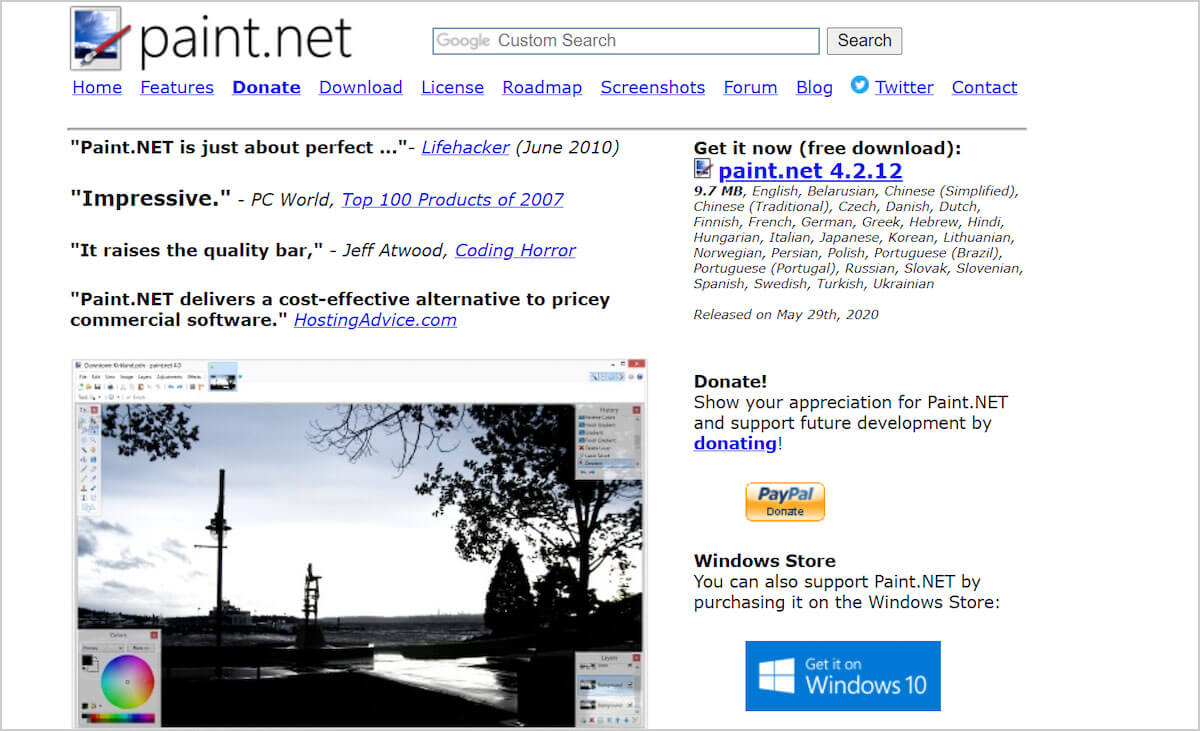 Paint.net is an open-source, digital photo editing software that offers a wide variety of design tools including layers, special effects, and unlimited undo. It's a surprisingly capable alternative to Photoshop, however, it's only available for Windows. Paint.net supports popular image file formats including PNG, JPEG, Bitmap, GIP, TIFF, and .pdn.
Notable Paint.net Features:
net uses a tabbed document surface which means you can work with multiple panels and documents within the same window and use the tabs to move between them.
It comes with a variety of special effects enabling you to design fake perspective and tile and repeat selections.
Other useful features include support for layers and adjustments like brightness, contrast, and curves.
Pros:
It's easy to use.
Offers a clear and clutter-free user interface.
Cons: 
Windows-only tool.
Has limited design and editing features.
Paint.net isn't the ideal tool for photographers and professional retouchers as it lacks many advanced tools like layer mask and custom brushes.
Price: Free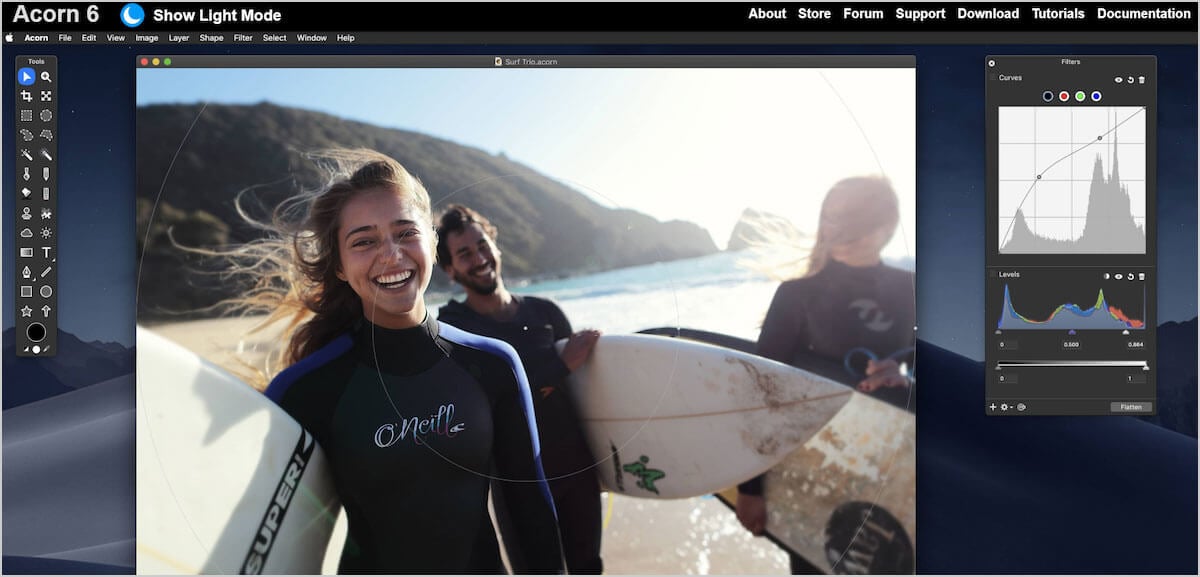 Acorn is a MacOS-based photo editor. It supports several image file formats including Acorn, AI, BMP, GIF, JPG, PNG, RAW, and PDF.
Notable Acorn Features:
Its Path Text tool lets you wrap and warp text anywhere you want.
Acorn's Web Export feature lets you zoom, pan, and use shortcuts to modify the scale of your image and find pixels out of range of sRGB.
Lets you preview changes before exporting to compare with the original.
You can clone across different images, layers, and from group or shape layers using its clone tool.
Pros:
It's easy to use especially for beginners.
Cons: 
It's a MacOS-only tool.
Lacks a photo organizer.
It's a great photo editing tool if you're just getting started with image editing.
Price: $29.99. Free trial available.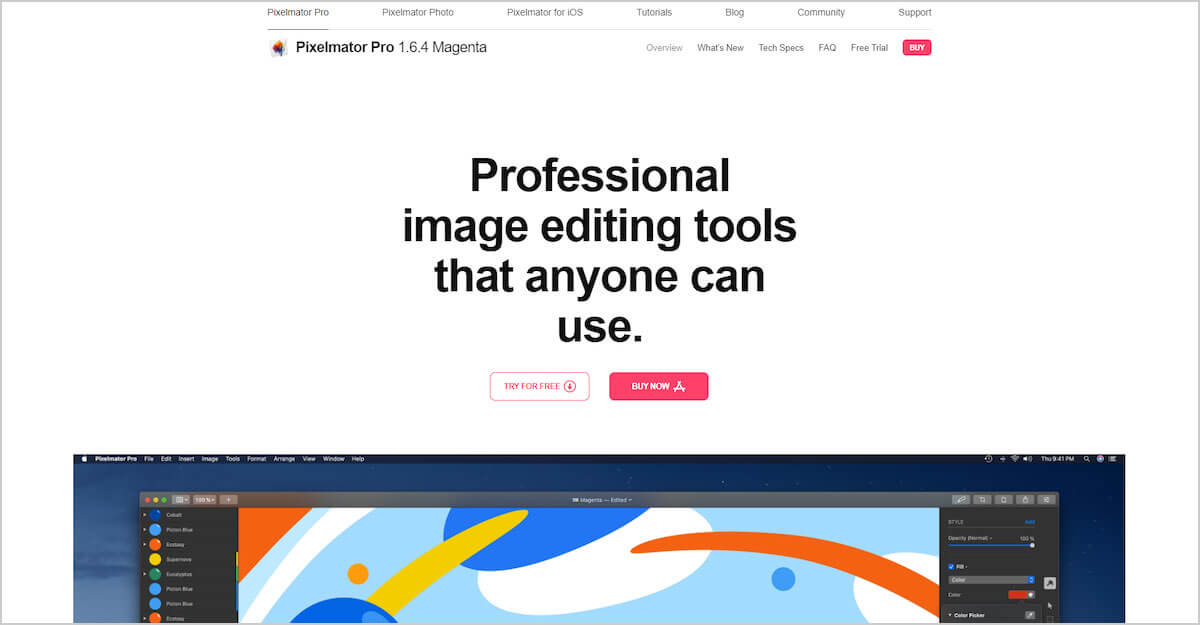 Pixelmator Pro is a useful photo editing app that comes with a user-friendly UI. It's available only for MacOS platforms and is compatible with JPEG, PNG, GIF, BMP, and PSD file formats.
Notable Pixelmator Pro Features:
Its color picker lets you choose and manage colors using hex colors, swatches, and eyedropper.
Gives you access to a wide collection of handcrafted brushes with dual textures and advanced brush dynamics.
Lets you edit the colors in your photos using nondestructive color adjustments.
Pros:
Offers a fully native Mac experience.
Comes with expanded file format support.
Cons: 
It's an easy-to-use tool that's suitable for both beginner and advanced users.
Price: $39.99. Free trial available.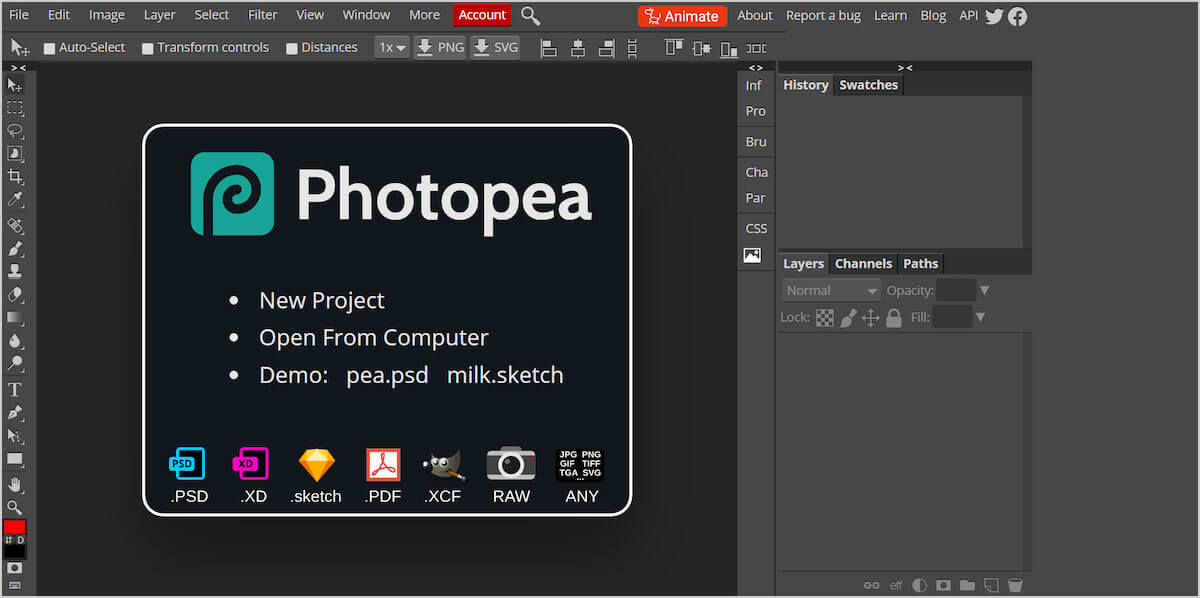 Photopea is a web-based image editor that can help you create and enhance images and photos. It offers most of the tools you'd expect from Photoshop and supports most standard file formats like JPG, PNG, PSD, and RAW.
Notable Photopea Features:
Comes with a variety of pre-designed templates to help you get started.
Packs a pen and brush tool as well as several procedural adjustments like sharpness, adding blur, and changing brightness.
Supports layers and layer masks, enabling you to do complex editing in the app.
Pros:
Photopea lets you export to PSD and SVG formats.
Doesn't require a special browser plugin to use it.
Cons: 
The free version displays ads which can be distracting.
It's an affordable tool for students, freelancers, and photographers.
Price: $9 per month. Free version available.
Some Of The Best Photoshop Alternatives Are
Image editing apps enable you to design inspiring illustrations, edit and retouch photos, draw vector graphics, and add beautiful effects to your art. The photo editing tool you end up using as a Photoshop alternative will depend on your specific needs, set up, and budget.
Let us know which Photoshop alternative is most appealing to you in the comments below.
Recommended: