Hi there friends! We hope that our blogs and free mock-up PSD files are helping you with your personal and commercial design projects in more than one way and that you all are bagging appreciation from the people who have faith in you. Our today's blog happens to offer one of our most favorite stationery items and we are glad to work on it and share it with you. Continue reading to know more!
Alright guys, we know this very well that 2020 has been a little too tough for all of us but we are super happy that we are on our way to be better and to face it all. And we also know that most of us spent good amount of time & money on calendars, journals etc. for this year which we really could not use – especially if you did not remember to get your work table stationery back at home but let's gear up for 2021. Shall we?
Recommended: 2020 Calendar Design Ideas
First things first; how many of you love marking your calendars for special and not so special commitments? Do you enjoy doing that? Because we think that, that gives us that peace which comes from getting done and over with tasks, meetings and so much more. If we were to share our love for having a calendar with us then we would (also) like to mention it here that our desk calendars have always saved us from forgetting birthdays of our friends and colleagues otherwise it would have been way too difficult to deal with such sensitive information.
Okay so, as we know that the 9th month of this year is almost over and most of you guys won't have a lot of time to sit down and work on the calendars and the dates and to help you guys with the task, we are here with our free vertical desk calendar for the year 2021 mock-up PSD file. Now, we know that many companies have taken this decision to not open their offices till next year but there are people and organizations that are working right from their offices too. And we can bet that our free mock-up PSD file is going to be beneficial for each one of us.
Recommended: Buy Beautiful 2020 Calendars
There are manyyy different ways to design a calendar and a lot of options are available for the shapes as well and as much as we love keeping a nice calendar at our worktable, we also love how innovative ideas are being worked on too. Although, we personally think that vertical calendars do not take a lot of space and look super neat when placed on a desk along with other relevant stationery and décor items.
Desk calendars are not only great for the ones who work for a certain organization, but they can also be sent as corporate gifts as well – along with other stuff of course like a mug, t-shirt, wall clock, note pads, key chains etc. In fact, when you have placed branded stationery items at your desk or in your office, then it is also indirectly promoting your business too and that's a good thing.
Recommended: Desk & Wall Calendar Mockups
So, what do you expect from a desk calendar mockup PSD file? A file that allows you to freely work on it and let you create as many designs as you can? Or is there something else that you would want to do with the file? We are asking these questions because we are about to share how good our free vertical desk calendar for 2021 mock-up PSD file is. We have worked on three different angles for you guys that will let you demonstrate the creative thoughts easily. Then we have worked on the file using easy to edit smart objects as well that will allow you to change colors, sizes etc. in like minutes as all the layers are organized in a way that you won't face any challenges while working on the designs.
We have made sure that all the text that is there on our free mock-up PSD file is in high resolution so, that everything that you will show on a screen is clear, prominent and appealing to the eyes. Also, make sure that while you are working on multiple design options, you are also creating a nice & detailed mock-up presentation too to share your ideas in a more professional way.
What are you waiting for? Get your hands on our free vertical desk calendar 2021 mock-up PSD file right here, right now and start working on your creative ideas. Oh, and do not forget to share our blog with your friends and favorite colleagues too and we will see you guys next time with another interesting and informative blog of ours! Until then, feel free to experiment with your thoughts, ideas and skills to create amazing art works.
Free Vertical Table / Desktop Calendar Mockup PSD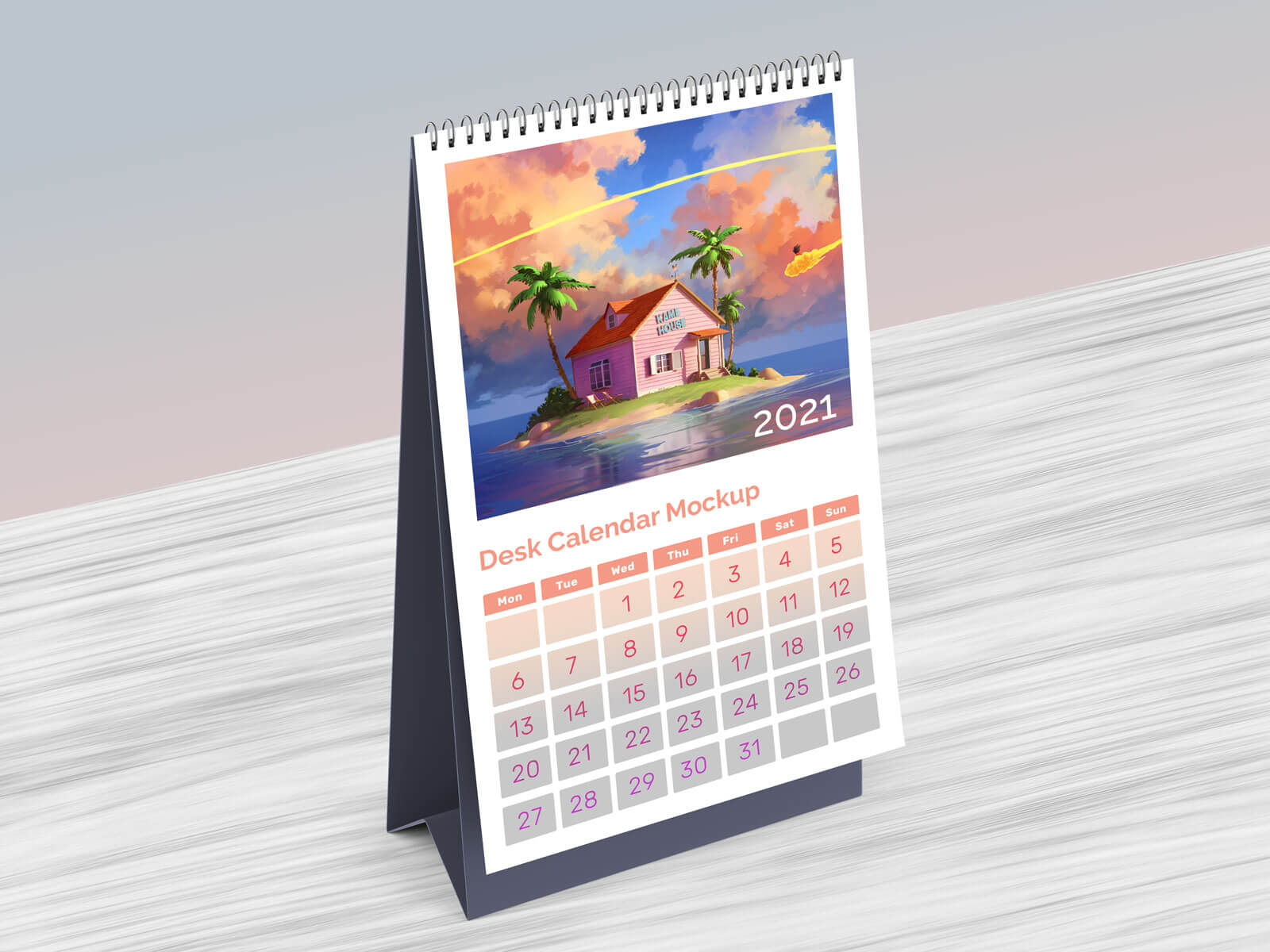 Available Format: Photoshop PSD
License: Free for personal and commercial usage
File Format: WinRAR
Mockup Resolution: 4000 x 3000 px
Artwork Resolution: 1600 x 2600 px
Note:
1. Free Desk Calendar Mockup is allowed to share online (A Must Linkback to this page)
2. Say thanks if you like or share/tweet with your friends. That means a lot to me.
3. And don't forget to follow or subscribe to receive more high quality premium freebies & awesome articles only.
Download Desk Calendar Mockup
Recommended: