Hi there friends! First things first; thank you all so much for always sharing your valuable feedback with us on our content, ideas & designs, and for also encouraging us to keep doing what we are best at. It is you and your constant support that motivates us every single day.
Okay so, as far as our today's blog is concerned, we would love to share it with you guys that working on this mock-up PSD file made us happy. Why, you ask? We felt happy because the world is finally come back to live the new normal, many companies have resumed working from offices, malls are now open and cinemas and other entertainment places will also be operational soon and do you know what that means? It means that you are going to be purchasing tickets to watch your favorite movies at your favorite cinemas. And what do you take with you before you enter the hall? Pop corn (and a lot of them), cold drinks and snacks, right?
We feel that whenever a plan is made with friends, family members, colleagues and even if you are not accompanied by anyone, you must always make it a great one. Make sure that you are spending the right amount of money, putting in the extra effort just to make yourself happy so that you can unwind and detach from yourself for a little while. And a box full of freshly cooked pop corns does make all the difference. Oh, and you can tell us which flavors you guys like the most in the comments section down below!
Anyways, we have created this free hand holding popcorn box mock-up PSD file for your personal & commercial design projects and we know that you all are going to love working on it too. But before we share the ideas and tips on how to make a nice popcorn box for your up coming project, we would love to share some interesting points from the history to help you increase your general knowledge. And you can flaunt what you know during your next casual hang out with your friends.
J. McKenna was a manager in the mid 1930's and he ran a chain of theaters as well. There was a man who used to sell pop corns right outside one of McKenna's theaters and he got the idea to install a popcorn machine right inside the lobby of theaters. Not only was McKenna able to attract more and more people on a daily basis for movies and of course for pop corns, but he also lowered down the ticket prices to add another attraction. What happened after this installation of pop corn stands was that by 1940's, many theaters started to sell pop corns and one of the entrepreneurs of that time said and we quote, "Find a good popcorn location and build a theater around it." And we now know that he was absolutely right about the suggestion.
To make an excellent popcorn box, you must ensure that you have gone through the brief and that you know the purpose of the design as well as the objective. For example; a movie popcorn box is usually red and white in color with the branding of the cinema or theatre whereas, if you have noticed the boxes that are for sale at the malls and outside shops etc. have a different theme to depict. So, let's say that you want to pitch to a movie cinema for the rebranding of their pop corn boxes. What you can do is that you can also share ideas & designs with them that are solely representing a certain movie genre, a movie itself or the cast from the movies that are about to be released. By doing so, you will literally be sending away souvenirs and if we were to keep such things with us, we would even be ready to pay a little more than the regular amount. No kidding!
Then there are schools etc. that arrange birthday parties and funfairs for kids – and although kids are being instructed to be socially distant, small gatherings might still be happening so, you can create a deck of multiple designs that are relevant for the kids only. Incorporate cartoons, movies and interesting learning tricks for the kids to help them enjoy their pop corns while also getting to know about a thing or two.
We have created this pop corn box mock-up PSD file with a hand holding it because we wanted to help you guys give a more realistic approach to your designs and mock-up options and we are hoping that you will be able to demonstrate and share your creative thoughts in the best way possible.
So, what are you waiting for? Get your hands on our free mock-up PSD file right away and start creating magical designs.
Free Movie Theater Popcorn Paper Box Mockup PSD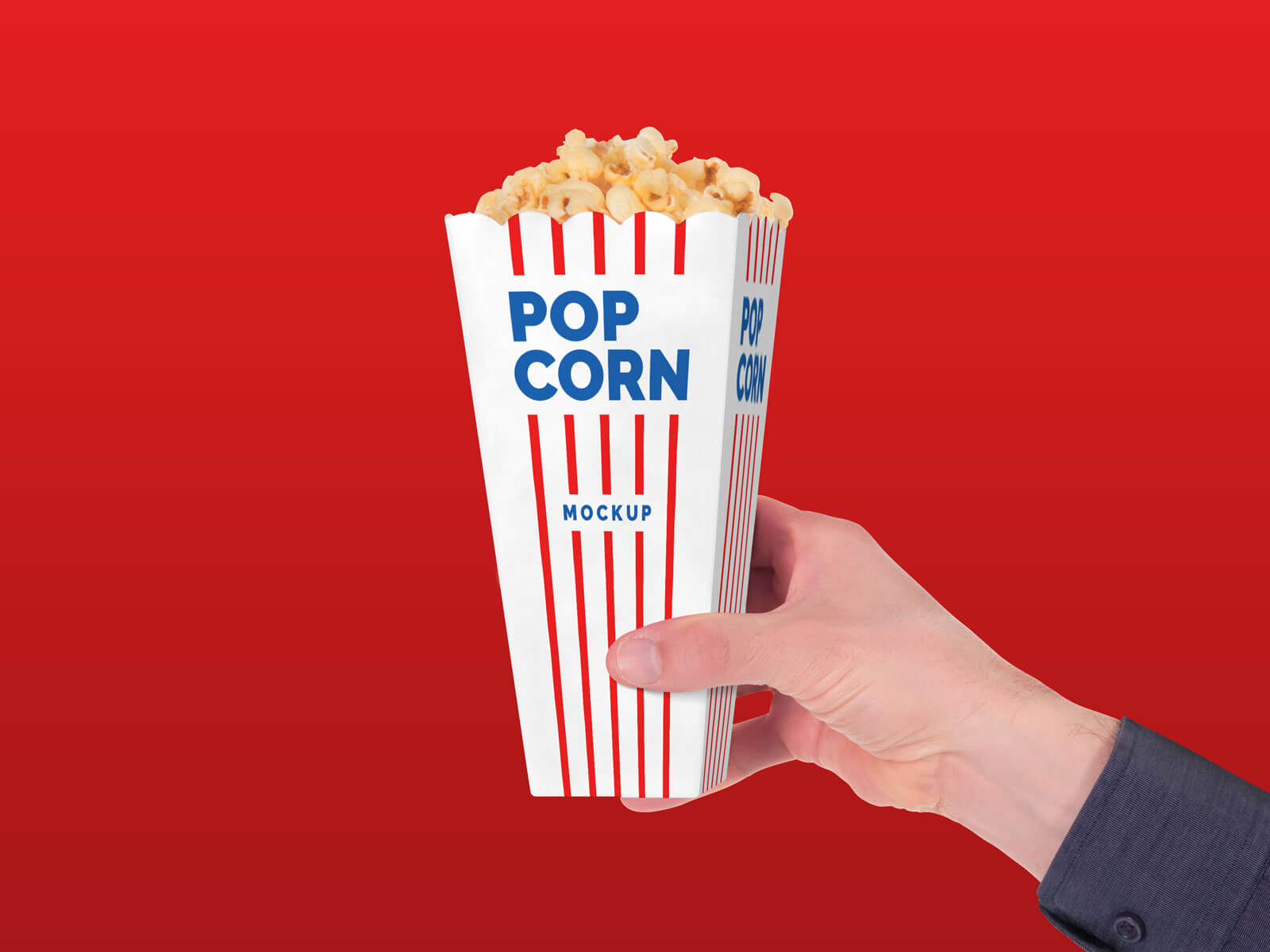 Available Format: Photoshop PSD
License: Free for personal and commercial usage
File Format: WinRAR
Mockup Resolution: 3000 x 2250 px
Note:
1. Free Popcorn Paper Box Mockup is allowed to share online (A Must Linkback to this page)
2. Say thanks if you like or share/tweet with your friends. That means a lot to me.
3. And don't forget to follow or subscribe to receive more high quality premium freebies & awesome articles only.
Download Popcorn Mockup
More High Quality Free Mockup PSD Files