Building a new website is a daunting experience for most people, even more so if you're a newbie to this space!
Admittedly, the learning curve when building a website can seem a little steep at times but don't worry, we've all been there, and it's safe to say it all starts making a lot more sense once you put the wheels in motion.
Granted, there are plenty of website builders out there that do all of the heavy lifting for you, such as Squarespace and Wix. However, these platforms don't give you as much functionality or customizability as WordPress. It takes a little longer to set up, but once it's done, you have full creative control over your site.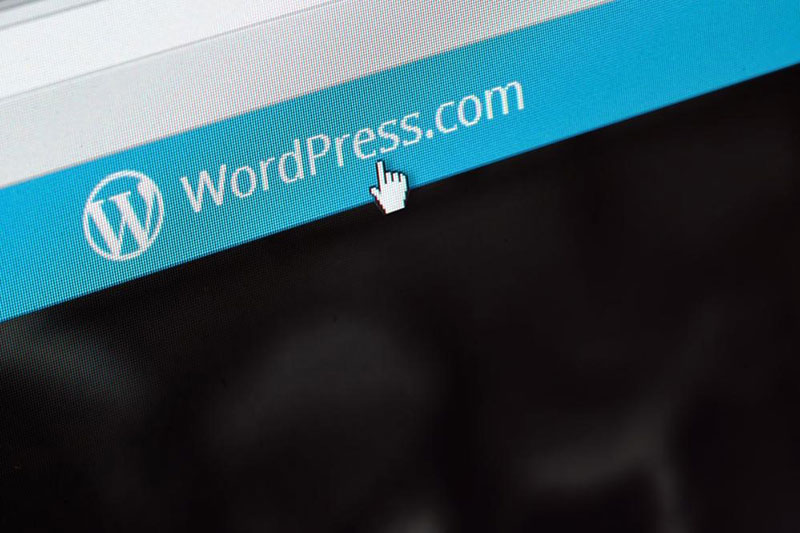 Image source: DepositPhotos
In this article, we're going to layout six simple steps you can follow to build a brand new WordPress site from scratch. Let's get into it.
Choose a catchy domain name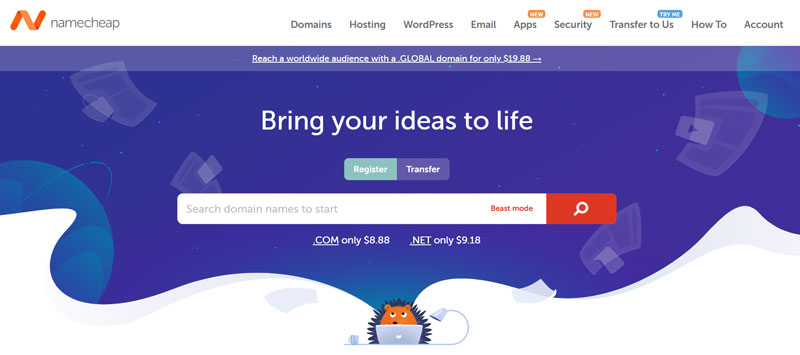 The domain name is one of the most important aspects of your website; after all, this is going to be your brand.
Now, don't spend too much time on this. It's easy to suffer from analysis paralysis, spending days, weeks, or even months searching for the perfect name, all for the moment to never arrive.
Here are a few tips on picking a domain name:
Keep it relevant
Make sure it's brandable
Keep it short and easy to spell
Avoid hyphens and numbers
Check to make sure it's not trademarked or already used
The key here is to not get too caught up in the process. Pick something that highlights what your website does or the service you offer, and keep it simple.
If you're looking for a cheap domain name registrar, check out NameCheap or GoDaddy.
Start with an affordable hosting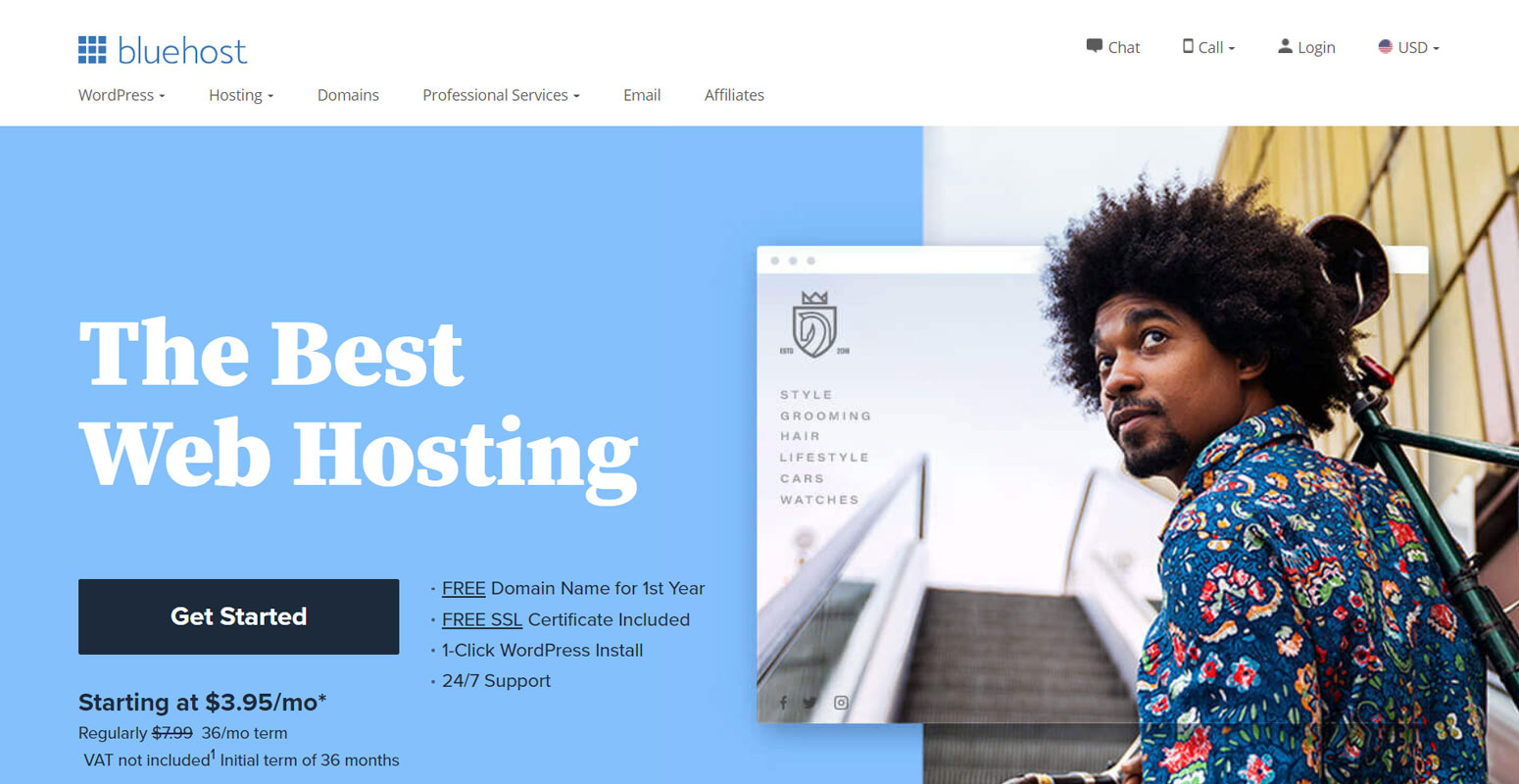 Once you have your domain name, you're going to need to find someone who will host you on their servers (for a fee, of course!).
These days shared web hosting is more than sufficient for the vast majority of beginner websites. You don't really need to get a dedicated server until you're attracting over 50,000 visitors per month, which will be a good problem to have once that situation arises.
For now, take your pick from some of the best cheap web hosting options and choose one that suits your needs best. Make sure you keep an eye on the contract terms offered, the performance and average uptime (how reliable the hosting is), and their customer service score.
As you're going to be creating a WordPress site, you should look for a hosting provider that easily integrates WordPress as part of their hosting package. Some plans offer automatic WordPress updates, backups, and one-click installations, which is always nice.
Install WordPress
The next step in the process is installing WordPress on your site. Most hosting providers offer a simple procedure to install WordPress, and it shouldn't take longer than 10 minutes.
The process varies from one provider to the next, although the method is usually similar. Visit your new hosting provider and find the settings (sometimes referred to as the cPanel). This is where you can control your hosting settings and do a variety of useful things, such as installing software.
Here's an insider look at the BlueHost interface.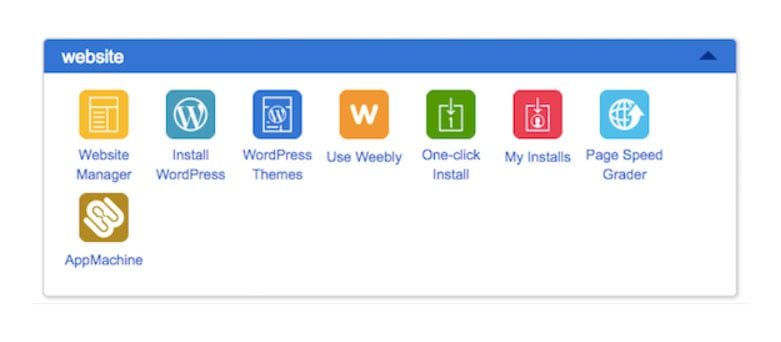 Simply follow the step by step guide, enter your personal information, and away you go. Once you've finally got all of that sorted, you'll be greeted with the following screen when you try to visit your website.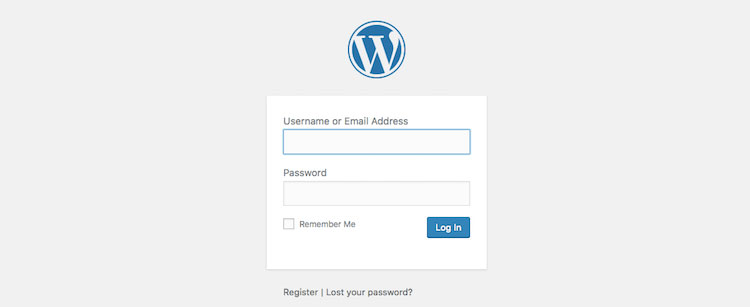 Once you enter your new WordPress username and password, you'll arrive at the backend of your website, which is where the real fun begins!
Pick your theme wisely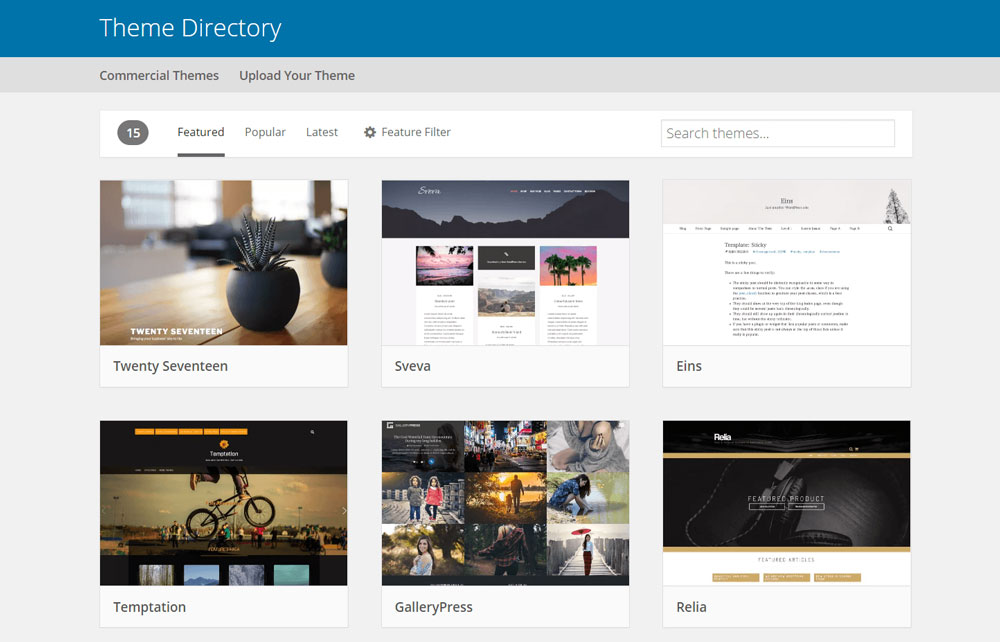 Choosing a theme for your website is one of the most difficult choices you're going to have to make during the whole process. Themes are basically pre-designed, pre-coded interfaces that save you from having to design the website yourself.
There's a theme directory built directly into the WordPress interface where you can find thousands of options to choose from, each of them promising to be the fastest and the best theme there on the market.
For the time being, you can grab yourself a free theme that will do the job perfectly fine until you need to give your site an upgrade. But if you want something that's got a bit more style and functionality right out the gate, you're going to have to pay for one of the premium options.
Remember, all themes still need at least some level of basic customization after they've been installed. You'll need to edit your menus, upload your logo and images, and select your color and font schemes.
Add your content

Now it's time to start adding content. This is going to the main driver of traffic to your site, so it's important you get it right. Fortunately, with WordPress and their new and improved Gutenberg editor, it's all pretty straightforward.
Click on the "+" symbol at the top of the WordPress interface and select the content type you wish to upload. If you're uploading blogs, select the "Post" option and publish your content there.
Don't forget, every site should have the following five pages on their site:
Home page
About page
Contact
Privacy policy
Blog page
If you're planning to promote affiliate products or anything of that sort, you'll probably need to have a disclaimer visible on the site—something to keep in mind.
Install your plugins
Plug-ins are third-party software you install directly into your WordPress site that each have different functionality. There are literally thousands of options on the internet, which can get a little overwhelming, especially for beginners.
It seems like there is a plugin for just about anything these days, but here are a few of the most common categories you'll come across:
Anti-spam
SEO tools
Image resizing
Social media integration
Payment gateways
Analytical software
A word of advice – plug-ins are typically the main culprit in slowing your site down. Try to keep the plug-ins to a minimum and only install the essential ones that you need to keep your site up and to run. It's easy to succumb to the temptation to install every shiny new plug-in you see, but this will only be detrimental to your site speed and the amount of traffic you receive.
Final word
Building a new WordPress site is an exciting experience for beginners but can quickly turn into a headache if you start making mistakes by trying to run before you can walk. The best advice is to keep it simple on your first run through and leave all of the fancy customization and design until the end.
Other than that, best of luck with your new website!
Recommended: