Hi there everybody! We hope that you all are keeping safe, that you are preparing yourselves for the holiday season and that our interesting and useful blogs and ideas are helping you with personal and commercial design projects as well. This has been a long week for us since we were working on a bunch of super cool ideas for you guys which will be shared here in the near future so, we decided to take a break from that and come here with our free classic round shape signage logo mock-up PSD file with you all so, let us get started right away!
As you all know that signage plays an important role in making a business and if done right, you can go to many, many places with your business ideas and that's the plan, yeah? Since we keep all our mock-up PSD files highly editable and free to download, we can bet that you will have a great time working on our classic round shape signage logo mock-up PSD so, allow us to get straight to the point and that is to share ideas, tips & tricks to help you design a couple of effective signage for your personal business or for the one that you are professionally associated with.
Okay so, like every branding material and content idea, signage has to be well thought before you sit on your work desk and start thinking of things that can be incorporated to design a logo and, in this case, a classic round shape signage logo. As you can see that we have given our logo a classy look and it being wall-mounted is adding more to the beauty of it. The goal that we can achieve through this classic round shape signage logo is that it can attract the customers within seconds, and they would want to give your store, shop, café a visit. Now, you must be wondering what you must do to make things work in your favor through a simple yet classic logo, right? Well, all you have to do is to keep reading this blog to know how it can be done in easy to follow steps.
Recommended: 60+ Best Free Signage Mockups
First things first; we are sure that by this time you have already chosen a spot where you want to display your classic round shape signage logo and if you haven't, now is the time to do so. The reason why we want you to do that is because it will give you more perspective and you will be able to think of more brilliant ideas when you would know the spot too. There are chances that the place where your outlet etc. is has street lights too, that there are huge trees that might hide the logo or your shop is at a spot where multiple streets connect so in order to be visible to the traffic.
Your next step should be to work on all the aspects that you want your signage to reflect for your business. Understand your need of designing the logo as it will help you point down your objectives. You can start this process by working on all the major pointers to define what your business is about, what your brand identity is and what you are offering. If you have found a gap, you must have it reflected through your design too and you will see that you will get easily recognized by the masses.
Recommended: 50+ Vintage Hotel Signage Ideas
And while you work on your sketches and designs, you must also check out what your competition is doing. This will help you in making sure that you do not end up making something similar or copying them, you know. Then choose your design style to ensure that you stay apart from the competition and it goes for the brands that are in your country as well as those who are running their businesses internationally. Your next step is to work on your color palette and design elements including the fonts and styles and also, choose the right typography as well so that it can help you amplify your brand message in an effective manner.
Another thing that you need to make sure is that you are creating multiple design options that you can share with the decision-making bodies in order to go forward with the final design later on.
That is all from our end! We hope that you had a great time reading this blog and that you will also make the most of our free classic round shape signage logo mockup PSD file as well. Do let us know how you created your own designs and while you are at it, do share the blog with your favorite colleagues too and we will see you guys next time with something more fun and cool for you to work on, until then have a great time creating superb stuff.
Free Vintage Rounded Shape Signage Logo Mockup PSD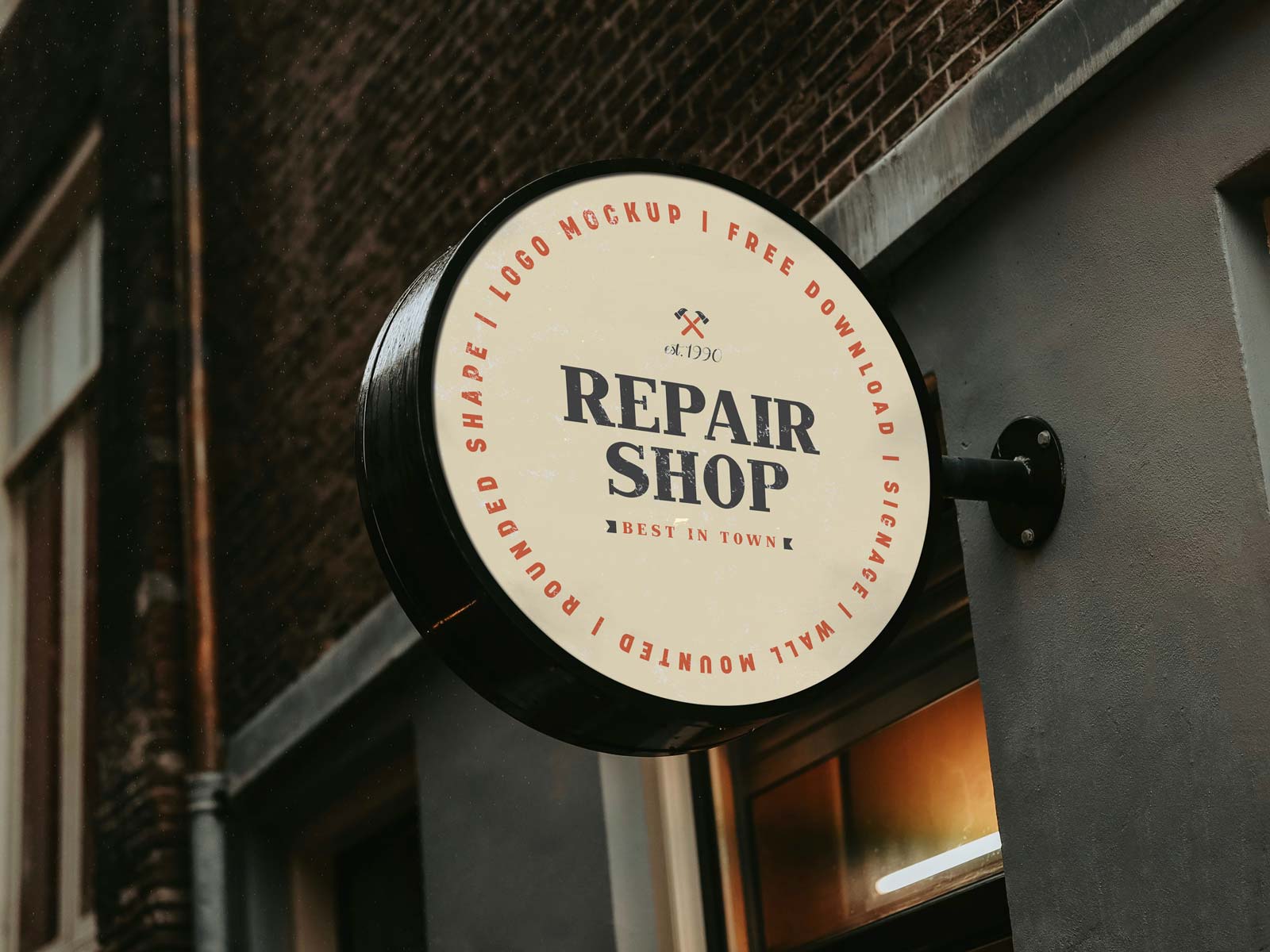 Available Format: Photoshop PSD
License: Free for personal and commercial usage
File Format: WinRAR
Mockup Resolution: 3400 x 2550 px
Note:
1. Free Rounded Signage Mockup is allowed to share online (A Must Linkback to this page)
2. Say thanks if you like or share/tweet with your friends. That means a lot to me.
3. And don't forget to follow or subscribe to receive more high quality premium freebies & awesome articles only.
Download Signage Mockup
More Free Sign Board Mockup PSD Files: