Hi there everyone! We are back with yet another fun blog of ours along with a free yet highly editable mock-up PSD file that will help you create beautiful ceramic mugs for your personal and commercial design projects. Before we formally start sharing everything that you need to know to start working on the mug designs, we would love to take a moment and thank you guys for the love and support that you send our way and for also sharing our blogs with the people that you love and care for. And we hope to receive more encouragement from you guys in the future.
Mugs are used literally everywhere for more than just drinking hot and cold drinks for example; you will see people using mugs as their pen holders, or make-up artists would use them for their brushes, then the mugs are specially designed to be gifted as souvenirs and we love that when someone gets us a mug from a different city or country, you know. It's like you feel so special to know that people remembered you when they were out and about; exploring the beauty of a place and stuff like that.
Small and big businesses create and sell mugs for all types of occasions so that their customers can get the mugs and can use them accordingly. But the only thing that can set them apart is the fact that they offer something different, right? Like you would know that all you will have to do is to step outside in a market, and you will see many different brands (mostly local) that are making pretty mugs and are selling them at market competitive prices in order to facilitate the shopping and gifting experience.
What we enjoy about these items is how they can speak to us at an emotional level. As in; you are someone who likes to have a proper breakfast (maybe at work), and you sip on your freshly made coffee in a mug that has something very witty written on it. Now, how are you going to feel about it? Happy? Excited? Let's take another example; you get your friend a customized mug that brings back the memories of the first time you guys met. Or how you accidentally bought the same outfits. And the mug depicts that in the form of a picture, painting or maybe clay work too. We cannot even imagine the happiest of the feelings that you guys will feel after getting your hands on something as simple yet as beautiful as one of the most special memories of you being together.
Recommended: 20+ Logo Mockup Templates 2020
So, you see? These are the kinds of things that will help you be ahead in the game and that's what the end goal is, right? To make sure that you are offering anything and everything that not only turns out to be a good (gift) item but it has a great emotional value attached to it as well is something your customers are going to love very much so give them what expect from you and you will see your business growing the way it is supposed to grow. Keep reading the blog as we are about to share a couple of tricks that will help you create stunning mug designs for your upcoming projects.
First things first; plan out the space for the design that will go on the mug, do you wish to cover the entire space or do you want to go for just one side of it? Next, decide if you want to design the interior of the mug as well (our suggestion would be to go for it as it looks even more enticing with a sweet message that you could only read when the drink is over). Your next step should be to decide the type of the design; would it be permanent or washable? Also, will your mug be okay to be put inside the microwave?
In addition to that; we would like to share that bigger mugs are always a great idea as they allow you to be more creative and are also preferred by the customers too so it's like a win-win situation for everyone. Pick your colors wisely – as per the customers' insights and if you re using imagery, make sure it's in high resolution to give a neat look and you will be good to go!
That is all for today from our end, you guys! We hope you enjoyed reading the blog and are ready to start thinking of all the creative ideas you have always wanted to incorporate into mug designs. Feel free to share your feedback with us in the comments section and while you are at it, don't forget to share the blog with your favorite colleagues, graphic designer friends and other people you know who might be looking for something as great to work on as our free ceramic mug mock-up PSD file.
Free Ceramic Mug in the Kitchen Mockup PSD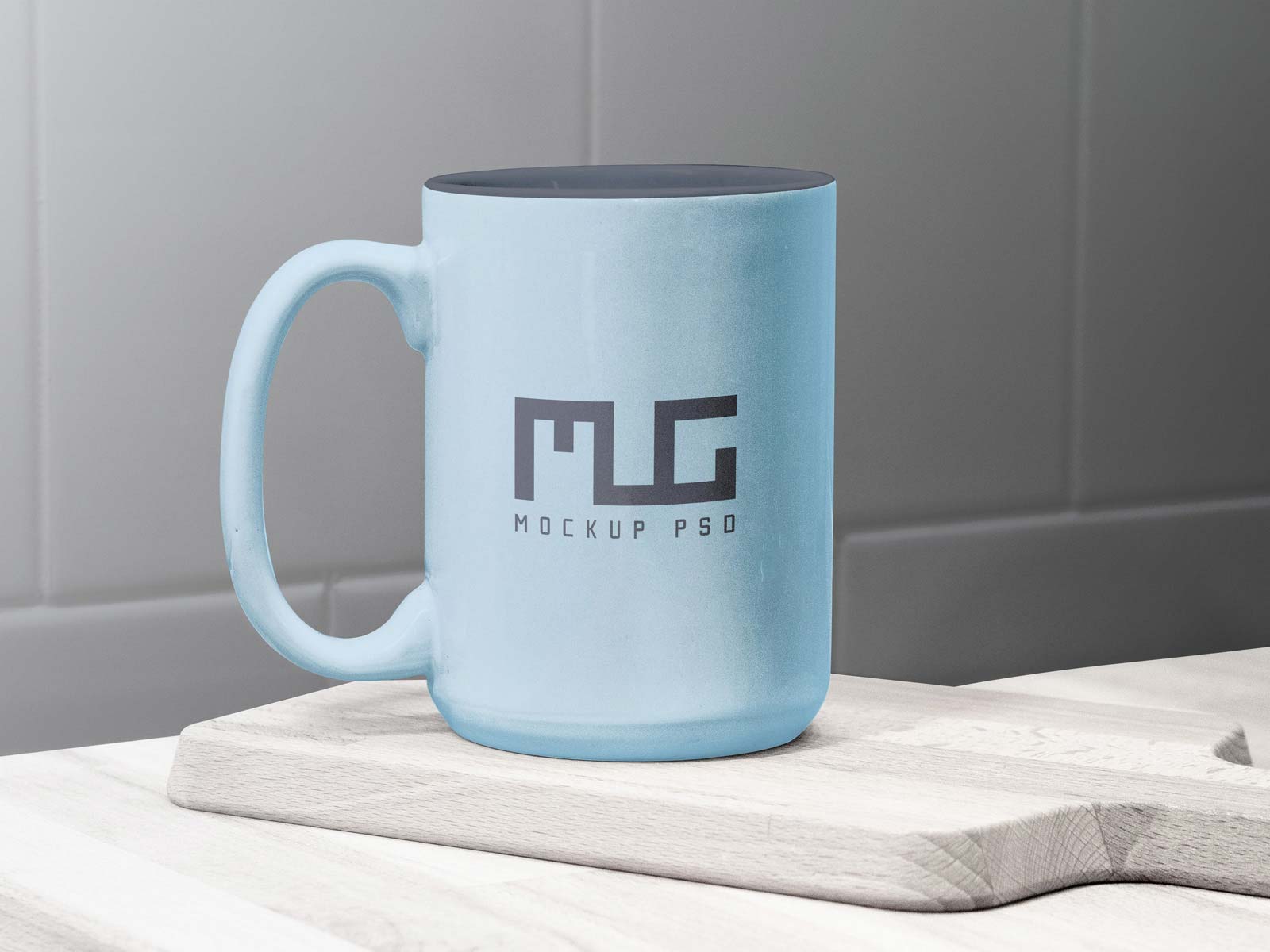 Available Format: Photoshop PSD
License: Free for personal and commercial usage
File Format: WinRAR
Mockup Resolution: 4000 x 3000 px
Note:
1. Free Ceramic Mug Mockup is allowed to share online (A Must Linkback to this page)
2. Say thanks if you like or share/tweet with your friends. That means a lot to me.
3. And don't forget to follow or subscribe to receive more high quality premium freebies & awesome articles only.
Download Mug Mockup
More Free Mug Mockups Designed By Us: